When John Dransfield and Geoffrey Ross, designers behind the eponymous home furnishings line, decided to turn in their New York City card for a ticket to "country" living, they stumbled across a small region of New Jersey called Somerset that captured their hearts and imaginations. "It's all rolling hills, extraordinary landscapes, and the most beautiful homes," says Dransfield. They bought a 19th-century farmhouse and started renovating it but kept looking. "Geoffrey is addicted to real estate," laughs Dransfield. When they heard that Cherryfields, a nearby Georgian Revival they'd had their eyes on, was going to hit the market, they set up a morning meeting and were greeted by the eccentric owner, Nancy Pyne, herself.
"Out bounds this woman with a huge mane of white hair dressed in a Chanel suit and Cleopatra-style bib necklace, and it's only 9 a.m.!" says Dransfield. "'Call me Princess,' she says. We fell in love with her immediately." The adoration was mutual, and she agreed to sell them Cherryfields, which she'd had decorated by design legends Sister Parish and Albert Hadley. That is, until after months of searching, she found a smaller place to move into: their farmhouse. So they traded homes. "She's now our best friend," adds Dransfield.
Since moving in Dransfield and Ross have filled the stately home with their handcrafted designs and an ever-changing collection of vintage that always feels fresh despite its heritage. "Our home is our design lab, where we're constantly experimenting," says Dransfield. "We wouldn't have it any other way."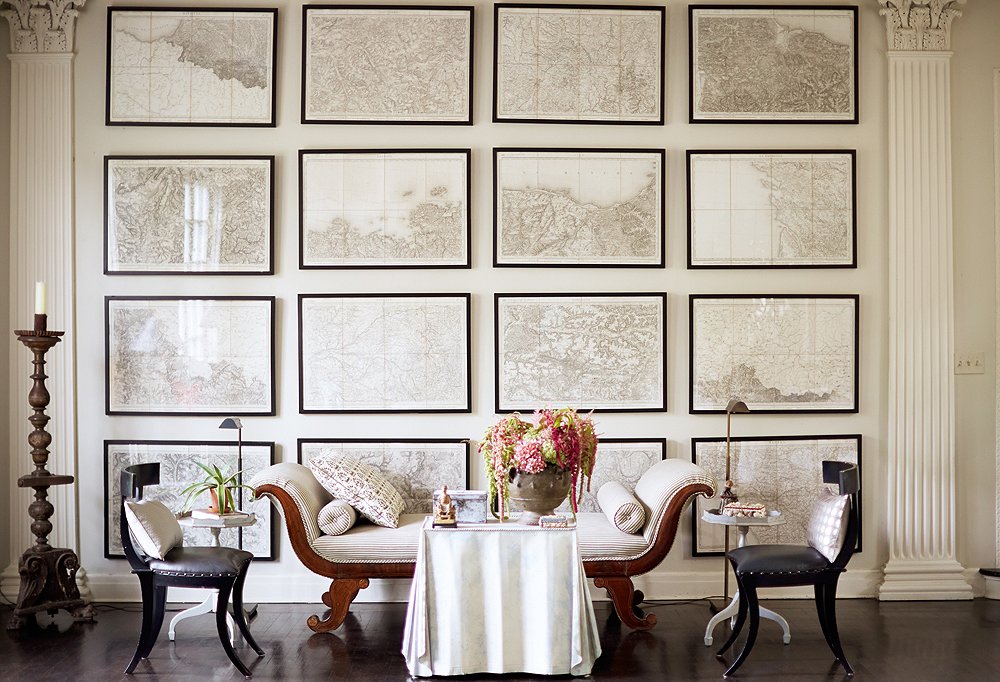 The Living Room
"I'm wild for ancient Greek and Roman art," says Dransfield. "I love the columns, arches, and colors of antiquity: sandstone and terracotta." It's only fitting, then, that Cherryfields' voluminous living room came with its own set of 1840s columns, salvaged from a manse in Trenton, NJ. To lend intimacy to this grand, echoing space, the designers conjured up five separate seating areas, pairing petite loungers like settees and chaises with side tables, reading lamps, and rugs. Not one but two walls are hung with campaign maps commissioned by Napoleon himself; the maps' neutral colors and simple but eye-catching black frames act as a one-two punch of visual texture and striking graphic pop.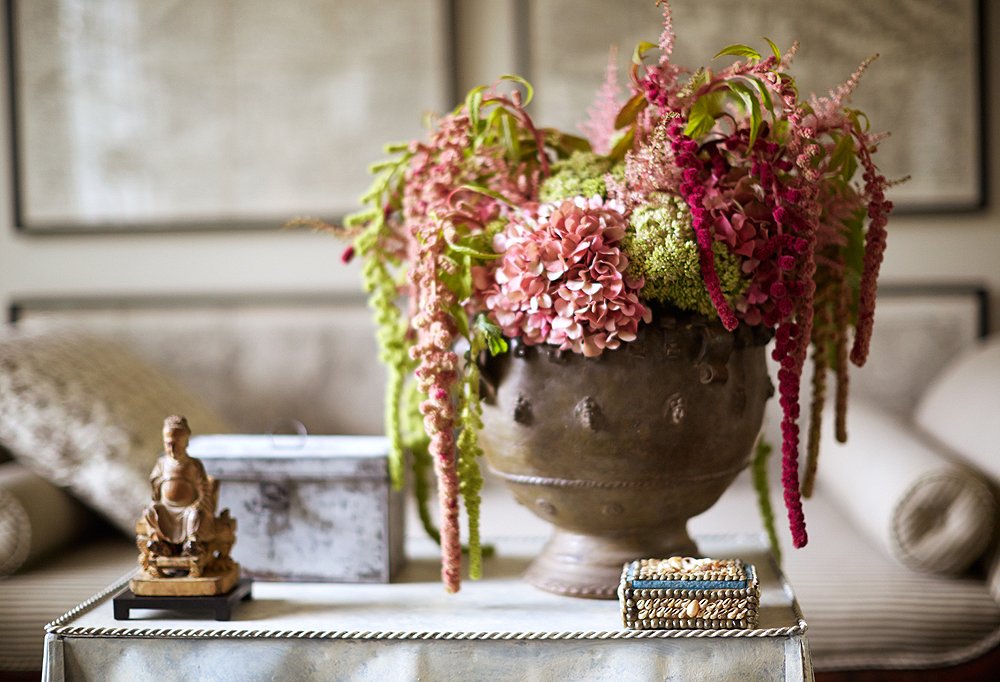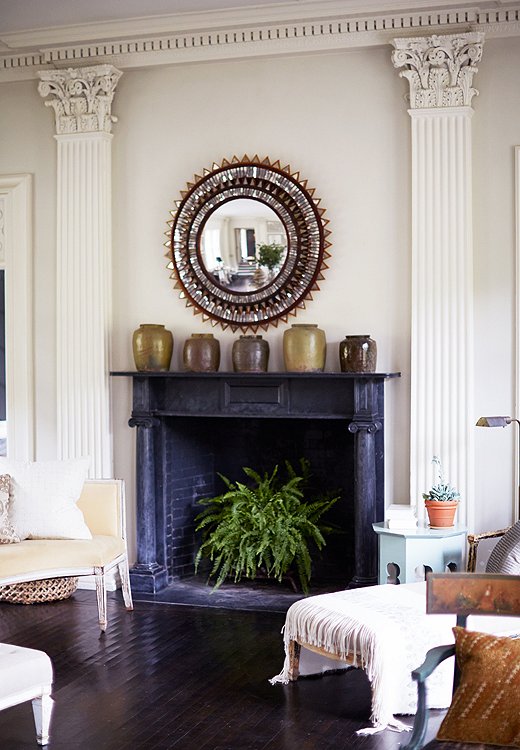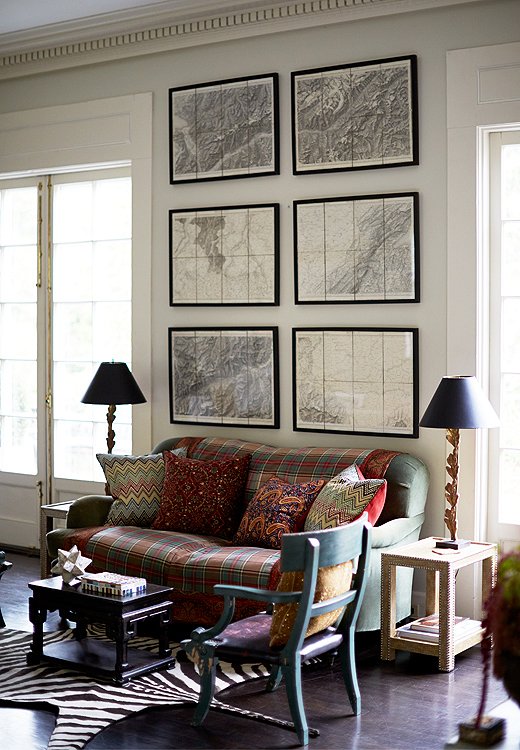 The Conservatory
Cherryfields was originally a pair of houses—the chauffeur's and caretaker's cottages for the home across the street—until 1929 with the arrival of two sisters. They purchased the dual structures and brought in an architect to connect the 1849 clapboard caretaker's cottage to the chauffeur's house, which they ended up completely rebuilding in red brick. This airy conservatory, dotted with pops of green and regal urns atop pedestals, connects the two houses.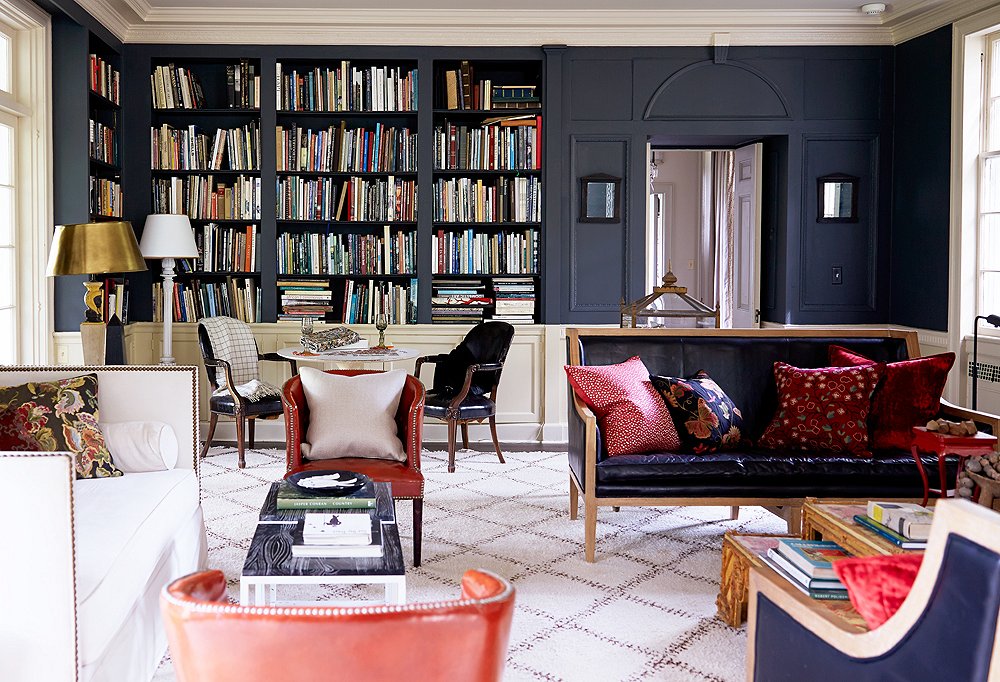 The Library
"This is one of the most used rooms in the house," says Ross. "It's our place to be cozy. It's where we entertain close friends. It's where we hang out and watch TV." Upping the cozy level is a rug, laid over the original wood floors, that came with the house. "It was a present to the last owner, Nancy 'Princess' Pyne, by Malcolm Forbes for attending his 70th birthday party in Morocco," says Ross. The room, enviably outfitted in gorgeous moldings, also shows off the designers' penchant for symmetry: Two love seats surround a coffee table. Two red bucket chairs flank a tuxedo sofa. Two armchairs tuck into a Saarinen Tulip table. "When people are in here they add an asymmetrical element," says Ross. "I love that."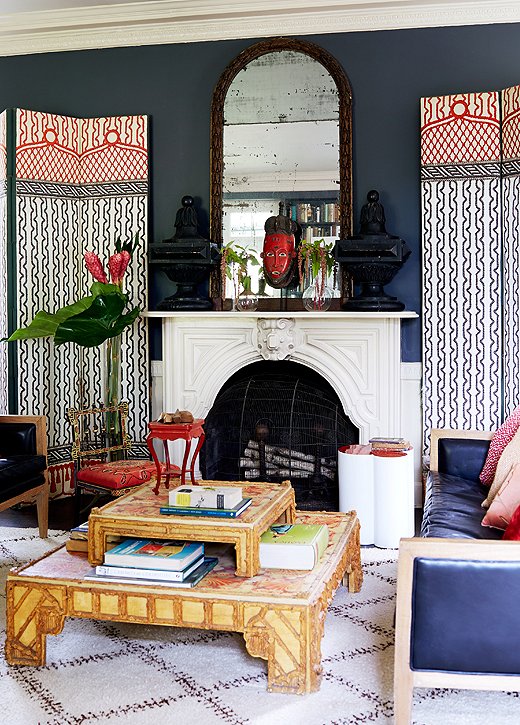 We use every room; otherwise they start feeling stale. We'll assign a purpose to them, then switch it up. We don't always dine in the dining room, for example; sometimes we eat in the library.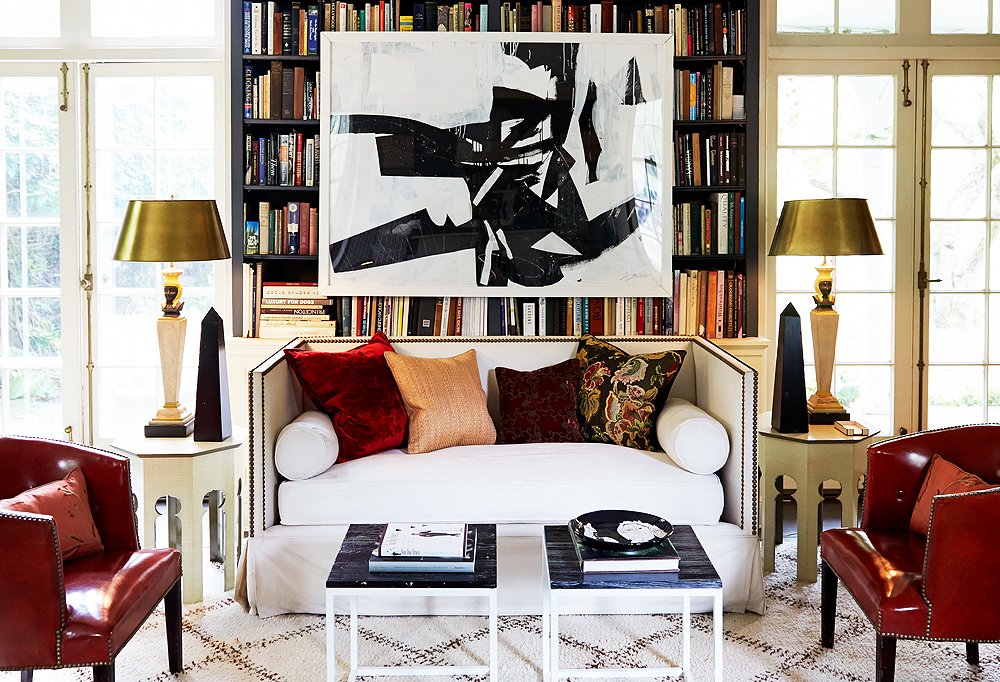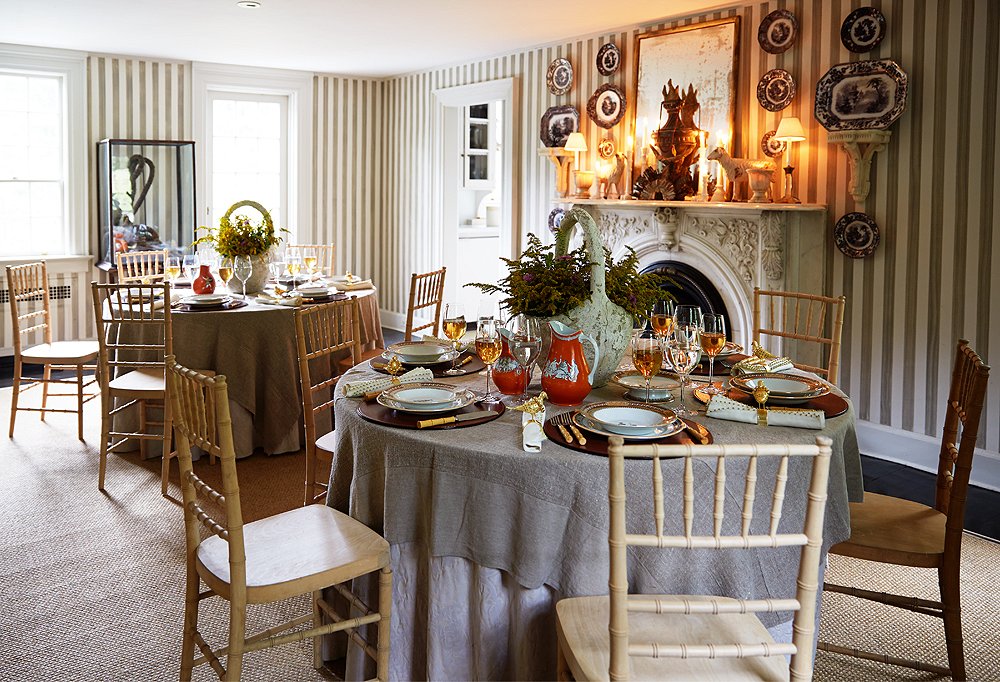 The Dining Room
Such consummate entertainers they could start an event-planning company no sweat, Dransfield and Ross's dining room holds two tables for 10—round tables, so that conversation flows freely. "When we have people over, I cook and John decorates the tables," says Ross. "We've done sit-down dinners for 70 that I've prepared!" The gents will spend all day prepping and cooking, then hire somebody to help serve and clean up. Their secrets to a successful party? Assigned seating with place cards. ("So you can get the best mix going.") A table switch before the dessert course. ("We'll have half the tables swap to change it up.") And a set of always-good-company guests, strategically seated. ("We have a couple of great friends who are regular dinner guests because you can place them next to even the most introverted person, and they'll draw them out of their shell.")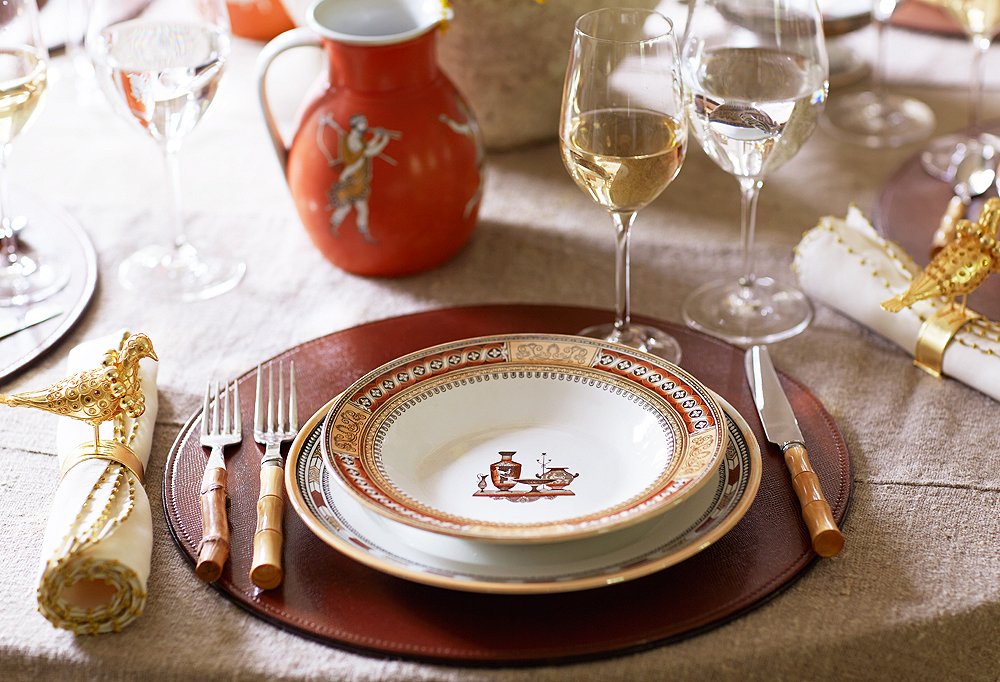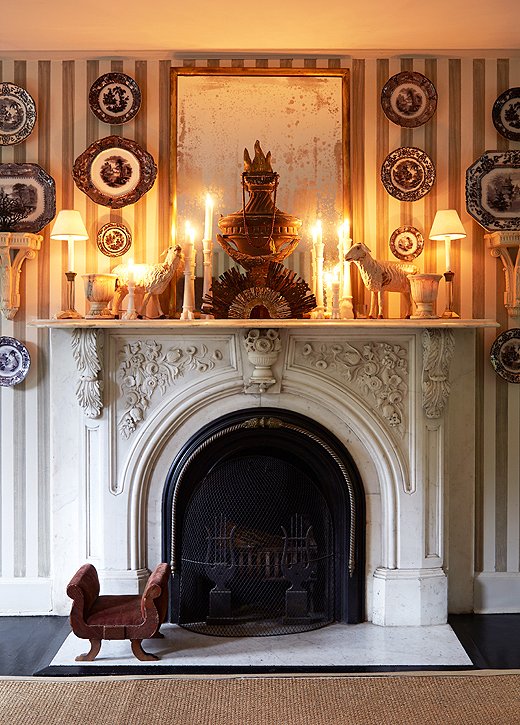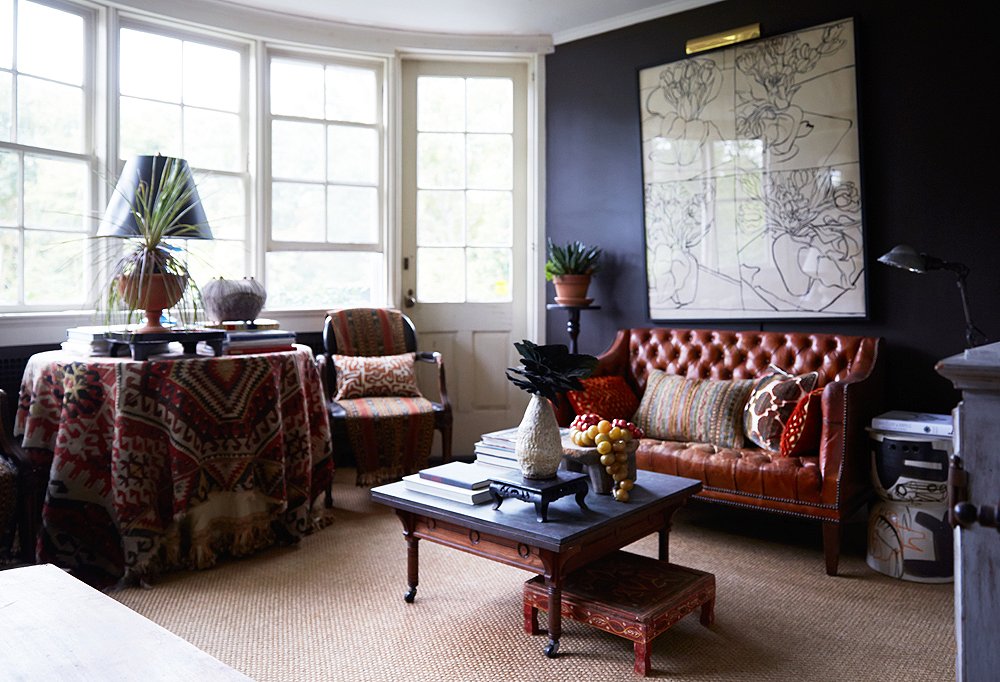 The Study 
The home's "hidden" room, tucked behind the staircase in the main entry, is where the designers convene in the morning to sip their coffee and take care of calls and emails. "The morning light in there is amazing," says Ross. Another Richard Giglio piece nearly fills one wall, its neutral black and cream shades taking a backseat to the bold vintage kilim and ikat fabrics swaddling the table, chairs, and pillows.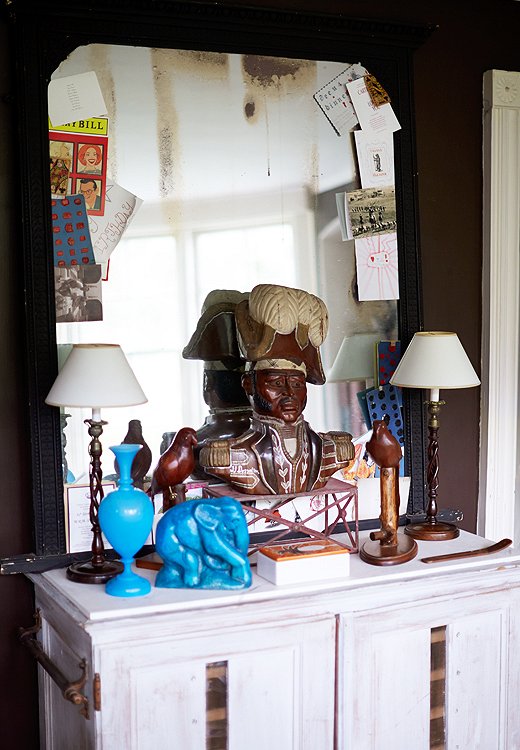 We are addicted shoppers—total shopaholics. Vintage shopping is our most favorite thing to do.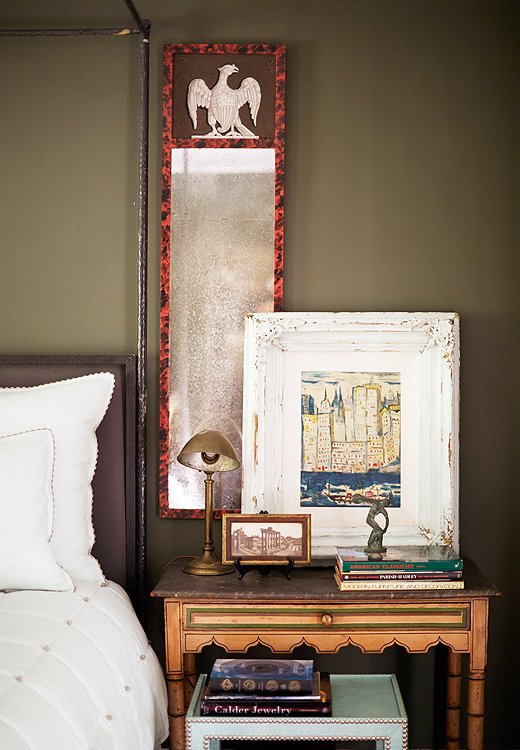 The Master Bedroom 
Painted in a deep, moody green (Guacamole from Benjamin Moore), the master bedroom holds a constantly revolving mix of the designers' favorite pieces. "Often what's on our nightstands is whatever our best finds were from the flea market that day," says Ross. "But some things stay there a long time." Adds Dransfield: "I love layering pieces. I love the tiny print on an easel in front of another painting. I love the strength it can give a vignette."
One of Geoffrey's best quotes is that every room needs a slap in the face. You need to shake it up somehow with something unexpected. We try to do that in every space we decorate.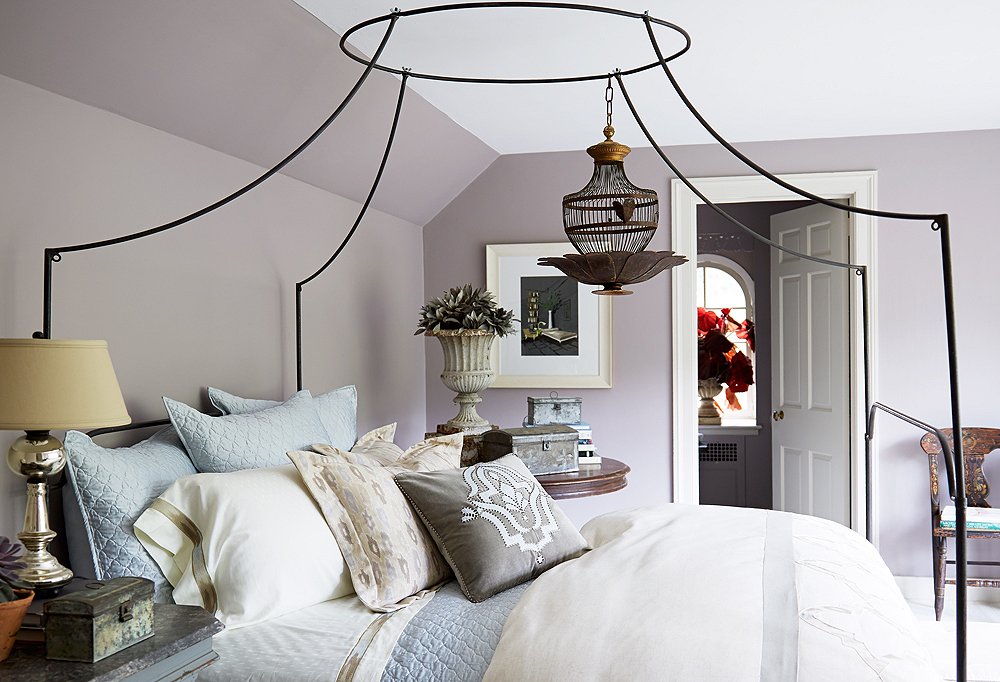 A Guest Room 
Dransfield and Ross have a good lady friend who regularly stays in this guest room, one of seven in the house. With her in mind, the design skews more feminine, though masculine furnishings balance it out. "I love the design tension between the masculine pieces and the feminine wall color," says Ross, referencing the iron bed against the lavender Elephant's Breath by Benjamin Moore. "No matter who the occupants are, there must be a good blend of masculine and feminine energy for the bedroom to feel right. This is more important in bedrooms than in any other room." Another must for bedrooms? Comfy-as-a-cloud feather beds. "Above everything else, I want my guests to be comfortable," says Ross. "This means inviting beds with a heavy duvet and a light coverlet so that they have options, big squishy goose-down pillows, and a reading lamp, so they can prop up and read in bed."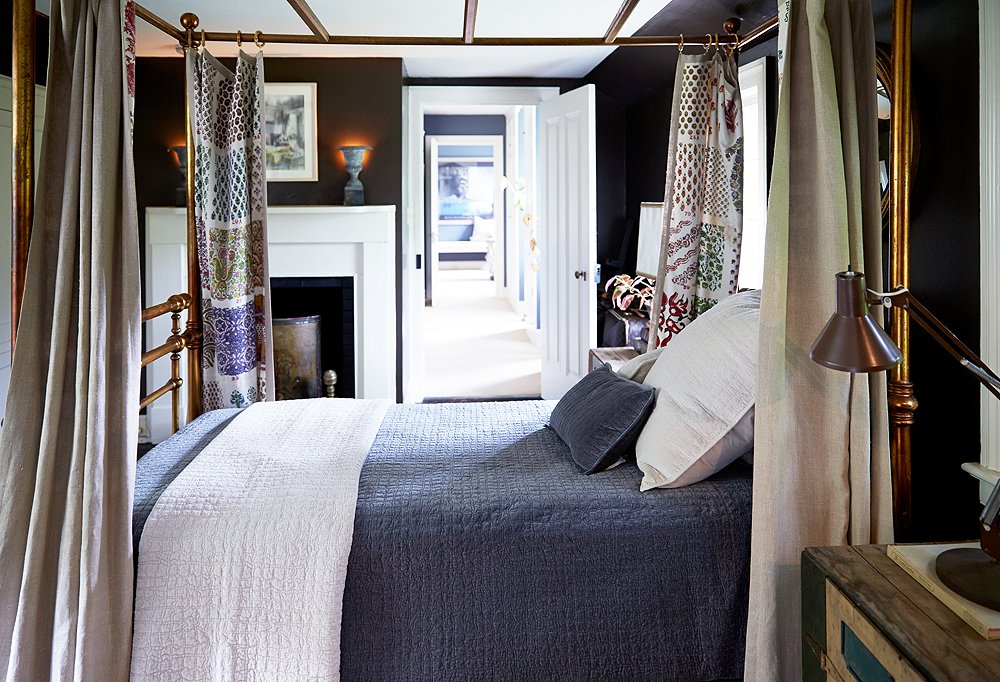 A Guest Room 
There's something undeniably cozy about this room, which despite its twin bed is the home's most popular with guests arriving alone. "Everybody says, 'I want to stay in that little brown bedroom,'" says Ross. "I think it's because people don't usually sleep in that kind of bed. It's like the couchette of a train." The bed's gold-leafed wood canopy and those earthy brown walls riff off the cool blue bedspread. Ross spotted the fabric that would become the canopy curtains behind a counter in Mumbai. It was used to display the woodblock prints for sale, corresponding numbers and all.