It takes her one week to paint a single panel. In that week, she turns a plain piece of silk fabric into a fantastical wonderland of birds, flowers, trees, and butterflies. These worlds are of her creation but steeped in the history of chinoiserie art. They're enchanting, exotic. What separates these panels from their antique counterparts is how artist Diane Hill approaches them.
Diane is a classically trained artist. She spent her early years learning traditional Chinese brushstrokes and emulating classic chinoiserie motifs. She worked for famed British design house Fromental as one of its designers for six years, perfecting her craft before striking out on her own. "I thought I had more to give," she tells One Kings Lane from her studio in London.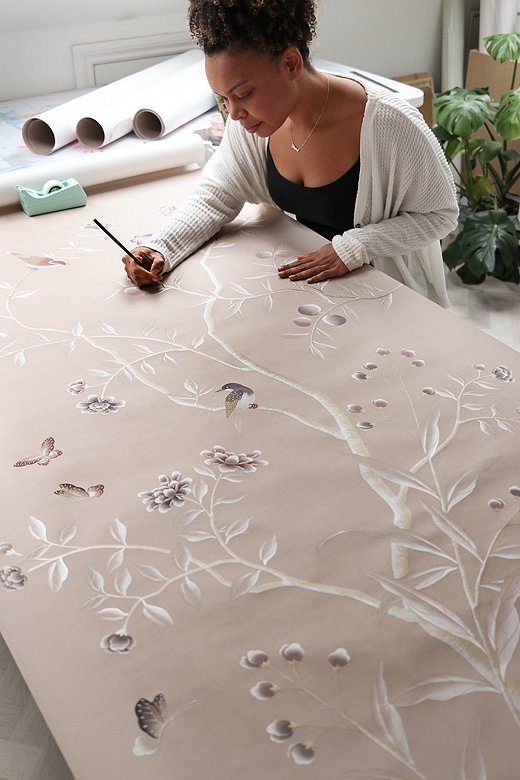 Only a handful of other artisans working today use the traditional techniques that Diana does. But her wallcoverings are unique. For one thing, many of the well-known firms that offer hand-painted wallpapers employ a team of painters, while Diane works alone. What's more, the colors she uses are fresh, and the motifs revitalized. Chinoiserie was created in the 17th century when Europeans were introduced to the art of Asia. A common misconception is that chinoiserie art is Asian; it's not. Chinoiserie is the European take on traditional Chinese art.
Diane references those original traditional elements but views them through a modern lens. "I think about what people are doing in their interiors now," she says. Modern color palettes inform her work and keep her from creating designs that feel too dark and moody, as traditional prints sometimes do. "I try to keep it quite young, fresh, and cheerful," she says.
Diane focused strictly on mural projects when she left Fromental. She was booked out for months doing time-intensive works. Each panel would take a week, but entire rooms would take her months. Ever the innovator, she had an idea. She wanted to share her work with a wider audience. She unknowingly tapped into two other trends: the rebirth of New Traditionalist design and the rise of the grandmillennial. She met a new wave of young people who were as obsessed with traditional design as she was.
She began taking little scenes from her mural projects and making them into prints. Each was named after the client whose mural the print had appeared in. These small pieces were her way to reach those grandmillennials who might not have room for a mural but wanted chinoiserie.  "That was really important to me," Diane says. While she doesn't do as much custom mural work anymore, she brings that precision and passion to her prints and accessories.
Diane has been wildly successful in her new venture. She's been featured across multiple magazines and made a name for herself on Instagram. What's exciting about her work is the passion with which she approaches it. Videos of her painting rack up thousands of views from fans thrilled to watch how the master creates her latest wonderland.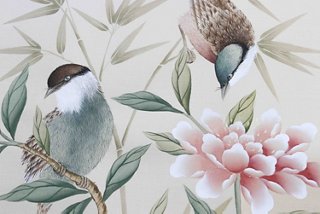 Design School
Chinoiserie style was popularized in the 17th century. The burgeoning trade relationships between European and Asian countries led to an increased Western interest in Asian art and culture. While this led to more than a few misinterpretations and misunderstandings, Europeans nevertheless held Asian art and culture in high regard. They began to produce their own versions of Asian artifacts, and chinoiserie, a word with French origins, was born.
Chinoiserie works generally stick to the four common motifs of foo dogs, nature scenes, dragons, and pagodas. Chinoiserie furniture is often lacquered and features bamboo elements. Ginger jars are also popular chinoiserie pieces. European designers copied the Ming-style blue-and-white patterns onto various ceramic goods. Traditionally these jars served functional purposes such as holding tea and spices. Only when Europeans got involved did they become purely decorative.
Chinoiserie is one of the most venerable decor styles still popular today. It has fully morphed into a style of its own that many design-lovers continue to look to for inspiration.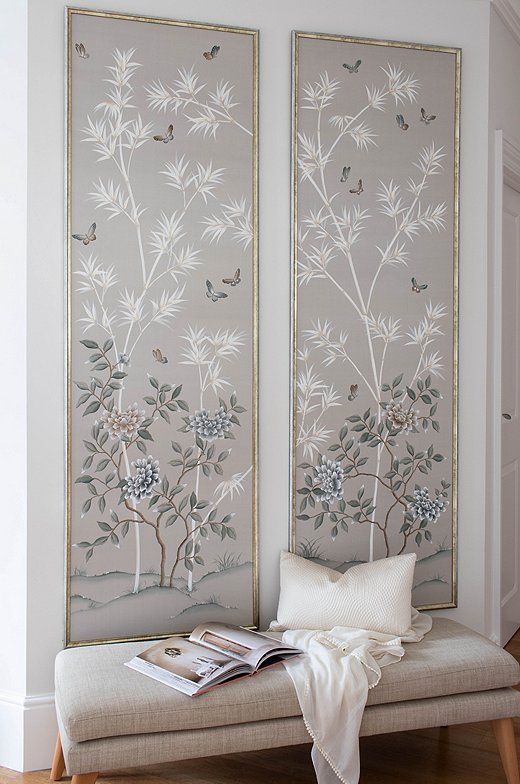 The Process
Diane's brushwork is mesmerizing. She has perfected her methods over years of practice, and she was kind enough to share them here with us. 
Sketch it out. Everything begins with a simple sketch. After a few passes, she sends off her designs to the client to approve or veto. She often turns to classical motifs for her design but updates them for the modern home. For example, "the 18th-century birds were really scary-looking," she says. "I beautify them, so I make them look pretty and soft."
Project it. After the designs are approved, it's time to sketch them in pencil on the silk. Diane uses a projector to scale up her designs for application. "The best thing I ever bought for my business is that projector," she says.
Put paint to paper. Once the design is ready, it's time to start painting. This step requires a lot of wait time as the watercolors Diane uses can be fickle. The process involves multiple layers of paint, pigment, and to give the colors gradient shades, water. After that is dry, she will add in small details with a precision brush.
Silk fabric can be very forgiving if used correctly. Once you mess up there is no going back, but what you can do is paint over it. This sort of freedom really makes the pieces come alive. A mistake can become an extended branch or a simple butterfly. If it's too far gone, Diane can also paint the correct thing on a separate piece of silk and lay it on top of the mistake. Because the fabric is so thin, it blends right over it. "I just don't really make mistakes," says Diane. "I know there's always an answer and the problem can always be solved."