Celebrating the 20-year anniversary of her full-service event production company, Tara Guérard Soirée, Charleston, SC-based wedding planner and designer Tara Guérard has lost count of how many events she has planned. "I think I've designed and planned over 500 weddings alone—but that's not even including the other events that I've done," she tells us. That said, it's no surprise when we called her to recap the elegant summer dinner party she threw for One Kings Lane, it took her a moment to recall which event we were discussing; "This was the one in my garden, right? With the hydrangea?" With hundreds of events under her belt, the southern belle is the consummate hostess.
For a more intimate look at her personal entertaining style, we asked Guérard to throw a summer get-together on her own turf—her charming and lush garden in Charleston—with friends and family. On the topic of her vision for the party, Guérard tells us she asked herself, "How can we have a really great outdoor garden party, maybe with a nod to the Fourth of July, but elevate it a little more so it's not just about a bucket of fried chicken and some flags?" The designer turned to a palette of blues and whites, with stripes as a running theme.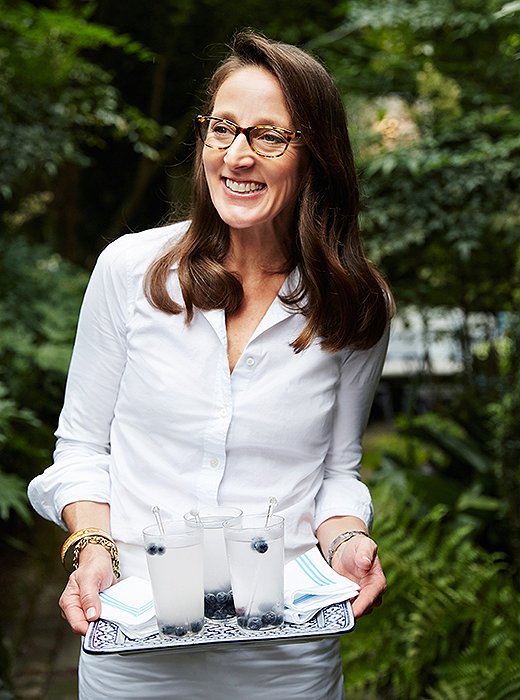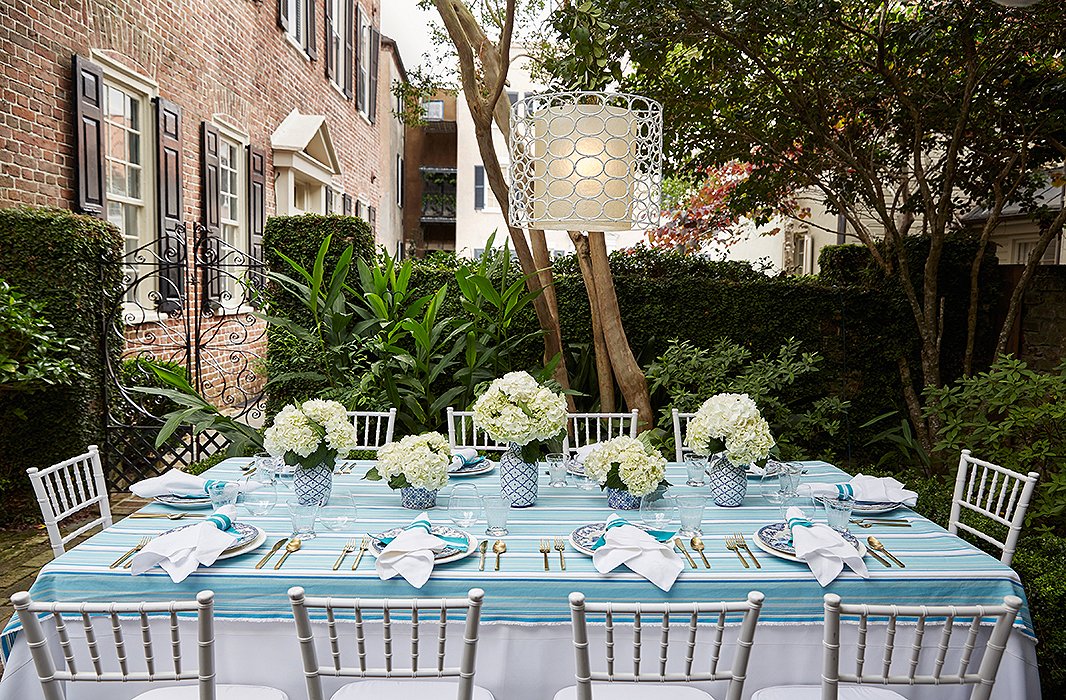 "I picked up some fabric at the store that was very summery and cheerful with kind of a picnic feel, and really all I did was throw it down on the table. I didn't have to sew anything," Guérard tells us of her easy tablecloth solution. "Then we just picked up some hydrangea and put them in blue-and-white vases in the middle of the table."
"My favorite thing in the world is a dinner party, so I made this get-together a dinner party in the garden," Guérard says. "We tried to serve traditional summer food—fried chicken and sliced tomatoes, homemade coleslaw, and all the things you might see at a barbecue, but we did it in a little more of a dressed-up way."
One of the keys to easy summer entertaining, Guérard advises, is getting out of the kitchen. "Slice some tomatoes. Buy the fried chicken from the grocery store. Pre-make your coleslaw the day before. Put out a bowl of peanuts—you can just buy those at the store," she suggests. "Entertaining is easy if you just make some of the details pretty—and just be prepared to have a good time!"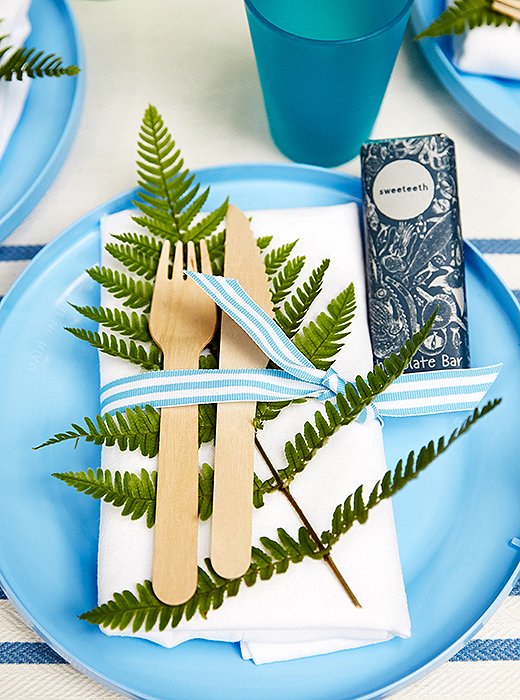 There's no reason to put children at the big table, because they'll never sit still. Just let them know you care about them too and make them their own cute table.
We Southerners are always, always just thinking about our guests first and foremost. It's all about hospitality.