The holiday season is finally here! In preparation for all the holiday decorating you're about to do, we've gathered some of our best tips and tricks. 
Do have a theme! Think about your decorations as a cohesive unit covering your entire house. Whether it's by color or style, your decorations should tell a single story. Try a classic color combination, or go Nordic with pale woods and crisp white linens. Whatever you choose, connect the dots through layered decor and tabletop.
Don't decorate in red and green because you feel you have to! Though these colors seem like a natural fit for Christmas, there are other options. Metallic glints of silver and gold bring a festive wintery feel to any home. California designer Mark D. Sikes chose to go with a blue-and-white scheme for Christmas. The possibilities are endless! 
Do use greenery! The Christmas tree isn't the only thing that can (or should) be green in your holidized home. Place fresh and faux greenery throughout the house to bring in beautiful natural elements. Wreaths make wonderful statements both inside and out. Use garland to zhush up a mantel. Fresh greenery also makes for a wonderfully lush centerpiece. 
Don't feel you have to compromise style for kid-friendliness. There are lots of ways to keep your house looking chic while also being kid-approved. Use fun wrapping paper and multicolor tree lights to evoke a sense of whimsy. Give kids their own mini trees to decorate and then display them on the mantel.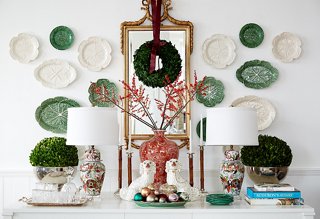 Advice from Our Favorite Interior Designers
"With all of the over-the-top decorations, restrained decorations can be rewarding," says New York-based interior designer Thomas Jayne. "I'm always struck by the beauty of paperwhites or an uncomplicated arrangement of evergreens."
"The only rule of holiday decorating I follow is that it should be uniquely personal," says D.C.-based interior and textiles designer Marika Meyer. "I throw out the traditional color schemes and instead pull out all of my favorite things: my grandmother's silver, vintage oyster plates, and that brand-new, stunning table setting I have my eye on."
"If you want the fastest way to feeling festive, fill vases with fresh holiday greenery. No flowers, just huge branches of winter greens like cedar and magnolia," says Texas-based interior designer Denise McGaha. "I also keep rolls of double-faced satin ribbon in platinum or gold on hand for every season and use this to hang wreaths, tie around gifts, hang special ornaments from chandeliers, and create a little holiday glamour."
Do decorate every room. Don't stop with your living and dining areas. Add holiday cheer to your bedroom with wintry throw pillows, or wrap garland around the bed for unexpected flair as our stylist did here.
Don't overthink it! Ignore the pressure to make your house feel over-the-top if that's not your style. These decorations are likely to stick around year after year, so go classic if you want to ensure longevity. (Although we have to admit, a colorful Christmas is a fun alternative.) 
Do use your creativity to set the table. Once the house is decorated, turn to the little moments that make it feel special. Holiday tables are a chance for your personality to shine through. While there is no special formula, our experts recommend a few must-have items for a lovely holiday dinner: flowers, festive table linens, and eye-catching dinnerware. Artfully mix your favorite vintage and new china to create a layered look. 
Don't leave your decorations up too long. Superstition has it that leaving your decorations up past the New Year will bring a year's worth of misfortune. Besides, spring is around the corner, and it's never too early to start thinking about all the joys of being outdoors again.