If it's about style and strength, natural-fiber rugs have all other floor coverings beat. Their tight construction, intricate woven designs, and natural tonal hues make them ultimate foundational workhorses. Read on to see how to make the most of natural-fiber rugs in every room in your home along with all the stylish details to keep in mind.
Demarcate with Dark Borders
Open seating areas provide endless options for furniture arrangements, and a dark-bordered natural-fiber rug can be a great jumping-off point for your layout. Use the rug's dark trim as a guide for framing your main seating area, then arrange other pieces to surround it; this will help delineate the focus area in the room. Consider choosing a sea-grass (stain-resistant) or jute (soft like wool, so it's easy on your soles) rug with a dark border to complement furnishings featuring tailored silhouettes and dark woods for a look that's seamlessly sophisticated.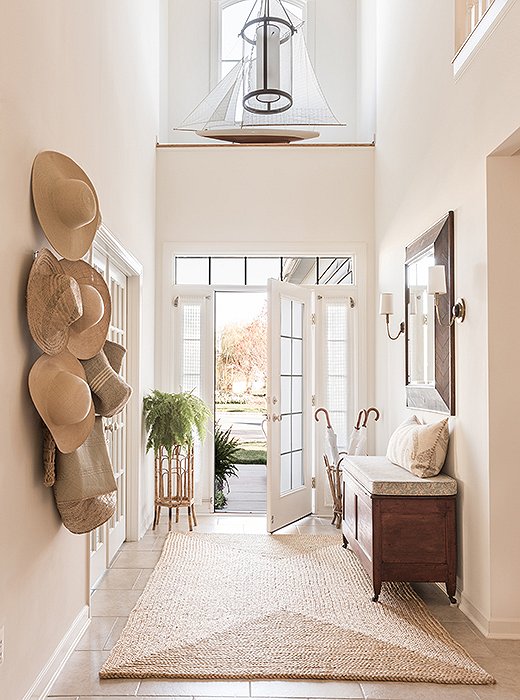 Start with Sisal
Ideal for the busiest areas in your home (the foyer, the kitchen), sisal rugs are even stronger than sea grass and jute. As well as being durable, they're the best guards against dirt and heavy foot traffic among natural-fiber rugs. Set one out in your entry as a gatekeeper to prevent sand and dirt from trickling into your home. Another bonus? You can clean sisal with a quick vacuum.
Eye the Herringbone
You'll often find jute rugs with a beautifully subtle herringbone pattern, which for us makes it ideal in a bedroom. The relatively soft texture of a jute rug feels wonderful beneath bare feet, while a herringbone motif draws the eye without overwhelming the space. We also love that a herringbone jute rug can blend quietly and elegantly with bolder prints and patterns, as in this guest room decked out with stripes, animal spots, and charming block prints.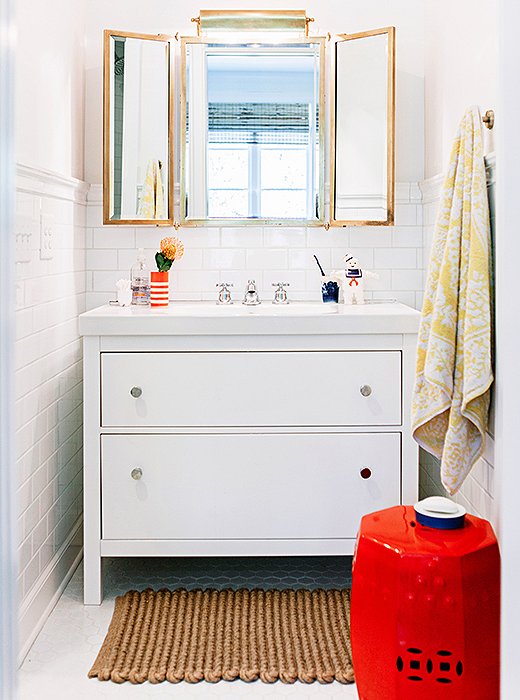 Opt for an Outdoor Mat
Skip the standard terry-cloth bath mat and bring in a nubby, water-resistant outdoor one. Often made of coir (fiber derived from the husk of coconut), an outdoor mat not only guards against moisture but is also just the right size for a bathroom. Plus we love the look of its rich, earthy texture punctuating a pristine white bath.
Make Way for Mesmerizing Motifs
It's easy to think of natural-fiber rugs as durable but boring bases that do little more than protect your floors. But they can also be design statements. Beyond herringbone, keep an eye out for rugs woven in oversize diamonds and other geometric patterns that can add major impact from the ground up. Pair a boldly patterned natural-fiber rug with other woven pieces, as in this kid's bedroom, for a look that's charming and considered.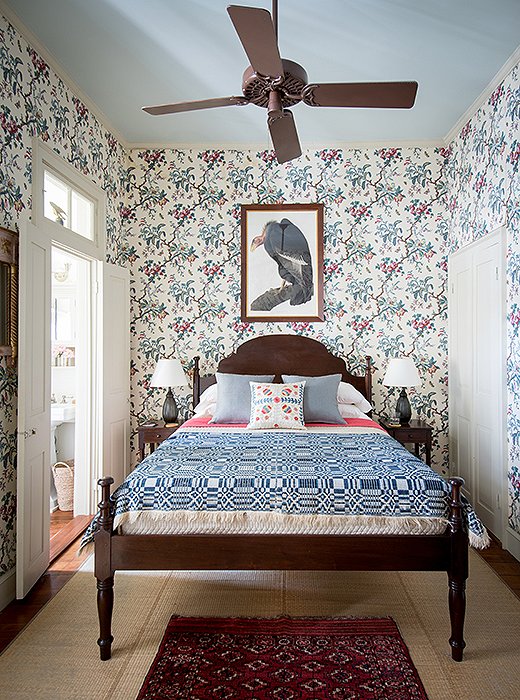 Lengthen with Subtle Lines
Try laying down a natural-fiber rug with a crisscross or lined pattern in a narrow space to give the impression of more space. For instance, the bed in this master bedroom runs parallel to the subtle lines of the rug, so the eye naturally travels the length of the room. The clean-lined construction of the rug also sets a neutral backdrop for vibrant, colorful prints to be layered on top. The effect is one that emphasizes both the rug and the space around the bed.
Blend with Light Trims
There's no chicer pairing than a cowhide and a soft-hued natural-fiber rug. The trick? Opt for a pale trim on the woven rug. The trim will draw focus to the juxtaposition in shapes—the natural-fiber rug's rectangular one versus the cowhide's curves—as it does in this sophisticated office. Moreover, a pale trim beautifully blends with a light-hued cowhide and can delicately frame a space within a room.