Lighthearted, colorful, and undoubtedly fun, the abstract works of artist Linda Colletta brighten up any room they're in. Based in Weston, CT, Linda has been producing exclusive prints for One Kings Lane for the past four years, honing her craft and evolving her style with each new collection. We spoke with her to discover more about her painterly productions, the best spots to hang them, and what, she hopes people feel once they're up on the wall.
---
Could you describe your process for us?
I'm an abstract expressionist painter, and the essence of that for me is experimentation. If I spill paint on a piece, for example, I don't think of it as ruined; it's just gone in a different direction. It's important that I have no preconceived notion of what the end result will be, but instead react to the process itself. It's about following the unknown and accepting what comes out of that. You have to let something else, something unseen, take control.  
What inspires you to paint?
Color. I'm obsessed with it, and the brighter, the bolder, the better. Fashion spreads, ad campaigns, things in nature—if there's color, I'm inspired by it.
Any hues of note? 
My latest obsession is this shade of fluorescent coral, so you'll see that popping up in my pieces quite a bit. Turquoise blue too. I love to pair the two together and watch how they ignite each other.
What do you need around you in your studio to do your best creative work?
I'm a neat freak, so cleanliness is a must. I'll clean my studio before pretty much every painting session. I don't know why, but all my paints have to be in order and all my brushes have to be clean, otherwise I just can't think. The other things I need are good coffee and music.
What kind of music? 
I listen to a lot of alternative and WFUV, which is Fordham University's radio station. They play a really nice eclectic mix of music. My guilty pleasure, though, is Katy Perry. I can't stop listening to "Swish Swish." I'm a little embarrassed to admit it, but every time it's on I just start dancing.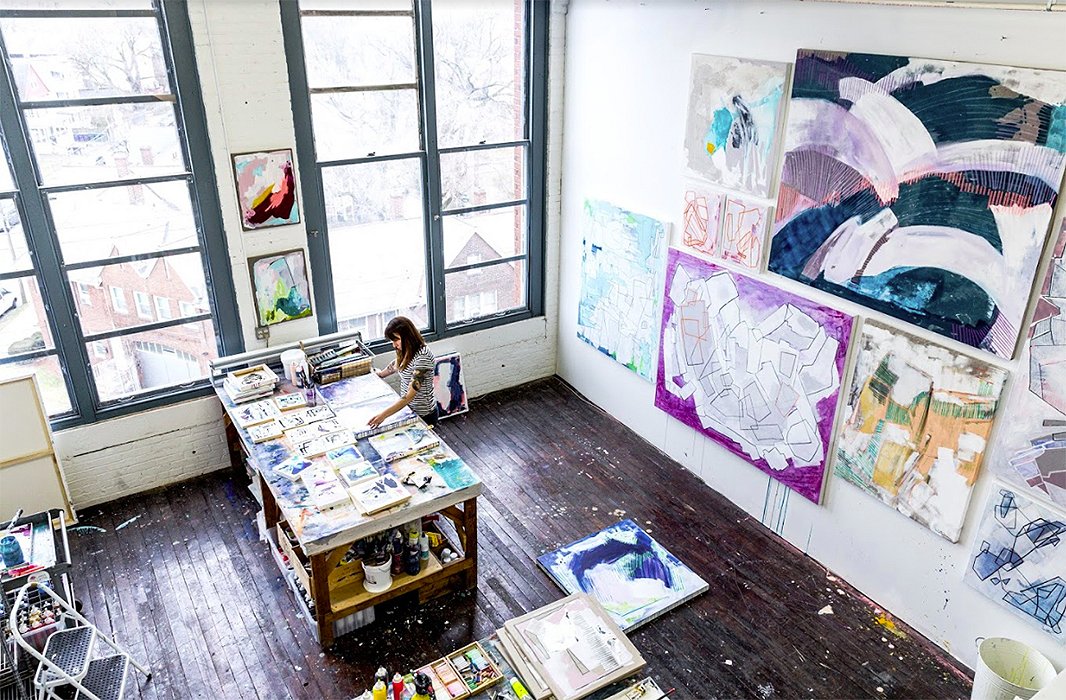 I want people to look at my work and smile and to feel that their home is a little brighter because it's there.
Is there a right way to hang a piece of art?
I've always loved the idea of getting lost in a painting, so it's important to hang a piece in a place that allows you to step back and take it in. If it's in your bedroom, it should be across from your bed so you can lie there and stare at it. If it's in the living room, it should be the centerpiece, not the television. Wherever you put it, it should encourage you to linger and to ponder.
Should artwork be moved around or remain in one place?
Personally I love to move my pieces around at least once a year. There's an energy that occurs when you move a piece of art from one place to another. Something about it makes the room it's in, or was in, feel alive again.  
How do you want people to feel when they look at your pieces?
What I'm really trying to do is uplift the human spirit, and I'm talking about my own as well as others. If there's an emotional quality to my work, it's uplifting. It should feel happy and provide a sense of serenity to the person who's looking at it. I want people to look at my work and smile and to feel that their home is a little brighter because it's there. To me, that kind of joy is what life's all about.