There's nothing quite like closing out a long year with family, friends, and a fun, fabulous bash. These tips will help you pull together a stylish countdown celebration.
Tip #10: Make Nice Cubes
Freeze sequins and pink sanding sugar for pretty party ice cubes as decoration. Get these frozen in batches the day before so they're ready to go, and fill a glass or an acrylic ice bucket to show off the sparkles and colors. Just remember it's only for decor, not for drinking!
Tip #9: Tape a Bow on It
Dress up your champagne glasses with a New Year's bowtie. All you need is double-sided tape and some nice ribbon, like one with polka dots for a festive look.
Tip #8: Keep It Sweet 'Til the End
Use vintage coupe glasses as candy dishes, and spread them out across a table for an easy-grab dessert bar. I always go for no fewer than five candies, from store-bought gummies to chocolate truffles.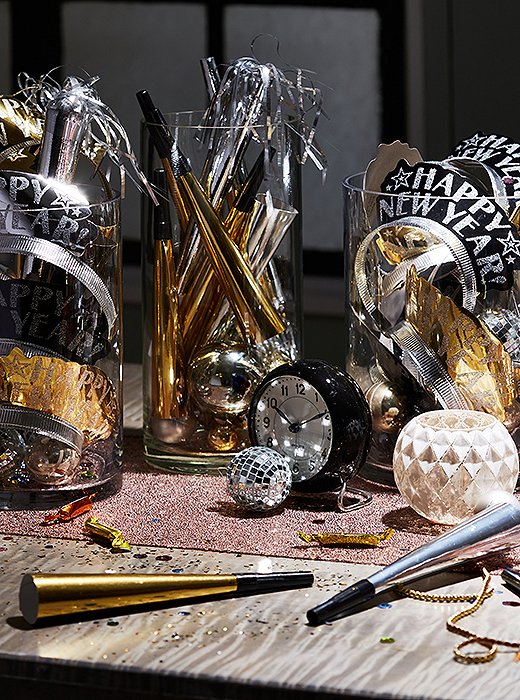 Tip #7: Nix the Formalities
Forget floral arrangements and the gorgeous centerpiece, and instead fill glass hurricanes with New Year's foil horns, silver balls, and confetti and even tiaras. New Year's Eve is the one occasion to look back and celebrate all the other parties you've pulled together—but without any of the fuss.
Tip #6: Put on the Glitz
Use a sequined runner on your table, and sprinkle confetti and more sequins on to pump up the glam factor. You can also layer strands of gold ribbon for extra glitter.
Tip #5: Think Clockwork
For a nostalgic and quirky touch, corral old alarm clocks and add them all across your table. Set them all to ring at midnight for some old-timey cacophony!
Tip #4: Shower on the Silver Shine
Disco balls, metallic votives, silver trays—go big with bursts of sleek shining moments. They are fabulous alongside sequins and will match the festive notes of all your party pieces and foil horns.
Tip #3: Break Out a Real Camera
An Insta story might get you 24 hours of eyeballs, but instant Polaroid photos lasts forever; there's nothing like making memories you can hold on to. Display your snaps in a confetti- and sequin-filled tray.
Tip #2: Countdown with Sparkles
Set sparklers aside in tall hurricanes and glasses ahead of time. When the countdown strikes, guests can easily grab one and light them at midnight. Make sure you have a glass of water close by just in case and to hold the extinguished sparklers after.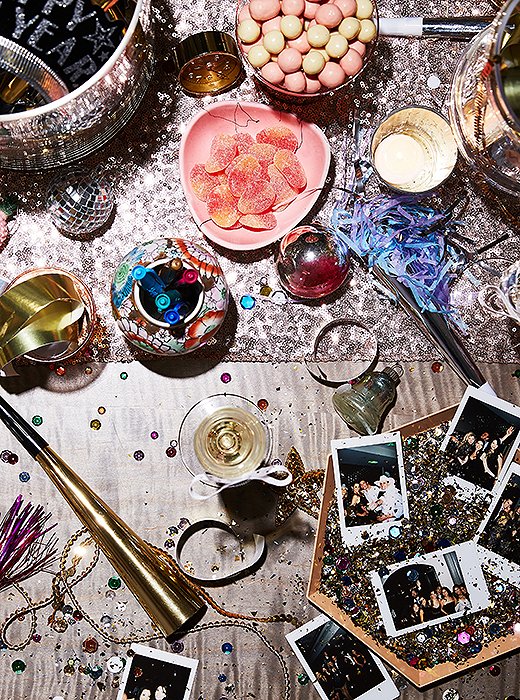 Tip #1: Time Out for a Minute
Everyone will want to snap, post, LiveStory, tweet, text, call, and hit the social apps, but take time—even a minute!—to just enjoy the early moments of the new year with the people around you. The night isn't over just yet, so there's plenty more moments to tell the world how you kicked off the new year!