With its boho-beach vibes and spirited interiors, The Goodland has been a breath of fresh air for the Santa Barbara, CA, hotel scene. Its signature layered look—thoughtful custom pieces, character-rich flea-market finds, original art, and well-studied historical references—was crafted by the young Los Angeles-based design firm Studio Collective. "We were inspired by the romantic idea of coastal California: Highway 1 adventures and traveling the open road," says partner Christian Schultz. The lively, livable designs run from the lobby to the rooms to the outdoor spaces and restaurant, with every last corner chock-full of design ideas. Below, we share a peek into some of the standout spaces and show you how to make the look your own.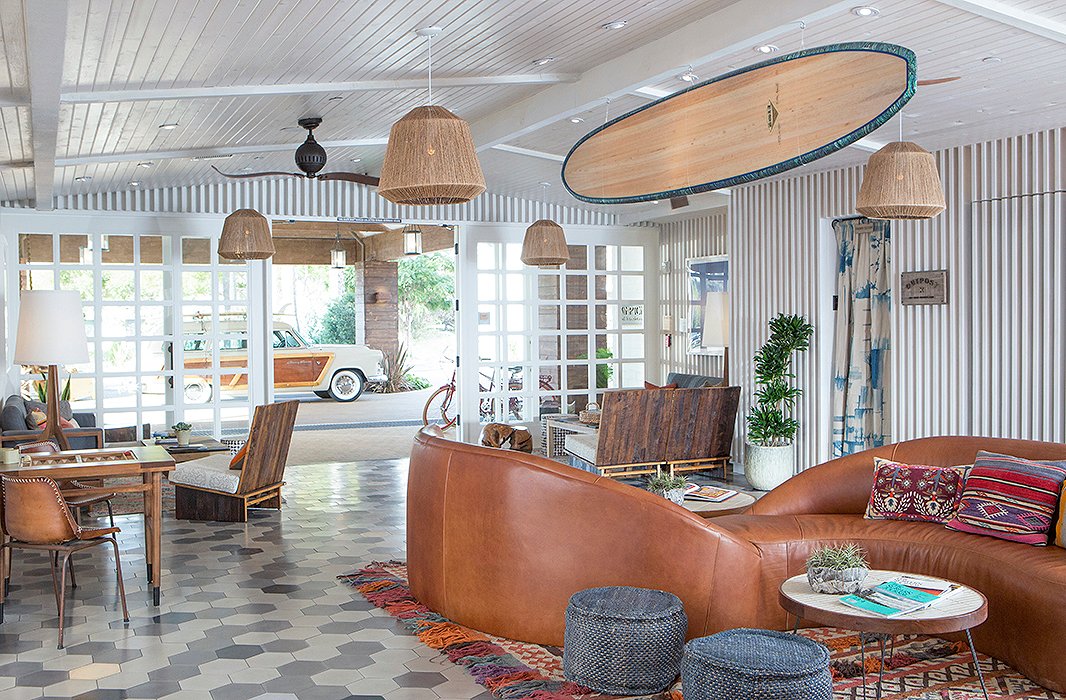 The Lobby
Step inside the lobby and immediately Studio Collective's driving narrative is clear: "That it felt like you were going to a friend's house on the coast," says Christian. "It's all about casual comfort, approachability, and most significantly encompassing, a beachside aesthetic with a looser, funkier flavor." Touches you wouldn't find in just any old hotel (such as a record library full of vinyl you can take back to the record player in your room) and furnishings that feel more living room than lobby seal the deal.
What We Love
The serpentine sofa, a custom piece by Wood World wrapped in "orange-y brown leather left untreated so a sense of time can be worn on it," is an eye-catching focal point and proof that sofas can float in the middle of a space—they don't need to be jammed up against a wall.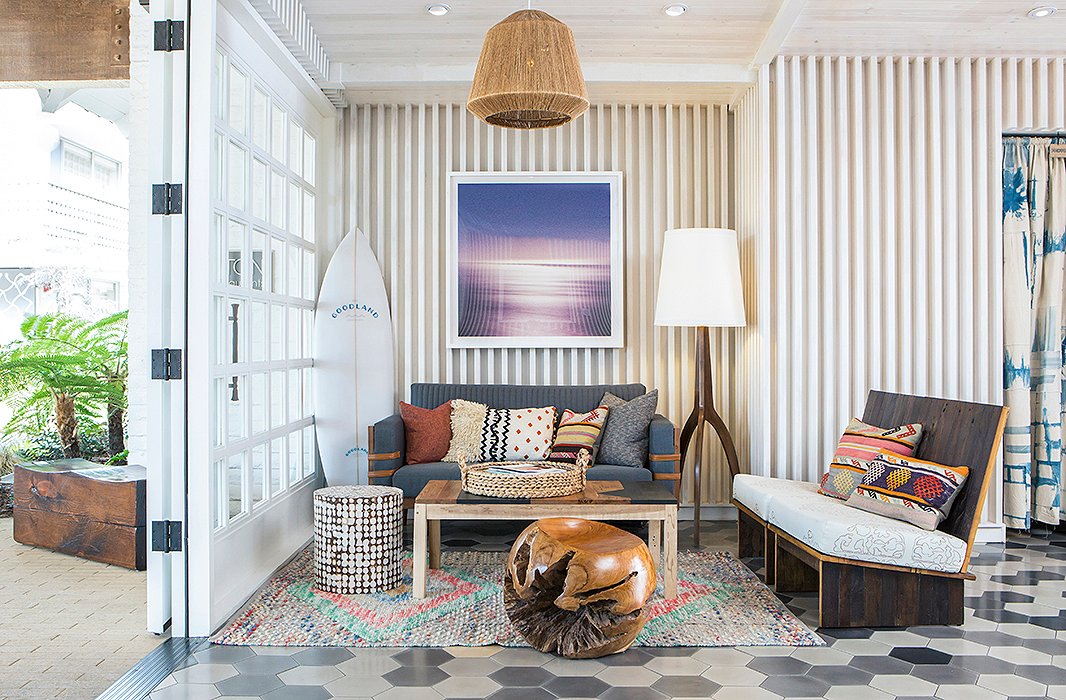 3 Decorating Ideas to Steal
Choose a theme. Even a loose one will help you stay focused when pulling a room together. Here it was "capturing the spirit of adventure of traveling up and down the California coast," says Christian, meaning coastal colors, beachy accents, and nods to California history—from the Chumash to the Spanish.
Mix it up. "We love a mix," Christian says. "Here we combined found items from various flea markets—The Rose Bowl, Long Beach, Melrose markets—with more bohemian items procured from places like Arteriors and a few more contemporary pieces like solid wood footstools, unique illustration artworks, and books from The Golden State Store and Surfing Cowboys."
Consider texture. "We're all about tactility," says Christian. "Nice detailing that isn't perfect, that gives a sense of the handmade." A mix of textures—wood, touchy-feely textiles, well-loved leather—adds depth to a space.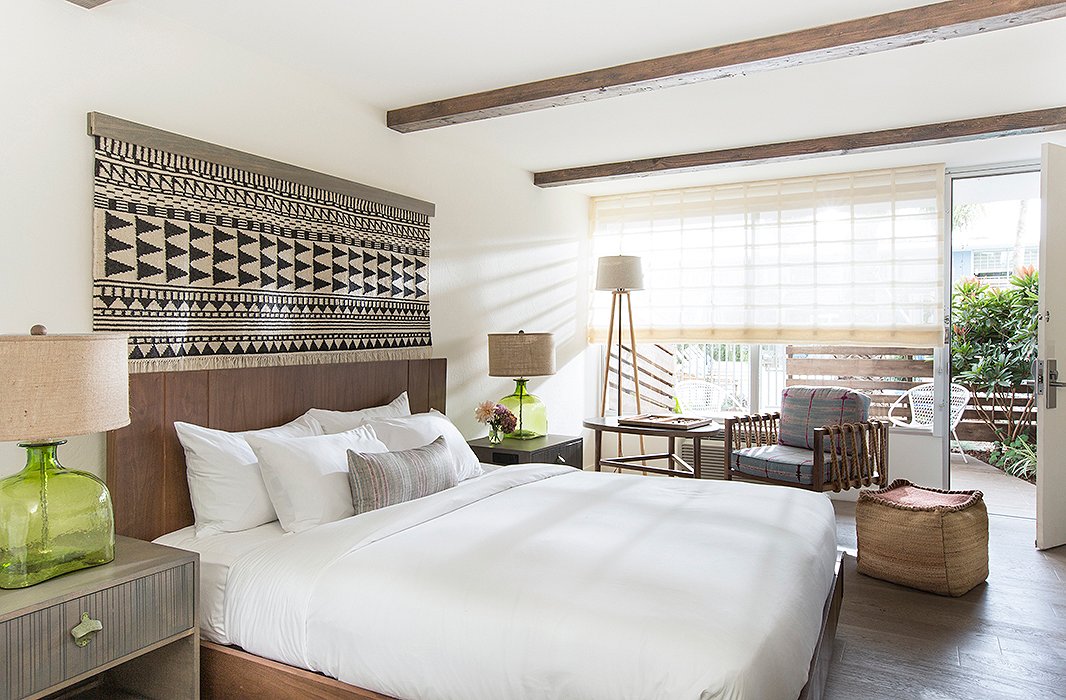 The Bedrooms
Rooms at The Goodland are bright affairs filled with fun furnishings and art. Some come with easy access to the pool and their own patio, but all get a Crosley record player so that you can cue up some tunes as you're relaxing or getting ready to hit the town.
What We Love
The smallest details (custom cast-ceramic robe hooks by Vermont ceramicist Cara Taylor and bottle-opener drawer pulls) are as considered as the largest features (the "headboards" are black-and-white tapestries influenced by local Chumash basket weaving).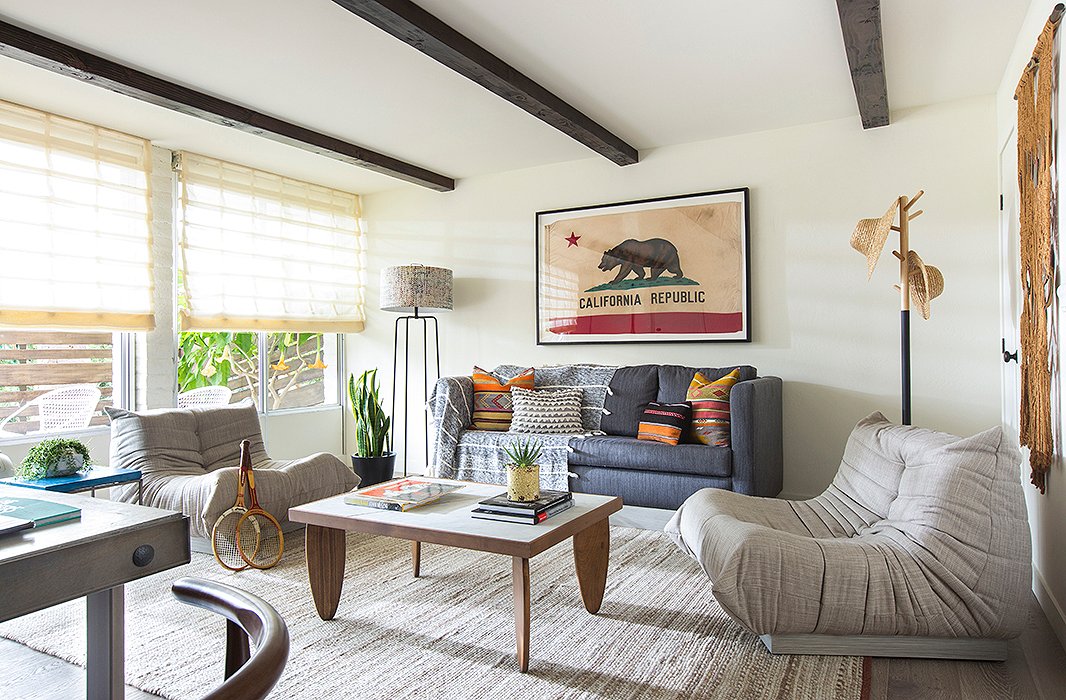 3 Decorating Ideas to Steal
Don't forget the details. When you're decorating a guest room, it's the special touches that will make overnighters feel right at home: the coat hanger for their hats and jackets, the luggage rack for their bags, the fresh towels in the bathroom, the carafe of water and fresh flowers on the bedside table.
Play up the character. Adding simple wood beams to the ceiling (as Studio Collective did here with natural-stained oak) gives depth and a sense of history to otherwise empty-box rooms.
Find the perfect white. Before co-founding Studio Collective, Christian worked for master hotelier Ian Schrager. One project had him searching obsessively for the perfect white paint: a warm white that would look lovely at all times of day and complement whatever you hung on it. Ian's search led him to Ralph Lauren's Riviera Terrace, a color that Christian continues to reference.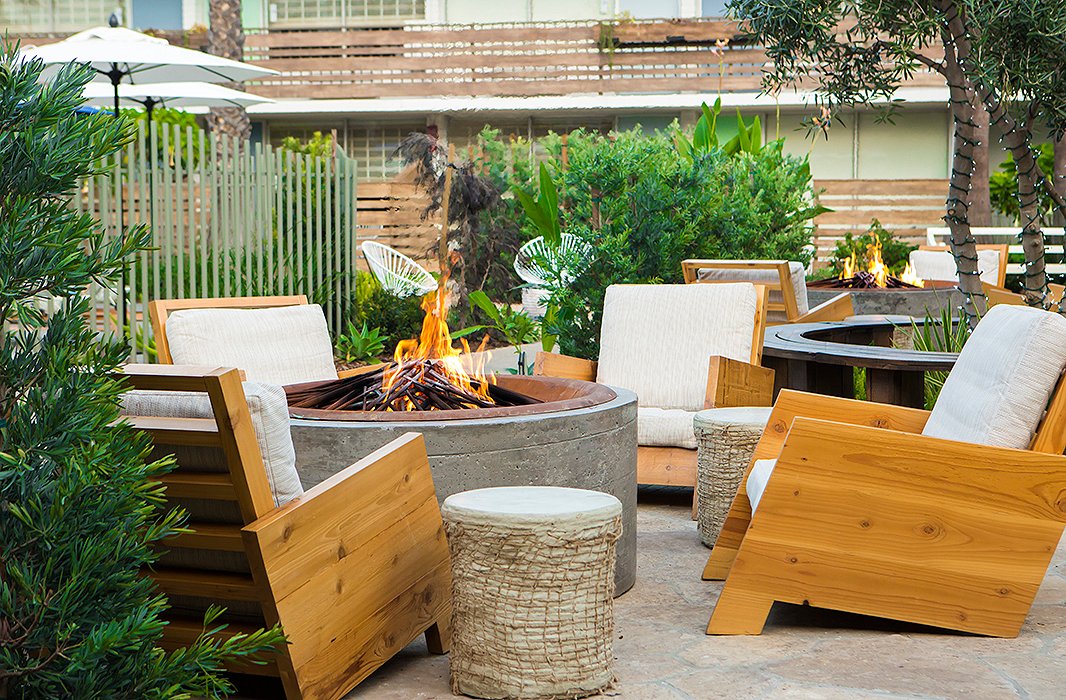 The Outdoor Spaces
Sprinkled around the hotel are several alfresco spots that bring on major backyard envy. Fixings for s'mores are served up on Monday evenings, live bands and DJs bring the party on weekend nights, and Sundays are for yoga around the pool, but any day of the week can see you snug in a comfy chair around a fire pit, drink in hand.
What We Love
The Goodland's outdoor areas feel like an extension of its homey interiors. Plush upholstery, accent chairs, and patterned textiles that could work just as easily inside complete the look.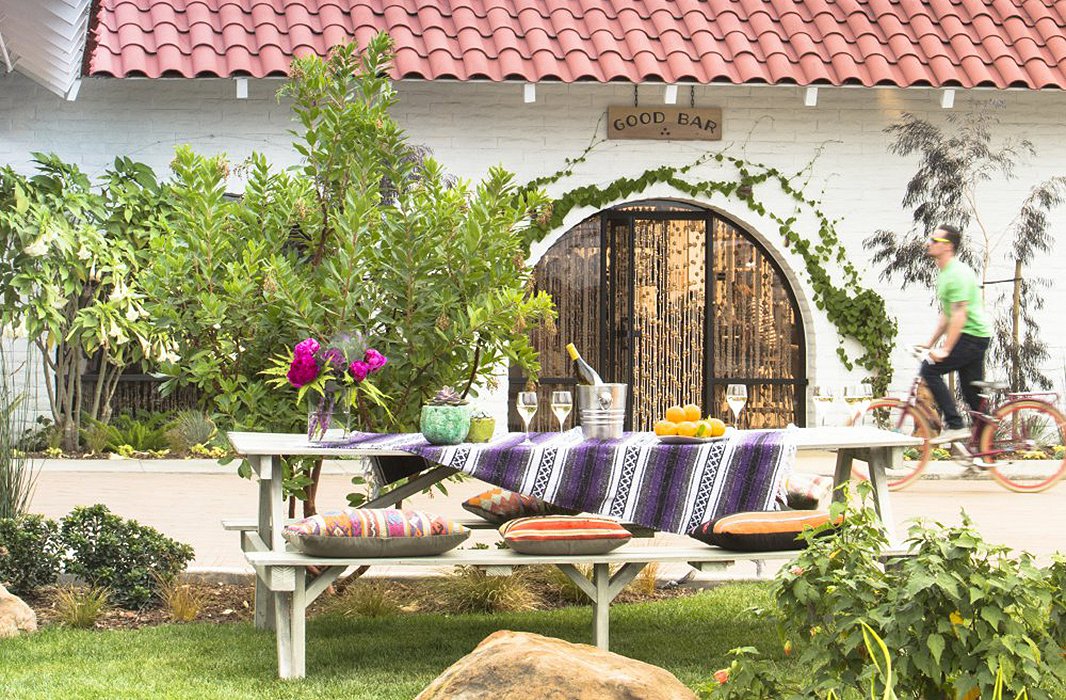 3 Decorating Ideas to Steal
Don't skimp on surfaces. Just like indoor seating, outdoor chairs need side-table sidekicks where you can set down your drink, sunnies, or book.
Layer it on. A simple blanket or throw and a handful of cushions transform a bare picnic table into a boho dining situation fit for an alfresco feast. You can even bring pillows from inside outdoors for the night.
Pick a palette. To create a cohesive look when mixing patterns, keep to a unified color scheme. "We wanted to base the textiles, pillows, and rugs on the faded sunset and beach hues of our Pacific coastline," says Studio Collective partner Leslie Kale. Or you can stick to a material type, whether it's serapes, kilims, or Moroccan wedding blankets.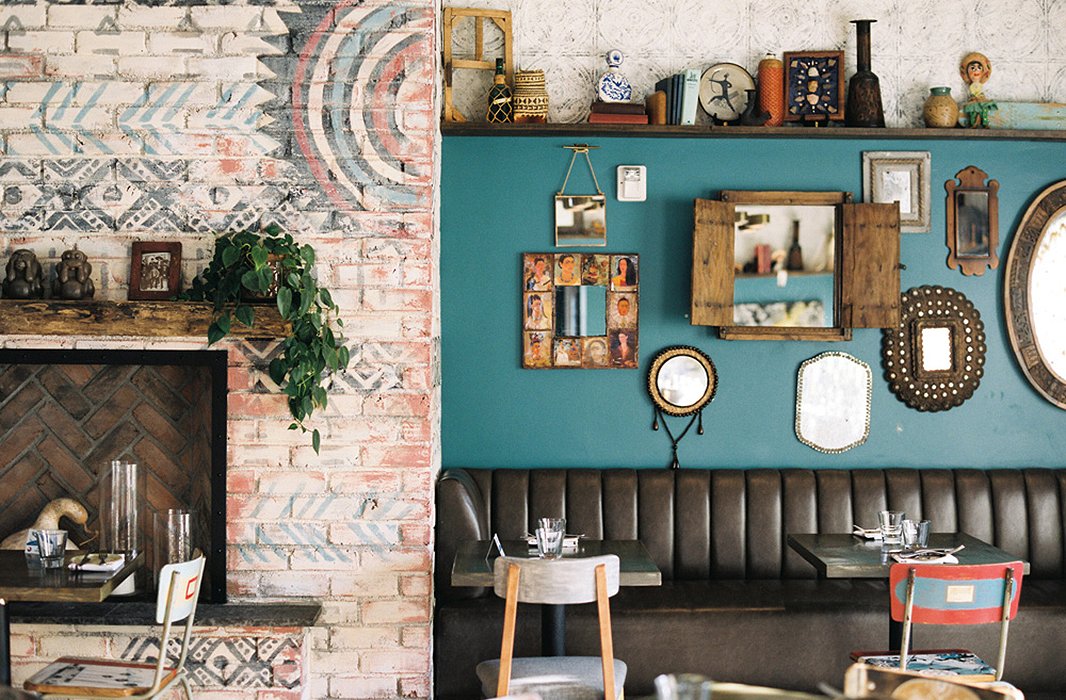 The Outpost
A must-stop even if you're not staying over, The Goodland's gorgeous indoor-outdoor restaurant was based on the concept of "a funky California taqueria," says Leslie. A taqueria with a global touch, that is: Its mouthwatering menu lands somewhere between Asia and Central America, all with a California twist. Pork street tacos cozy up to pork-belly bao buns, the wine list is heavy on local producers, and cocktails are inventive affairs featuring artisanal ingredients such as charred-pineapple chutney and habanero honey.
What We Love
Step into the restaurant and the first thing you'll see is the huge brick fireplace, hand-painted to reference Chumash designs.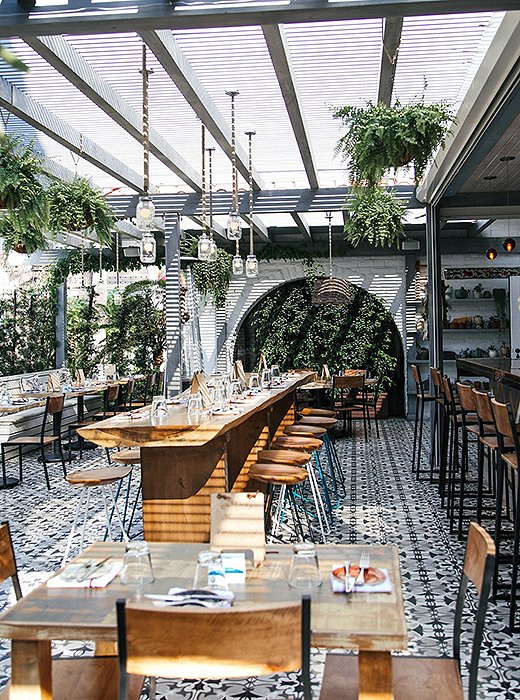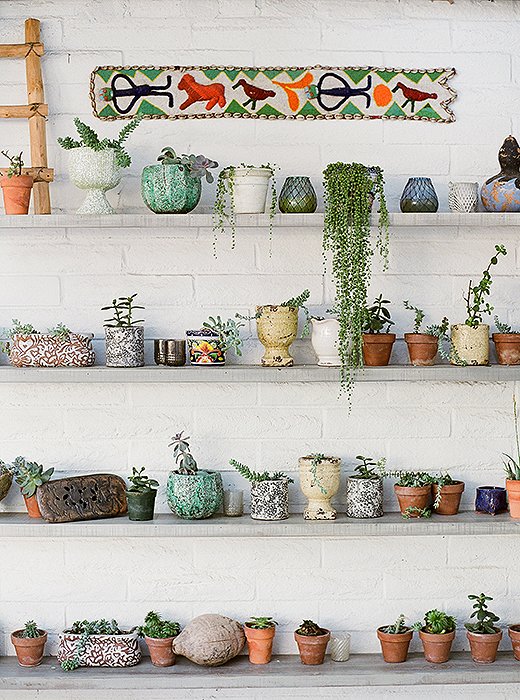 3 Decorating Ideas to Steal
Add pattern underfoot. The Outpost is floored in cement tiles, a design trend with staying power. "These were beautiful cement tiles we ordered from Granada Tile in a pattern called Champagne," Christian says. Popham Design and Clé are other makers we love.
Go green. Plants are affordable and bring vibrancy and life to any space. From the hanging ferns to the trellised vines to the niche wall of succulents atop wood shelving, the Outpost takes decorating with plants to the next level.
Look up. Whether your walls are empty or already adorned, installing a simple high shelf is an easy way to put more of your favorite items on display (and to keep them out of reach of little hands).