We asked Eva Kosmas Floras of the gorgeous food blog Adventures in Cooking to whip us up a holiday staple.
There's something about a rich slice of classic pumpkin pie that just can't be beat in the fall. It tastes delicious both chilled and warm, and it gives you a cozy feeling that goes all the way down to your toes. This version is especially smooth and silky, with an extra bit of richness, thanks to the crème fraîche and ricotta that are incorporated into the filling. You won't need to try any other pumpkin pie recipe after this one; the texture, flavor, and autumn spice make this a dish to behold.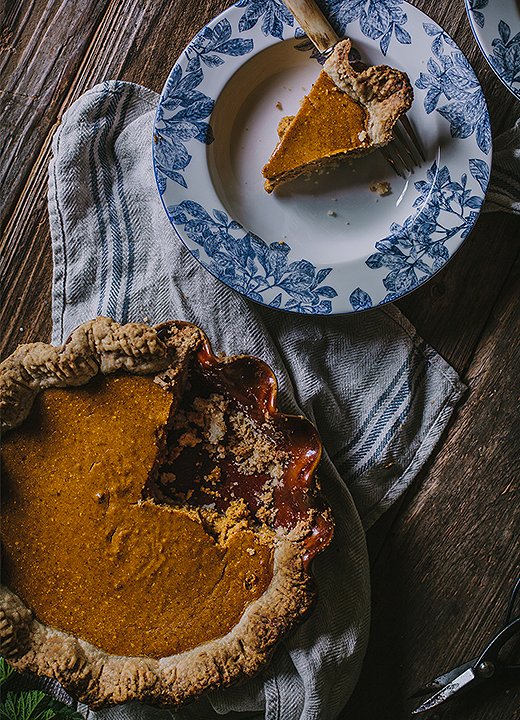 Classic Pumpkin Pie
INGREDIENTS:
Spiced Crust 
1 1/2 cups flour
1 1/2 tablespoons granulated sugar
1/4 teaspoon salt
1/4 teaspoon cardamom
1/4 teaspoon cinnamon
1/4 teaspoon ground cloves
1/2 cup unsalted butter, frozen
3 to 5 tablespoons ice water
Pumpkin Pie Filling
2 eggs
1 3/4 cup pumpkin puree
1/4 cup whole-milk ricotta
1/2 cup crème fraîche
1/2 cup whole milk
3/4 cup granulated sugar
1 teaspoon vanilla extract
1/2 teaspoon cinnamon
1/2 teaspoon allspice
1/4 teaspoon nutmeg
1/4 teaspoon cloves
DIRECTIONS:

1. First, prepare the crust. Preheat the oven to 350 degrees Fahrenheit. Mix together the dry ingredients in a large bowl. Grate the frozen butter over the bowl using the largest holes, stopping every 10 seconds or so to stir in the grated butter bits so that they don't form one giant butter clump. Add the ice water 1 tablespoon at a time, stirring then kneading, until the dough just comes together. Grab a handful of the dough in your fist and then release it. If it generally sticks together when you let go, it is fine. If it completely crumbles apart, it needs another tablespoon or two of water.
 2. Once the dough holds its shape, roll it out to 1/4-inch thickness on a well-floured surface. Transfer it to a 9-1/2 inch pie pan, centering it so that an even amount of crust hangs over each side. Press the crust into the bottom of the pan so that it is nice and snug (you don't want any air bubbles appearing). Press your thumbs into the edges of the crust at opposing angles all the way around the edge, then trim off the excess crust hanging over the edge. Cover with plastic wrap and refrigerate.
3. In a medium bowl, mix together the pumpkin pie filling ingredients until smooth. Remove the crust from the refrigerator and discard the plastic wrap. Pour the filling into the crust and place the pie in the oven. Bake for 50-60 minutes, or until the filling is set and the edges of the crust are golden. Remove and allow to cool for 30 minutes before slicing and serving.