With Thanksgiving in the rear-view mirror, 'tis the season to get your Christmas-decorating game in order. Lucky for us, New York City-based interior designer Lilly Bunn was more than willing to share her expert tips on how to holiday-ready your home while involving little ones in the festivities. We have yet to meet a tot who doesn't want to join in the tree trimming and add that (hopefully nonbreakable, nonfragile) ornament to the tree. "My girls both think they're decorators," laughs Lilly. "They love any kind of art project, and they love Christmas, so tree trimming is a great occasion to get the family together." Pulling off a holiday that is chic yet child-friendly takes some parental perseverance (lest you end up with a tree full of Elsa-from-Frozen ornaments or a Ninjago ninja figure as your tree topper). Check our Lilly's festive suggestions, and keep those Christmas cookies at the ready (the most delicious form of bribery we know).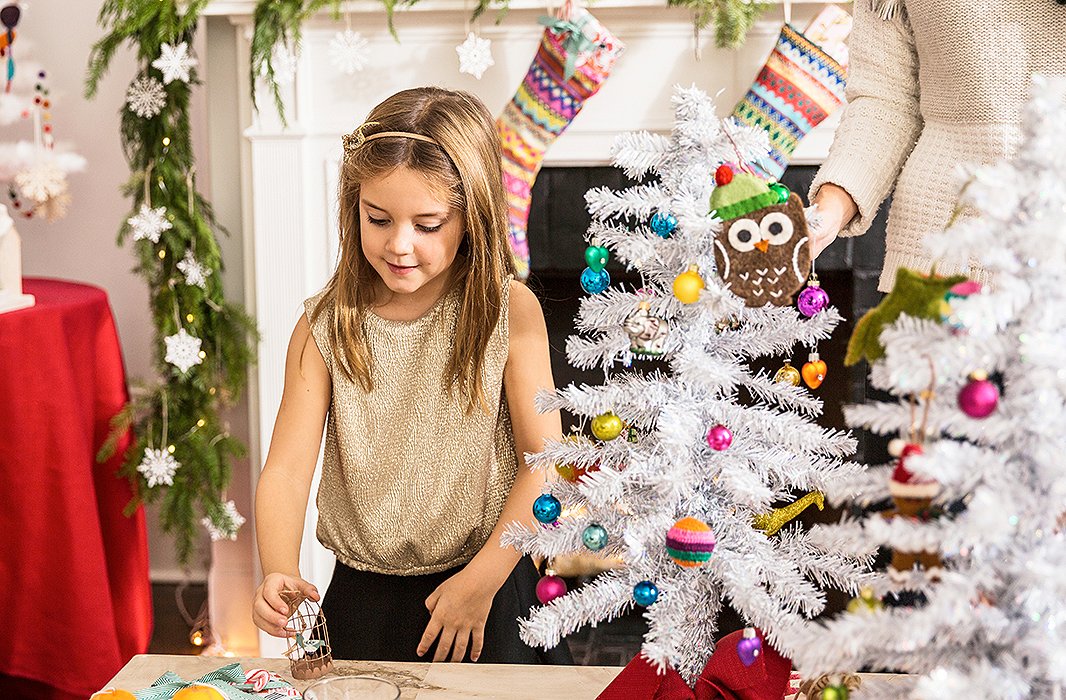 Tip No. 1: Get Crafty with the Kids
The ways for kids to chip in are as endless as your imagination. This year Lilly's two daughters were each given a small (and shamelessly fake) white tree to decorate. "The girls had a wonderful time decorating them," says Lilly, who also got a mini white feather tree so that she could join them in the fun. "They're a good example of how to deviate from the usual. They're festive and a little different and feel fun and fresh."
It's a matter of finding a balance, says Lilly, between grown-up elements (like the refined pinecone wreath) and kid-friendly flourishes. Try Pinterest for kid-centric Christmas projects—everything from handmade ornament ideas to DIY wreaths. Or just hit up your local craft store for inexpensive supplies: glitter, felt scraps, cotton balls (always good for Santa's beard and suit trim). Really, you can't go wrong. "Just put a nice bow on their creations at the end to give them a polished look," advises Lilly.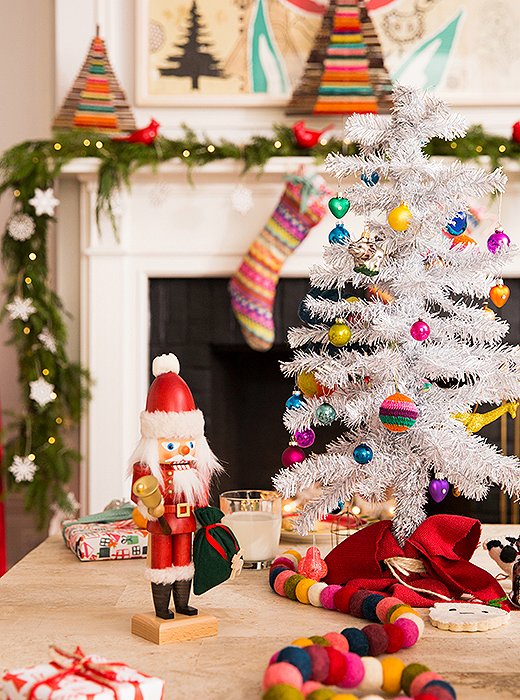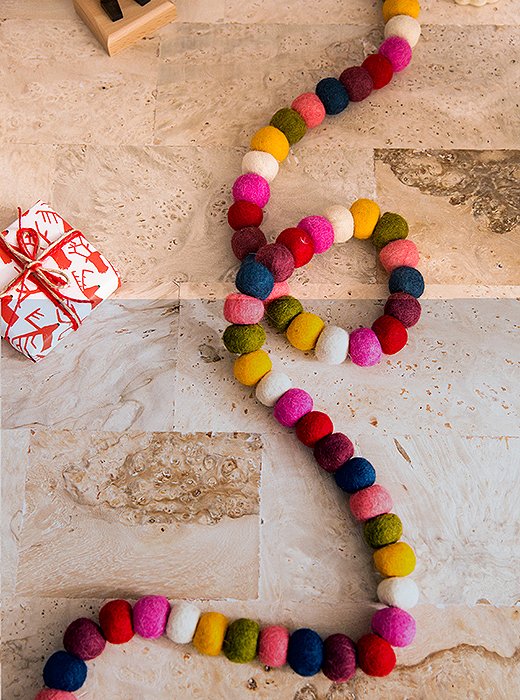 Tip No. 2: Take Your Kids Down Memory Lane
One of the ways Lilly makes sure her daughters appreciate the sentiment of the season is by letting them know the history behind the items they're using to spruce up the space. "Every year we get a handful of ornaments from people, and I like to take out a Sharpie and write on the back who gave it to me and the year," she says. "That always makes it fun when we're taking out ornaments again because we're able to recall who gave them to us. The girls get excited to see the ornaments that they remember from the previous year."
It's also the perfect time of year to show off your family heirlooms and share the stories behind them with your children. In Lilly's home, the stockings are especially treasured. "My grandmother knit my stocking, and my mom knit stockings for the girls," she says. "Knit stockings are really the best because you can fit a lot of presents in them."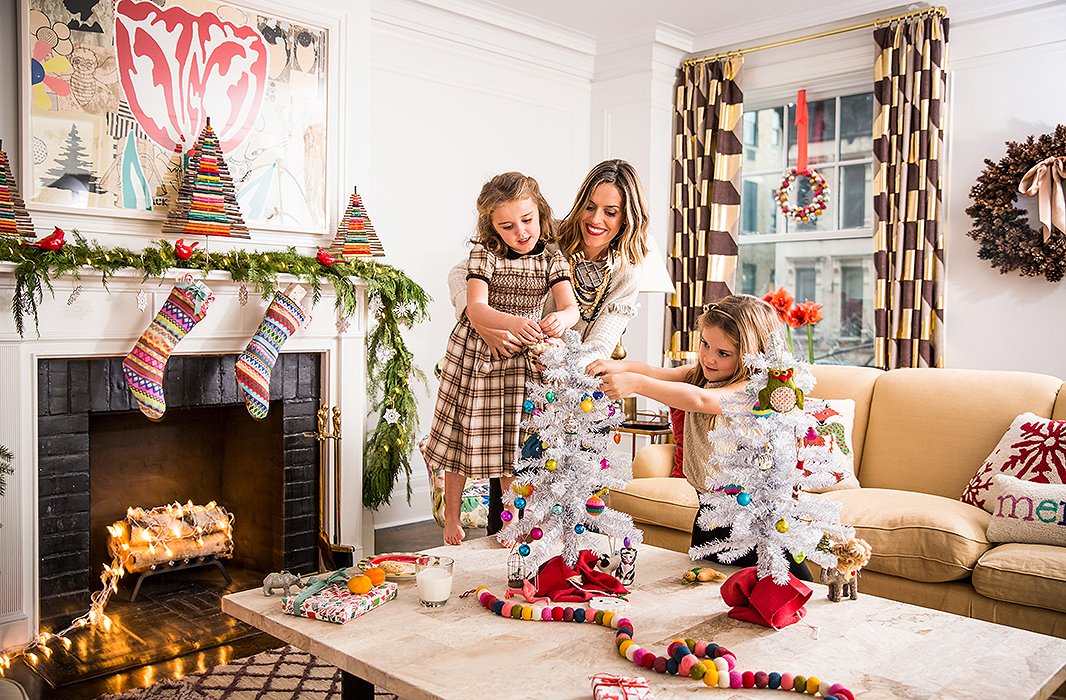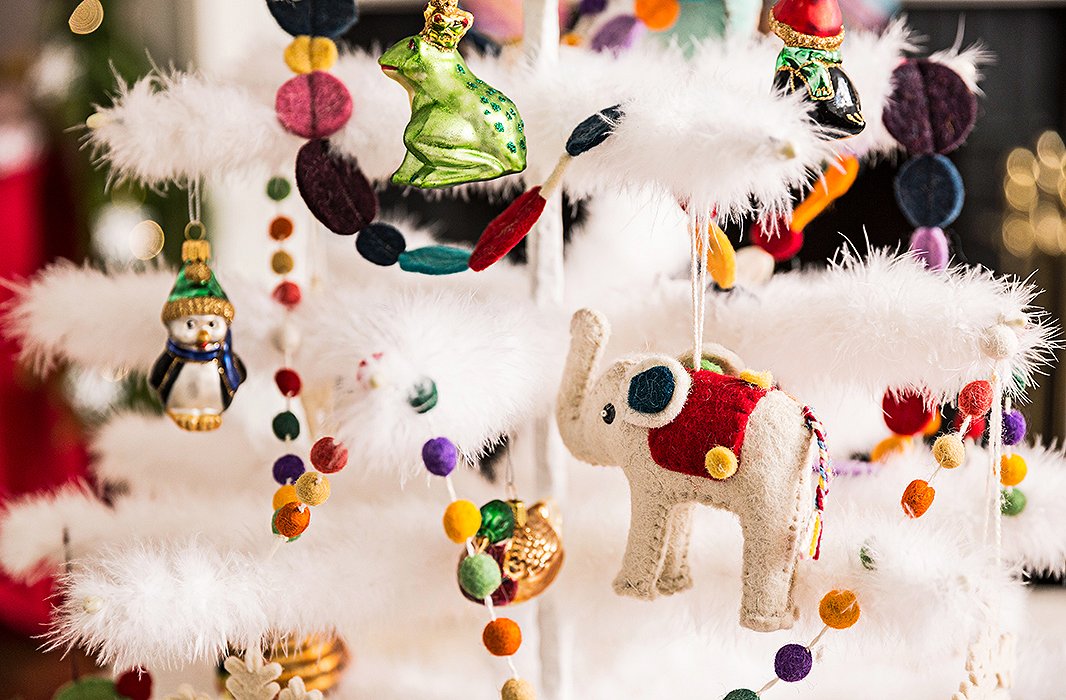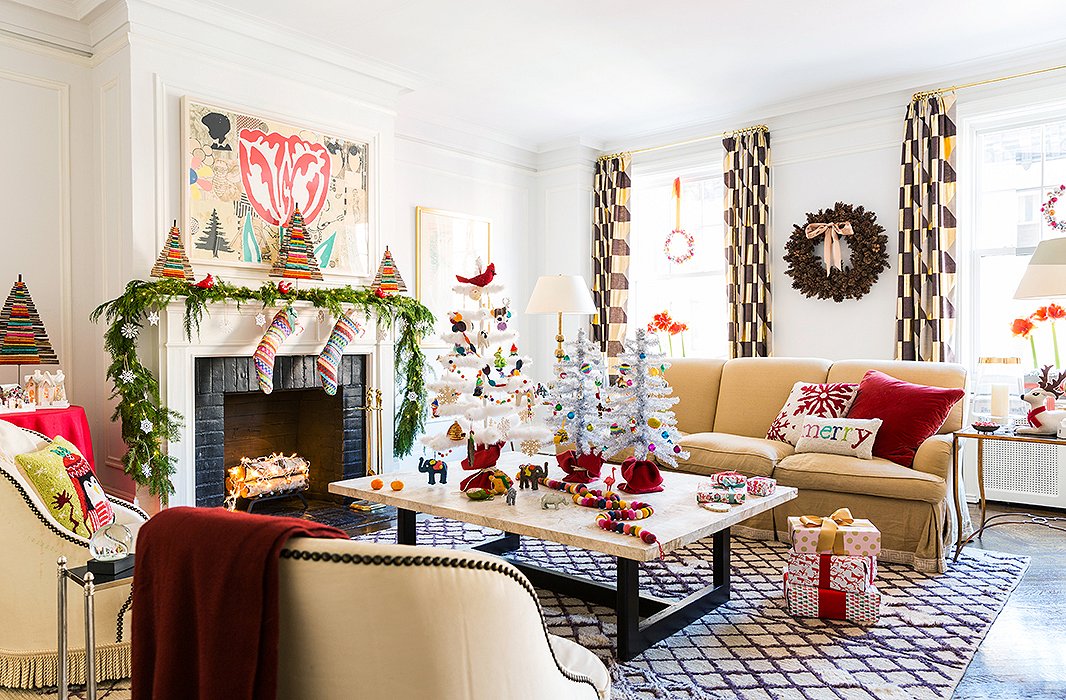 Tip No. 3: Let Fun Trump Refinement
Children are not known for their restraint—whether it's cookies or presents, too much is never enough. When it comes to Christmas, Lilly, who's known for her tasteful interiors (her work has been featured in Veranda and Elle Decor, among other publications), is totally in agreement. "I just add to my decor, year after year," she admits. All her accessories come out of hiding: the wreaths, the topiaries, the ribbons, the ornaments. "The more the merrier! It's the time of year to have fun and not worry too much about how chic it looks. Go happy and over the top!" Lilly embraces this approach for everything from cheeky holiday pillows to wrapping paper. "I actually like pretty wrapping: gold, silver, red, green. This year I'm doing mostly red, shiny red. But I'll get into pattern or even do a hokey reindeer print sometimes too."
Christmas is the time of year to have fun and not worry too much about how chic it looks. Go happy and over the top.
Tip No. 4: Make Tree Trimming a Family Event
Tree trimming is a big deal in the Bunn abode. "Oh my gosh. We turn on Christmas music, and we get all the ornaments out, and we'll spend a night just decorating the tree," Lilly says. (Mariah Carey's Christmas albums and Andrea Bocelli's My Christmas are always in rotation.) "I'll drink wine, the girls will have Christmas cookies, and we listen to music. One of our favorite things about Christmas is decorating."
Lilly varies her approach to the main tree every year. Sometimes she'll use colored lights, sometimes white. Part of the fun, she says, is leaving it open to your whim. For those who crave a more controlled outcome, she offers this advice: "Sometimes I'll buy 10 blue ornaments or 10 ornaments of all the same color or type for the tree just to make it feel cohesive." Nice to know a chic tree is a mere boxed set away.
Tip No. 5: Don't Forget the Cookies!
"The girls love the Christmas cookies. We make them all holiday season," says Lilly. She doesn't care whether they're from scratch or a store-bought mix. What is important, though, is that they're not too crumbly to work for the girls' final project of the season. "We put a little hole in them and hang them on the tree," says Lilly. Extra cookies are also perfect to leave out for Santa!
We turn on Christmas music, and we get all the ornaments out, and we'll spend a night just decorating the tree.