Setting an elegant table can be one of the most daunting tasks of the holiday season. There are countless decisions to be made about china, centerpieces, flatware, and linens. As we head into the holiday season, we asked our friends to help us set tables that felt fresh. From a coastal autumnal dinner to a cozy Christmas soiree, our experts shared their best tips and tricks for creating beautiful tabletop moments.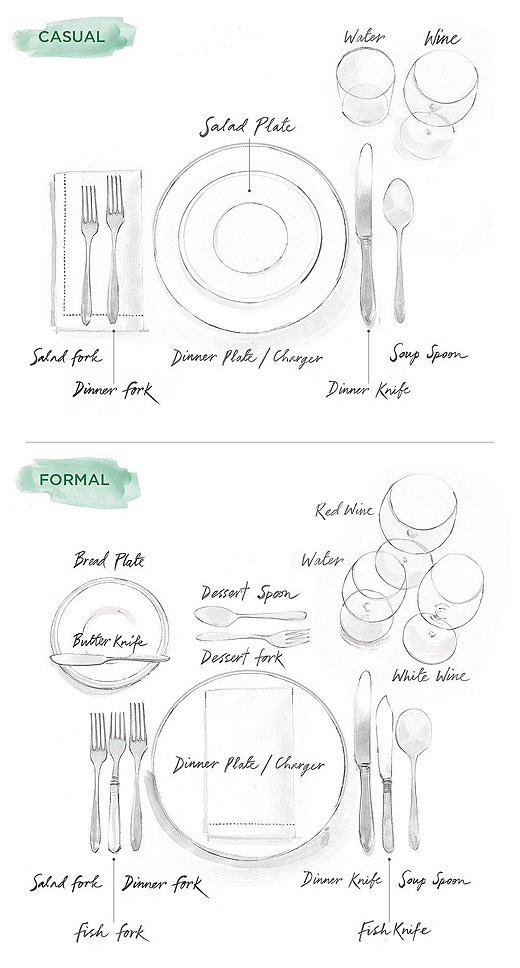 How to Set the Table
Let's start with the basics: How you set your table ties in directly to the meal you're having. Do you want a casual dinner with friends or a formal family gathering? A formal place setting is luxe. It includes both red- and white-wine glasses, flatware for each course, and various plates. The casual place setting has a single wineglass and a water goblet and fewer utensils. Forks should be set in order of use, working from the outside in, and knives should face in toward the plate. These templates are just a base from which to build, and everyone we spoke to has his or her take. 
"I don't entertain as much as I would like to with my hectic travel schedule," says interior designer Paloma Contreras. "So when I do, I like to make things feel as special as possible." Ben Reynaert, senior style and market editor at ADPro, also takes a buttoned-up approach: "I always lean hard into formal for the holidays." As for design journalist Sarah Bray, something a little more free-form feels right. "I don't like to follow too many rules," she says. "I always start with the tablecloth, usually yardage of a decorative fabric, and let the creative juices flow from there."
Sarah Bray
At her new home in Bermuda, Sarah set an autumnal dinner en plein air with a fresh color palette. "I am a pink and pastel queen," she says, "but during the holidays, blues and greens are my favorite." The colors bring a bit of cozy warmth to the table and are a perfect nod to both fall and Bermuda's island style.
She set the table with Vietri's Drop glasses, bamboo flatware from Juliska, and a mix of plates that include Burleigh Asiatic Pheasant Plates.
Sarah's Three Rules for a Beautifully Set Table
Invite everyone you love and invest in extra seating. "When I moved to Bermuda, I put 20 bamboo folding chairs on my shipping container, and I already need 20 more."
Use native greenery. Even after her garden was decimated by hurricane season, Sarah used what was available. "I made it work with a smaller bud vase and some baby palm fronds surrounded by a sea of collected brass candlesticks."
Have fun and know that rules are meant to be broken. "For example, Emily Post would say put your bread plate on the top left corner of the plate, but it fit better lower on the left​—​so I just went with that and didn't stress."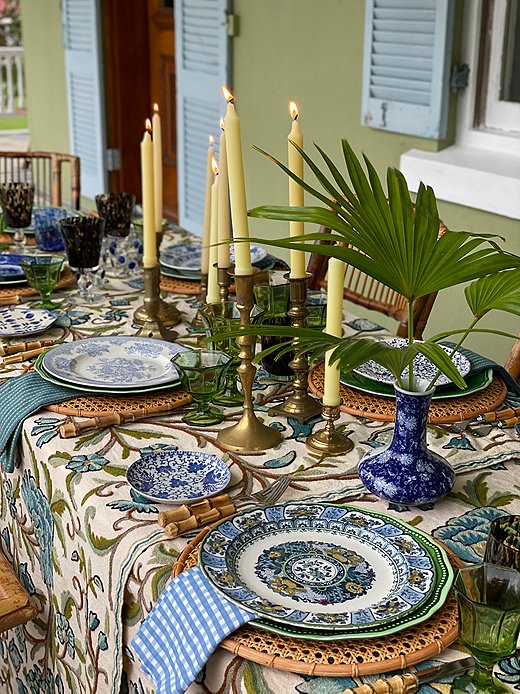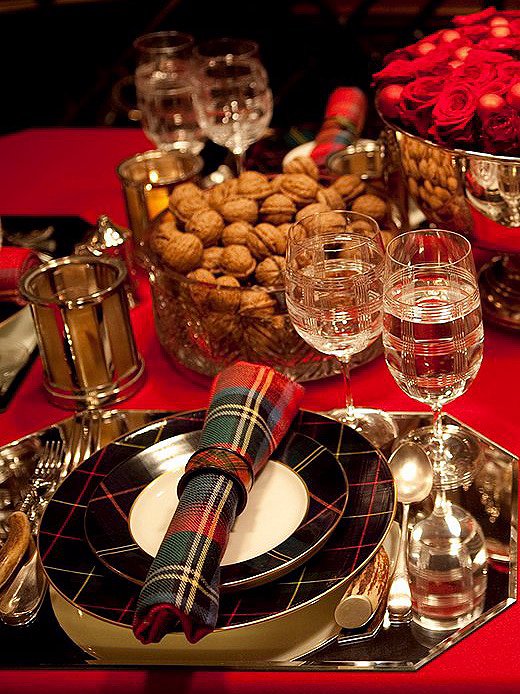 Scot Meacham Wood
He's the Prince of Plaid and the Titan of Tartan. There are lots of ways to describe interior designer Scot Meacham Wood's style, but one thing is for certain: He loves a traditional holiday color palette.
He mixed classic Christmas plaids with rustic elements to create his ideal holiday table. The stag-horn-handle cutlery amps up the cabin feel. The glassware is a clever nod to his love of plaid. The mirrored place mats and the silver pieces on the table add an element of Art Deco glam.
Scot's Must-Haves for the Table
Flowers. If they're large, make sure they sit low so that they don't interfere with conversation. Alternatively, small buds in vintage julep cups are a good go-to.
Make sure the silverware matches the menu. "I try not to overwhelm our guest with a panoply of utensils, but I always make certain we have the correct pieces for the menu," he says.
Tablecloths are a necessity. "I love a beautiful tablecloth," he says. "I almost always use one whenever we are entertaining."
Centerpieces: Yay or Nay?
Centerpieces can be one of the trickiest styling choices you have to make when setting a table. Here's how to pick the right one.
"Oftentimes I find the expanse of a table for eight or more can be quite empty and boring," Ben says. "I love scattering vintage glass jars and vases down the table and using various-sized flowers and greens."
"I believe centerpiece elements should double as conversation pieces," says chef Stephanie Nass. "In terms of centerpiece height, I have no strict rule. Consider it within the context of the table size, table shape, and room acoustics."
"Centerpieces can be too big and too tall. They can also be too small and scattered-looking," says Massachusetts-based interior designer
Liz Caan
. "I like a cohesive tablescape that can remain during the meal."
Paloma Contreras
Paloma didn't become the darling of the interior design world that she is without planning. That laserlike focus extends to her table setting skills as well. "Determine your theme ahead of time, order your flowers in advance, and set your table a day or two early so that you aren't stressed out the day of your event," she advises.
Paloma's go-to holiday color scheme isn't red or green; it's aubergine and raspberry. Her table is full of fun and funky moments. "I think you really have to assess the type of vibe you want to create," she says.
Paloma's Tabletop Go-Tos
For holiday china, she prefers something simple like Ralph Lauren Home's Wilshire China.
For centerpieces, she prefers low and lush. "They are just as beautiful and make it easier to engage with everyone at the table," she says.
On that note, flowers are a must. "I always include beautiful flowers on the table," she says. "They are my favorite part of creating beautiful table settings and are often the impetus for the entire color palette or theme."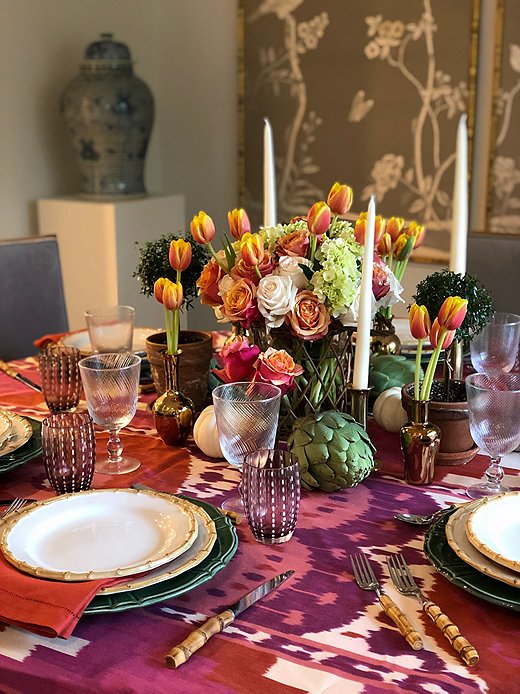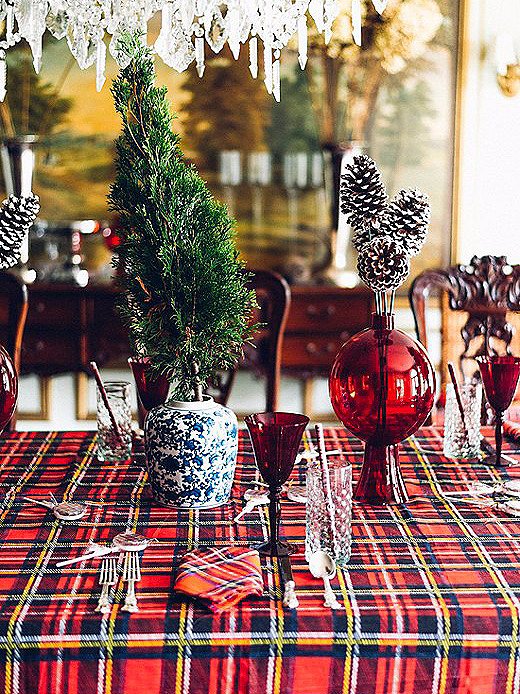 Stephanie Nass
Stephanie Nass approaches the table not as a designer but as a chef. She built her catering and accessory business around her love of food, and her tablescape started there too. "The table setting is the stage for a culinary performance," she says. Look closely and you'll see hints of her culinary prowess sprinkled throughout her tartan holiday soiree.
Stephanie's Recipe to a Successful Holiday Table
Use snackables as decoration. "I don't want anyone going hungry when I'm in charge," she says. "I decorate the table with candy, fruit, nuts, and chocolate so guests may nibble in between courses."
Build up. "Use chargers, dinner plates, menus, and napkins to give each place setting height. To me, this is what distinguishes an extraordinary tablescape from an ordinary one."
Incorporate festive elements. "'Tis the season for tartan plaids, shimmery metallics, and blue-and-white menorahs. These traditional motifs are warming and nostalgic, so make sure to use them, even in a nontraditional way."
How to Mix
Mixing vintage china with modern pieces keeps your table interesting. "I love mixing old and new and find it so special to incorporate sentimental or inherited pieces into one's table setting," says Paloma.
"If you can stay within a certain color story, maybe something like blue and white, mixing china patterns can be easy," says Scot.
"If I'm using a super traditional, granny-chic salad plate from Mottahedeh, I might layer it on top of a fun handmade mixed-clay dinner plate from La Tuile à Loup where you can see the hand," Ben says.
Ben Reynaert
If anyone knows what's out there in the tabletop world, it's Ben. As the senior style and market editor for ADPro, he is constantly hunting down the latest and forecasting trends for the upcoming season.
For the holidays, he loves a traditional red-and-green table. "The color combination looks smashing with antique silver platters and decorative objects scattered about," he says. For this table, he went with a more autumnal palette and anchored it in moody blues and greens. Fresh citrus, which is ripest in the winter, is a whimsical nod to the season.
Ben's Editorial Edicts for Entertaining
Have fun. "Take a risk and go over the top," he says. "It's not a precious thing."
Set the mood. "Always dim the lights and have candles lit at different heights during dinner."
Mix and match your decor. "It keeps things formal but not prescriptive and boring."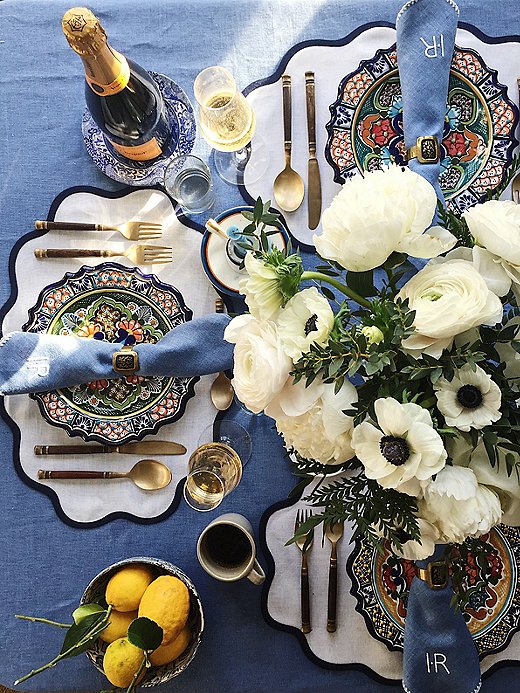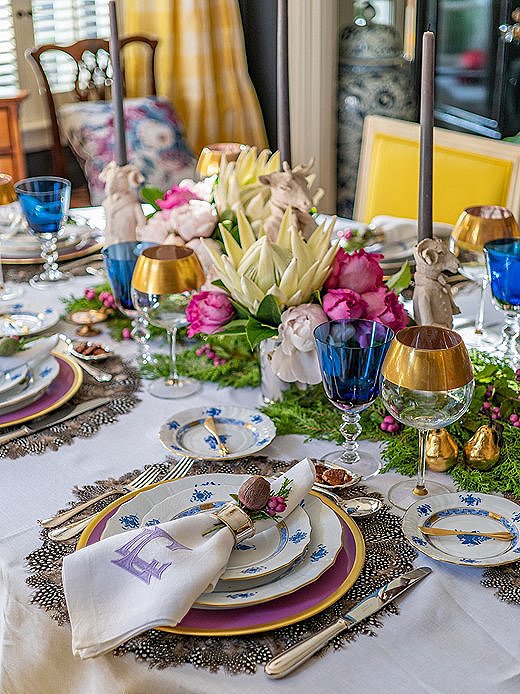 Liz Caan
While red and green are certainly holiday mainstays, not everyone's home looks good in that merry combination. Enter designer Liz Caan and her colorful dining room.
Liz set her table with blue-and-white china, amethyst chargers, and fresh greenery that speaks to the colors of the table. "The table feels fresh and festive, and it still looks great in my dining room where a red-and-green theme would clash," she says.
Liz's Guide to a Beautiful Table
Be creative. "And have fun with things you have around the house that you have collected.
There's no such thing as too much salt. "Make sure there are lots of mini individual salt cellars or salt and pepper shakers scattered about."
Beautiful napkins are a must. "Take time to press the linens."