As the founder of and force behind the ever-popular confectionary empire Dylan's Candy Bar, Dylan Lauren is never short of sweet ideas. With shops located on the East Coast, Los Angeles, Chicago, and Miami Beach, Dylan is always on the go, coming up with catchy packaging and dreaming up new flavors for her chocolate bars. So when she offered to share a few of her favorite tips for upgrading your Halloween candy game from the standard bowl of treats to something spooky-chic, we jumped at the chance.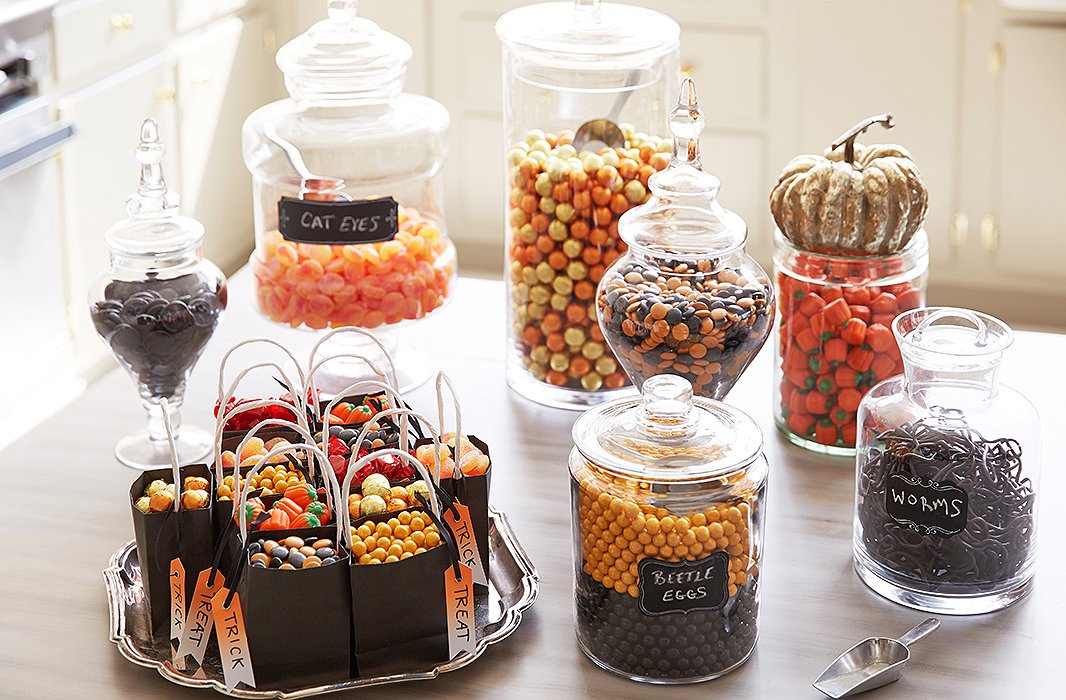 Color-Theme Your Treats
Whether you're expecting little ghosts and goblins to turn up at your door or hosting a Halloween get-together for friends, Dylan suggests setting up a candy station just for the occasion. She creates a color-themed display with glass and apothecary jars chock-full of orange, yellow, and black treats. "I go for bowls that I can fill to the brim with layered candies," she says. Scoop a mix of candy into goodie bags to hand out to trick-or-treaters, or give them out at the end of an evening bash as a party favor. Either way, a candy station makes for the perfect one-stop spot for grab-and-go goodies. And in the off chance there are sweets left over, you'll already have them contained.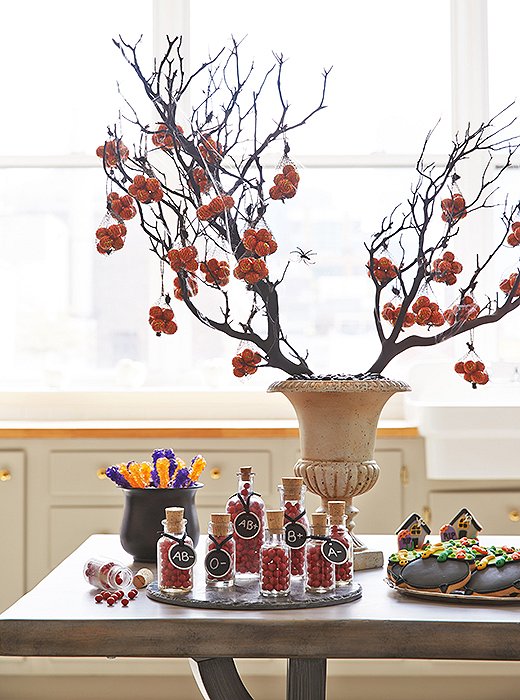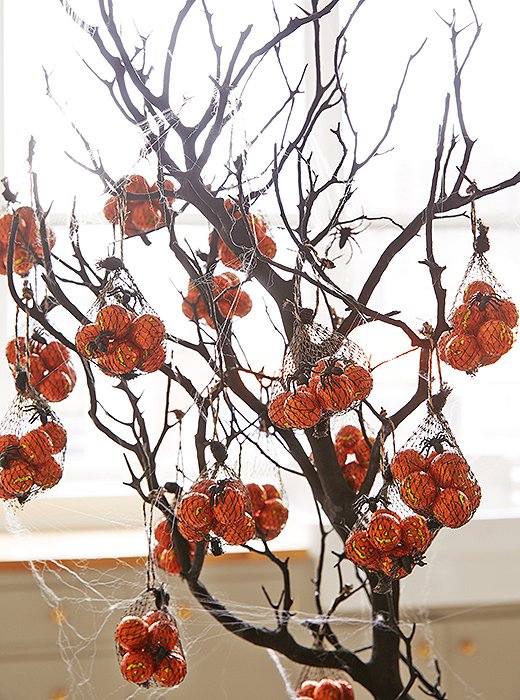 Offer Spooky-Good Party Favors
As you'd expect, when it comes to candy Dylan's not one to hold back. For playful and chic candy bundles that make quick party treats, Dylan created mini blood vials by filling tiny apothecary bottles with red candy; she dangled bags of foil-wrapped chocolate pumpkins from a crafty webbed tree branch anchored in an aptly weathered plant urn ("It's a creative way to display favors"); and she brewed up small cauldrons filled with her favorite Halloween treats from Dylan's Candy Bar. "I love our petite Halloween cookies with the tombstone, ghost, witch, bat, pumpkin, and broom. They make great favors, especially when placed in a mini cauldron," Dylan says. "They're gourmet, so they appeal to the kid in the adults."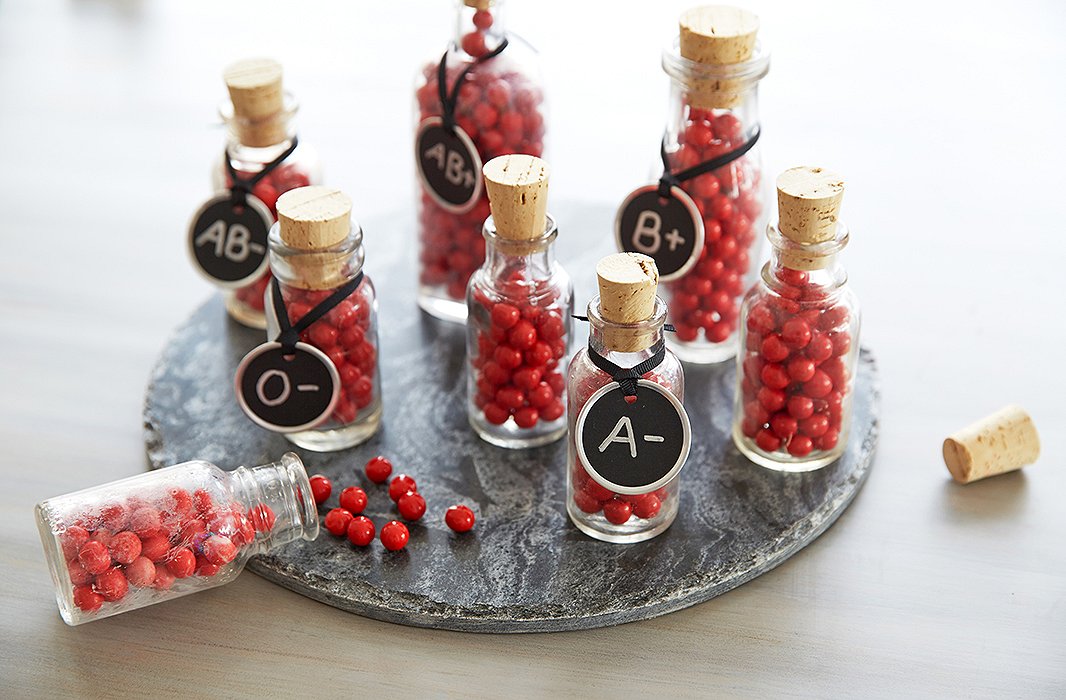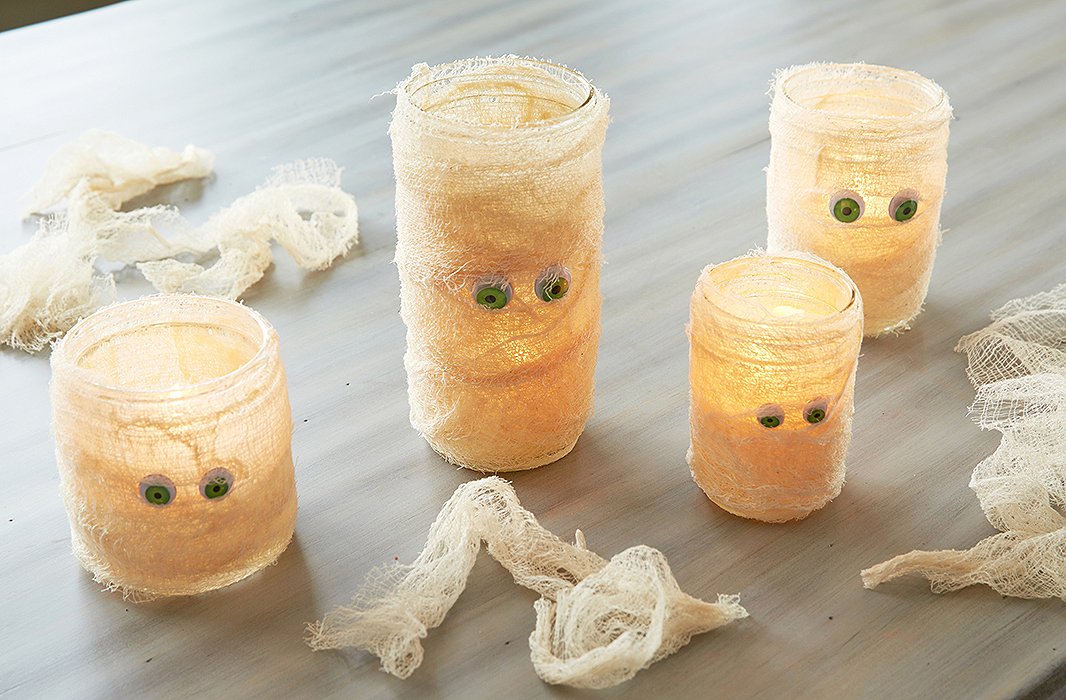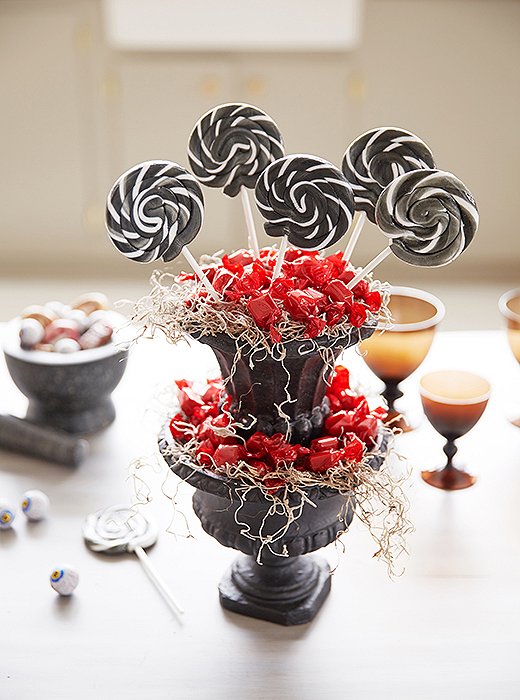 Pick a Ghoulish Theme
"It's important to theme the offerings, whether it's candy, cocktails, or accessories, in iconic Halloween shapes or colors," says Dylan. Few things are more iconically Halloween than mummies, which Dylan created by wrapping cheesecloth around mason-jar candles. Prefer a frightful color theme? Try a fabulous lollipop tower like the one Dylan created using stacked mini urns.
"I like to plan ahead at least a week before Halloween and know what my costume and accessories will be and what I will be handing out at my door so I'm not scrambling at the last minute," says Dylan, who's in favor of embracing the occasion wholeheartedly. "I like creating a spooky atmosphere by dimming the lights and using melted candles and glow-in-the-dark objects."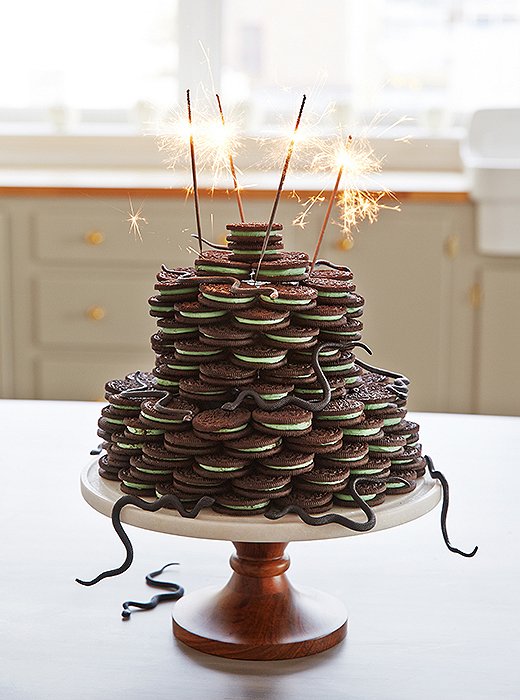 Go All-Out
For Dylan, Halloween is always a celebration. "One of my brothers' birthday is on Halloween, so we have annually gone out for family dinners with all of us in costume—sometimes to formal restaurants where no one else was in the spirit!" she laughs, "We didn't care!" She brings the same devil-may-care attitude to her candy creations. For a statement-making Halloween display, she piled Oreos (with ghoulish green filling, of course) on a cake stand for a dark and delicious pyramid topped with sparklers. "I like unexpected items, like bright oversize lollipops, interesting-shape cookies, or oversize gummies," she says.