A classic holly wreath, a trailing garland bedecked with pinecones: When it comes to decor, greenery may be the ultimate signifier that the holidays are here. Its lush, natural look allows it to fit in with any style of interior—and it makes the perfect complement to all that holiday sparkle. Below, we've rounded up our favorite ways to decorate with greenery this season, from the simple to the delightfully unexpected. Let the trimming begin!

Make an Entrance
Give the entryway a little something extra by pairing a classic door wreath with a matching set hung from the sconces. This approach is perfect for the traditionalist who wants to up her home's festive curb appeal without going over the top—and it can be customized in endless ways. Mix up the look with nonmatching wreaths, or try festooning the greenery with ribbons that complement the color of your front door.
Cheer Up the Kitchen
The kitchen is a notoriously difficult space to decorate for the holidays—its utilitarian features can be hard to pair with the right decor, plus you don't want to give up precious counter space! That's what makes this wreath-and-garland duo ideal: It imparts just the right amount of festive cheer while staying completely out of the way—and guarantees a beautiful view on even the grayest of winter days. For added spirit, decorate the greenery with dried citrus fruits or berries as a nod to the culinary space.

Trim the Table
This supereasy place card DIY is guaranteed to delight holiday guests, and it's one of our favorite ways to spruce up everyday dinnerware for the season. Pull a sprig of greenery from your garland centerpiece (or use a woody herb such as rosemary) and wrap it into a miniature wreath, securing the loop with twine or ribbon. Then tie on a name card for an extra-personalized touch—or use it as a napkin ring instead.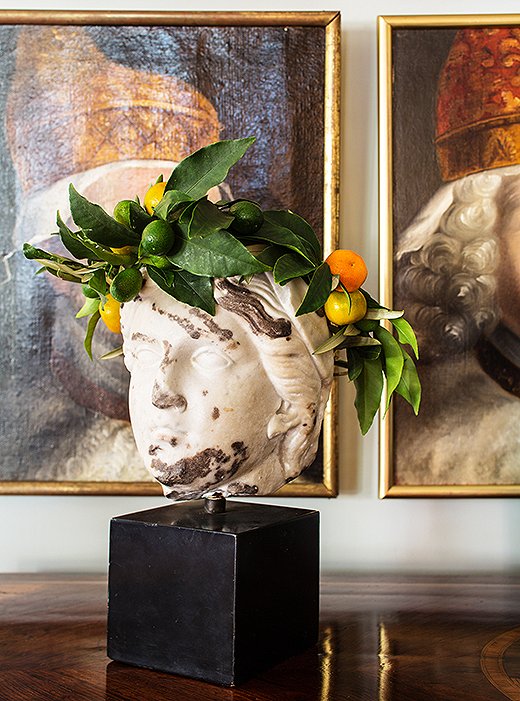 Dress the Decor
There's no need to completely swap out your decor for the holidays—instead, why not get your everyday decorative accents in on the fun? Here, a classic marble bust gets a festive twist with a wreath-turned-holiday headpiece, a cheeky look that perfectly captures the spirit and whimsy of the season.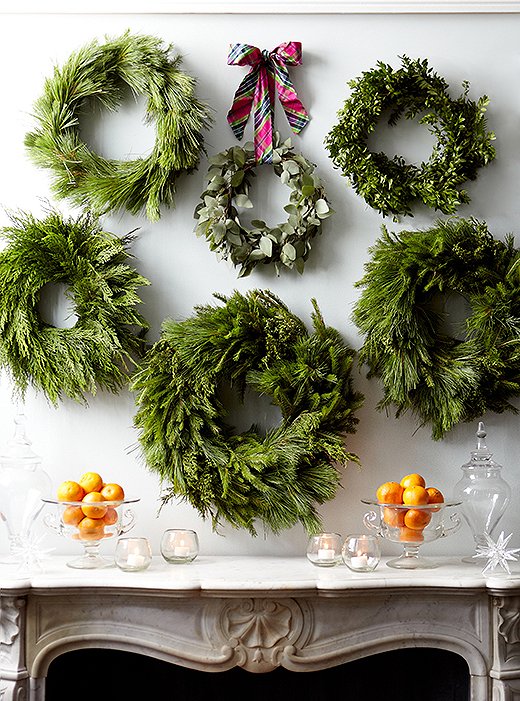 Festoon the Fireplace
Turn the wall above your fireplace into a gallery of greenery. Hang wreaths in a row, or form them into a loose grouping—whatever arrangement suits your space and your fancy. We love mixing things up with different sizes and types of greenery, but you can keep things consistent for a more traditional feel. And once you've got your foundation, add a little flourish—ribbon bows, a sprinkling of miniature ornaments, even string lights.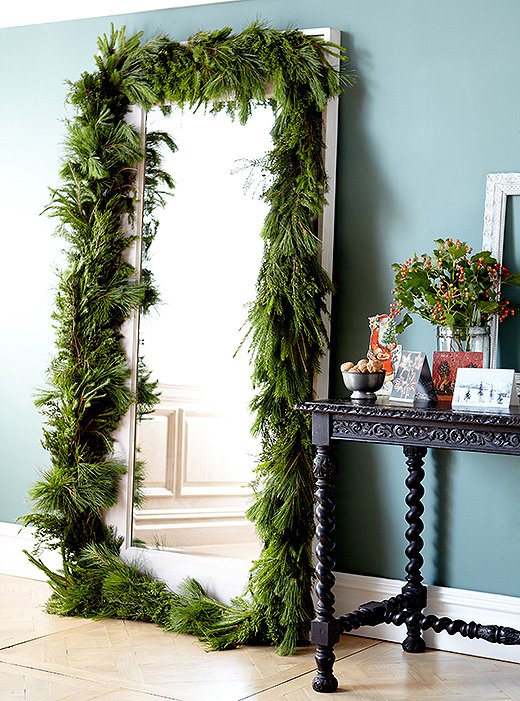 Make Up the Mirror
Just like a doorway, an oversize mirror is a perfect candidate for a garland border. Add a swag at the top or trim out all four sides to see your space (and yourself!) in a festive new way. Smaller mirrors and different shapes work too; just be sure to match the style of greenery (loose and delicate, lush and full) to the scale of the mirror.

Beautify the Bar
The bar cart is a prime place to put greenery, especially if you'll be entertaining guests with some merrymaking libations. Try draping a short swag across the front, securing it at each side. You could also fasten garlands on both the top and bottom shelves, or hang an embellished wreath from the cart's handle. Finish the look by serving up a seasonal cocktail (spiked cider, anyone?).