Italian decorator Alessandra Branca's 19th-century Victorian home in Chicago transforms into a playfully festive escape each Christmas. Brimming with warmth and a merry spirit, her gorgeous dining room is fully set for hosting family and little ones, all with her signature ease and distinctly fabulous (and wonderfully witty) style. "No one's looking for perfection," Alessandra says. "They're just looking for you. And if you understand that, you'll be the best hostess in the world." We asked her for her best-kept secrets  for hosting a Christmas soiree as richly vibrant as her interiors.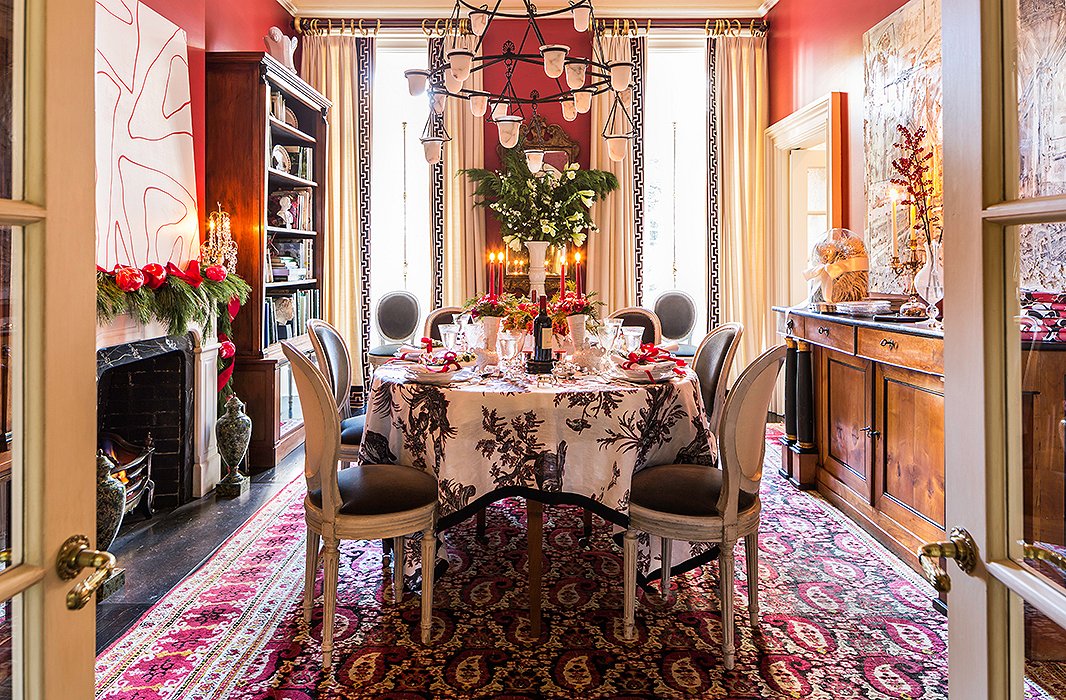 Tip #1: Keep It Nostalgic
Alessandra has a natural grace that immediately sets anyone—and any room—at ease, so it's no wonder her own dining room exudes inviting charm and confidence. She prefers keeping Christmas to a classic palette of red, white, and green—which means lots of seasonal greenery. "You're really feathering a nest for the people you love," she tells us.
The holiday decorations are grounded in serious nostalgia. The memory box of family treasures collected over time is pulled out, and handmade ornaments by her children, sparkling trinkets from trips abroad, and heirloom silver from her mother and grandmother all find their way into the Christmas decor each year. "There's something about that moment when you open it and you remember that place you were and what you did. I think that's one of the best memories," Alessandra says. "And frankly one of the most exciting things about Christmas for me is just being reminded."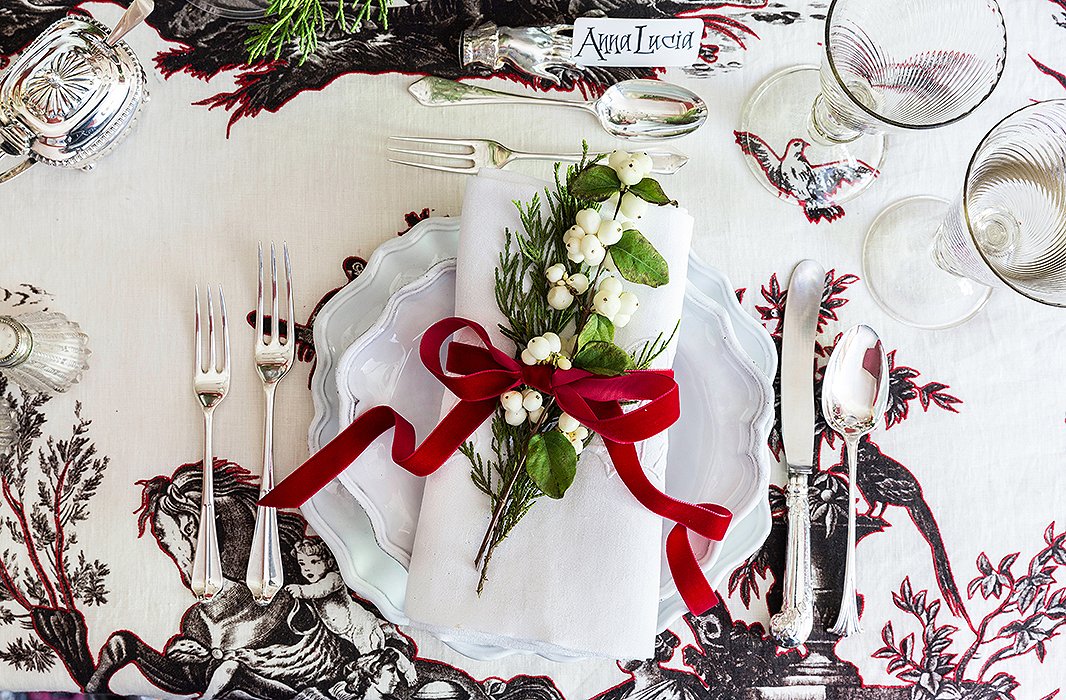 Tip #2: Be Playful AND Polished
Chic, collected, and meaningful are the underlying principles of an Alessandra table. Here, she started with a beautiful embroidered toile fabric she designed for Schumacher as a tablecloth, then topped it with white-on-white place settings that include plates by Astier de Villatte ("I've had those for almost 25 years") and oversize antique napkins embroidered with her initials. "There were two sets of napkins from this dealer in London. I bought one set, and my best friend happened the same week to buy me the other set. So it was meant to be," Alessandra says. "I've nicknamed them lapkins because they literally were meant to be used for ball gowns."
For that meaningful, personal touch—and that glint of Christmas shine—she mixed old silverware with quirky place-card holders in the shape of hands that her mother gave her. "They're silver, and my mother gave those to me for Christmas many, many years ago," she says. "There's something very cool about the visual pun. It's a little playful moment." Another charmingly cheeky gesture we love? Rather than one substantial centerpiece, Alessandra set out four Astier de Villatte elephant vases filled with winter greenery and roses. "Elephants are good luck, and they're very fun and playful elements here," she tells us. "Christmas should be playful. And the idea is that your table is your opportunity to have fun."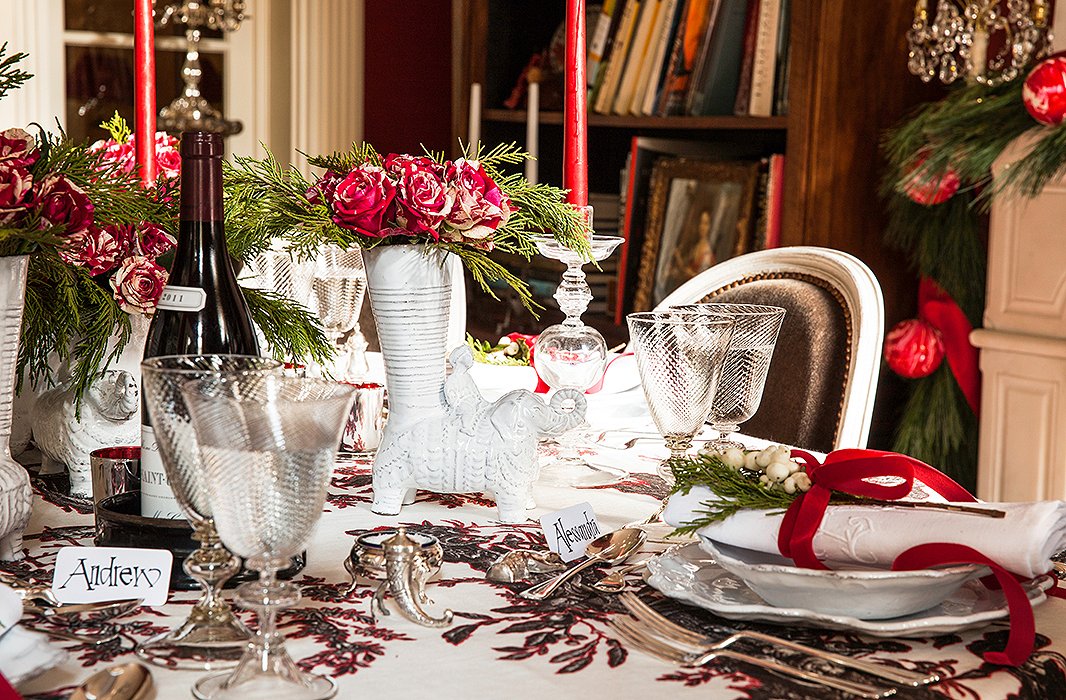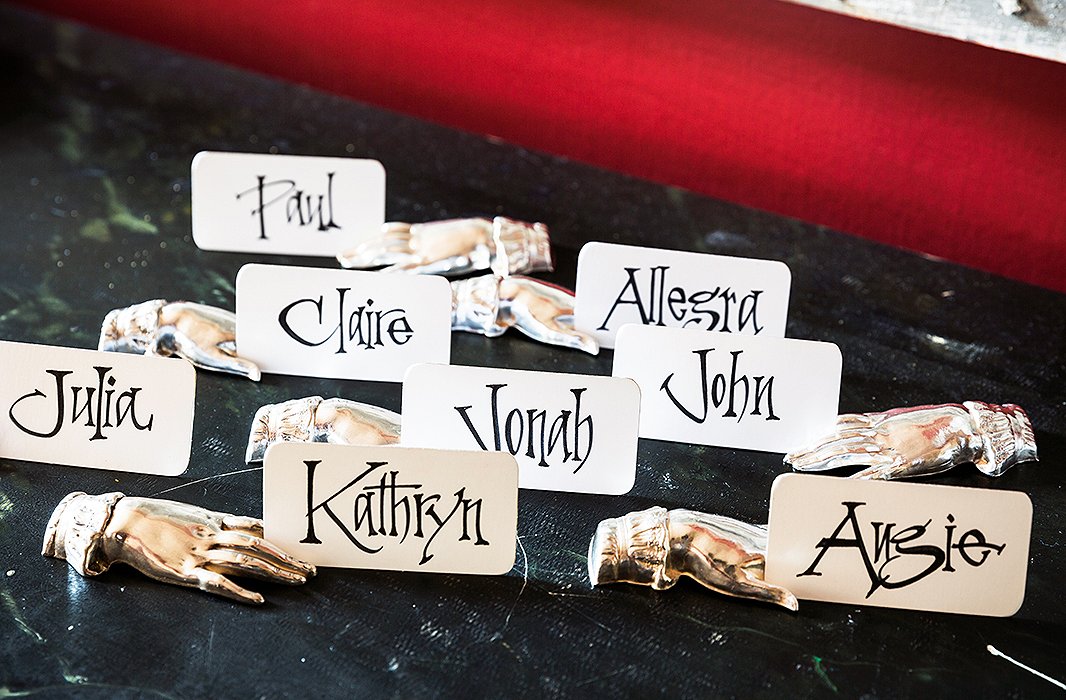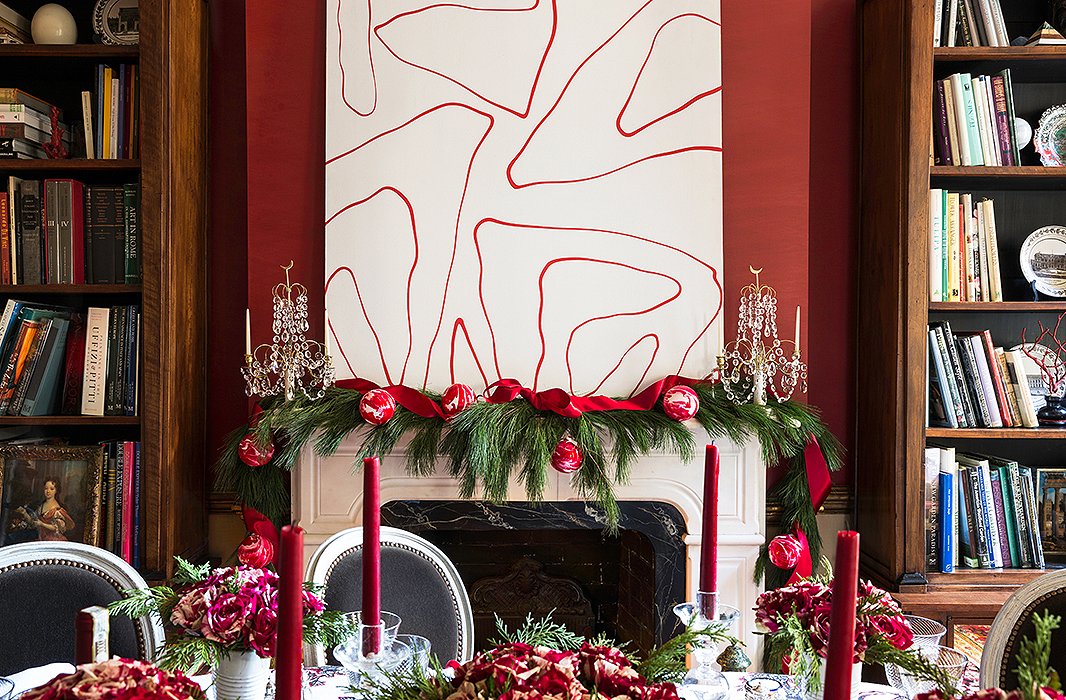 Tip #3: Bring in the Greenery
Beyond serving as simple accents, greenery in Alessandra's home more than makes up for the lack of a Christmas tree. "It's sort of a way to do a tree without having a tree," she says. "I know many people who don't necessarily do Christmas trees but love that big moment." Her big moment is a towering medley of seasonal greenery mixed with white blooms that instantly beckons the eye. "I love the idea of scale, like a 36-inch or 48-inch branch of greens that you can then fill in with something else," she explains. "We did amaryllis and those wonderful white berries, and then you could pull them out and fill them again. As long as you keep the water fresh this becomes a sort of framework for different ideas."
On a smaller scale, you'll find sprigs of greenery and the sweet scent of pine all throughout her home. "I love the smells. And I love using them everywhere; we use them even in bedrooms," she says, adding that she accents bunches of greenery with flowers that coordinate with the colors of each room.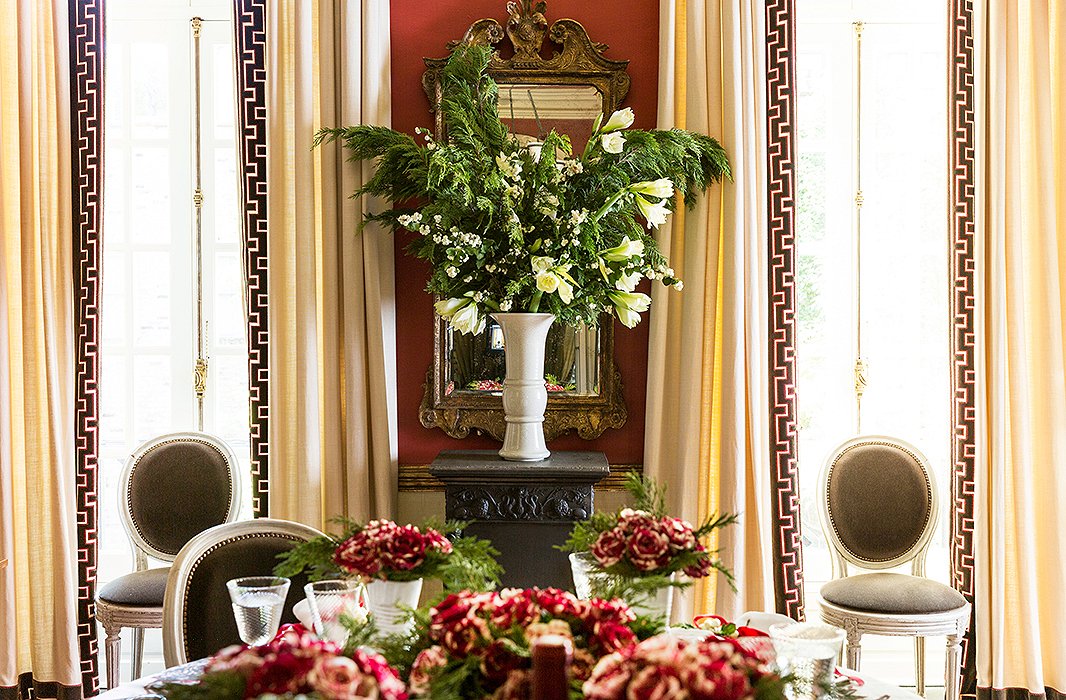 No one's looking for perfection. They're just looking for you. And if you understand that, you'll be the best hostess in the world.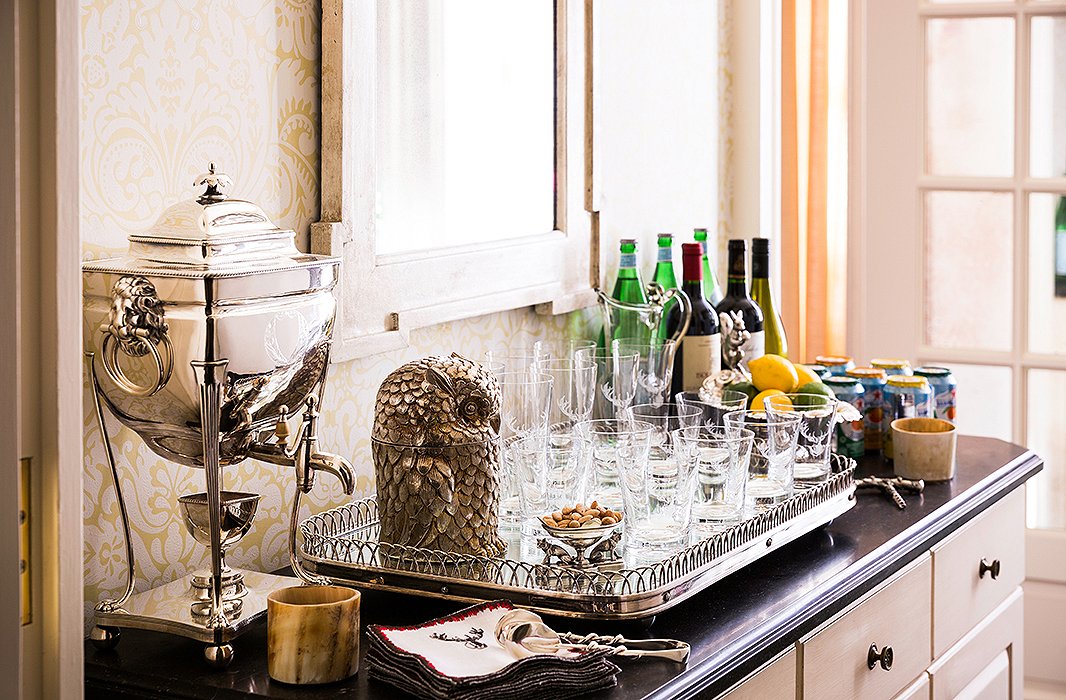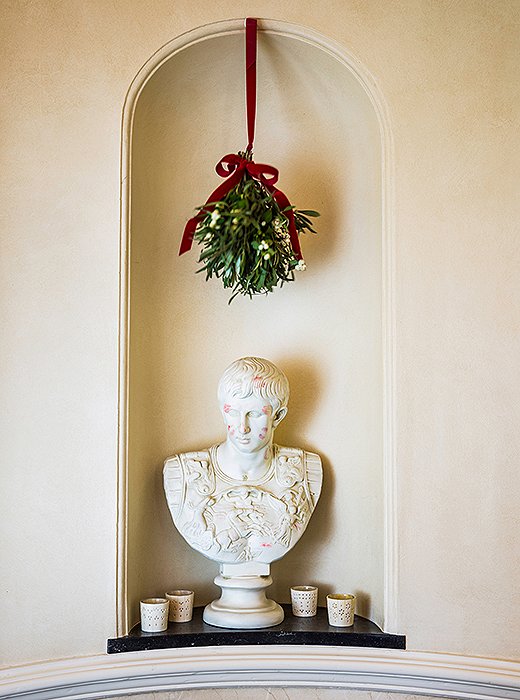 Tip #4: Make Lovely Traditions
Christmas sees a gathering of old and new generations at Alessandra's. But a few unique traditions have transcended it all. One in particular remains a family favorite. In Alessandra's hallway, place of pride year-round is given to a bust of Caesar covered in lipstick kisses—all planted over the course of many years. "One Christmas we put a note on him that said 'Kiss me. I'm Roman' and hung a mistletoe over it. And my godchildren when they were little would kiss it with lipstick," laughs Alessandra. "We varnished him; now all the kisses are on him and keeps staying on him. That's part of who he is in our lives." The note and the mistletoe go up each year now, and every so often a little newcomer will give a kiss to Caesar on Christmas Day.
And while her guests leave behind a story to tell, Alessandra maintains a tradition of gifting them one to bring home. "In the world of tablets, people are losing touch with what books were. So I love the idea of buying vintage books—first editions and all that," she says. "I'll find and collect books that I feel are appropriate for people—they can be fun little hostess books, or they can be serious books about history. It's the most common stocking-filler item in our household and one of the gifts that I give the most."
But above all else, there's one Christmas staple that stays true to the family's Italian roots: Alessandra's homemade risotto with truffles, a beloved fixture on the Christmas menu and always the preamble to the main course. "The thing about risotto is it appeals to pretty much everyone," she says. "Children and adults all love it."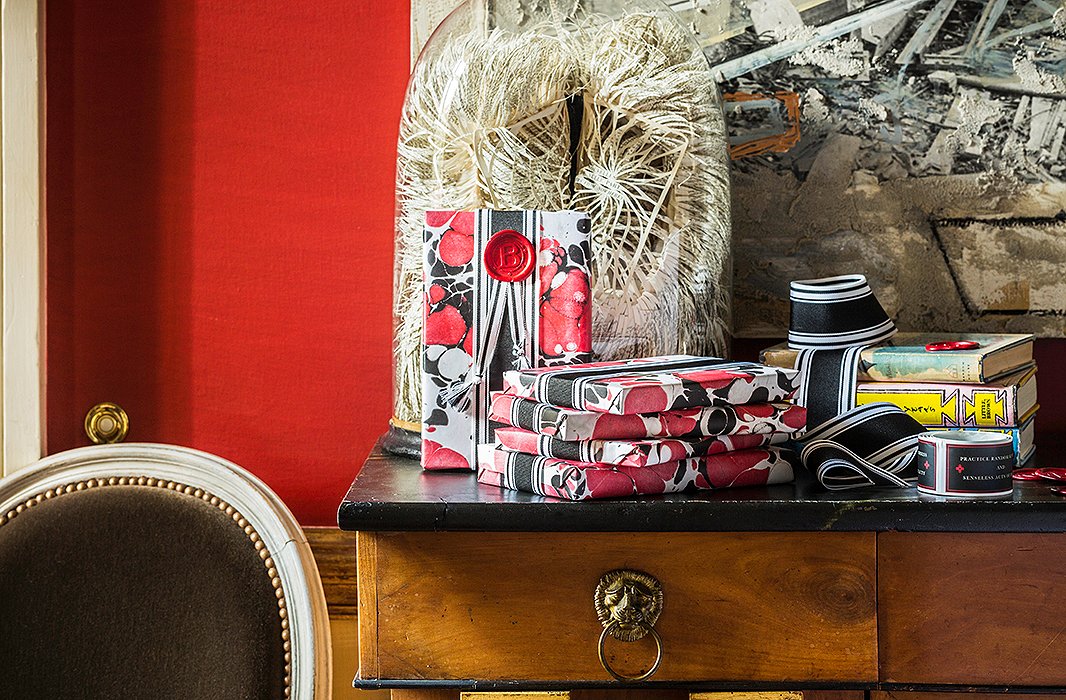 Traditions are a basis. They're a foundation, and it takes work to build them. But once you have them the whole idea is that you can then mix in different elements. It's a little bit like the risotto in life—the risotto can be accented with anything.
Alessandra's Holiday Mushroom Risotto with White Truffles
Ingredients:
Serves 12
4 tablespoons extra-virgin olive oil
1 pound mixed wild and portobello mushrooms, sliced thinly
Salt and pepper
2 shallots, finely chopped
1 pound arborio rice
2 cups dry white wine
1 quart vegetable broth
2 tablespoons unsalted butter
¼ cup freshly grated Parmesan cheese
Fresh white truffles (as desired)
Directions:
Heat a 12-inch skillet over high heat until just smoking.
Add 2 tablespoons olive oil and mushrooms to pan. Stir and cook 3 to 4 minutes without moving pan, until moisture has evaporated. Season with salt and pepper. Remove mushrooms from pan and set aside.
Add remaining oil to pan. Sauté shallots for 1 minute.
Add rice. Stir for 2 minutes until opaque. Add wine and stir until evaporated.
Pour enough broth to cover the rice, and stir until liquid evaporates. Continue adding broth gradually and stir continuously. Cook until rice is al dente.
Add mushrooms and stir until fully combined.
Stir in butter and remove from heat. Add cheese and stir until creamy. Shave fresh truffles over dish. Serve and enjoy!