Enjoyment is at the heart of entertaining, but when you're hosting a group, enjoying yourself is often the last thing on your mind. You might be familiar with the following inner dialogue: Does the food taste okay? Did I make the right amount? Are there enough drinks to go around?
Here's your solution: We teamed up with the culinary experts at the meal kit service Plated to create a step-by-step guide to hosting a stress-free night filled with food, friends, and fun. That includes an exclusive offer for 30% off up to your first five weeks of Plated deliveries with code ONEKINGSLANE. Choose from 20 chef-designed meals weekly, each of which includes recipe cards and perfectly portioned ingredients to help you cook a delicious meal for a crowd.
Ready to host? Read on to discover how to pull off your easiest party yet.
Step 1: Set the Scene
Keep the table simple. As long as they're not expecting a formal four-course affair, most guests will be happy to eat however you want to serve them. Not into washing a pile of dishes at the end of the night? Plated chef Giuseppe Iacopelli recommends swapping in nice disposable plates to simplify cleanup. As for actually setting the table, chef Elizabeth Dinsmore says it's not always a must. "A stack of plates and utensils wrapped in cloth napkins feels casual and thoughtful, and it allows guests to sit wherever they please," she says.
Use fresh ingredients for the centerpiece, and then cook with them later. "I have a default centerpiece—it's a medium-size rustic bowl that I'll add flowers or fruit to based on the dish I'm cooking," says Plated test kitchen assistant Alex Woltering. Elizabeth likes to use seasonal herbs in her centerpieces: laying sprigs up the center of the table to create a makeshift runner or arranging them artfully in short tumblers. "Food as a centerpiece is both practical and beautiful," she says.
Light some candles. Every entertainer will tell you candles are key to establishing the right dinner party ambience. "Candles are elegant, and you don't need many to make your space look great," Elizabeth says. Use varying heights, choose a fun palette of colors, mix and match candlesticks and votives—just make sure they're unscented.
Turn on tunes. "One of the most important things you can do when throwing a dinner party is build a playlist for that evening's 'feel,'" says chef Shanna Cooper. She'll often align a playlist with the theme of the food, making it extra-long so that she doesn't have to give it a second thought once the party's started. A playlist of oldies is another no-fail option. "Everyone has heard the songs before, and the melodies are light," says Alex.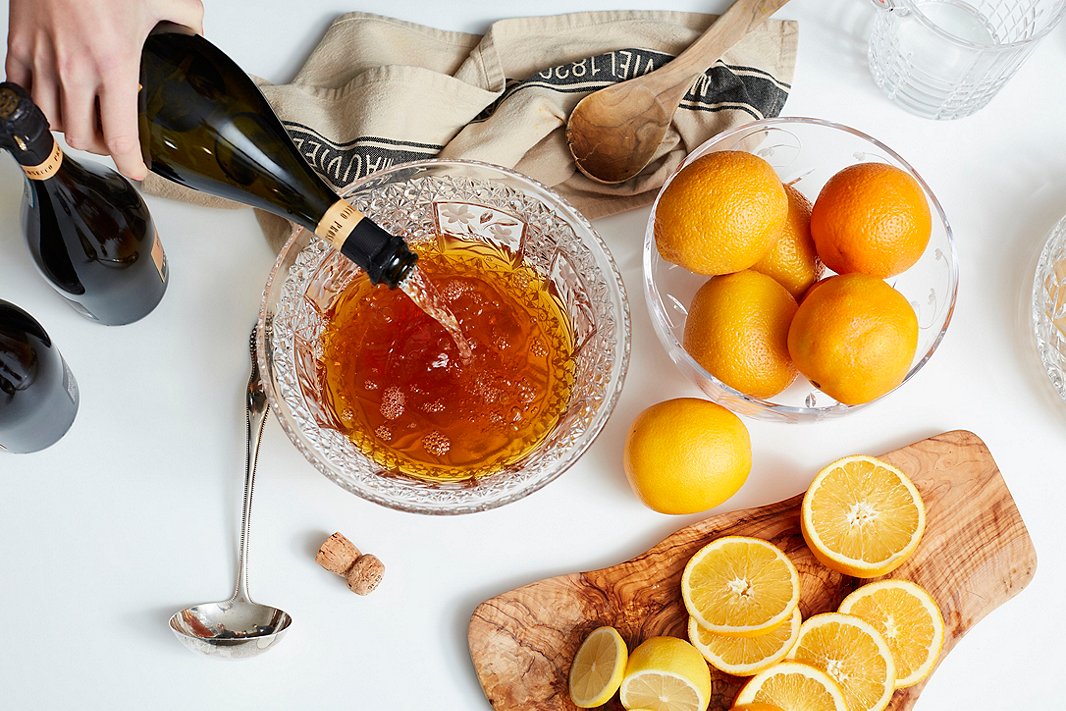 Step 2: Make the Drinks
Break out the wine. "I am a firm believer in a few open bottles of wine on the table as the ideal dinner party drink," says Elizabeth. Giuseppe recommends having a variety to satisfy all tastes—white, red, and sparkling—and recipe developer Sara Heegard likes to have enough on hand for everyone to have several generous pours of each.
Or mix up a batched cocktail. Alex has a smart trick that will delight cocktail lovers—and those abstaining from alcohol—alike. "If there is a cocktail I think would pair great with a dish, I will whip it up batch-style without the alcohol in case someone prefers a mocktail," Alex says. Guests can then tailor their drinks to their own tastes—without your having to play bartender.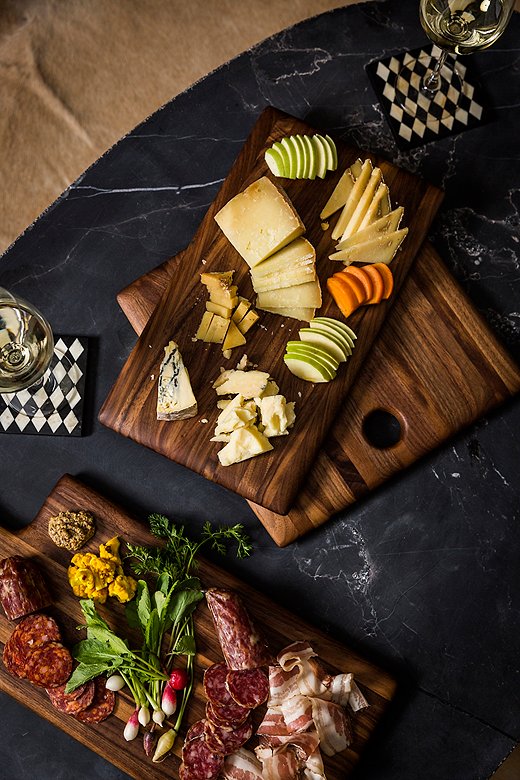 Step 3: Assemble a Charcuterie Board
For the cheese… "I like focusing on a smaller number of cheeses and meats—three to five options—so the plate doesn't get too confusing," Sara says. "Let softer cheeses come to room temperature before serving—this makes a huge difference in flavor and texture. I like to preslice harder cheeses and meats before assembling the board so it's easier for people to serve themselves—plus the board stays pretty longer." 
For the meat… It's all about the mix. Giuseppe suggests focusing on the fat content of the meat when it comes to variety, which means opting for lean, middle-of-the-road, and fatty options (like bresaola, prosciutto, and coppa, respectively).

For the extras… This is where you get creative. Sara likes Marcona almonds, pepper jelly, and cornichons as cheese and meat accompaniments, and she uses a mix of fresh herbs to garnish the board. Giuseppe opts for honey, olives, fruit, and what he calls "vessels": crostini, chips, or crackers. For Alex, whole-grain mustard is a must. Try to stick with foods that don't require cooking, suggests Elizabeth, so you can focus on executing the main course.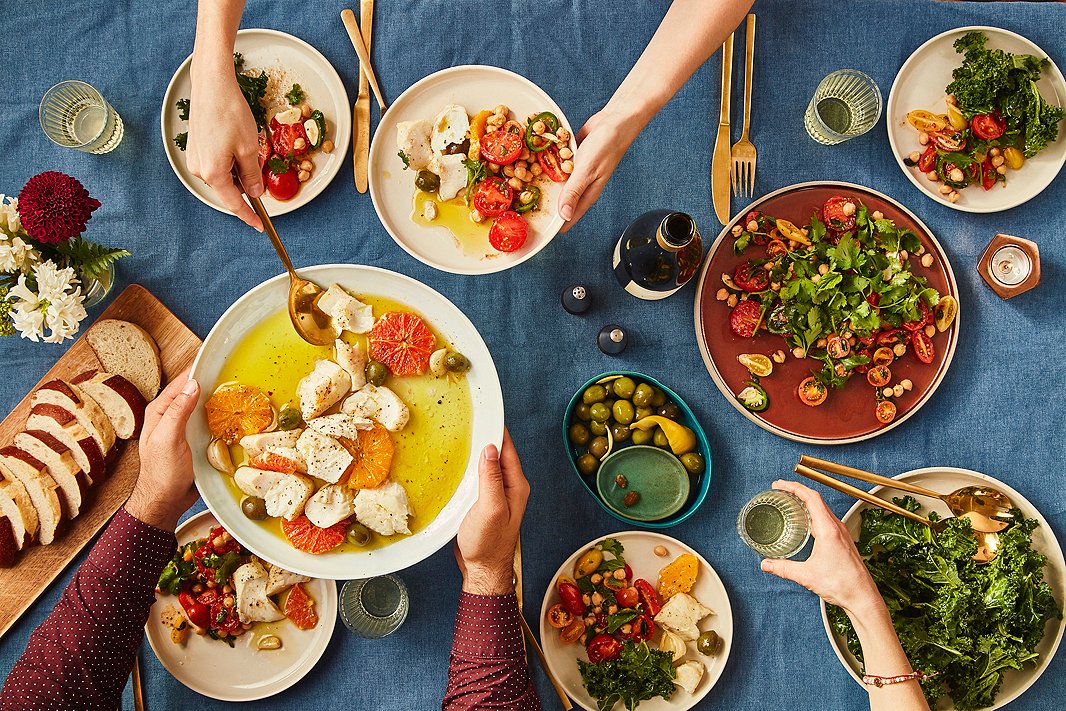 Step 4: Cook with Plated
Choose your recipes and portions. "With Plated, entertaining is totally simplified," Elizabeth says. "No need to shop. No need to stress. Everything you need is sent to your door, instructions and all." Every week, Plated offers 20 chef-developed recipes to choose from; these include options for vegetarian, low-calorie, and gluten-free meals and for every skill level. Just select your meals and the number of portions you want to receive, then schedule delivery at least a day in advance of your party.
Cook away—stress-free. You don't need to worry about testing out a recipe before guests arrive or having the right amount of ingredients. "Everything you need to do is laid out for you," Alex says. "You don't have to think too hard, so you can entertain and cook at the same time. Your food will be beautiful and delicious—and you'll have done it so effortlessly."
Serve it up family-style. For the most intimate experience, the pros at Plated recommend serving dinner family-style. "It makes for a more inviting, informal environment, and it encourages people to converse and be social," Giuseppe says. It also makes second helpings simple.
Step 5: Keep the Party Going
Play some games. Your party doesn't need to end once dinner is over. "After dinner, it's fun to have a game or two available to get everyone on their feet and bring in a little competition," Elizabeth says. (Plus it's a great excuse to open another bottle of wine.)
Serve sweet (but simple!) treats. You cooked dinner, so you don't have to go all-out on dessert. "Always have a fun snack for dessert—I've served just a bowl of gummies or wafer cookies—so everyone can snack on a little something sweet," Shanna says. "I also love the contrast of a really special dinner and some yummy, cheap snacks after."
New customers receive 30% off up to five weeks with code ONEKINGSLANE
This post has been created in partnership with Plated. If you visit the Plated website and make a purchase with the code ONEKINGSLANE, One Kings Lane will receive a commission.