Spring entertaining might look a little different this year. We're toning down our extravagant lunch and dinner parties to just the essential crew and finding new ways to connect with loved ones near and far. (Psst… If you want to see how we're dressing ourselves and our tables for these small soirees, check out our April Edit here.) We asked some of our favorite designers and a few of our One Kings Lane friends for their tips and tricks to entertaining with aplomb, even over the internet.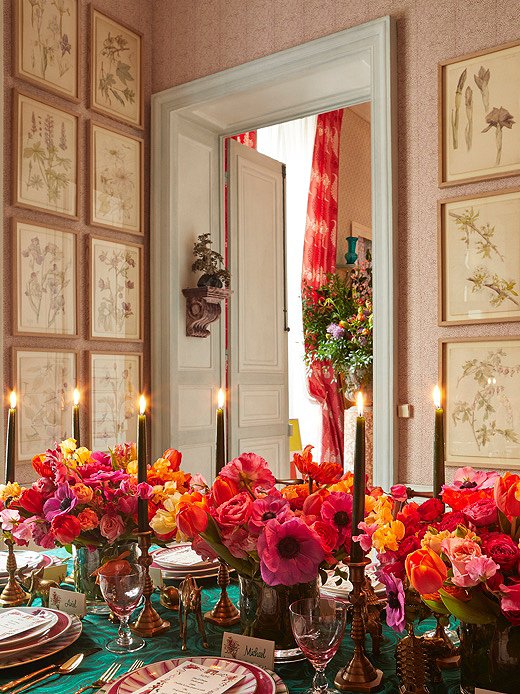 Set the Mood
"I've seen a lot of great mood lighting in some Zoom parties," says One Kings Lane creative manager Eileen Behnke. Her suggestion for upping your digital dinner game is to set the mood like you would for any other dinner party. "From candlelight to fairy lights, any warm light will make you feel a bit more festive." 
Let the Air In
Interior designer Elizabeth Cooper suggests parking yourself directly in front of whatever delicious scenery you can. If you're lucky enough to have a window or backyard to play with, go for it. "Open the windows and doors where possible," she says. And don't forget to dress yourself up too. "Just a hint of makeup and a change of clothes, even if it's only a slightly dressy top, can feel like a tiny bit of self-care."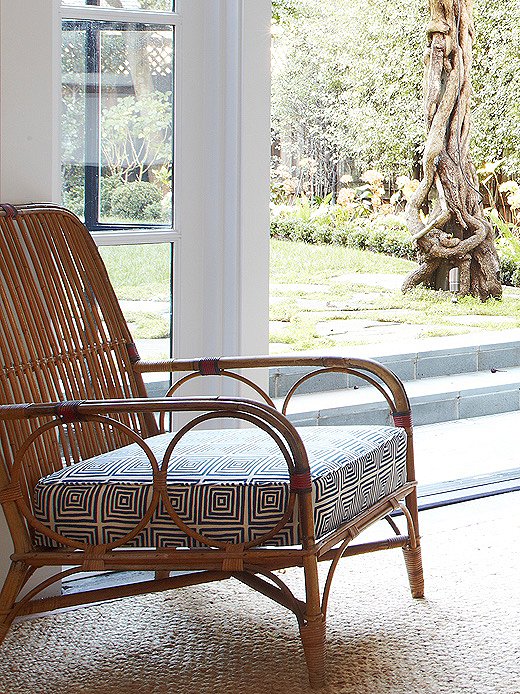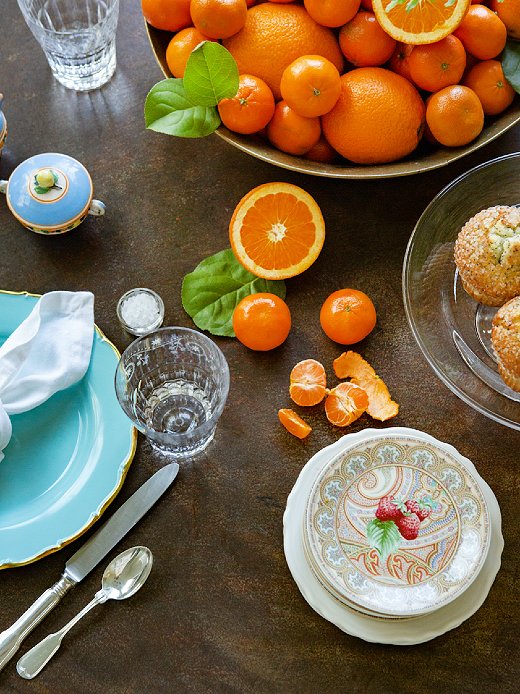 Get Fancy
"Virtual entertaining can be fun, so go all-out," says designer Robin Rains. "Bring out that china you never use, and don't be afraid to mix and match dinner plates, flatware, napkins, and other tabletop accessories." If your garden hasn't bloomed yet, try picking up some flowers when you make your next grocery-store run. "Get creative with containers for housing your greenery on your table," she suggests. One Kings Lane art director Anthony Santelli offers another option: "You can corral all your houseplants and arrange them behind you for a natural verdant background," he says.
Make a Menu
"I personally love doing place cards and custom menu cards to tie the overall theme together in a meal," says designer Catherine Austin. She hired an illustrator to do these menus for her dinner party with an Elsie de Wolfe and Tony Duquette theme, but you can find a similar look on websites such as Paperless Post, where you can customize and send out chic invitations for all your virtual gatherings.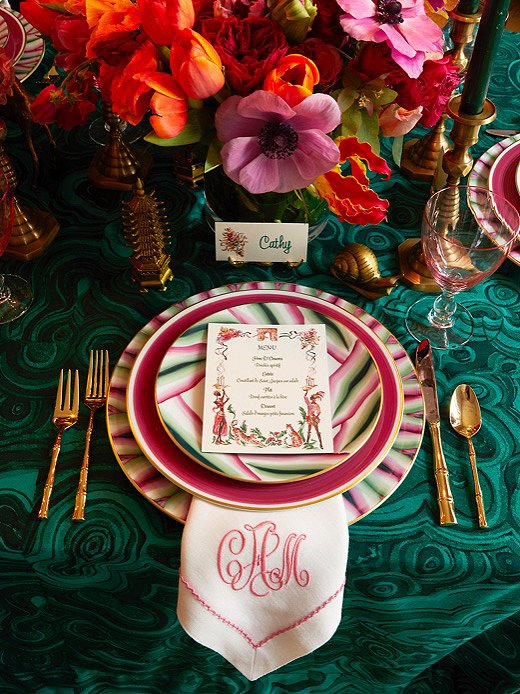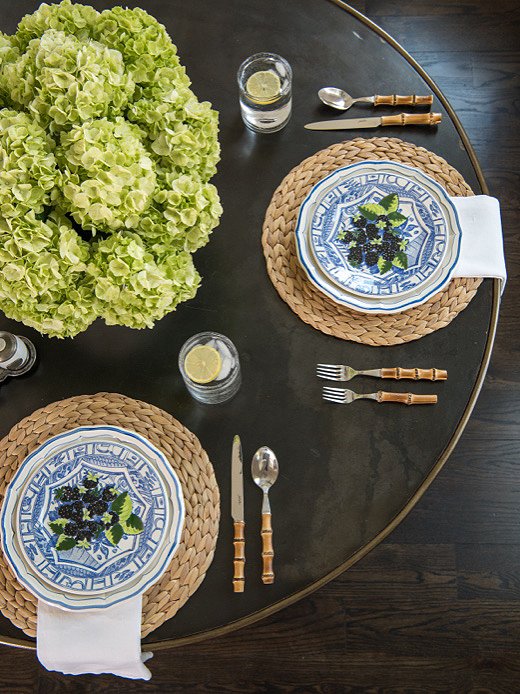 Embrace Texture
Beyond color and greenery, designer Brooke McGuyer suggests adding in texture to stand out on camera. "Use bamboo flatware or textured place mats that coordinate with your setting," she says.
Bring It Together
"I love setting the table with colorful linens, fun glasses, booze, and candles," says designer Becky Boyle. "Leave a lamp or two on in front of you or the computer, which will leave a nice glow in your face." Though the last step in normal party prep might be finding just the right music , Becky suggests ditching it for your virtual party. "It can be distorted and distracting," she warns.