This year's holiday celebrations are likely to be more intimate than usual, but they don't have to be any less festive. In fact, setting a beautiful table goes a long way to making any gathering magical (especially important if the attendees are the same family members you've been eating dinner with just about every night for the past eight months).
Of course, when it comes to tablescapes, tastes vary almost as much as they do when it comes to sweet-potato casseroles (whose idea was it to introduce marshmallows?). Below you'll find table suggestions for each of our four key styles. And if you're not sure which style best suits you, check out our guide.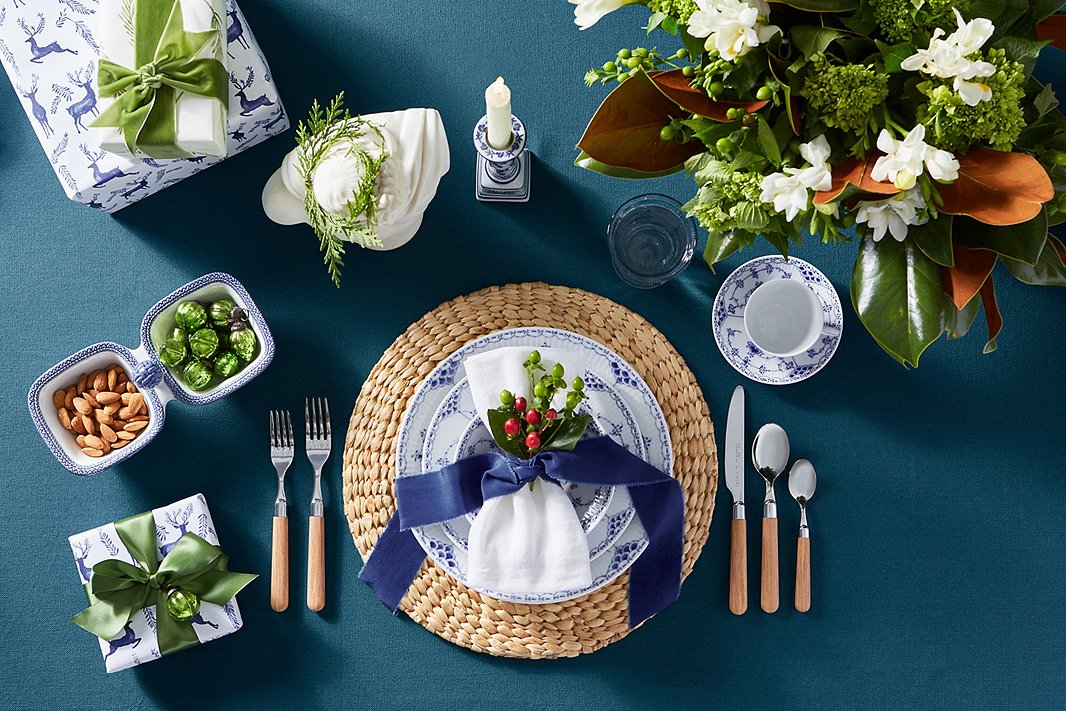 The New Traditionalist's Table
If you're a New Traditionalist, chances are good you have some blue-and-white tableware in your cabinets. Whether it's antique English Willow or soon-to-be-classics like Ralph Lauren Home's collaboration with English pottery Burleigh, you can't go wrong with this color duo. Another option is to use timeless white tableware such as Juliska's Berry & Thread and introduce blue via your tablecloth, napkins, and even drinkware.
What differentiates the New Traditionalist from the old-school traditionalist is the addition of unexpected details. For instance, in the table setting above, our creative manager/art director Eileen Behnke eschewed the expected silverware for flatware with wooden handles and used a woven raffia mat as a charger. Instead of sliding the napkin in a formal ring, she tied a thick ribbon—blue, of course—around it and tucked in a sprig of berries. As for the rest of the greenery, "we foraged some magnolia from our yard and were lucky to find some beautiful fragrant freesia at our local flower stand," Eileen says. "The result is an elegant table that's also accessible and comforting."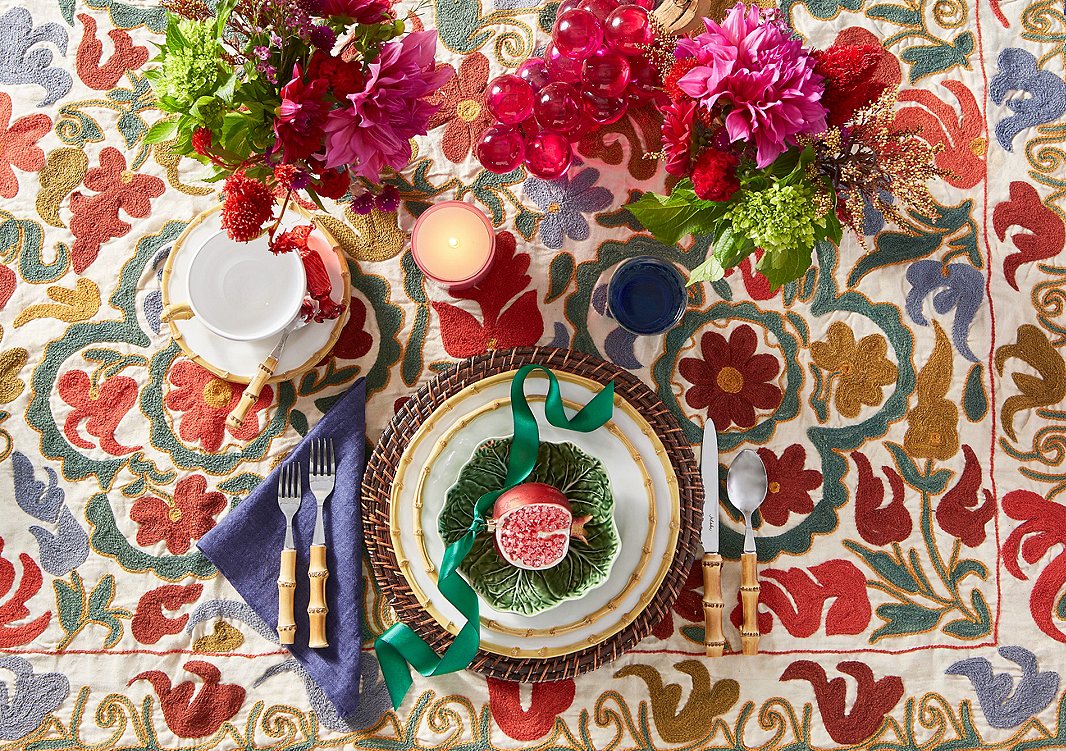 The Eclectic's Table
Eclectics will never match when they can mix. "This is your chance to mix heirloom pieces with new ones," Eileen says. "Bring out all your favorite vintage pieces, use a suzani textile as a tablecloth, and don't be afraid of going for one big color moment—or use all the colors."
To keep your tablescape from overshadowing your culinary efforts, you might want to use neutral hues as the base; for instance, in the table above, the white of the dishes allows the green cabbageware bowl and the crimson pomegranate ornament to really pop. Then again, you might not want to. "Think of your table as a landscape that ebbs and flows, has hills and valleys," Eileen suggests. "Variation creates visual interest so that your guests are always finding new things to enjoy over the course of the meal."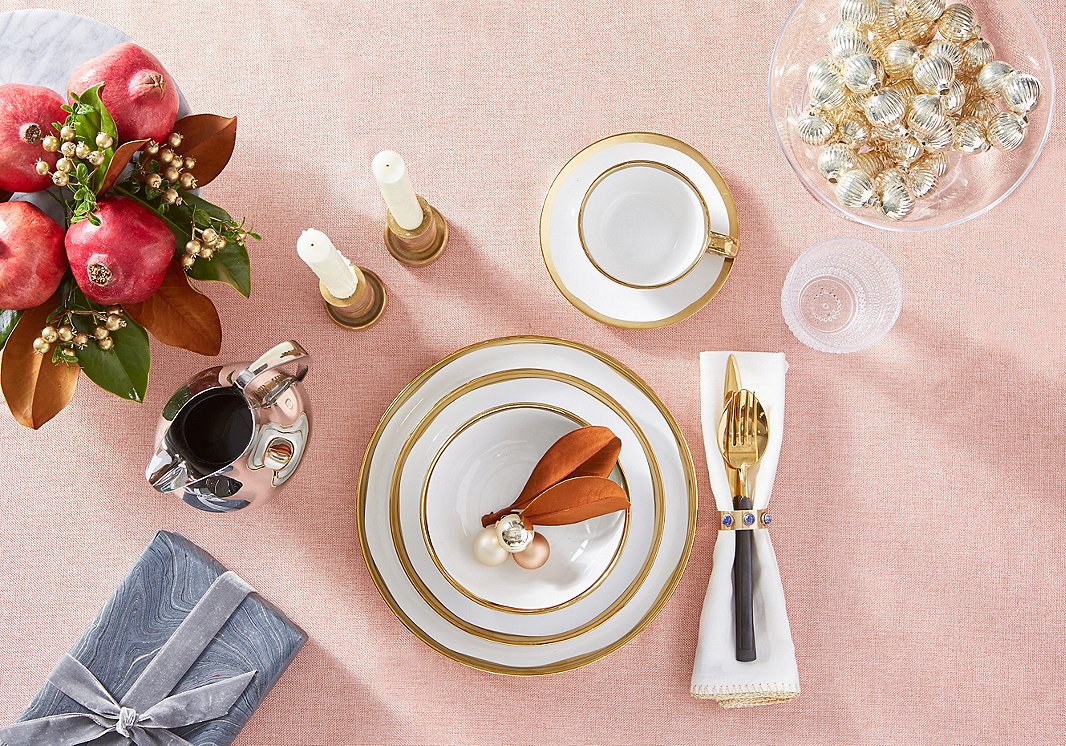 The Curator's Table
The minimalist to the Eclectic's maximalist, the Curator would rather have one spoonful of Ossetra caviar than a bowlful of lumpfish roe. Every aspect of the Curator's table is sleek, sophisticated, and of the highest-quality materials and artistry. An element of glimmer is essential, whether it's courtesy of gold-rimmed dishes, sparkling crystal drinkware, streamlined silverware polished to perfection, a platinum vase or a combination thereof. The Wilshire tableware from Ralph Lauren Home (available with gold or platinum trim), Mepra's Due flatware, and just about anything from Georg Jensen and Orrefors will meet the Curator's demanding standards.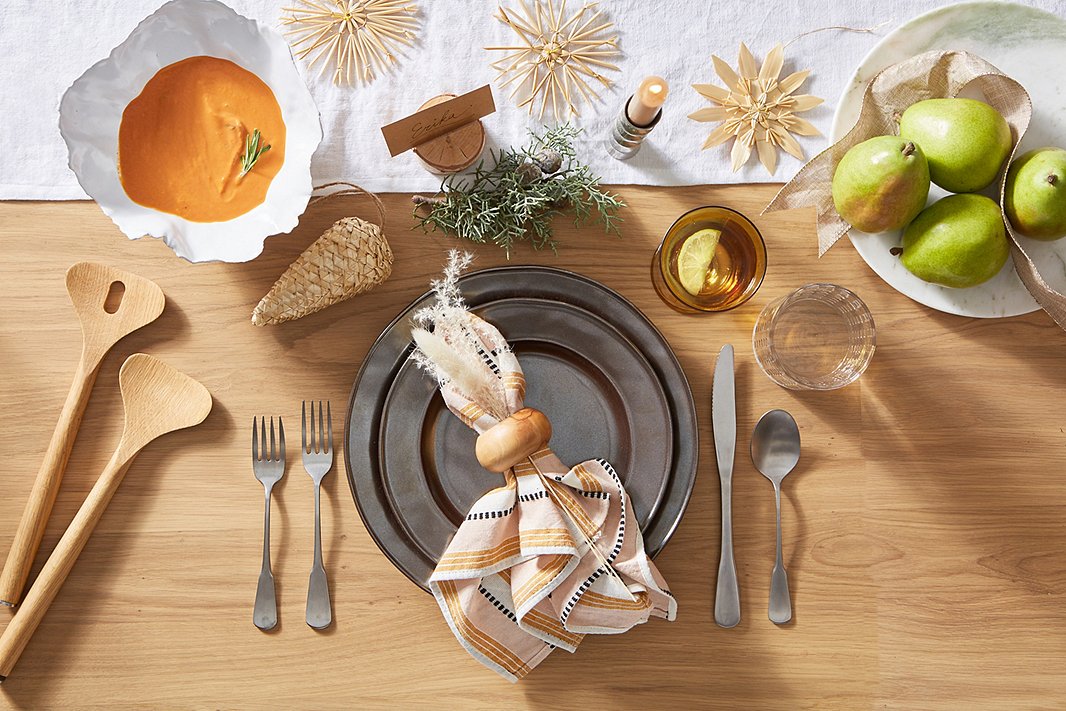 The Naturalist's Table
Organic materials and artisanal craftsmanship are key to the Naturalist's style. So is a laid-back vibe that just about all of us can appreciate during the holiday season in general and this year in particular. Opt for a serene, neutral palette, and in lieu of busy patterns and prints, let natural textures provide much of the visual interest: hand-loomed table runners or bamboo place mats, linen napkins, richly figured wood bowls, artisanal stoneware with intriguingly imperfect edges such as Vietri's Aurora collection, mouth-blown glassware such as Iittala's Ultima Thule assortment.
"This is not a table to stress about," Eileen says. "Cut some evergreens from your yard to add scent and texture to the table. Place some fresh fruits and nuts on the table encourage your family to hang out and spend time snacking and being together." After all, being together is truly what makes an occasion special.