Just outside the windows of our Soho store, the leaves are turning into a swirling array of orange, yellow, red, and brown. It's hard not to be wowed by the multitude of color, and it's color that we're coveting this fall. We're not talking just about the shades of burnt orange and sunbaked yellow that are so abundant this time of year; we want even more rich color.
During the past few seasons, we've seen color trend back toward powerful hues. They've come in pops on a pillow or stitching on a blanket. Now they're swathed over ottomans and sofas and making a statement on cozy and sophisticated textiles.
"Neutral colors are a beautiful foundation, but I think a layer of color provides a way for people to personalize their space and create rich, cozy, and elegant interiors," says Charlotte Hutchings, director of creative at One Kings Lane.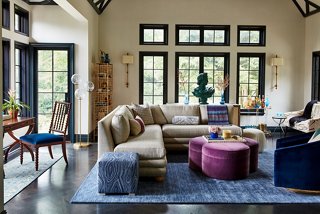 Color Theory
---
The autumnal color story is all about high-impact hues: jewel tones such as sapphire, amethyst, emerald, and citrine. "They convey both regality and liveliness in a home and create such a personal impact," Charlotte says.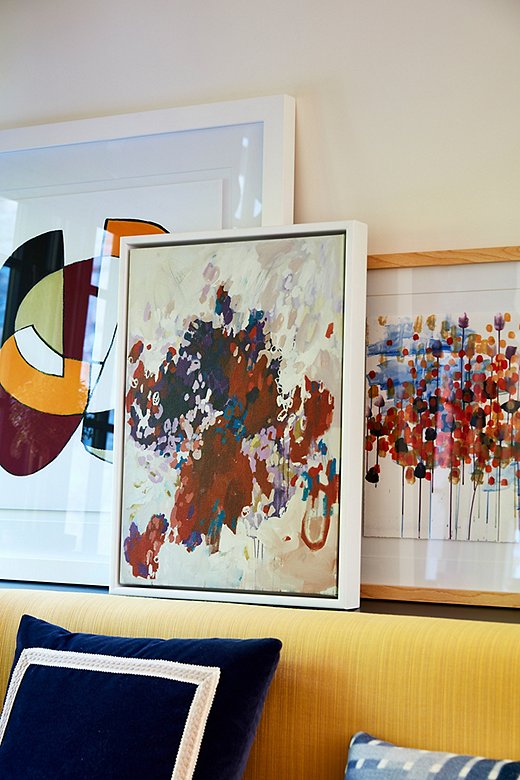 Mixing jewel tones with soft neutrals and other muted palettes gives them a chance to shine. "They balance each other out," says Charlotte. Abstract art is a perfect way to sneak in the colors of the season. Jewel tones don't have to be extreme pops of color. They can come across as elegant and even subdued when layered into artwork. As a bonus, vibrant pieces of abstract art can add a bit of edge to even the most classic rooms. 
Colorful textiles are perhaps the easiest way to make an impactful change. One striking pillow or fresh bedding can transform the ambience of a space. We're still fans of the classic blue and white, but now we're pairing the white with peacock blue rather than (or in addition to) navy and indigo.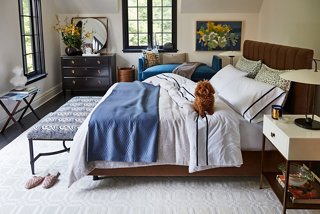 Material Matters
---
With autumn's cooler temperatures comes the desire to cozy up with something warm. You can find warmth in chunky knits, delightfully sturdy wools, and lush, plush velvets. Velvet, in fact, is one of our favorites to use in fall. It evokes evenings at swank speakeasies and chic dinner parties in Park Avenue pieds-à-terre. We'll always love a good tufted velvet chesterfield sofa, but this season we're using velvet on more-contemporary pieces as well. Think midcentury-style chairs in emerald or deep orange, or an acrylic-and-chrome bench with a plush velvet seat, or a straight-lined daybed in moss green or mink brown. Even the most severe modern silhouettes are immediately softened when covered in sumptuous velvets.
Once the days get cooler and shorter, our home becomes our retreat.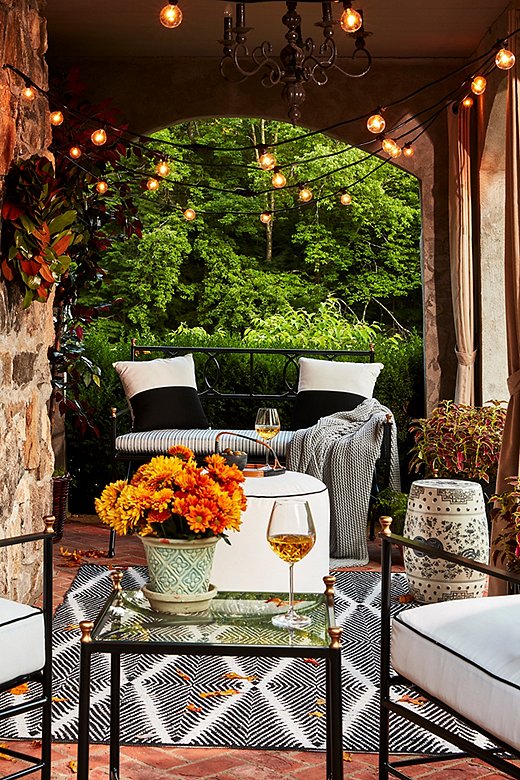 Alfresco Autumn
---
In regions of the country where the onset of fall doesn't mean running inside, cozy textures still make wonderful additions. Knit blankets, outdoor rugs, and a little faux foliage bring the fall vibes to those who live in seasonless environments.
5 Quick Picks for a Fall Refresh