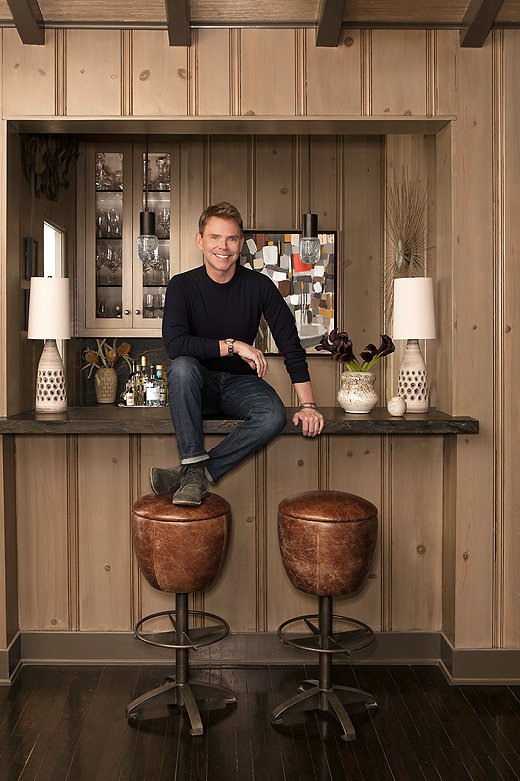 For someone with no formal training—and a previous career as a choreographer—interior designer Jeff Andrews has certainly had a great amount of success in the design world. He counts a host of celebrities as clients (actress Kaley Cuoco, several Kardashians), has created collections with top brands (wallpaper with Astek, rugs with Mansour Modern, furniture with A. Rudin), and has just released his first book, The New Glamour: Interiors with Star Quality.
We sat down with Jeff to get his take on what he calls the "new glamour,"sprucing up utilitarian spaces, working with celebrity clients, and more. Read on to discover expert advice from the designer and to peek inside his gorgeous rooms.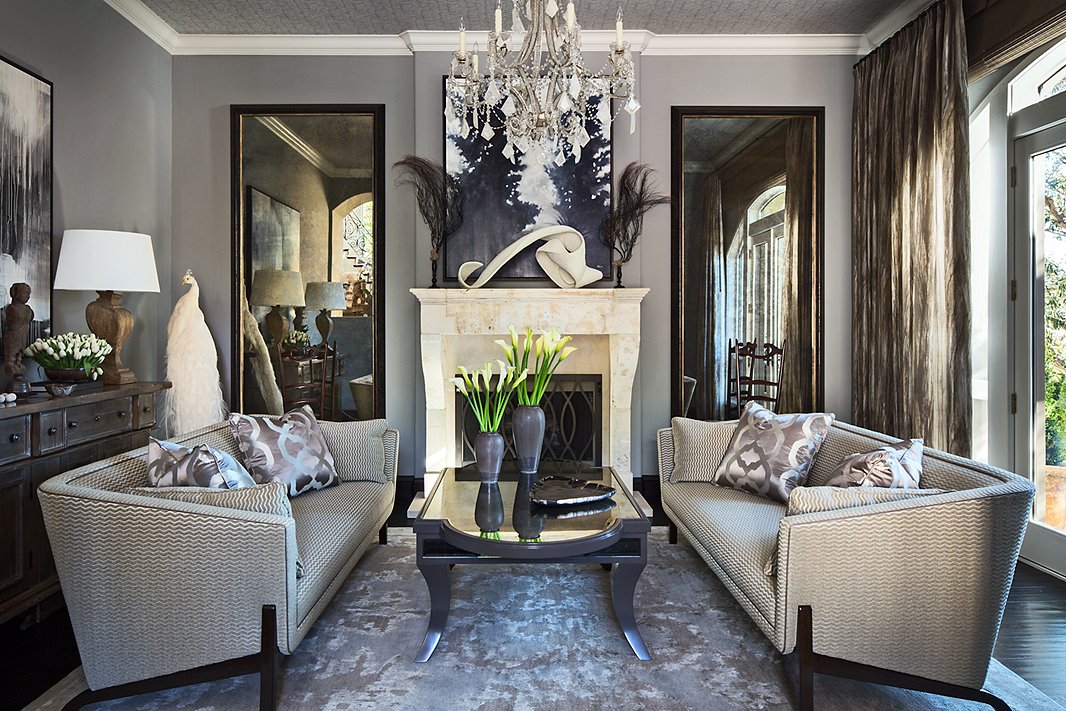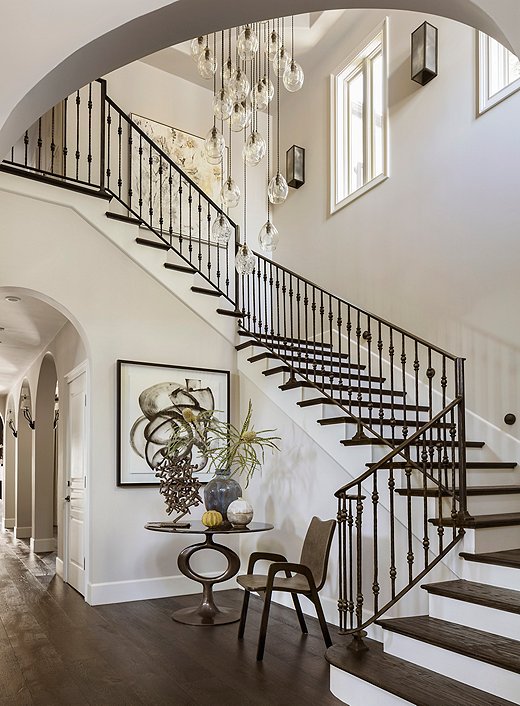 On finding inspiration…
"I think it comes from all over the place. I get a lot of inspiration from my clients. They come to me with their ideas for their dream home, and each time it's like a reinvention of my own aesthetic infused through someone else's life.
"I was really inspired by Billy Haines and a lot of work that he did in Hollywood with his celebrity clients. He reinvented himself from an actor into a designer without any formal training. It's so in keeping with what I've done in my own career. The rooms that he designed and the way he infused his personal taste into everything that he did, that's really influenced me throughout my career."
On pivoting from choreography to interior design…
"I just got a little bored and had reached the point that I felt like I had done what I wanted to do with that area of my life. Which I never thought would happen. But when it did, I was looking toward what was next for me and what I felt like I could accomplish. Design has always been a strong force in my life and something that I've always been drawn to. That felt like a natural progression for me, creatively and professionally.
"When I was choreographing and directing, a lot of it came down to this personal style and personal movement and things that felt natural to me. That's how I still work when I design. I go within and feel what's right for me, not based on any design rules but based on my creative background. Mostly it's just my attention to detail and the way I look at everything as a big picture, like one big visual package that has to work in harmony to be cohesive."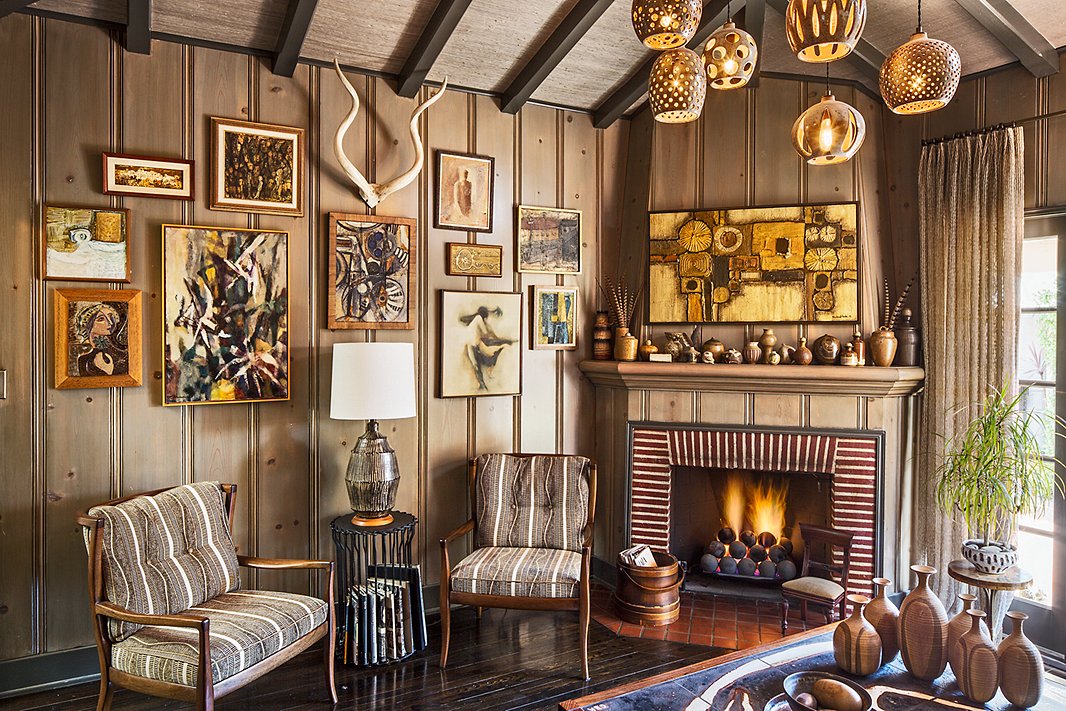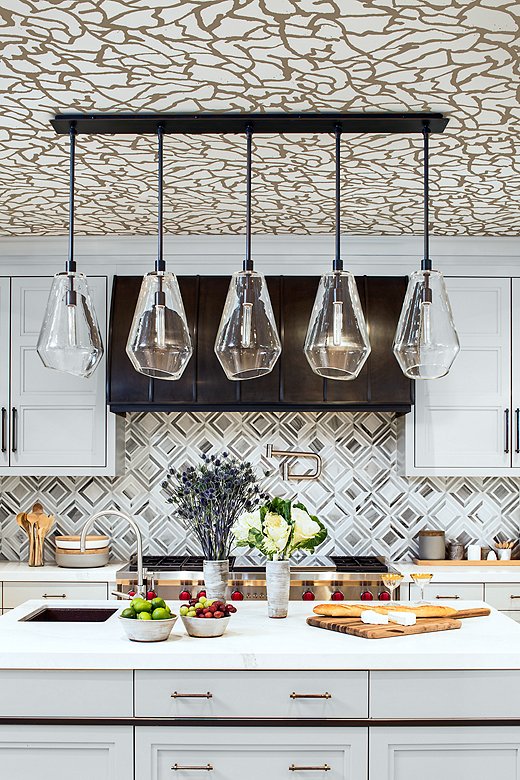 On making glamorous spaces comfortable and approachable…
"It's what I'm calling the new glamour. I don't think it has to be all super expensive and over-the-top fancy. Glamour can be a state of mind and something that is achieved on a personal level through design, but also through things that make you happy and that have personal meaning for you. I love the idea of glamour, but I think glamour has been reinterpreted for the way people live today. Lifestyles have changed. The way people live has changed. Life now, especially with my clients, it's more casual. It's more attainable, and it doesn't have to be all formality and flash. It's a matter of picking and choosing the right elements that work together to make a cohesive design that's beautiful but also livable."
On pushing clients out of their comfort zone…
"It happens every day. There's so much visual information out there right now with Instagram, blogs, and Pinterest. It's a barrage of information that's hitting you all the time. The reason people go to a designer is to bring all those ideas somebody has, and the passions they have, together into something that makes sense. A lot of times I try to get clients to expand their thinking and be open to things they might not have been considering before because, again, I'm looking at the big picture and not just looking at one static picture of a room. I'm dealing with the way the room functions and the way it feels when you're actually inside of it."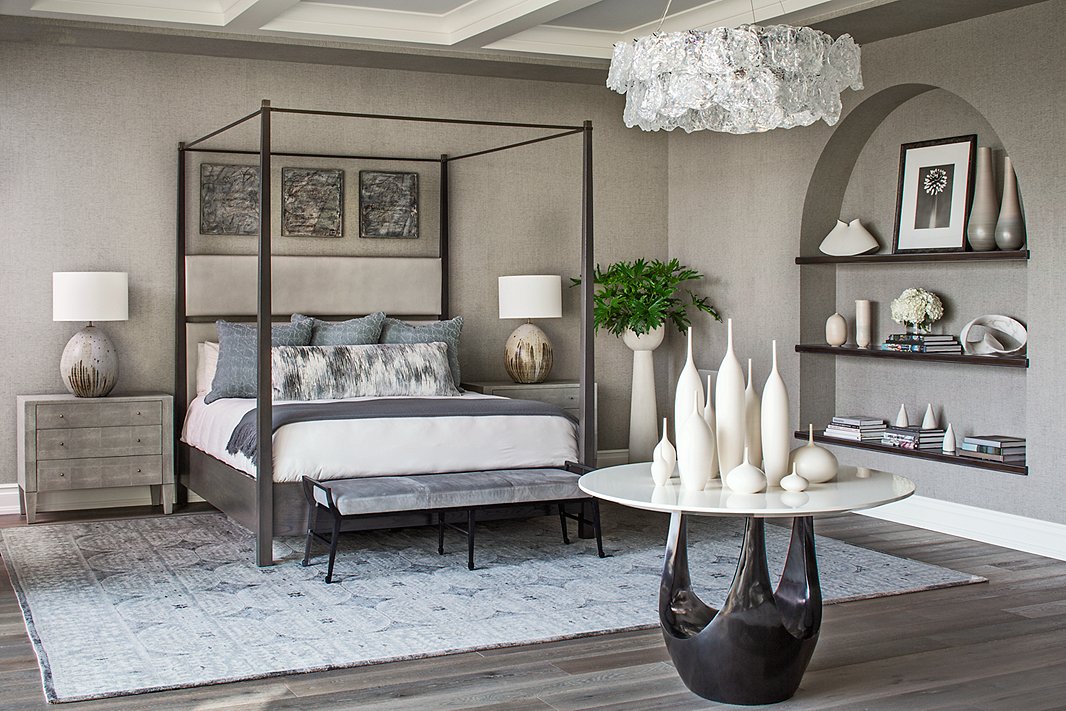 On creating cohesive, layered spaces…
"It's a matter of the mix. Everything has to have a generous mix of styles and shapes and pattern and texture and color. As far as lighting, I'm really drawn to vintage elements in any room because I feel it brings a real sense of history. I really do like a lot of what's going on in contemporary design with lighting. I think it's fun to mix it. If everything is all vintage or all modern, it's just boring. There needs to be a juxtaposition of styles and elements that kind of give visual interest to any home."
On neutrals vs. color…
"I don't use a ton of bright colors, but I still don't look at my spaces as neutral. Color is a huge spectrum of information. I generally start with something that makes sense to me in a room, and then I build on that. And though it may seem monochromatic, there's tons of layers, textures, and subtle pattern that go into making something feel like it's colorful even if it's in a more muted palette. Everything is a color." 
On mixing metals…
"It's a no-brainer for me, as long as it's not something that is super clashing. But metallics and metals are derived from the same palette really. So when you see them all together, they like each other; they're friends. I don't think that there are any really set-in-stone rules about design. And if there are rules, I'm probably breaking them."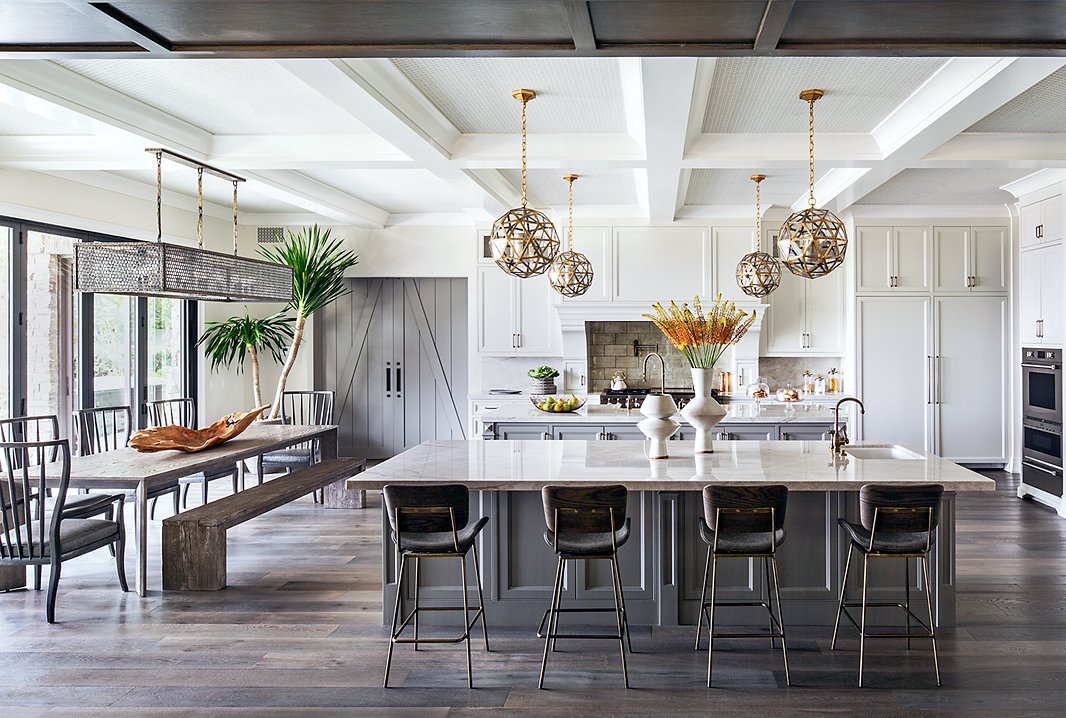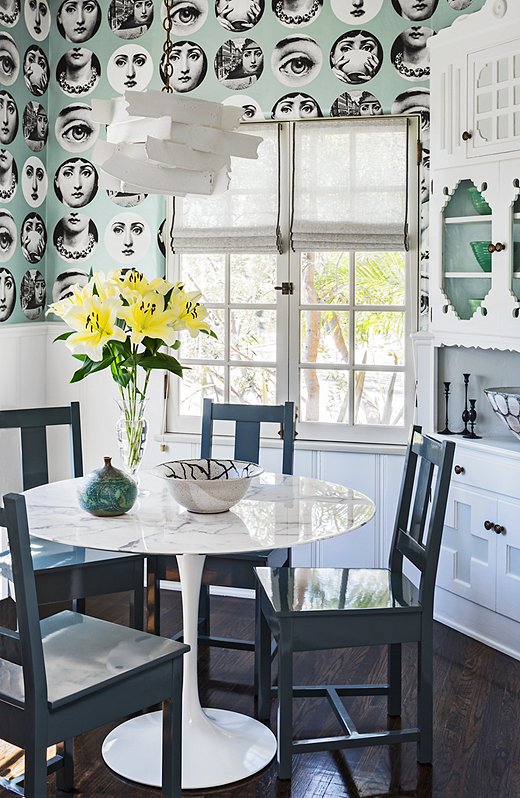 On sprucing up utilitarian spaces…
"I think lighting is key. I did an amazing laundry room for a client, and we hung a crystal chandelier in it, did printed floor-to-ceiling curtains on the window and cool hardware on the cabinetry. It's still a room, even though it's utilitarian. It deserves to be just as special as any other room. Especially a bathroom, which is something you use on the daily. I think that bathrooms are a real opportunity for a creative design moment."
On splurging vs. saving…
"I think it's important to look for quality. And a lot of times quality can be more expensive, but as far as I'm concerned, lighting is a place where you should put money. And I think upholstered furniture that you're going to sit in every day is extremely important and worth the extra cost to do really well made furniture that's not going to fall apart in a couple of years. There are so many layers to it. Rugs are a great investment because if you buy a really beautiful vintage carpet or a new carpet that's quality and beautifully made, that could last you forever. But there are well-made things at really good price points these days. It's about picking and choosing the things that hold value to you."
On working with celebrities…
"I think probably the most surprising thing is that they're just like us. They really are. They live their life the same way that everybody else does, it's just in front of the public. They have the same things that are important and not important to them. Working with celebrities is the same as working with my other clients. It's a matter of creating beautiful spaces."