You may immediately associate white with the bright and airy feel of spring and summer, but the shade is equally at home during the cooler months. (They don't call it winter white for nothing!) And believe it or not, white can feel especially welcoming in the bedroom, where a neutral palette evokes not only a calming atmosphere but also one that's inviting and wholly enveloping.
White also provides a pristine backdrop for furniture, art, and eye-catching accents—not to mention layers of comfy bedding, plush rugs, and soft textures. Read on for four ways to cozy up with white in your bedroom for a dreamy, soothing sanctuary—no matter your space or your style.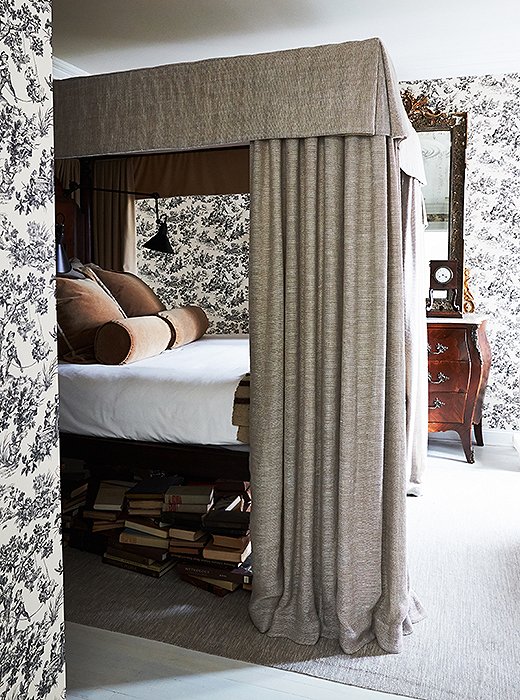 The Look: Traditional and Layered
Why it works:  With its lush textured canopy and velvet pillows, this bedroom feels like an intimate, hidden escape. Crisp whites are balanced with touches of chocolate brown (the wooden chest), warm gray (the heavy fabrics), and beautiful black (the toile) that keep the room from feeling stark or cold.
The unexpected touch: Stacks of books beneath the bed fill up an empty space, making it feel cozy, not cluttered.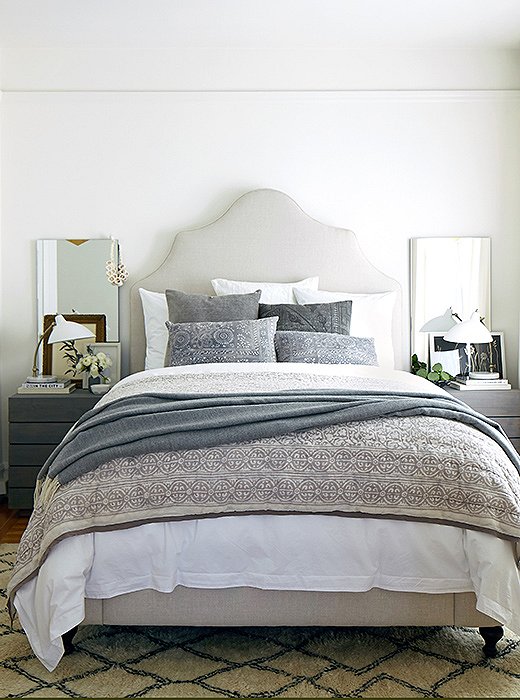 The Look: Contemporary and Compact
Why it works: A dark shade may make a small bedroom feel intimate, but it can also draw attention to the lack of space. Here, warm white walls brighten the room, while layers and layers of blankets, throws, and pillows make the bed the focus for a retreat that feels snug but not cramped.
The unexpected touch: The matching mirrors, lamps, and nightstands add symmetry that enhances the serene vibe of the room.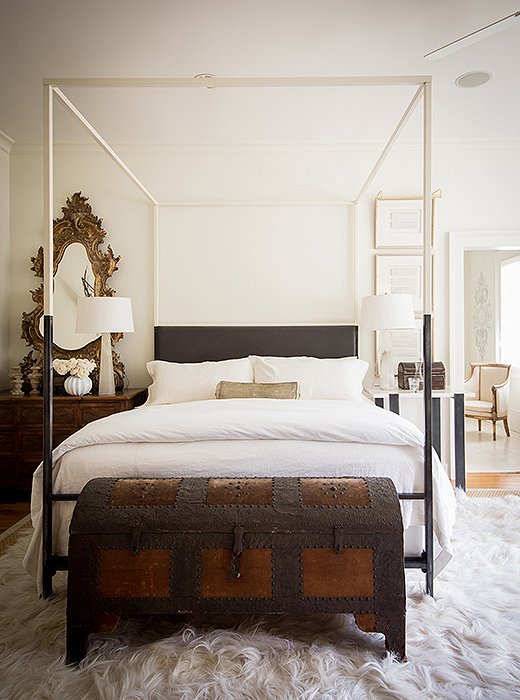 The Look: Elegant and Modern
Why it works: This space mixes graphic pieces, such as the black-and-white four poster and nightstand, with ornate antiques to add warmth and patina. The white palette keeps the look cohesive, and the trunk and the chest of drawers can store extra blankets for when winter gets into full swing.
The unexpected touch: A shag rug layered on top of the summery sisal instantly updates the space—and makes it that much cozier to step out of bed in the morning.
The Look: Rustic and Warm
Why it works: Exposed beams and an iron bed give this transporting bedroom the feel of a garret in France, but the style can work anywhere. The key is a backdrop of soft whites (think painted floors and vintage linens) warmed up with a toasty faux-fur throw and rich wood furnishings.
The unexpected touch: A streamlined campaign dresser adds a modern twist to the rustic elements and balances the ornate vintage accents.