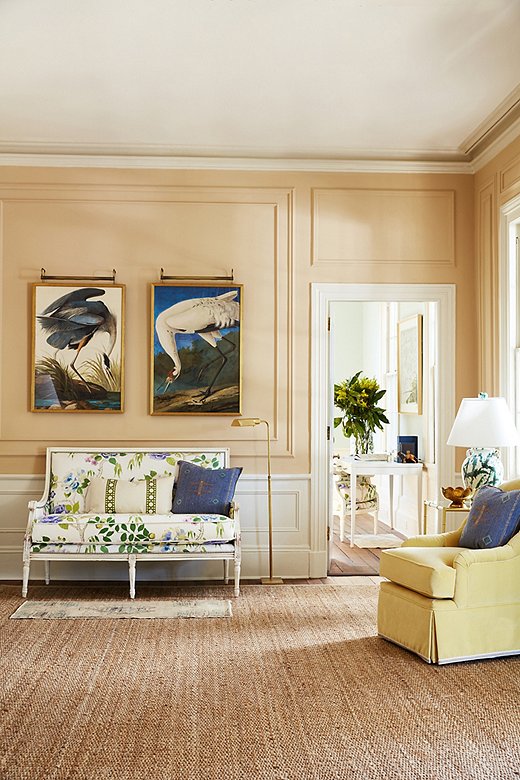 No, it's not your imagination: You really are seeing more birds, or at least, more bird art, on social media and in design magazines. The prints of John James Audubon in particular are having a renaissance of sorts.
Born in 1785 in what is now Haiti and raised largely in France, Audubon was a merchant and a teacher by trade and an ornithology artist by vocation. Though he had been drawing birds since he was a child, it wasn't until about 1820, by which point he was married and living with his family in Kentucky, that he set himself the goal of painting every species of bird in North America.
Achieving that goal proved impossible; according to the Cornell Lab of Ornithology, the continent is home to 2,059 bird species today, and even more in the 19th century. (At least five of the species Audubon depicted are now extinct.) Audubon did manage to paint 435 species, however, which were published between 1827 and 1838 as The Birds of America.
Made from hand-engraved copper plates and printed on pages measuring 39.5 by 28.5 inches, the hand-colored prints depicted the birds in all their life-size glory. They were sold by subscriptions that cost about $25,000 today, putting the imagery out of the reach of all but the wealthiest. Although universities, libraries, and state legislatures made up most of the roughly 160 original subscribers, individuals included Adelaide, the queen consort of England's William IV; France's final king, Louis Philippe I; the Grand Duke of Tuscany; and the 3rd Earl Spencer, an ancestor of Princess Diana.
The Birds of America was, and remains, notable for the sheer artistry of the paintings. Audubon broke with tradition by depicting his subjects as they were in the wild, rather than as stiff, posed taxidermy models shown in profile. The book was also the first ornithological collection to depicts its subjects at full scale—which is why the engravings were printed on pages 39.5 inches high by 26.5 inches wide. Even then, Audubon had to take some liberties, contorting some of the taller birds such as the American flamingo so that its entire body would fit on the page.
Only 119 complete first editions of The Birds of America are known to still exist. One set sold for $11.5 million in 2010, making it one of the most expensive books in the world. Much more accessible are the high-quality reproductions that are being seen in more homes as a way of bringing nature back into our daily life.
For more proof of Audubon's cool quotient and the longing to embrace nature in even the most urban of locales, look no further than the Audubon Mural Project. Throughout Upper Manhattan, street artists are painting murals depicting species featured in The Birds of America that are now at risk due to climate change. So far 117 of the 314 species can be seen on buildings and security gates throughout the neighborhood. Why Upper Manhattan? From 1841 till his death 10 years later, Audubon had a 20-acre estate along the Hudson River between what are now 155th and 158th Streets, back when the area was predominantly farmland and presumably filled with the singing of birds.