In your home office, a little stylish organization can be just the update you need to get inspired and motivated. And that sort of organization comes down to keeping the visual clutter on your desktop to a minimum, be it sorting out piles of notebooks and papers or containing all those pens, pins, and Post-its. Read on for a few quick rearranging tips for an orderly and elegant work space.
Corral Chicly
Never underestimate the power of a little shine, especially when it comes to trays and beautiful vessels for your desk. Gather your pens, pencils, and accessories in pretty cups and repurposed glass votives, and place them in a glimmering tray for a sophisticated and organized display that's also easy to move.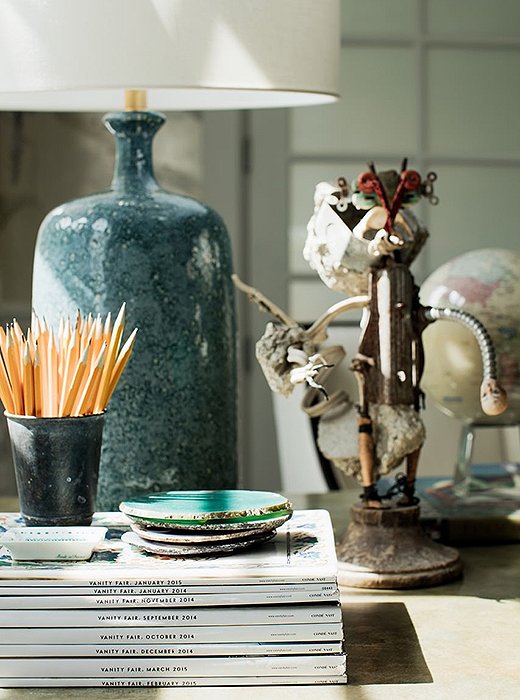 Make Room for Unique Objets
To help get creative jobs done, make room for personal finds that will inspire you. Find a place for favorite small objects that spark your imagination, such as sculptures from your travels, heirloom pieces of art, or even cherished paperweights. These small delights will bring a little charm (and inspiration) to your practical work surface.
Give Everything Its Place
Take a cue from the gallery wall when arranging your desktop. Spread out catchalls, small stacks of notebooks, objets, and boxes and mail baskets in a gridlike manner, making sure to leave lots of breathing room among your groupings. It's a stylish approach for designating a spot for your accessories while giving your work space a collected look.
Set Up an Inspiring View
Rearrange the perspective of your working space by finding room to display photos, magazine tears, postcards, and vivid images that spur your mind to travel. It's an easy shift in focus that will make even the smallest tucked-away office area feel majorly charming