Nurseries are dreamy spaces to design—it's one of the first things you get to as a parent, and it's a tangible reminder of all the excitement to come. But how do you create a space that's as stylish as the rest of your home while prioritizing comfort and functionality? And other than the crib, what pieces do you really need? Below, we're breaking down the key elements of a chic yet practical nursery. Read on and get inspired.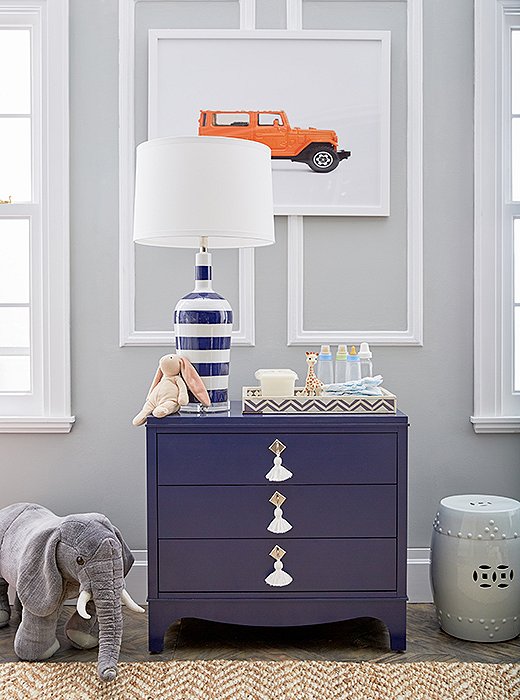 Add Versatile Storage
Other than the crib, look for furniture you wouldn't mind having elsewhere in your home—or that can easily transition to a more grown-up space later on. A pretty nightstand with three deep drawers offers lots of room to stash away clothes, blankets, books, or toys, plus room for a lamp and everyday essentials up top. And instead of a changing unit, opt for a gorgeous dresser—a changing tray can easily be attached to the top and then removed once it's no longer needed.
Surround with Cheerful Touches
To add style and personality without committing to a bold wall color—one that you and your child may soon grow out of—bring in color and pattern through accessories instead. A soft blanket in a delicious hue, bedding in a sweet floral print, and artwork with a playful side are sure to make you smile (even on those too-late nights and bleary-eyed mornings).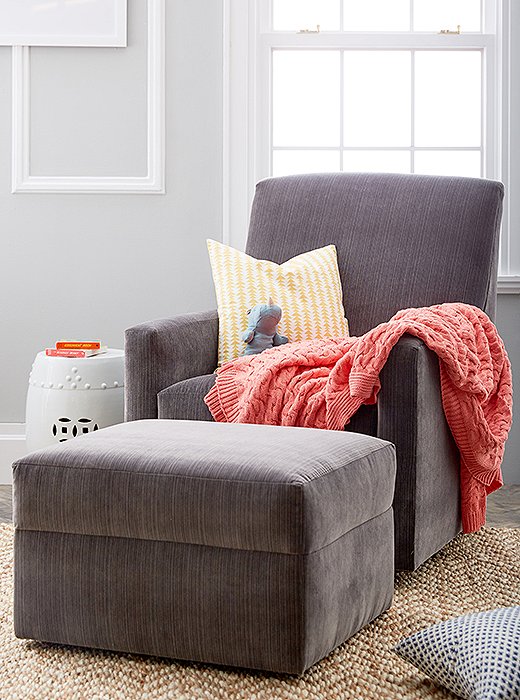 Make It Extra Cozy
In perhaps no other room is comfort such a key priority. So invest in a great lounging spot, whether it's a traditional glider-and-ottoman combo, a classic rocking chair, a soft settee, or some combination of these. After all, friends and family members will all want to gather here, so extra seating is sure to come in handy.
Top things off with plenty of pillows and throws, and make sure there's a convenient surface close at hand. Here, a garden stool steps in as a petite side table, providing a handy spot to set down a bottle or a book.
Create a Soft Landing Spot
Atop a natural-fiber rug, a plush sheepskin is the perfect place for a little tummy time—and the layered look makes the room instantly chicer. Add a few soft floor pillows or poufs to make it a comfy spot for you too.