Hutton Wilkinson lives by a simple philosophy: "If it isn't fabulous, it's meaningless." The ebullient decorator, who worked side by side with design legend Tony Duquette for more than 25 years, helped outfit some of the most dazzling interiors of the 20th century. As Duquette's successor, Hutton now runs the studios at Tony Duquette Inc., where the "more is more" approach remains the guiding mantra.
It comes as no surprise, then, that Hutton possesses a flair for extravagance that recalls—and some might even say surpasses—that of his late business partner, as evidenced by his own lavishly gilded, color- and pattern-rich three-story home he shares with his wife, Ruth, in Beverly Hills. Between working, relaxing at home, and hosting grand parties, Hutton lives as he decorates, with gusto.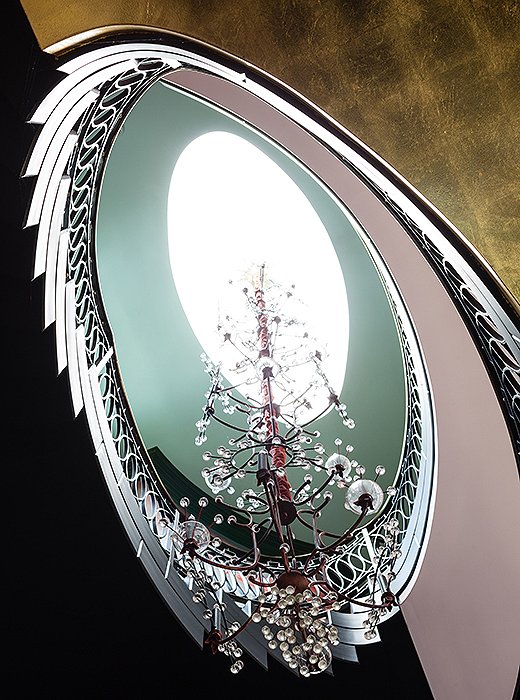 Chasing His Dream Job
It can be said that Hutton always knew he was destined to work with Duquette. "I learned about Tony Duquette when I was in seventh grade from an article in the Los Angeles Times Home magazine," he recalls. "I wanted to work with him from that moment on." A childhood sense of wonder became a passion that fueled his ambition and, eventually, landed him a job with Duquette. "Finally I got my chance when I was 17 years old," says Hutton, who started working with Duquette and his wife, Elizabeth, out of their Los Angeles work space, a former silent-film studio with "a curtained stage at the end of the living room, where they had orchestras, performances, and served dinner."
A little too much is just enough for me! I like opulent, maximalist rooms, and I like to use one-of-a-kind elements.
Embracing Color Fearlessly
Whereas most people would shy away from a palette that leans on rich primary hues, Hutton would have it no other way. "I've never done a white room," Hutton professes, adding "green is a neutral color." The verdant hue, a clear favorite, is found in bright spurts throughout the home. But the predominant palette Hutton chose for his home, best seen in the drawing room, bears a special significance. "Tony and I always fantasized about making a coral, black, and gold room," Hutton says. "And without knowing it I did it subconsciously."
I live for old movies. You can learn all about decorating, table manners, chic dressing, and stylish living from old black-and-white films!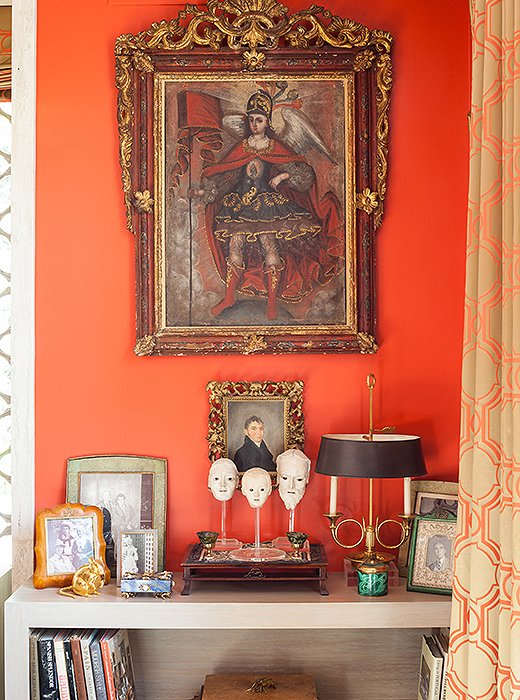 Living Boldly (and Comfortably)
While the rooms in Hutton's home may lean toward the precious, every room is used, and "comfort comes first," Hutton says. "Comfort is style. After you get comfort out of the way, then you can embellish." Case in point: The library, where Hutton enjoys reading and entertaining friends with predinner cocktails, was designed for relaxing and modern-day living, with a deep sofa topped with down pillows, swivel armchairs, plenty of lights, and a fireplace. "If you really dissect my rooms, they are extremely simple," Hutton explains. "Plain fabrics, simple frames, everything floor to ceiling, wall to wall. Simple but rich colors, not a lot of trim or fluff, but a lot of layering."
We love anything beautiful, unusual, or rare. And we love a good bargain—and finding a treasure that no one else has recognized as one.
The Lavish Host with the Most
"My wife and I love to entertain," says Hutton. "I obsess over guest lists, party themes, and menus." He seems to be always in the midst of planning dinners and decked-out soirées that end up taking place at Dawnridge, Tony Duquette's estate that Hutton purchased after his mentor's passing. "We have a warehouse full of props, party decorations, costumes, dishes, etc.," Hutton says. "Everything we need to change the mood and have a party!" Even a standard dinner is often a formal affair. "Dressing in black tie is not an unusual event for us."