To encourage drowsiness, ancient Egyptians drank a beverage made of liquid extracted from wild lettuce stems. Charles Dickens insisted that his bed face north, even carrying a compass with him when traveling, and Vincent van Gogh soaked his pillow and mattress with toxic levels of camphor. In short, people have pursued the secrets of a good night's sleep for millennia.
There are plenty of articles with advice on how to get to sleep that focus on diet, exercise, mattress types, and the like. This is not one of them. Instead we're going to offer suggestions on how to create an environment that will pave your way to slumberland.
Pick a peaceful palette
Scientific studies show that blues, greens, lavenders, and pinks have a calming effect on people. Conversely, yellows, reds, and violets stimulate the brain, the emotions, and even the appetite.
So it stands to reason that a blue bedroom is more likely to encourage a good night's sleep than a purple one, right? Well, sort of. If you loathe the color blue, a bedroom of that color might induce nightmares than sweet dreams. And if yellow walls make you feel as if you're drowsing in the sunshine on a lawn of buttercups and daffodils, go ahead and defy conventional wisdom.
Another bit of conventional wisdom you can safely ignore is that your bedroom should be decorated in pale colors. Darker hues can make a room feel wonderfully cozy. Keep in mind your bedroom's sun exposure in the morning, though. If your windows face west, a room dominated by dark colors could have you waking up to a space that feels anything but inviting. However, layering a room with one color in various gradients—hunter, fern, and sage greens, for instance—can create a cocooning effect that many find conducive to sleep while also providing enough brightness so that you're ready to seize the day when you awake.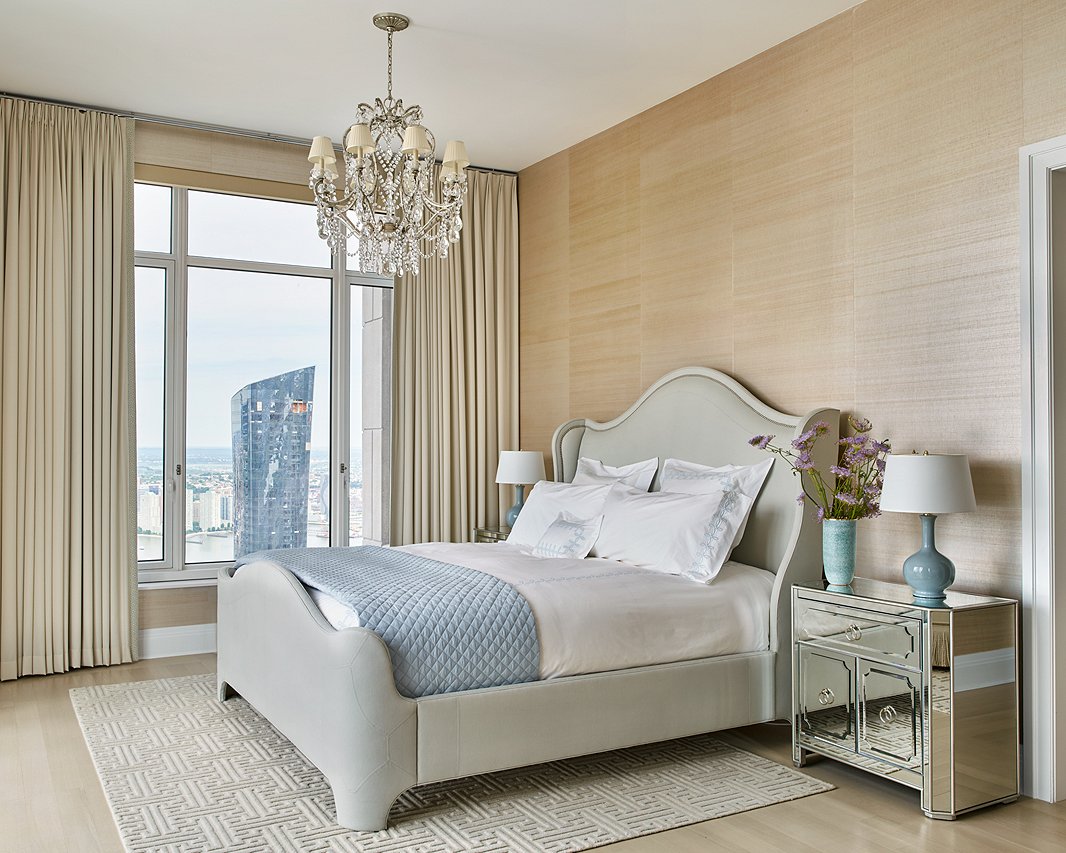 Face your bed away from windows and doors
That spectacular view you love waking up to could make it difficult for you to fall asleep if it's a bright one. Similarly, when your bed looks out into a hallway, you might wake up whenever someone else turns a light on. If your room's layout necessitates that your bed faces out onto a neon-lit cityscape, be sure to invest in heavy curtains or blackout shades. As well as keeping out light, they'll help buffer sound and even provide additional insulation. Another option: a canopy bed—practical, pampering, and chic. Or don an eye mask before calling it a night; one made with silk has the added benefit of helping to prevent wrinkles, thanks to silk's naturally moisturizing properties.
Scent the scene
The scent of lavender is renowned for its relaxing qualities, but other fragrances can also create a calming ambience. Those who dislike lavender might find notes of chamomile, jasmine, or cedar equally soothing and more enticing. Scented candles are the typical go-to for adding fragrance to a room, but if the thought of forgetting to snuff out the candle before falling asleep makes you anxious, opt for a diffuser or room spray instead.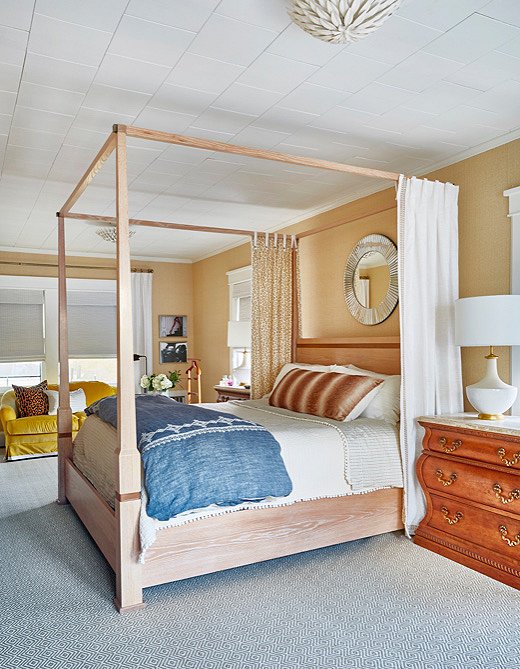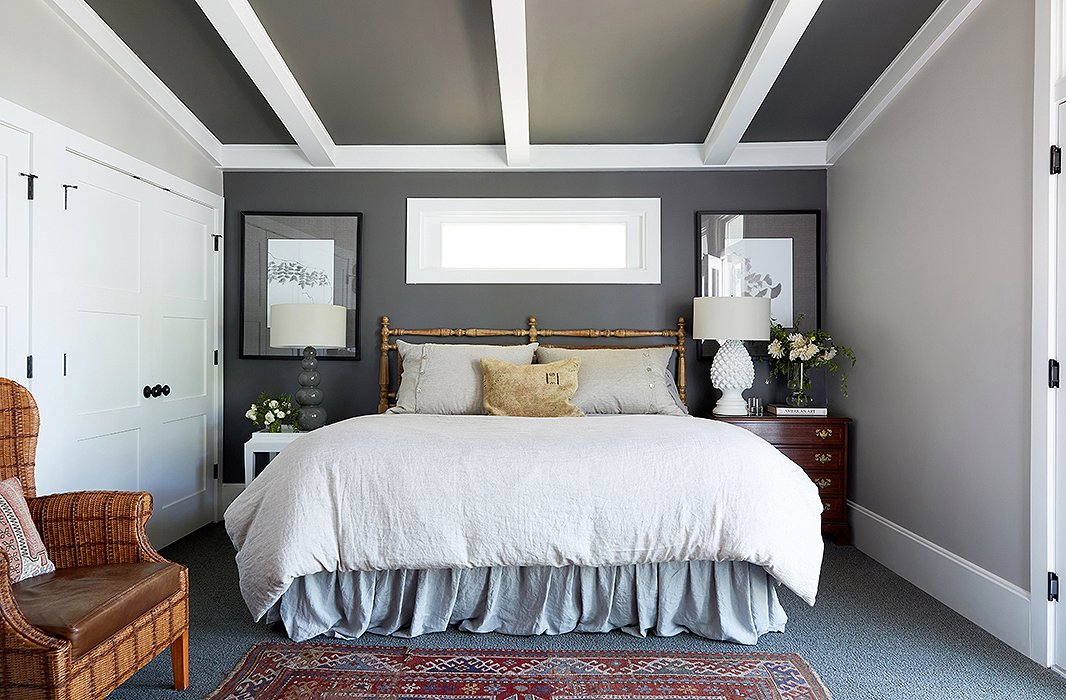 Banish clutter—or at least hide it
A nightstand cluttered with bills and receipts, a pile of clothes burying a chair, a stack of reports you need to get to first thing in the morning: All of those sights will roil rather than soothe your mind. That's why storage is nearly as important as a bed when furnishing a restful bedroom.
A nightstand with drawers, shelves, or both lets you tuck the detritus of daily life out of sight while keeping it in reach. Drawers are especially handy for stashing distracting tablets, laptops, and other devices.* Replacing a bedside lamp with a sconce also helps clear off your nightstand, with swing-arm sconces enabling you to direct light exactly where you want it. Decorative boxes can corral jewelry, keys, and other small objects out of view while adding panache, and trays can keep toiletries from overrunning your dresser or vanity. Unless you have a low-slung bed, you can use the valuable real estate beneath it as hidden storage. And if you have room at the foot of your bed for a bench or ottoman, why not make it one that offers storage beneath the seat?
* Speaking of devices, the blue light they emit has been shown to reduce melatonin levels and trick one's body into thinking it's still daytime. Ideally you'd want to stop watching TV, answering email, and reading on a tablet at least two hours before bedtime, but for most of us that's nigh on impossible. So consider wearing glasses that filter blue light or installing a blue-light blocker app on your devices instead.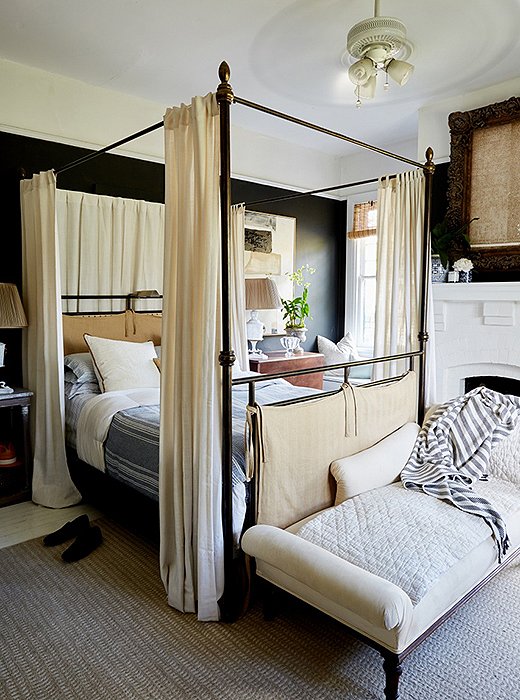 Opt for layers
Experts say that the optimal sleeping temperature is between 60 and 70 degrees Fahrenheit. What's comfortable for you, however, might be too hot or too cold for your bed partner. That's one reason your bed coverings should include several layers: One of you can curl up beneath a comforter, a blanket, and a sheet while another eschews the duvet, for instance. What's more, a lightweight duvet and a blanket can sometimes feel warmer than just a heavy duvet, as the air between the layers has its own insulating prowess.
Another reason for layers of bedding—besides it looking so chic!—is that throughout the night your temperature will fluctuate. With layers you can simply toss off your comforter or pull up your blanket while still dozing. Prone to extreme temperature fluctuations? Consider silk bedding. As well as being hypoallergenic, silk adapts to your body temperature, wicking away perspiration to keep you comfortably cool yet draping the body to provide ample warmth. If night sweats and overheating are your primary concern, try linen, which also helps remove moisture and allow heat to escape (it's naturally antimicrobial and mildew-resistant to boot).
Keep cool—or warm—with a ceiling fan
The benefits of a ceiling fan are blissfully apparent on those not-quite-summer evenings when air-conditioning would be overkill but you need some sort of light breeze to lull you to sleep. They're also essential if you live in a warm clime or an older apartment where the heat is on blast from autumn through spring. (Fun fact: Radiators in early 20th-century apartments were designed to create near-tropical conditions, as keeping the windows open even in winter was believed to help prevent the flu and other ailments.) Ceiling fans can warm as well as cool a room; most are designed so that when you run them clockwise, they push warm air toward you, all while soothing you with their gentle hum.