There's nothing more joyous than luxuriating in the great outdoors when the weather is warm. But fashioning an alfresco spot that's both comfortable and stylish can be difficult when your space is on the petite side. Whether you're looking for a place to entertain or a retreat to sit back and read a book, let these inventive ideas guide you in creating your best outdoor space yet.
Grow a Vertical Garden
Just because you're short on space doesn't mean you have to choose between having outdoor seating or growing a garden. DIY expert Megan Pflug dreamed up this ingenious project, which takes advantage of vertical space by fashioning an espalier on the patio wall.
Bonus tip: To a petite chair with an outdoor pillow, add a garden stool for an additional stylish but space-saving spot to sit (or to rest a cup of coffee or glass of wine).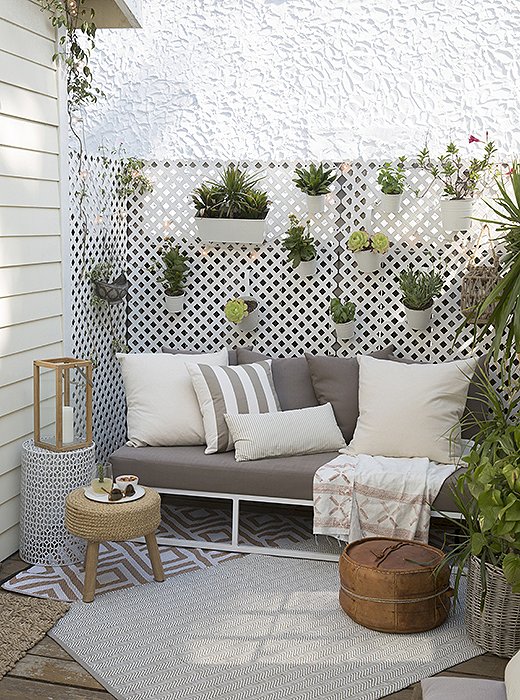 Dress Up a Solo Bench
A functional outdoor seating area doesn't require a full suite of furnishings. In fact, a single bench with ottomans and stools can easily seat a small crowd—just make sure you pile on pillows to maximize comfort.
Bonus tip: It's the accessories that will make a small space feel bigger. Add a durable outdoor rug or two to bring in a more lounge-y, indoor vibe, and try hanging small plants for a nature-friendly take on the gallery wall. 
Go Wild with Potted Plants
If you don't have dedicated space for a garden, go big on potted plants of all species. Grassy shrubs, spiky cacti, flowering trees: We say the more variety, the better. For a more collected, eclectic look, mix things up with your planters, opting for a variety of materials such as terracotta, wood, and painted ceramics.
Bonus tip: An oversize armchair, patterned textiles, and an all-weather mirror will bring the style and comfort of an indoor living room outside. 
Use All Manner of Seating
Porch swings are lovely additions to your outdoor area—especially if you have kids—but they can take up a large swath of precious space. If you want to use a swing for more than just swinging, pair it with a bistro table and chairs, which you can easily move when you want to put the swing in action.
Bonus tip: Though we love matching bistro sets, try mixing materials—like the marble-top table and iron chairs here—to give your space a more varied look. 
Mix and Match
Another trick to make your outdoor space feel bigger? Layers—and lots of them. This mix-and-match approach calls on a collection of smaller-scale furnishings and bright accents for a collected yet cohesive look that undoubtedly maximizes the petite patio.
Bonus tip: Outdoor textiles are for more than just looking good. Opt for pieces that are soft to the touch and feel good too, like a knit blanket, a woven rug, or plush floor pillows to ensure maximum comfort for you and your guests. 
Put Two and Two Together
Don't have room for a full dining table? Try this clever trick, which pairs two bistro table sets, making plenty of room for a dinner for four—or six if you add a few extra seats at the end. It's versatile too: When you need extra space, you can easily fold the sets and store them away.
Bonus tip: Lay a strong foundation underneath with an outdoor rug, which will make the area seem more like a true dining space.