When a young couple decided on a house with good bones but a dated look, they called on designer Paloma Contreras to help them transform it into a stylish place for their growing family. Georgian in style, the 1930s-era property in Houston's River Oaks neighborhood had classic character they loved (crown molding, coffered ceilings, paned windows) but an imposing design scheme. "They're a very young and vibrant family," says Paloma. "They have two small children, so though they wanted to honor the beautiful original architecture of the home, they also wanted a space suited to family living in line with their personal style, which is just more modern."
See how Paloma achieved just that with a look through the light, bright, and airy spaces below.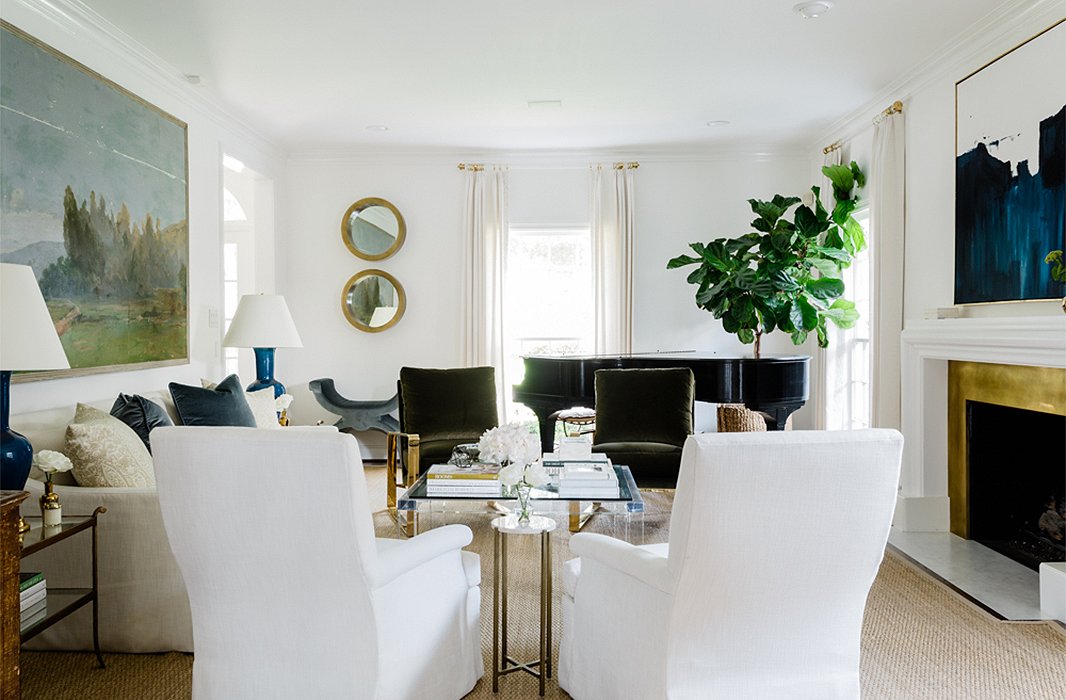 Define Your Course
When asked her advice for anyone about to embark on an interior design project, Paloma speaks to where it all starts: inspiration. "Go through your inspiration and feel what resonates with you most," she says. "Then pick a lane and stick with it." In other words, a clearly defined point of inspiration can help guide you through the times when you feel overwhelmed by so many style-related choices. For this project, Paloma looked to a large-scale European landscape painting—an heirloom piece already owned by her clients—to inform the overall feel of the house. "I was really drawn to the soft, romantic quality of the painting," says Paloma, who brought this sense of romance to every room with shades of dusty blue and pale green and touches of gold for Old World flair.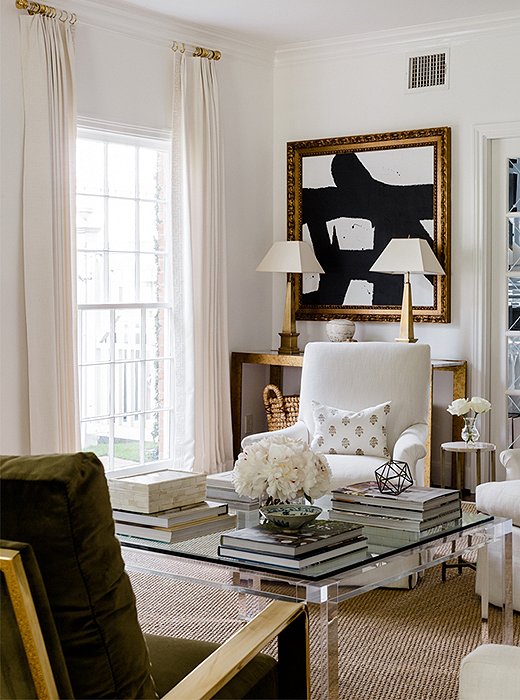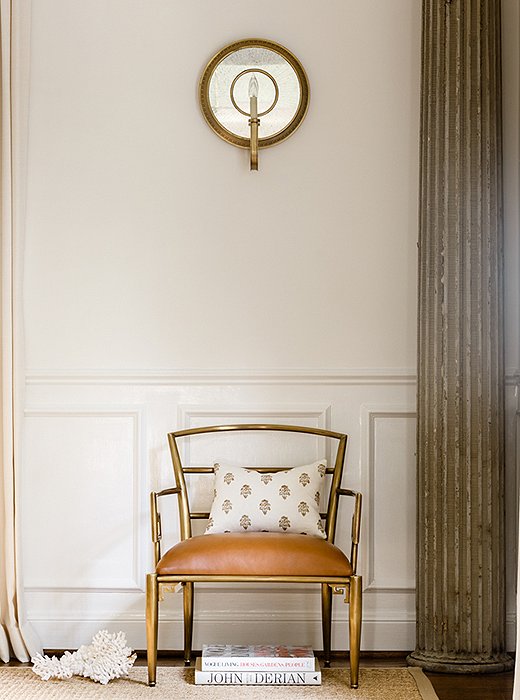 Coolly Classic
"If this house illustrates anything, it's that modern and traditional can play really well together," Paloma says. "You just need a classic foundation that you can layer things on top of." With crown molding, white walls, and paned windows that close flush to hardwood floors, the living room is a fine example of a space with classic bones hosting a contemporary conversation. (The sleek acrylic coffee table, brass-armed accent chairs, and abstract paintings nod not to King George but to a young couple with happening taste.) And, as Paloma points out, even if your home doesn't have such architectural details, you can achieve a classic base with the addition of something as simple as an oversize natural-fiber rug.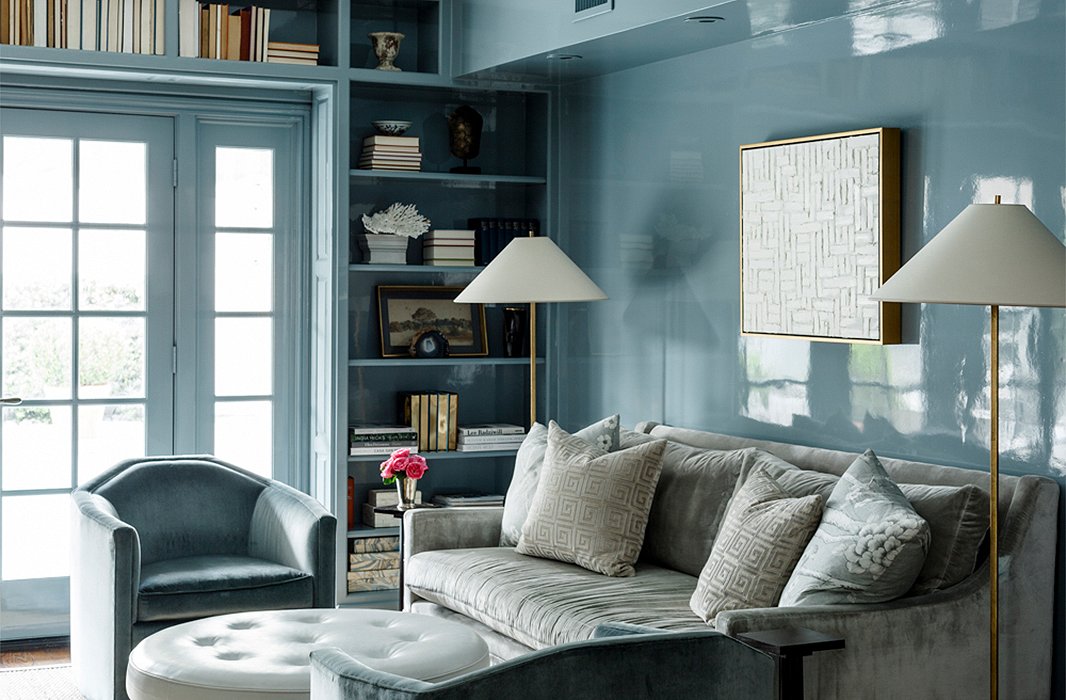 Practical, Not Precious
Even though much of the house is dressed in white, it's still kid- and pet-friendly thanks to a thoughtful choice of materials. "We used a lot of indoor/outdoor fabrics that really hold up to day-to-day life," Paloma says. She also made sure to have every piece of upholstery sealed and employed beautiful yet durable natural-fiber rugs throughout the home. "Sea grass and sisal in particular are very forgiving," notes the designer, while their casual feel can help visually ground each space and temper the more-glamorous elements.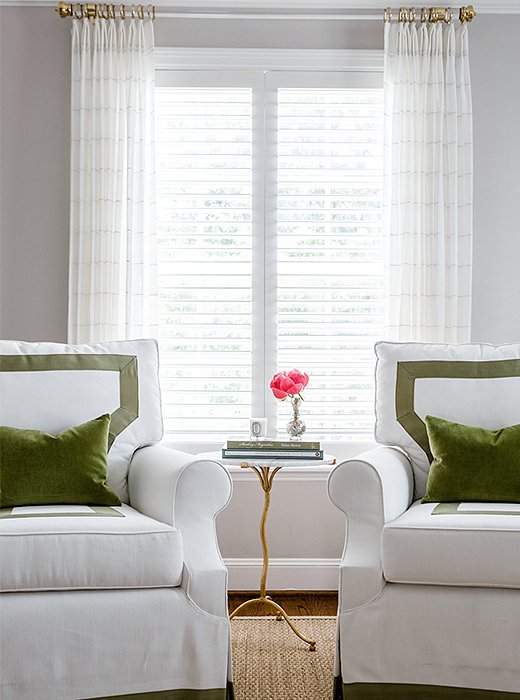 Go through your inspiration and feel what resonates with you most, then pick a lane and stick with it.