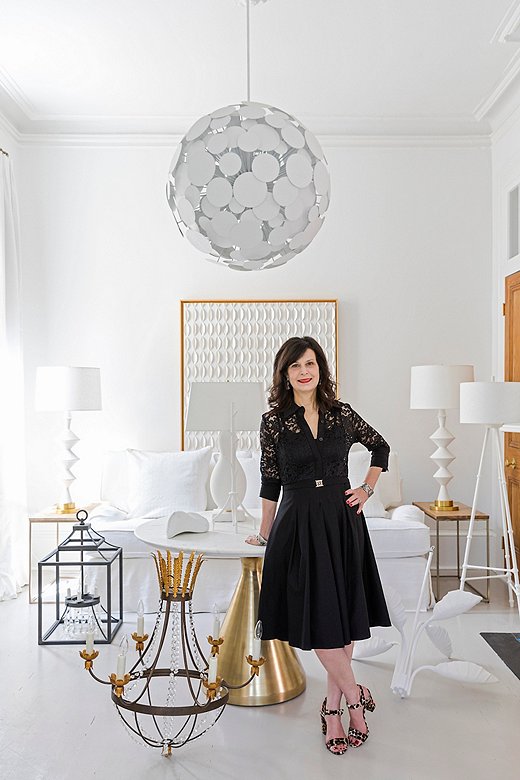 For Julie Neill, who designs chandeliers, sconces, and other fixtures for clients from her New Orleans studio, lighting is about more than just illuminating a room. "I believe in the power of light. It's a positive energy in the world," she says. "I think of what I do as an art, and making art that brings positive energy into a room is just a dream come true."
With more than 20 years of experience, Julie has become a go-to in the design world for custom, vintage-inspired light fixtures that lean heavily into a classically feminine aesthetic and feature luxe materials such as plaster, crystal, and gold leaf. It's a style that permeates everything she touches, including her line with Visual Comfort and her historic New Orleans home, which is filled with—no surprise—plenty of her gorgeous designs. "When I sit down and get comfortable at home, my eye goes up to the beautiful pieces in the ceiling," she says. "A big dramatic piece of lighting is a thrill everyone deserves to have."
Here, read on to discover Julie's top tips for lighting your home and to take a peek inside her well-appointed residence.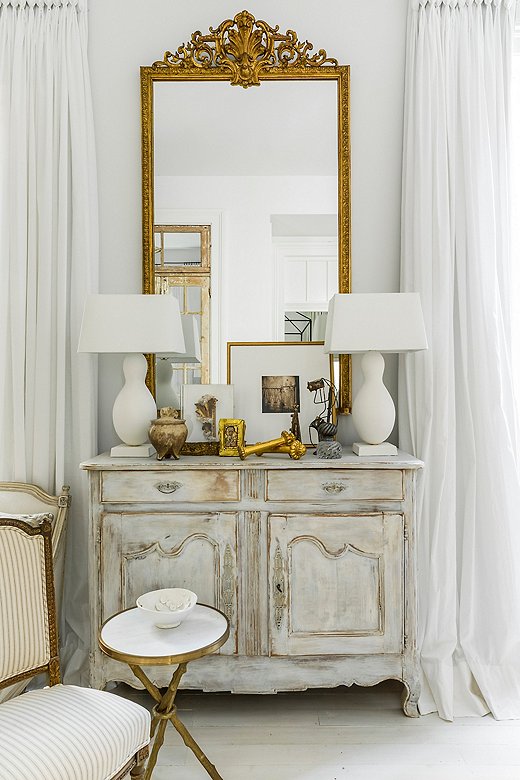 Julie's Words of Wisdom
Use as much light as possible. "Give yourself the opportunity to have as much light as you could ever need in a room," Julie says. This means having a chandelier with many arms, sconces on the walls, hanging pendants, lamps. She recommends putting everything on dimmers and installing multiple switches so you're not committed to having every light on all the time.
Do some research if you're not sure how you want to light your space. "My advice to anyone who doesn't know where to start is to really shop around," Julie says. "Look in magazines, look online, go to lighting and interior design stores. Try to figure out what appeals to you."
Consider ceiling height—but not too seriously. Decorating handbooks always seem to come with sets of guidelines—especially in regard to lighting and how high it should hang in certain rooms. "To me, the big rule is that there are no rules," Julie says. "You have to see what looks good for you." For chandeliers over dining tables, she cautions against hanging them too low; you shouldn't have to duck around them to speak to someone or rise from your chair. For lower ceilings, flush and semiflush mounts are your best bet, although sconces on the wall can also provide adequate light from above.
She references a quote from architect Louis Kahn, who instructed his students to look to their materials for inspiration: "You say to a brick, 'What do you want, Brick?' And Brick says to you, 'I like an arch.' And you say to Brick, 'Look, I want one too, but arches are expensive and I can use a concrete lintel.' And then you say, 'What do you think of that, Brick?' Brick says, 'I like an arch.'"
"I stand in a room and say, 'Room, what do you want?'" Julie says. "You have to ask a room what it wants and give it that, in a way."
Mix or match. A coordinating sconce and chandelier, a set of lighting made of entirely different materials: Julie says it's all fair game. "Matching can be so fabulous. It can knock me over," she says. "But not matching can be just as fabulous. It's really how you decide to do it."
Don't forget about outdoor spaces. If you have adequate coverage from the elements in your outdoor patio or porch, consider adding a statement piece of lighting to bring it to the next level. "I think a chandelier outside is just the ultimate expression," Julie says. "I'm getting ready to add a porch to the back of my house, and there will definitely be a chandelier hanging out there."
Go smaller and portable for rentals. If fixtures aren't in the cards for a rental or a small space, consider using a mix of lamps and sconces that don't require installation.
Trust a professional for installation. "This is the truth," Julie says. "I think you should always have a professional install. Electricity is nothing to play around with. If you have it installed by a professional, you know it's to code, you know it's safe, you know the box in the ceiling is secure. Anyone can install a fixture, but it's not prohibitively expensive to have someone do it for you. Better safe than sorry."