Suzanne Kasler's Guest-Ready Veranda
Atlanta designer Suzanne Kasler's covered veranda is the perfect extension of her home. She applies to her outdoor space the same decorating principle she follows for interiors: Always start with beautiful neutral foundation pieces. Here, the latticed daybeds atop a simple natural-fiber rug are all it takes to create a spot that's ready for both intimate conversations with guests and leisurely afternoon naps.
Idea to steal: If you are pressed for space and can't fit a full outdoor suite into one area, consider a sculptural daybed for a functional piece that's also a showstopper.
Brett Heyman's Whimsical Hideouts
With acres of breathtaking hills and vistas, Edie Parker designer Brett Heyman's Connecticut weekend home has many sights to behold. Among our favorites are the grounds' whimsical treehouse and bee house, which Heyman commissioned a local carpenter to build. While we may not all have sprawling lands, we agree with Heyman that there's always room for something a little wild and eccentric outdoors.
Idea to steal: Wherever your outdoor space and whatever its size, make it a point to find a place for something unusual that becomes a focal point, such as a hammock, a porch swing, or a simple towering sculpture that overlooks your outdoor retreat.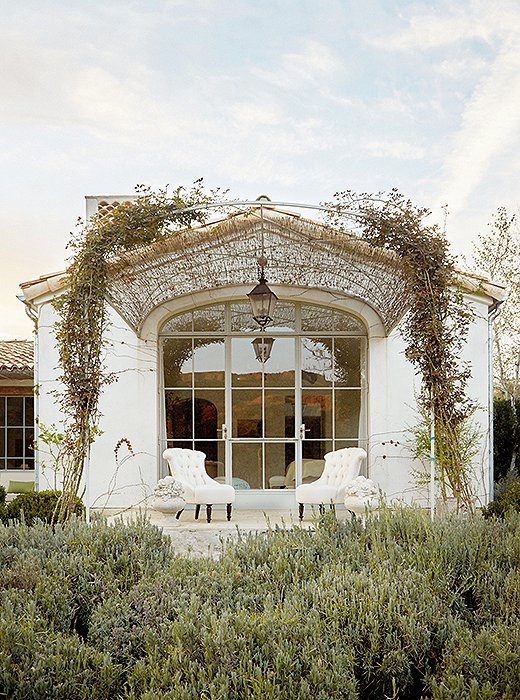 Patina Farm's Plentiful Rustic Resting Spots
If you're like us, you've probably dreamed of following in the footsteps of Brooke and Steven Giannetti, ditching city life for the quiet and beauty of a farm in the country. Until we can do so, we find ourselves looking over and over again to the designers' Ojai, CA, estate for inspiration, from the scenic seating corners decked out with elegant upholstered chairs to the welcoming guesthouse.
Idea to steal: There's power in numbers when it comes to outdoor seating nooks and corners. Find tiny spaces just large enough for a bistro chair and a table or a pair of comfy loungers; they'll add up to a welcoming atmosphere. Bonus: Nest them under an ivy-entwined pergola and you've got an irresistible hangout.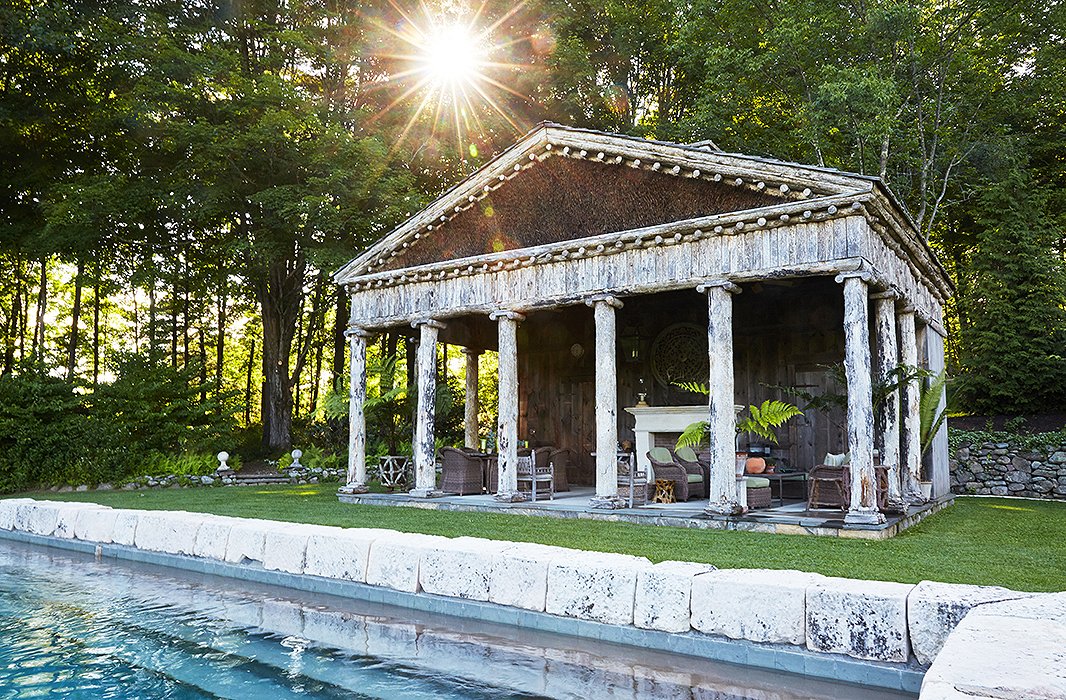 Bunny Williams's Majestic Poolhouse
Ensconced amid a small forest of lush greenery, decorator Bunny Williams's poolhouse is a world unto itself and her favorite gathering spot for lunch with close friends or an afternoon picnic with her husband, antiques dealer John Rosselli. Inspired by 18th-century garden follies, the colonnaded structure recalls a Greek temple but with a modern take—Williams outfitted the inviting space with clean-lined woven furnishings, comfortable pale-green upholstery, and warm terracotta touches for elegant contrasts that play up the lush surroundings.
Idea to steal: Keeping your outdoor pieces to a matching suite doesn't always mean "boring" and "safe." It's a surefire (and easy) way to create a cohesive look that doesn't take away from your natural environment.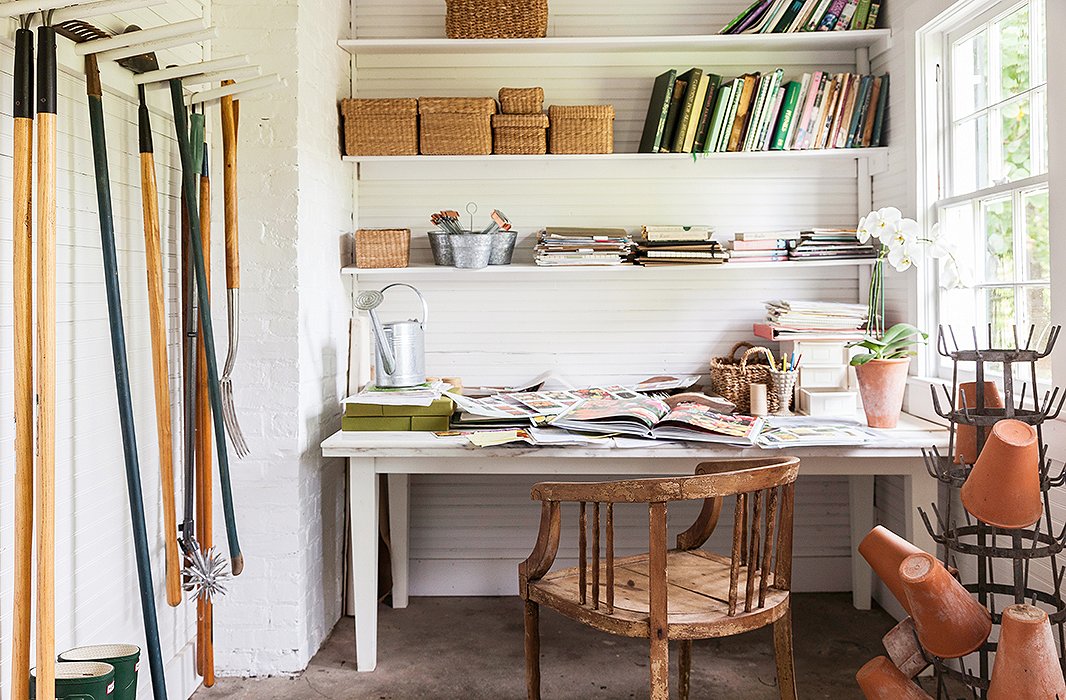 Carolyn Roehm's Inspiring Garden Office
Tastemaker Carolyn Roehm has painstakingly chronicled her passion for her grand Connecticut gardens in her book At Home in the Garden. On the continually changing grounds, her greenhouse, outfitted with weatherworn stone urns and rusted vintage finds, provides a shelter for year-round pleasures. But where the work really gets done is in her little garden office and hoop house, which overflows with colorful garden tomes and terracotta planters—signs that Roehm's gardens are a constant work in progress.
Idea to steal: Carve out a little area where you can let your garden imagination roam free. A little alcove or potting area ready with pots, urns, and gardening essentials can be as inspiring as it is functional.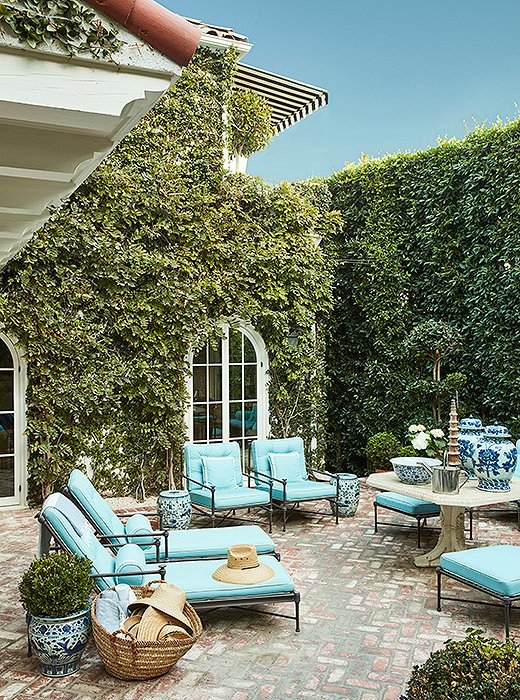 Mark D. Sikes's Sophisticated Courtyard
Coveted designer Mark D. Sikes's Los Angeles bungalow comes with a brick-paved courtyard framed with fig and ficus hedges—the stuff of West Coast dream homes. With its suite of chic metal outdoor seats, chinoiserie accents, and notes of weathered stone ("I love this antique stone table, even though it's crumbling, and designed the entire space around it," Sikes says), this courtyard is our idea of magical alfresco living.
Idea to steal: Colorful upholstery in Sunbrella or other weather-resistant fabrics will always brighten up a small alfresco space. Think one overarching bold color or classic cabana stripes for a stylish starting point.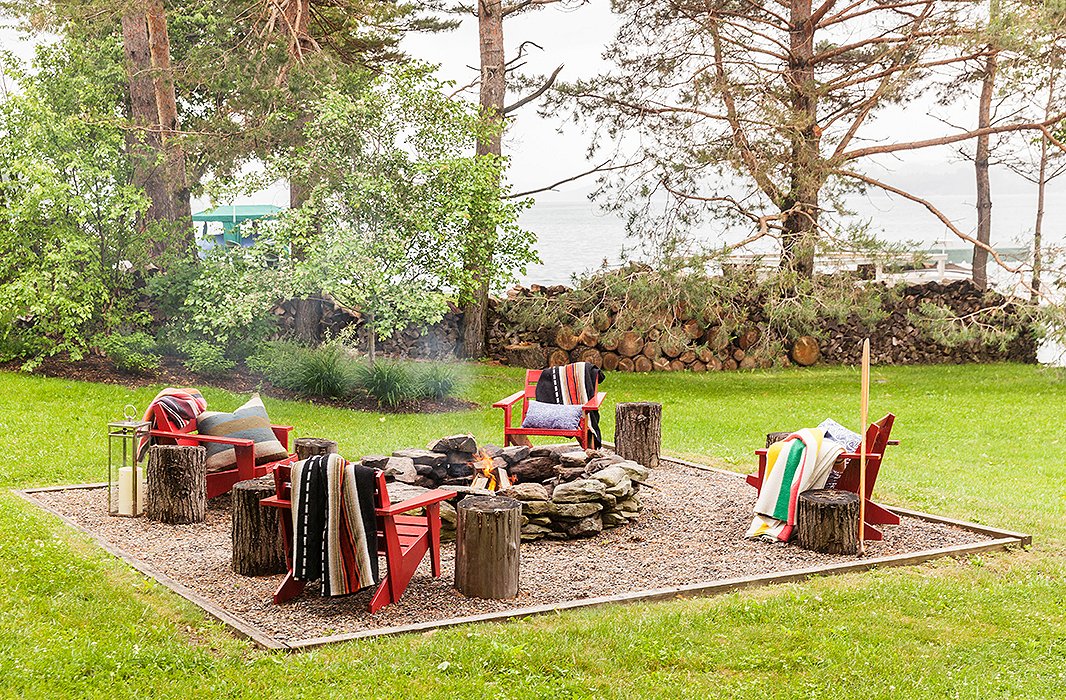 Thom Filicia's Warm Fireside Spot
From welcoming bedrooms to the cozy fire pit overlooking the Finger Lakes, decorator Thom Filicia's house in upstate New York was designed with overnight guests in mind. Channel the same rustic alfresco spirit in your own home with a gathering of Adirondack chairs and chilly-evening throws around a hearth or a fireplace.
Idea to steal: Adirondacks are equally at home in the country, in the city, and the suburbs. Try a single one on a compact patio space or a fleet in a row along a narrow porch; they'll add comfort and color to your outdoor spaces.
Sara Ruffin Costello's Cozy Porch
What we love most about designer Sara Ruffin Costello's historic New Orleans home is its juxtaposition of old and new, starting with the multiple family-friendly porches. The teak swing, lightly chipped wrought-iron chairs, and vintage pedestal table in this porch nook reflect her design ethos precisely: laid-back with a sense of soulful Southern warmth.
Idea to steal: No need to go all-out on your porch if you're worried that a full outdoor set will feel overwhelming. Rather than pull in deep seating and ottomans, opt for slender vintage pieces and outdoor accents, which have a way of naturally blending in with untamed nature.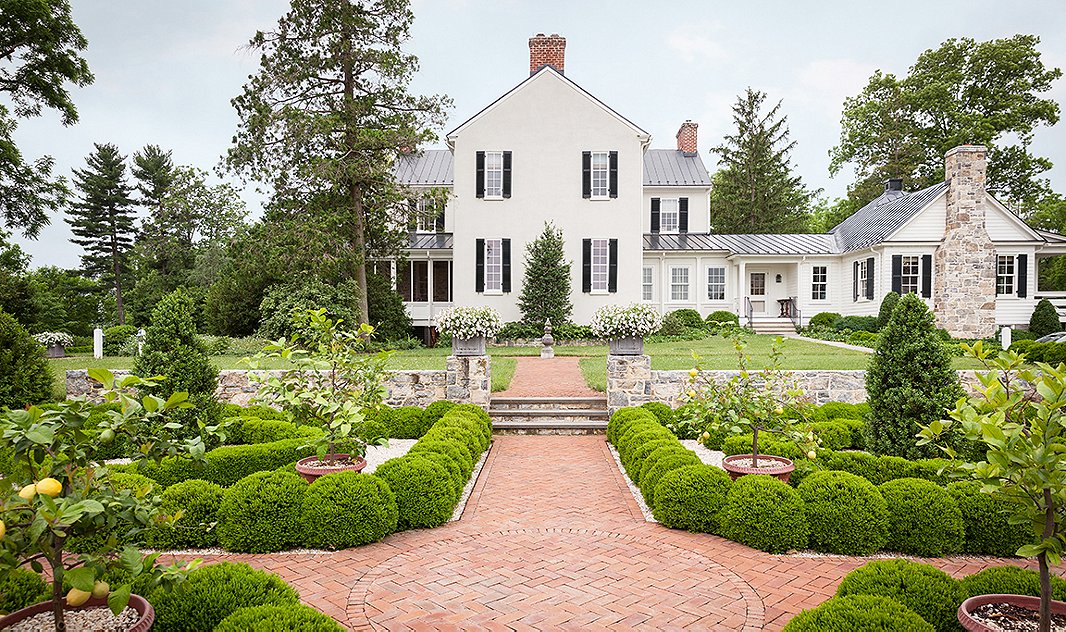 Elizabeth Locke's Meandering Gardens
If there's one thing we've learned from jewelry designer Elizabeth Locke, it's that a well-tended garden gives back endless delights. Laid out with boxwood parterres and wandering walkways; a Gothic-style greenhouse, where Elizabeth can be found year-round; and magical tucked-away corners ready with quiet seating, Locke's gardens have us plotting an overhaul so that we can create our own lush corner of an oasis.
Idea to steal: Gorgeous walkways bring a little grandeur and structure to your gardens. Tight on space? Try planting lemon trees and topiaries in large urns and line them up to create the elegance of a walkway no matter how small the area.