Count on designers to have some of the most enviable collections of decorative objects and artwork. Whether it's a trove of family heirlooms or a mix of pieces picked up on travels, we love spotting a fabulous collection—often fabulously displayed—when peeking into a designer's home. Check out a few of our favorites below; they may just inspire you to begin a collection of your own.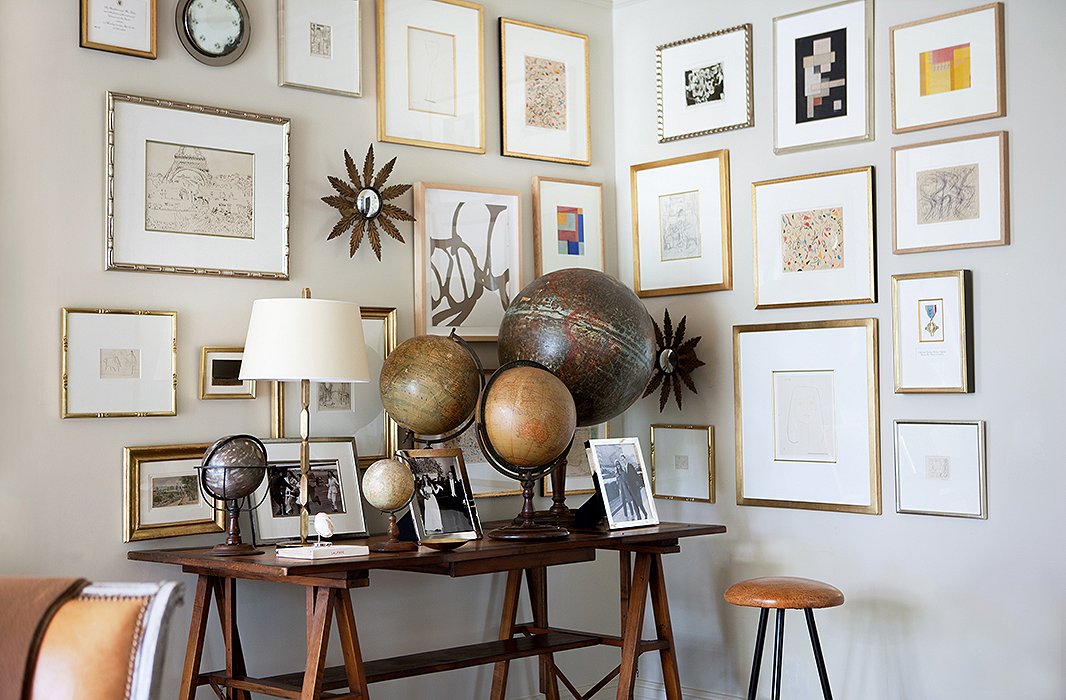 On Repeat
In her Atlanta home, designer Suzanne Kasler displays her collections en masse for a cohesive, high-impact look. "If you put the pieces around the whole house it would be too much stuff," Suzanne says. "If you put a collection together it takes on a specialness and looks more sophisticated." Case in point: this corner of her living room, where the designer's collections of vintage globes and small-scale artwork (scored at flea markets and antiques shops both close to home and abroad) create an eye-catching vignette. The repeated round forms of the globes and the staggered pattern of the frames create visual energy, while a limited color palette helps unify the varied objects.
And because she's always on the hunt for new treasures, she's left room to grow. "I hang the frames in a random pattern because I'm always adding to it!" Suzanne says. "A constant theme has been collecting art and then finding enough walls to hang it on."
Continental Charms
An avowed Francophile, Suzanne has also amassed an impressive collection of Eiffel Tower figurines. "I started buying these Eiffel Towers at the airport and at little souvenir stands, and then people started giving them to me," she says. Here, too, she took a thoughtful approach to display by grouping her finds together. Arranged on a skirted table alongside Parisian postcards and other mementos, the collection of humble figurines feels sculptural and purposeful—and makes for a lovely reminder of favorite moments and experiences.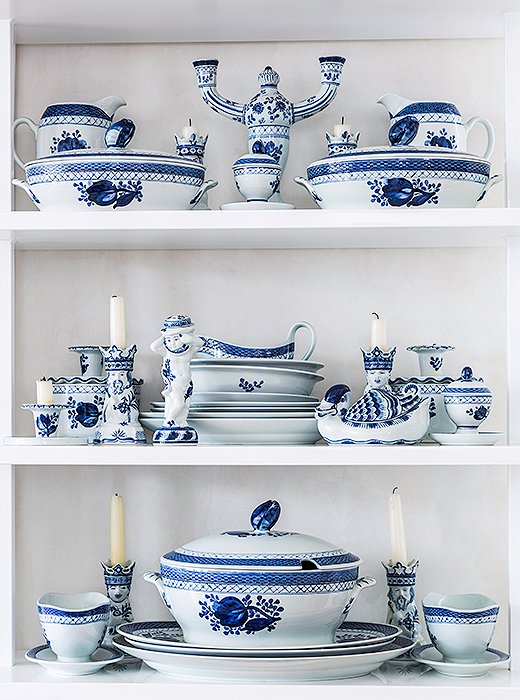 All in the Family
Interior and textiles designer Katie Leede believes in really living with (and using) the pieces you love, so she keeps her treasured collection of Royal Copenhagen china within easy reach on open shelves in her kitchen and dining area. "This is the china I grew up with. My mother gave it to me," Katie says of the set, part of a now-discontinued pattern. In the midst of a style refresh, her mom wanted "white everything—white plates, clear glasses," and Katie was only too happy to accept the cast-offs. "I'm like, You bet I want that blue-and-white china!" says the designer. "We try to use it every day. We put it in the dishwasher, we use the candles every day. I just love it."
On the Shelf
Here's a designer after our own heart. Mark D. Sikes outfitted the sunny library of his L.A. home with built-in bookshelves mainly to house his beloved collection of fashion and design magazines. "I've been collecting them for 25 years," Mark says of his stockpile, which includes British Vogue, Town & Country, and Vanity Fair. With their white spines arranged both vertically and horizontally, they make for a graphic display that doesn't feel busy—and that beautifully complements the creamy tones of the walls and upholstery.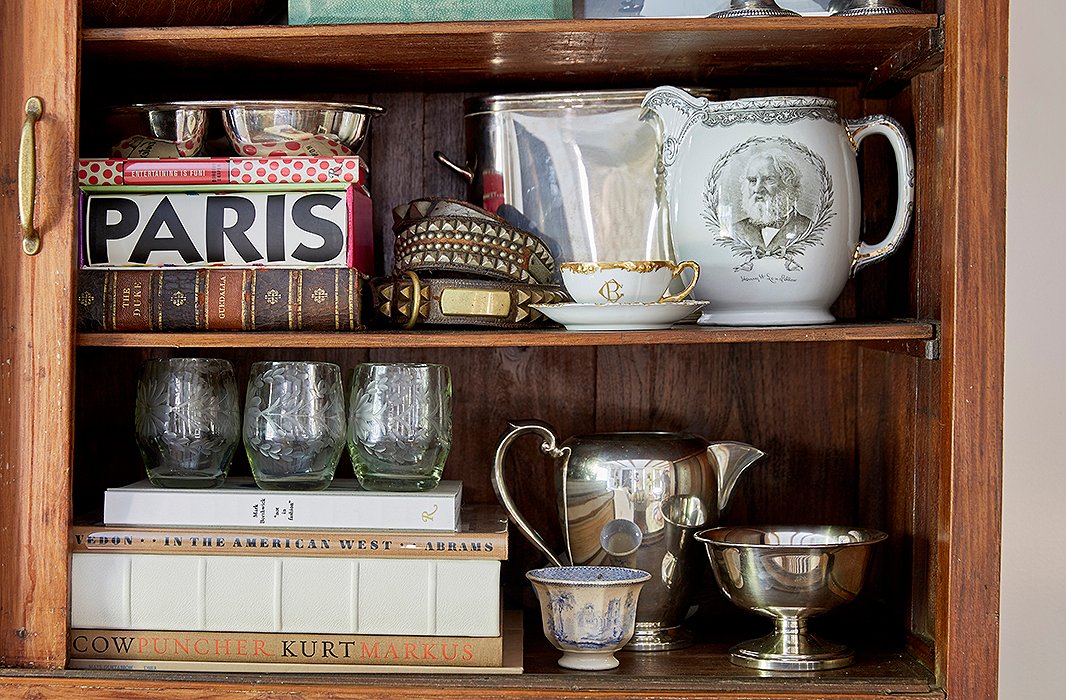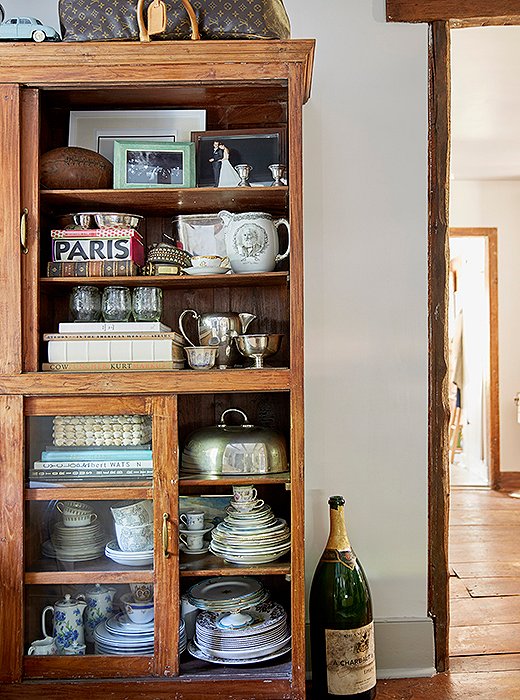 Hotel Luxe
New York City designer Jennifer Vaughn Miller has been picking up classic hotel silver and vintage china for years, trolling tiny antiques shops and major markets such as Brimfield for new acquisitions. She keeps the stash at her family's beach house on the North Fork of Long Island, where there's room to put her collection on full display. The open storage is both style-minded and strategic: "I have so much china, hotel silver, and vases that I sort of style every weekend I'm there, depending on my mood," Jennifer says. "I always have to see what I have, or I forget."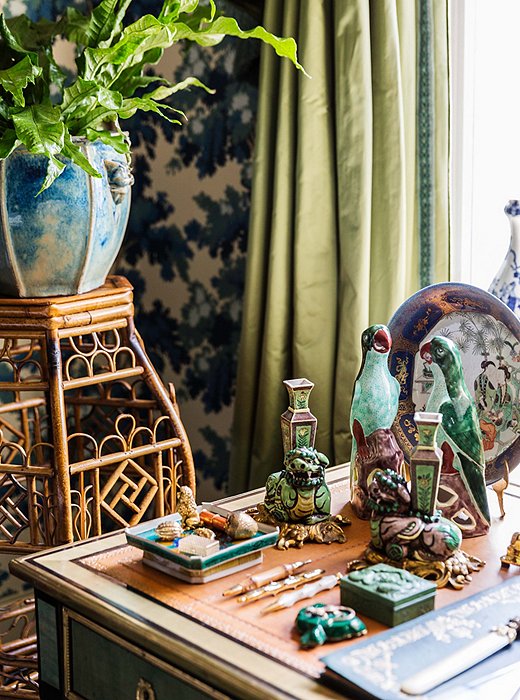 Natural Wonders
"I love things that bring nature back in," says designer Alex Papachristidis, whose uptown NYC abode brims with all manner of decorative flora and fauna. "I love anything with animals, with faux bois, with bamboo, with leaves and flowers…" The designer is an avid collector, keeping his eyes peeled for treasures wherever he goes. "Things come from the flea market in Paris, from shops in London, an antiques store in the South of France… Everything in the house has a story and a memory of where it comes from," says Alex. "It's fun—it becomes sort of a hobby and a sport."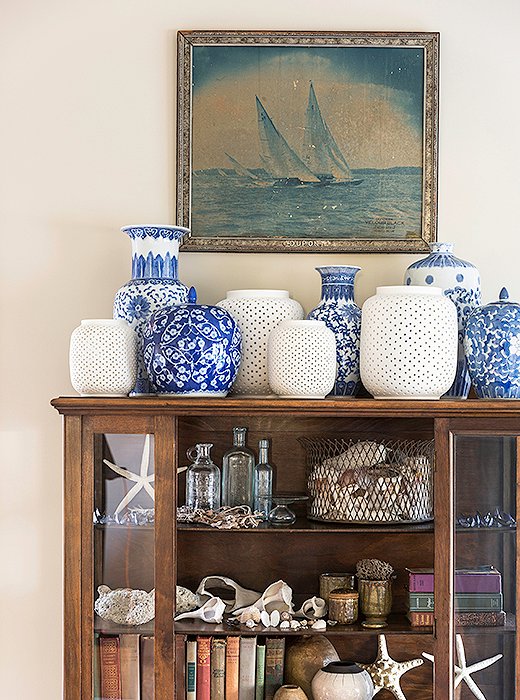 Seaside Finds
When New York City-based designer Matthew Caughy landed his dream weekend getaway in quiet Rehoboth Beach, DE, he finally had the perfect place to display his collections of seaside finds. Matthew and his husband have been amassing shells for years: "We've collected them from many different beaches, and they found their way to Rehoboth," says the designer. Paired with a maritime painting, antique glass bottles, and ginger jars (once owned by his grandmother) in a nautical palette of blue and white, the shells anchor a thoughtfully curated nautical vignette inside a vintage china cabinet. The grouping carries a sense of personal history that Matthew loves. "With this house, because it was new, my desire was to bring in history and to bring in pieces that had a story," he says.