Solids can certainly be chic, but there's nothing like a print to introduce a healthy dose of visual interest into a space. Whether you're pattern-shy or fearless with fabrics, there's a decorative rug out there for you. From statement-making to subtle and subdued, patterned rugs come in all styles, colors, and scales and can solve numerous decorating woes. Read on for some of our favorite ways to decorate with patterned rugs.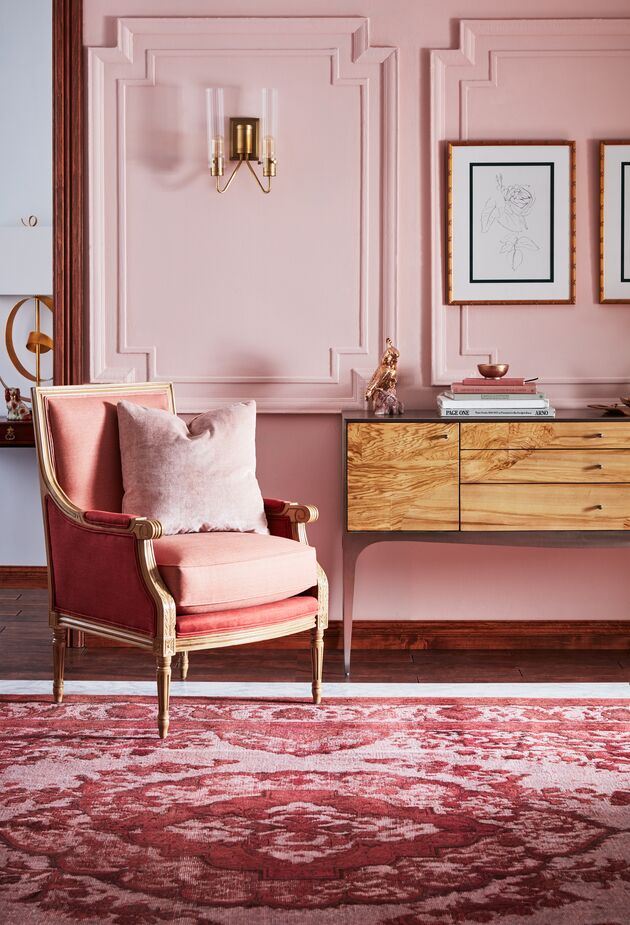 Mix Large- and Small-Scale Patterns
We're all for an eclectic mix, but to prevent chaos, you should try to balance large-scale patterns with more-diminutive ones. If you've fallen for a traditional rug with a large-scale pattern, pair it with a small-scale check or floral instead of something equally attention-grabbing. 
Go Wild in Subtle Hues
Some decorators think of animal prints as neutrals, mixing them with assorted colors and patterns as if they were ever-adaptable white. We'll never knock a chic tiger-print pillow, but often soft palettes are best when it comes to animal-print rugs. Go easy when you go wild in the rug department.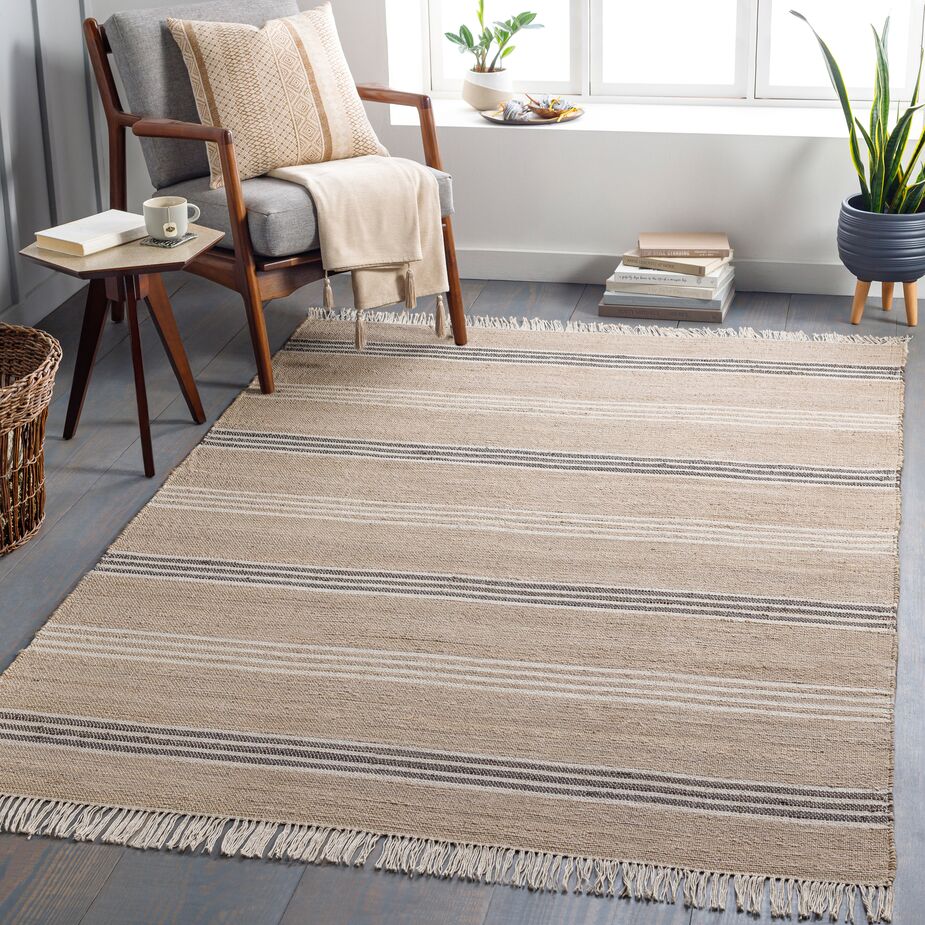 Select Stripes for Versatility
Worried about wedding yourself to a bold pattern? Consider classics like plaids, ginghams, spots, and stripes, any of which is a commitment-phobe's best friend. These timeless designs can easily be reinvented and carried from room to room. Take that simple black-and-white striped rug from your child's bright playroom to your grown-up dining room and give it a new life beneath a traditional dining table. Dress up neutral stripes in a sleek living room or dress them down in a casual den.
Rethink Natural Fiber
A staple of traditional homes, natural-fiber rugs are as versatile and durable as can be. If you are wary of pattern and like the casual, rustic look of sisal and jute, consider a natural-fiber rug with an inviting design such as a herringbone or diamond pattern. That little something extra will take your room to the next level.
Layer for a Bohemian Look
If it's a free-spirited, worldly vibe you're after, try layering a few one-of-a-kind flat-weave rugs over one another. Kilims, dhurries, Navajo-style rugs, and many Turkish rugs are great candidates for this bohemian styling trick, and mixing rugs of varying sizes and shapes can create a more dynamic scene. Just be sure that the color palettes of the rugs complement each other.
Add a Pop to Simple Bathrooms
All-white bathrooms and kitchens have a soft spot in our hearts—swoon factor aside, when you're spending a small fortune on a renovation, committing to a trendy tile or color is not always wise. But that doesn't mean you can't have any fun! A patterned rug in the bathroom is the perfect way to add joie de vivre, and you can easily swap it out for something fresh when the mood strikes.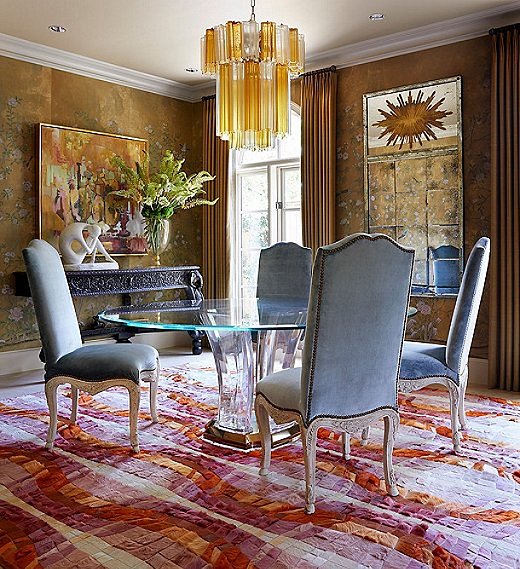 Make a Statement with Large-Scale Graphics
If you really want to captivate your audience, go big with a vibrant, large-scale graphic pattern. Try the look in a neutral, art-filled bedroom or a living room with solid upholstery, and layer in more fun with art and accessories.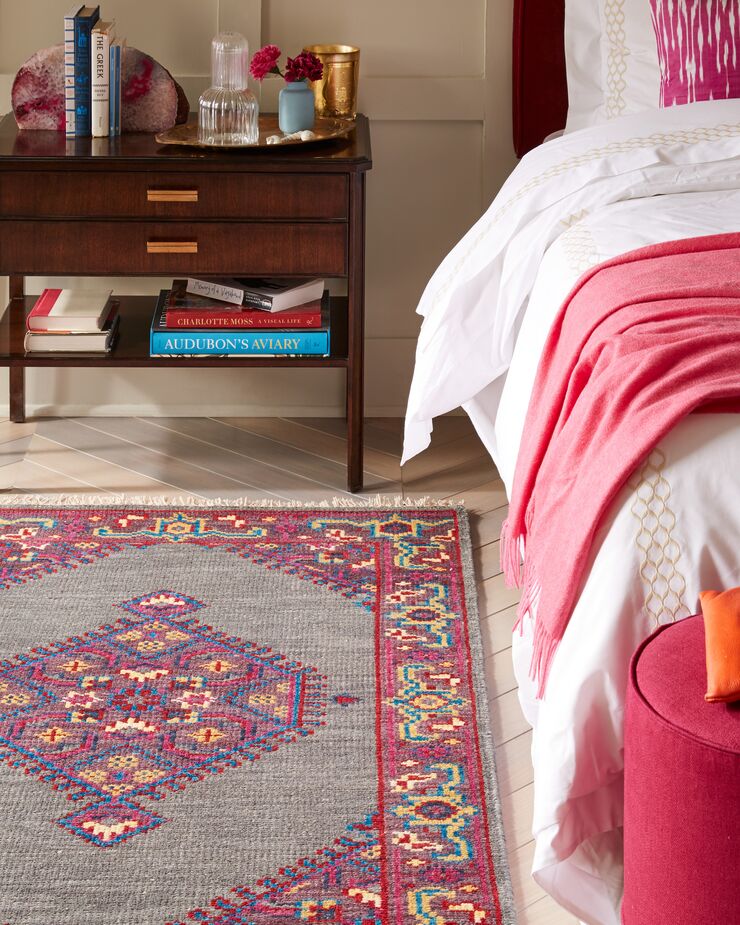 Use the Palette As a Starting Point
Every room should have at least one focal point, and a patterned rug is a shoo-in for the job. If you find a rug you love, let it drive your color scheme. Pull out a foundation color for the upholstery, echo an accent color in a throw pillow, and sprinkle in a complementary metal finish for the finishing touch. It's a foolproof room formula.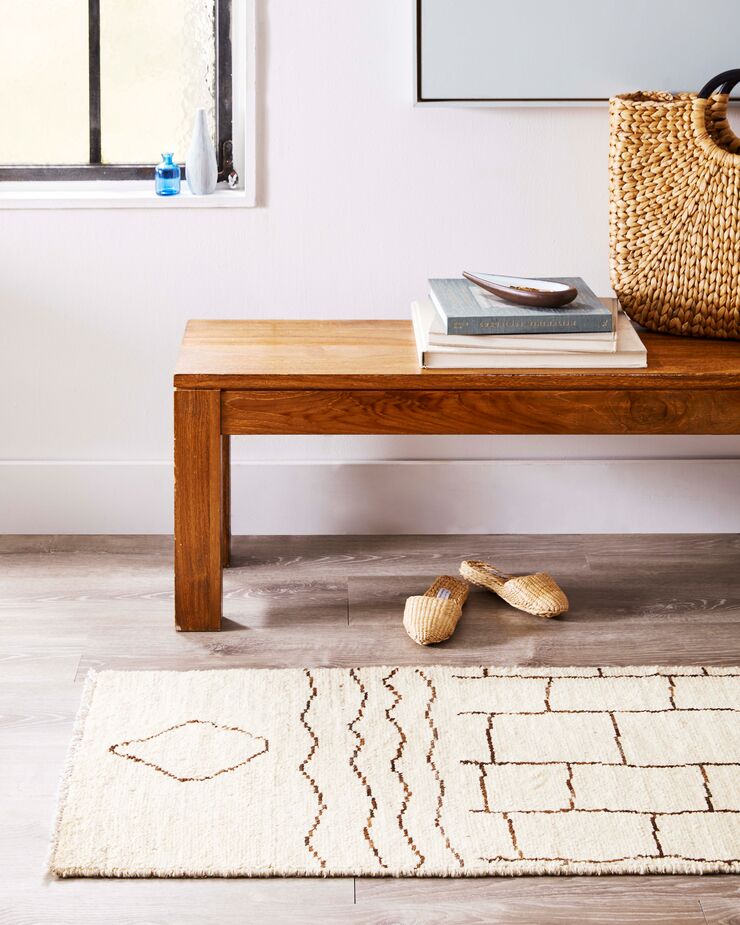 Go Monochrome with Beni Ourain Carpets
When it comes to trend appeal, Beni Ourain carpets show no signs of stopping. Not only are they ultraplush and soft underfoot, but they're also stylistically versatile. From updated midcentury to bona fide boho to modern with worldly flair, these rugs run the style gamut. One of our favorite uses is in a superneutral room for an ambience that's calm, cool, and heavenly.