Start from the Ground Up
Rugs help define an entry and add texture and pattern for a finished feel. Sisal is a great choice for a high-traffic area. Flat-weaves work (and wear) well too. If you like to change the look of your foyer frequently, consider layering a lively patterned kilim atop a larger solid rug. And don't forget the all-important rug pad to prevent slipping.
Have a Seat
Your entry—no matter its size—should be as comfortable as the rest of your home. A slender chair or bench is a comfy spot to take off your heels and open mail, while pillows and throws set a cozy tone. Plus, when you need extra seating, there it is!
Pick Pieces That Work Hard (and Look Good)
No closet? No problem! Seek out a storage piece that fits a lot while still looking polished, such as a chest or a drawered console. Use the surface area on top and the space beneath: An elegant tray, chic boxes, or a rustic basket make the most of the space and keep it from looking cluttered.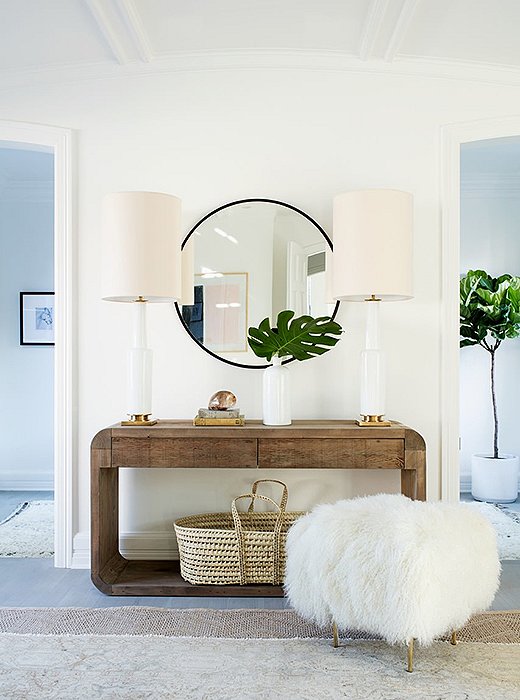 Give Your Guests a Bright Welcome
Maximize your entry with a slim console table that's perfect for a small but stylish display. If you have the space, a pair of table lamps impart a warm glow and add shape and scale. Table too tiny? Opt for sconces.
Try a Theme
A unifying motif (blue-and-white chinoiserie, for instance) suits a small space and makes it feel cohesive. It also gives visitors a sense of your aesthetic right away. Think of it as a preview for the rest of your home. Pick a color, pattern, or style, and find art, accents, and furnishings that bring the theme to life.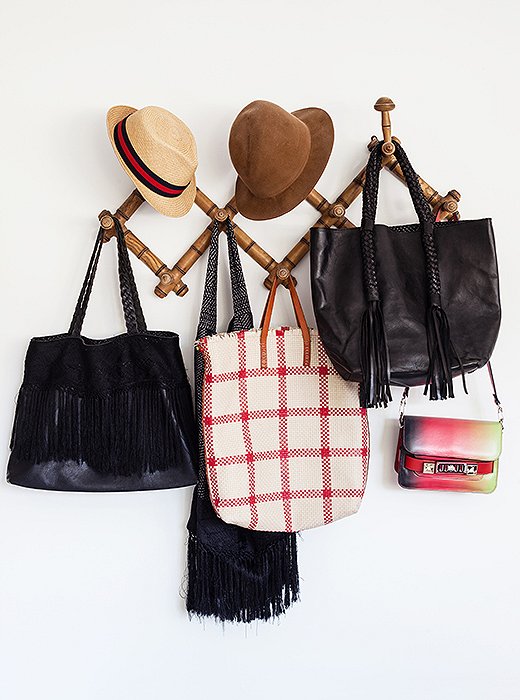 Go to the Wall
If you're short on square footage, take advantage of wall space for extra storage. Instead of a bulky armoire or coatrack, hang some chic, simple hooks on the wall for hats, totes, and jackets. It's a handy way to keep things off the floor, and it lets you show off a few of your most fashionable pieces.
Show Off Your Personality
Sometimes the smallest items can have the biggest impact in a space. Give guests a sense of your individuality as soon as they enter by devoting prime placement to your favorite vintage pieces, art, and ephemera. Though these eye-catching treasures don't take up much room, they make an entry feel truly personal.