Natalie Kraiem may be known for her luxe aesthetic and penchant for sumptuous materials, but her glamorous designs are firmly rooted in practicality. Such is certainly the case with the designer's own Brooklyn home, a sleek and chic space that plays host to elegant cocktail hours and after-school homework sessions alike—and does both with effortless style.
Born in Buenos Aires, Natalie lived in Florida as a teen and settled in Manhattan after college (though her eponymous design firm still tackles projects in the Sunshine State). The leap to Brooklyn came in 2013, when Natalie and her family began to crave a larger space they could really put their stamp on.
Embarking on a renovation and redesign that left no room untouched, Natalie married her signature style with a thoughtful approach to family living. Read on to take the full tour—and to see how Natalie transformed a lackluster space into her family's ideal retreat.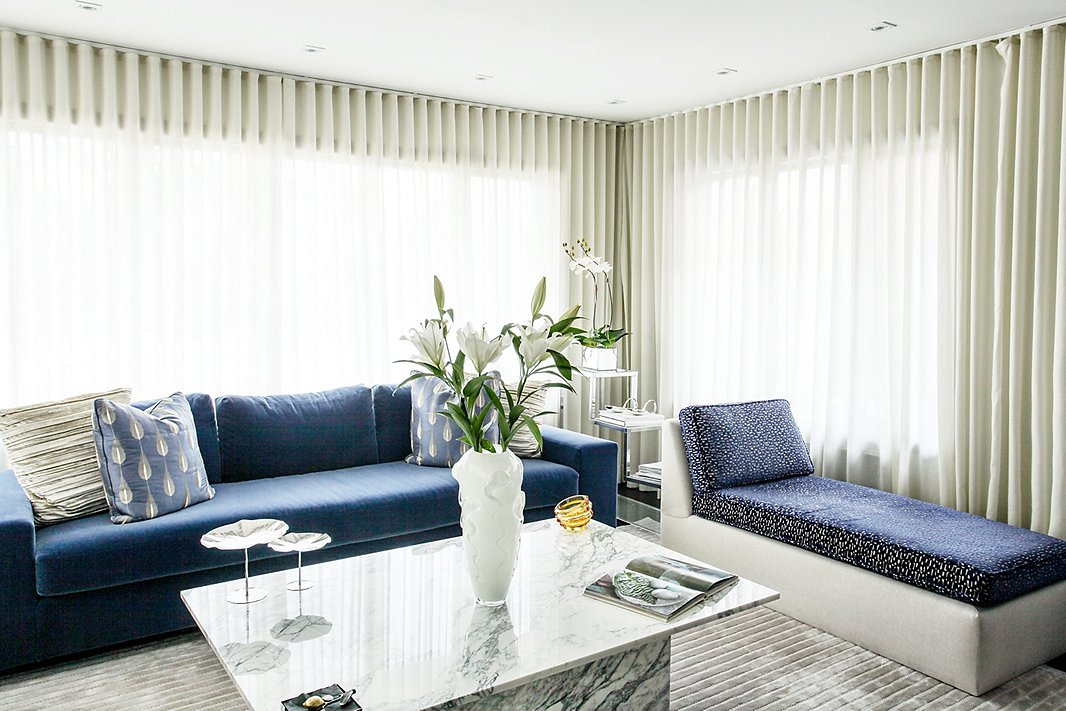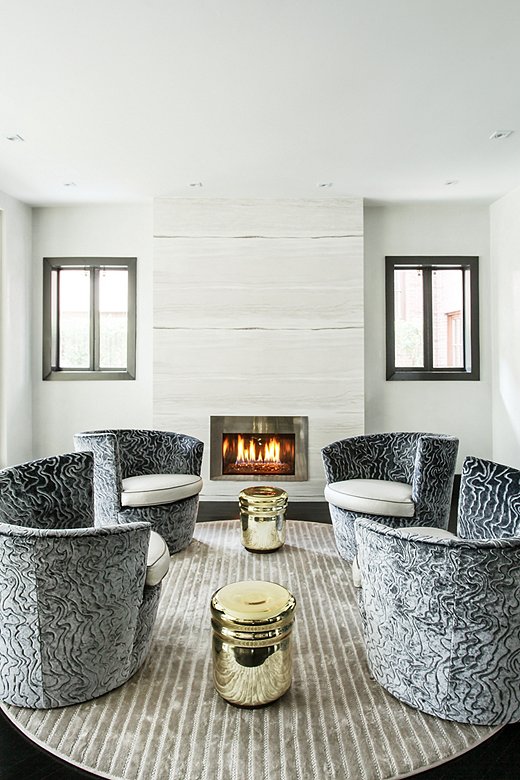 A Modern Refresh

Though built in 1925, the house had undergone several renovations that left it lacking in historic charm, and the layout was a bit cramped for a family with young kids. First on Natalie's reno list was the "claustrophobic" galley kitchen, which the designer opened up to incorporate a light-filled breakfast room. She also added French doors that lead onto the brand-new back patio (raised to be level with the kitchen), creating a breezy indoor-outdoor space. "I just love sitting in my kitchen and seeing the outside view," Natalie says. "It's like I'm in Italy or France or somewhere else, not in Brooklyn."
While the updates to the rest of the home didn't require knocking down walls, they were no less impactful. Bold Italian-tile flooring in the foyer sets a glamorous tone, and a new tile fireplace surround underscores the living area's sleek allure. Silky fabrics and glossy finishes cap off the modern, feminine look, while the furnishings represent an eclectic mix of styles and eras. "I love to mix contemporary and vintage pieces," Natalie says, with "a little Art Deco and midcentury here and there."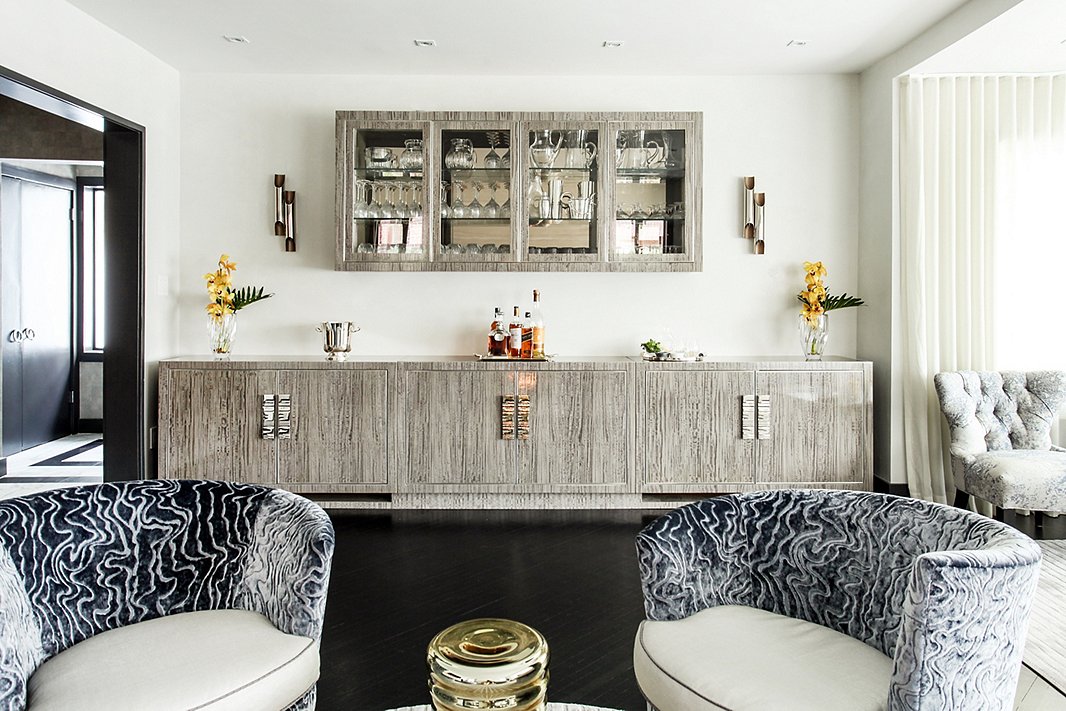 Room to Entertain
Natalie and her husband are avid entertainers, so their home needed to be conducive to stress-free hosting. The open-plan living room, with its abundance of seating spread between two conversation areas, lends itself well to laid-back gatherings. On one wall, a 13-foot custom console serves as a butler's pantry, a bar, and a sideboard in one, keeping entertaining essentials close at hand yet neatly tucked out of sight.
For more-formal affairs and Friday-night family dinners, the dining room seats eight within a cocoon of rich metallics and high-gloss finishes. "The dining room is my cozy room," says Natalie of this enveloping space, which contrasts beautifully with the rest of the apartment's open, airy feel. Black trim frames a rich Phillip Jeffries wallpaper, and artwork picked up on travels hangs alongside a special work by Natalie's artist mother, who often creates pieces for the designer's projects.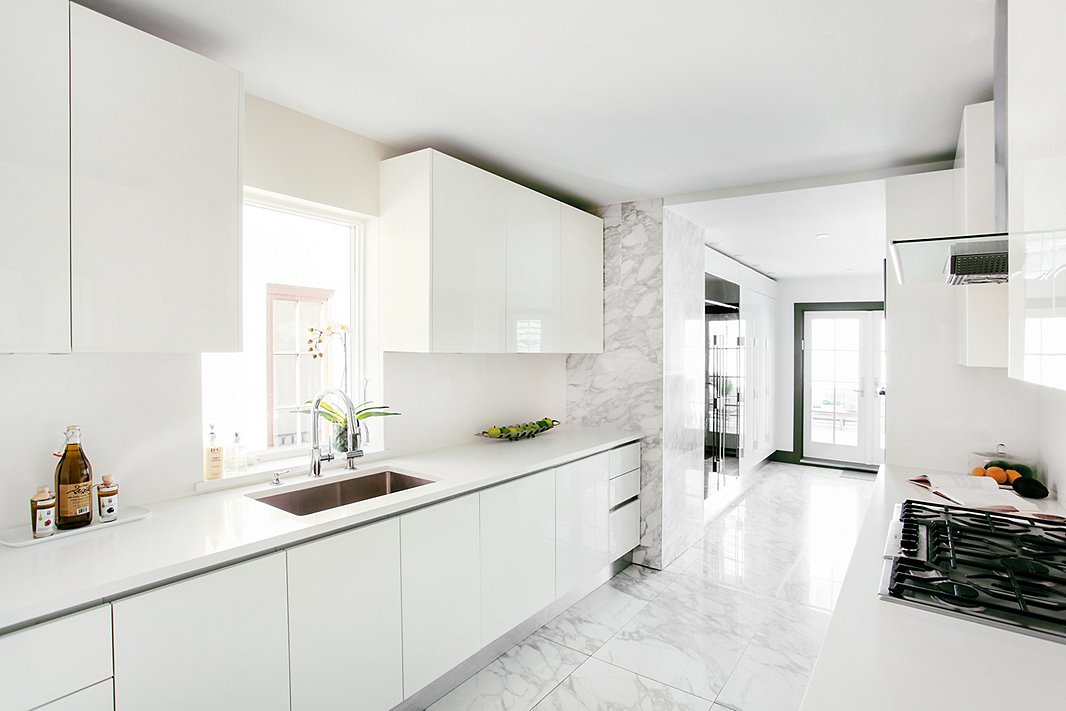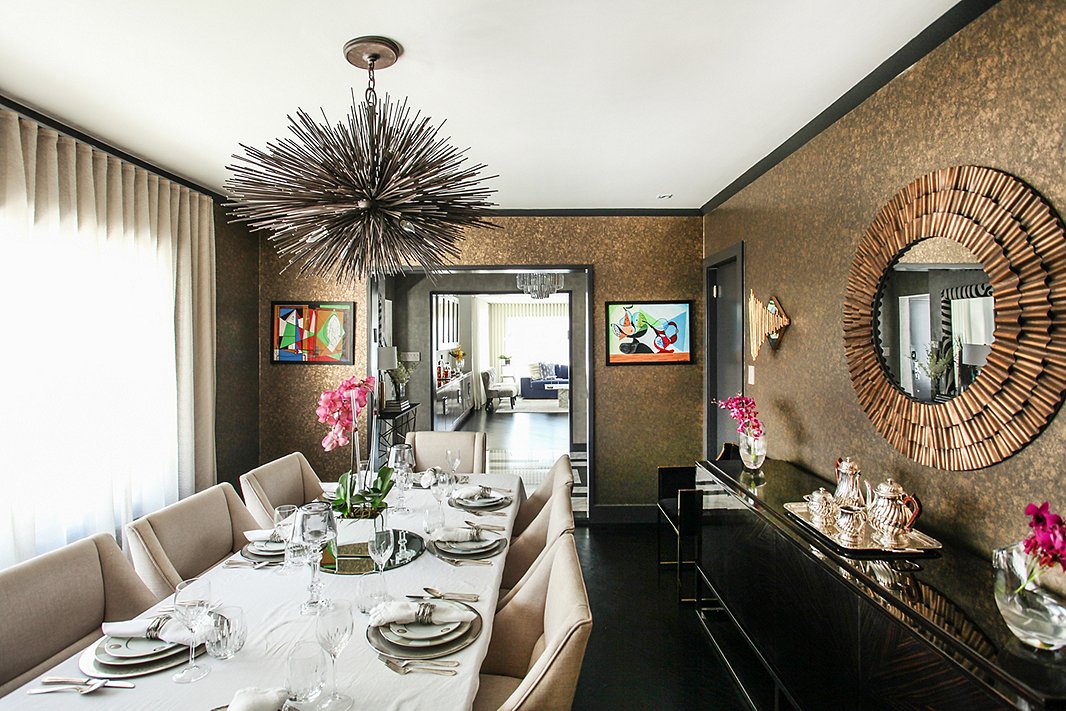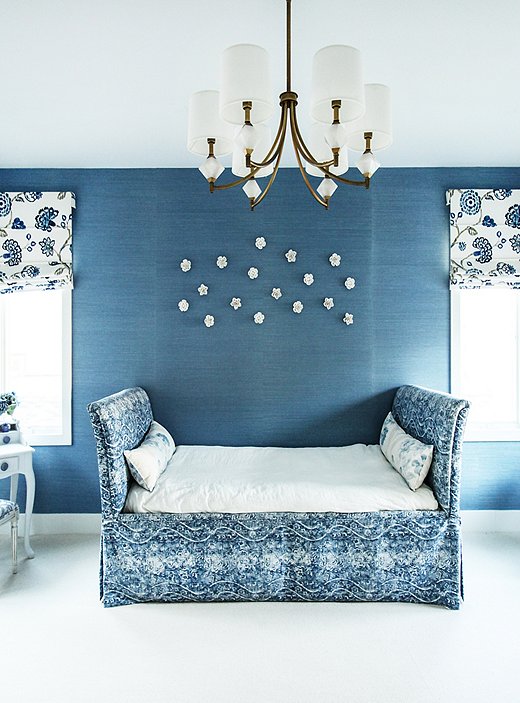 Practical Magic
Designing a family-friendly home with a glamorous vibe (that white carpet!) is no easy feat, but Natalie pulls it off with aplomb. Her secret? Materials that look great and stand up to wear beautifully. "With kids in a house, it has to last—you don't want to invest all this money and have to change it or repaint," she says. Natalie's use of wallpaper seems counterintuitive, but it works for her family. "For some reason the kids respect it more," she says. "They know not to paint on it. Wherever I didn't put wallpaper, they for sure have gotten markers and paint on the walls." (Washable markers to the rescue!)
For upholstery, Natalie favors outdoor fabrics for their washability and mohair for its luxe feel and surprising durability. "Mohair is amazing, and it really stands up to anything," she says—even little ones jumping on the sofa. As for that carpet, it comes down to a few (flexible) house rules: no eating in the living room or upstairs, and no dirty hands on the upholstery. But "no room is off-limits," Natalie says. "The main thing is to keep it comfortable for the family to enjoy. We really use every room in the house."