In 1983, Ralph Lauren became the first fashion designer to present an all-encompassing collection for the home. In the decades since, Ralph Lauren Home has come to define timeless American style—and its dedication to craftsmanship has garnered the respect of the design community around the world. Collaborating with skilled artisans, Ralph Lauren Home uses time-honored techniques and exquisite materials to bring its vision of American style to life—just one reason One Kings Lane is thrilled to be the ultimate online source for the entire Ralph Lauren Home collection.
Read on to discover the art and science that goes into each Ralph Lauren Home design, and check out a few of our favorite pieces from the brand's Modern Icons collection.
Quality improves with age and use. That's the underlying principle for my collections for the home.
The Fine Materials
The most beautiful designs begin with beautiful materials, and Ralph Lauren Home works with only the most exquisite—from rich mahogany and burl wood to polished silver and nickel to soft hair-on hide and sumptuous cashmere. Whether it's a decanter crafted of fine lead crystal or a frame detailed with alligator-embossed leather, a Ralph Lauren Home piece makes any room feel instantly more luxurious.
Pieces We Love
Brewster Accent Table
Crafted of handsome ash burl, this piece features a two-tier design and a distinctive curved shape that beautifully highlights its rich wood grain.
Metropolis Double Old-Fashioned Glass
Every piece of lead crystal in the Ralph Lauren Home collection is hand-cut and mouth-blown, including these classic glasses from the Metropolis barware suite.
The Inspired Details
It's often the smallest details that make the biggest difference. Design elements in the Ralph Lauren Home collection reference diverse inspirations: Art Deco elegance (diamond-faceted crystal), equestrian beauty (stitched leather), luxury automobiles (knurled silver). As a result, even the simplest silhouettes boast a rich sense of dimension.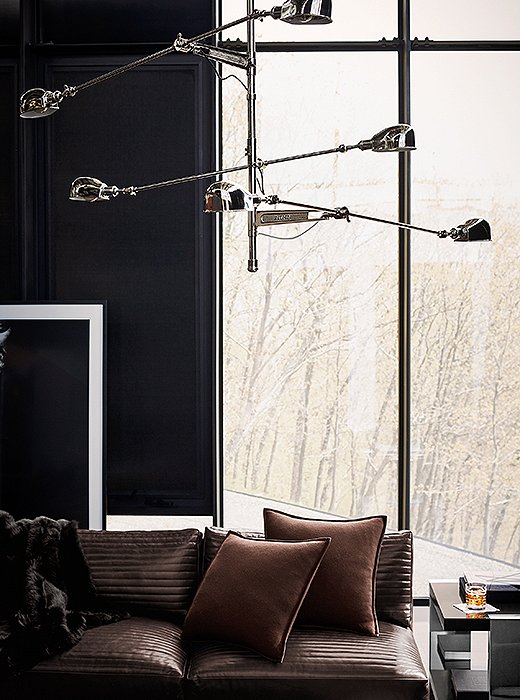 Pieces We Love
RL '67 Triple-Arm Chandelier
Crafted of brass (which won't corrode or pit over time) with a gleaming nickel finish, this boom-arm chandelier takes inspiration from turn-of-the-century machinist lamps. "Est. 67" is cast into the yoke of each arm.
Paxton Box
A lining of burl wood and tufted black leather adds an extra-luxe touch to this decorative box. The exterior features a band of polished nickel, a reference to vintage European sports cars.
The Time-Honored Techniques
Ralph Lauren Home has always valued the beauty of artisanal craftsmanship—and the level of quality that's achieved when furnishings are made the old-fashioned way.
In upholstery, that means bench-made frames and eight-way hand-tied springs for long-lasting comfort. In lighting, it means quartz bases crafted by a jeweler and wrought iron that's forged and finished entirely by hand. In decor, it means luminous gold-leaf patinas that require a painstaking 18-step process to achieve.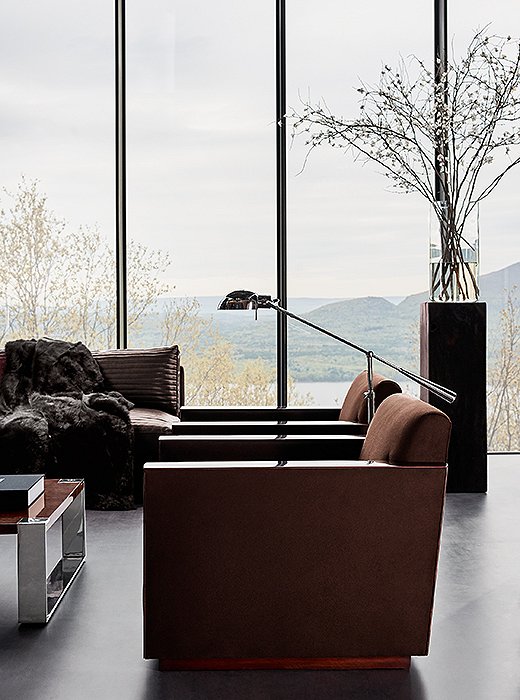 Pieces We Love
Modern Metropolis Club Chair
A rich mahogany veneer tops this chair's sturdy bench-made hardwood frame, while reinforced seat rails and no-sag springs ensure it remains as comfortable as it is beautiful for years to come.
Desert Modern Sectional
For the Modern Icons collection, this best-selling sofa by Ralph Lauren Home has been reimagined in luxe channel-tufted leather—a look inspired by the bespoke tailoring of vintage automobile interiors.
Things made by hand are rare in our world. They represent a love of craftsmanship inspired by a tradition of artistry, handed down over generations. Every stitch, every detail represents a passion and a love to create something one of a kind.