If you find yourself sifting through stacks of loose paper when tax time rolls around or feel your desk is home to clutter rather than creativity, it might be time to get organized… with style. We've gathered some ideas for upgrading your work space so that it's not just tidy but gorgeous to boot.
Make It Homey
A home is no place for cubicle-style furnishings. Add a rug, a standout chair, flowers, artwork, and a throw to make the space comfy and cozy.
Define the Area
In almost any space, the strategic use of paint or wallpaper can help you carve out a "room" for your office when it's part of a larger area like a bedroom. Above, Benjamin Moore's Nile Green was used to add energy and the illusion of architecture to a nook.
Up the Shelf Ante
Instead of heavy filing cabinets, fill a sliver of wall or a nearby nook with bookcases or built-in shelving to increase storage space. Even a narrow shelf can add a bit of interest to the wall while freeing up valuable desk space.
Dress Up Your Tools
Use file boxes, cups, and caddies to control clutter, add color, and express your personal style. Well-designed office extras, such as gold scissors or a stylish stapler, can double as desktop decor.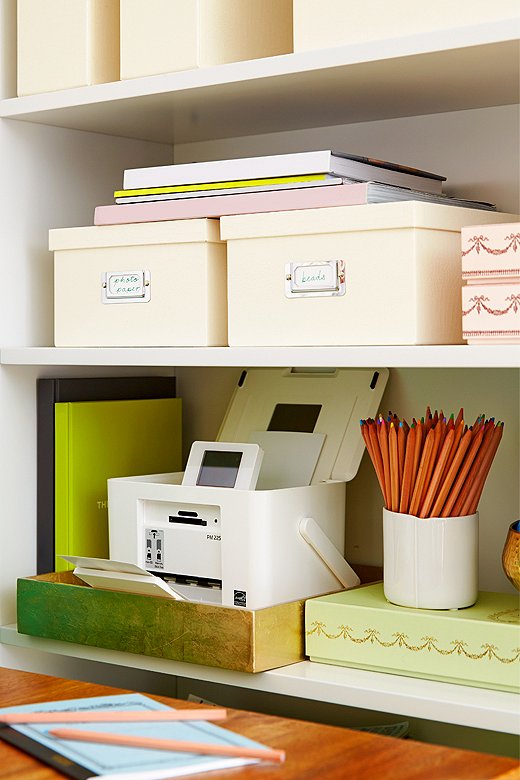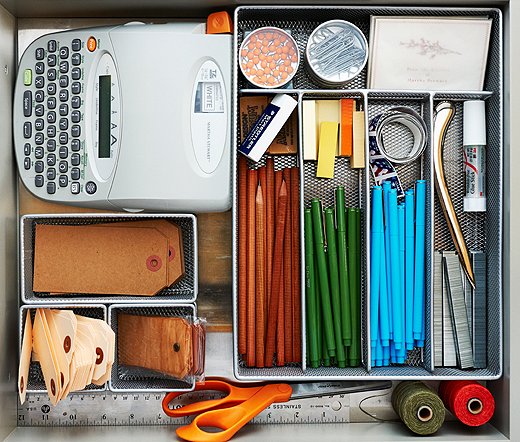 Go Beyond the Surface
There's something so relaxing about knowing where everything is and goes. Taking the time to sift through those desk drawers filled with nonworking pens, bits of paper, and your old iPhone will make you more efficient in the long run.
Keep Inspiration in Sight
Create a space that's uniquely yours by surrounding yourself with the things that move you. What that includes a serene beach scene, magazine clipping, swatches, or photos is up to you.