Designer Elizabeth Bauer has found her "happy place"—in a supercozy, undeniably cute cottage in Nantucket. The native New Yorker has long had a second home on the idyllic island. "As a child coming from the city, I had so much freedom here," she says. "I could go get muffins in the morning, when I was about six, and bring them back home because our house was right in town." And now that she owns the classic shingled cottage that adjoins her parents' property, she'll get to pass on that legacy—and those carefree memories—to her daughter, Mary Jane. "We usually get up and out early," Elizabeth says, "maybe go down to the water and get hermit crabs and stroll home."
She took a similarly easy, breezy approach to designing the family's cottage. "We don't need a formal space here. Everything is really user-friendly and fit for a quick weekend," says the decorator and force behind Elizabeth Bauer Designs, her Old World-meets-New World design firm. And her distinctive point of view is on full display in the space, which is packed with pieces that are a mix of the antique and the modern and represent both local and personal history. For instance, a framed bunny print that delights Mary Jane was chosen because the designer's mother, who is also a decorator (and whom MJ has dubbed "Coco") is especially fond of them. "Whenever there are bunnies in our garden, Mary Jane will say, 'Can we go see Coco's bunnies?'" Meanwhile a painting of sailboats by the late Nantucket artist Robert Stark rests under the staircase, and an anchor is hung just off the front entrance.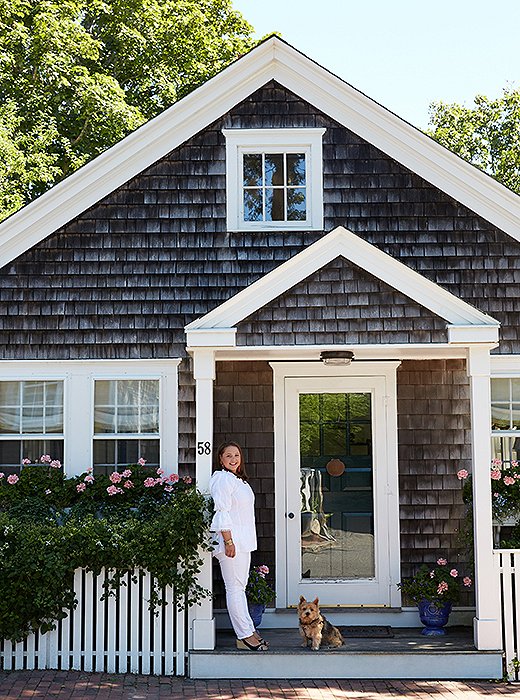 One thing is for sure: The cottage is a labor of love. "Really, it's filled with things I've collected over the years," Elizabeth says. "The coffee table, the rug, the vintage chair—which I had redone in a Josef Frank pattern—are all things I found over time for myself or for my clients and was able to use here."
But the story of the home is deeper than the lovingly curated objects that fill it. Not only are Elizabeth's roots in Nantucket, but so are those of her husband, Jon, who works in marketing. "Believe it or not, my husband also grew up coming here in the summers," she says. "His house was around the corner. I could literally throw a tennis ball at it. But though we knew each other casually, we never dated until we were both in New York, and I didn't know he lived there." Some things are just meant to be.
In New York I have a Stark antelope rug in my living room. It's more beiges… everything is much more muted. It's not as funky or eclectic as the cottage.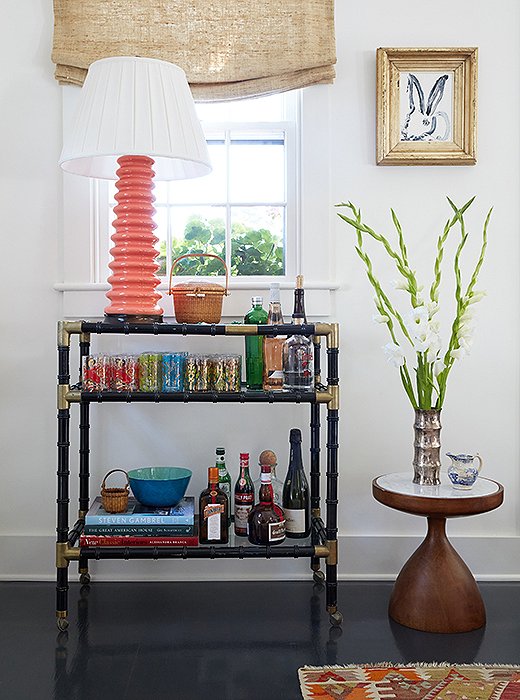 My husband, Jon, is the bartender in the house. His signature drink that everyone loves is a Southside. He makes the mix in batches from scratch... it's quite a production, but a batch usually gets us through a couple of weeks!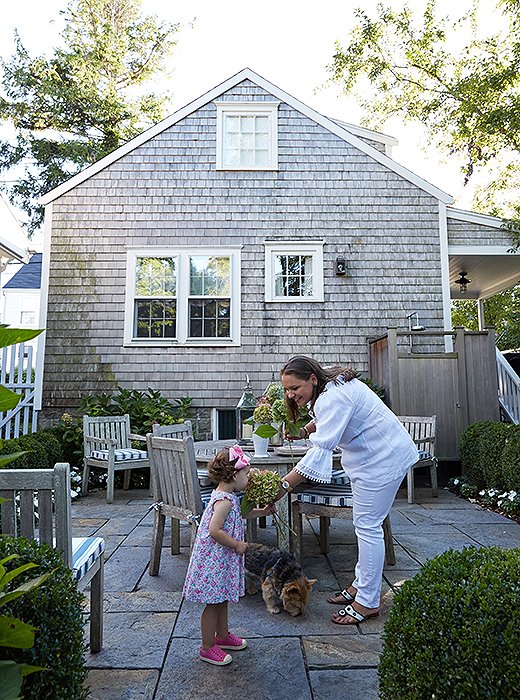 We don't need a formal space here. Everything is really user-friendly and fit for a quick weekend.