A gorgeous console table makes a perfect blank canvas for decorating. But where to start? Here, we're outlining a simple formula for creating an expertly styled, magazine-worthy vignette—one that can be customized in infinite ways to achieve a look you love.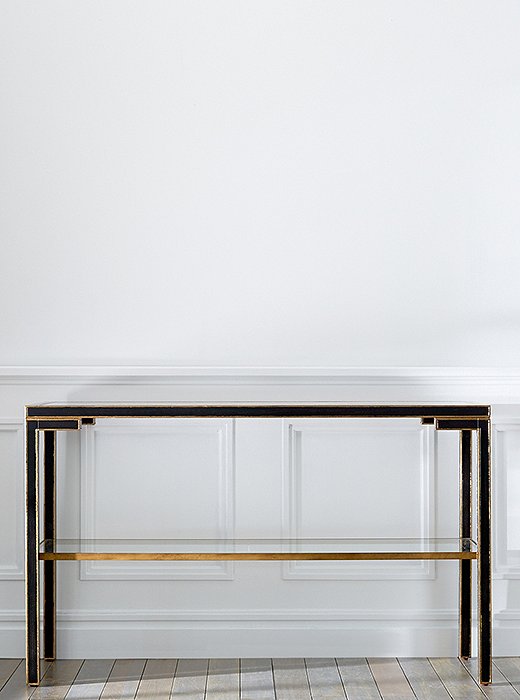 Start with Your Surface
Any size or style of console will do, from a glamorous metallic model to a rustic weathered-wood design. For this example, we chose a streamlined black-and-gold console inset with glass.
One consideration: A lower shelf means double the styling potential, so consider how many pieces you want to display when choosing your table.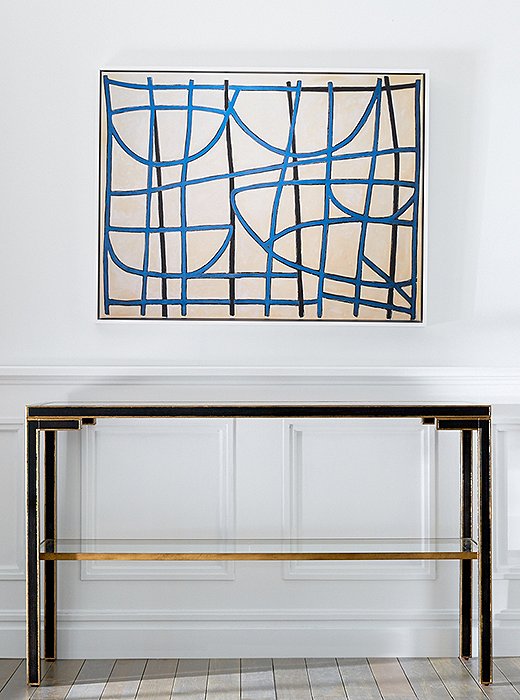 Add Statement-Making Art
Whether it's a transporting seascape photograph, a vibrant floral still life, or a bold abstraction, look for an oversize work that can visually anchor your console on the wall. The frame should be narrower than the width of your table by a few inches on each side; this will keep the vignette from feeling top-heavy.
Alternately, opt for a diptych or a trio of works hung in a line, or even a set of four to six smaller prints arranged in a grid. The goal is a single, cohesive focal point that will serve as the foundation for the rest of your arrangement.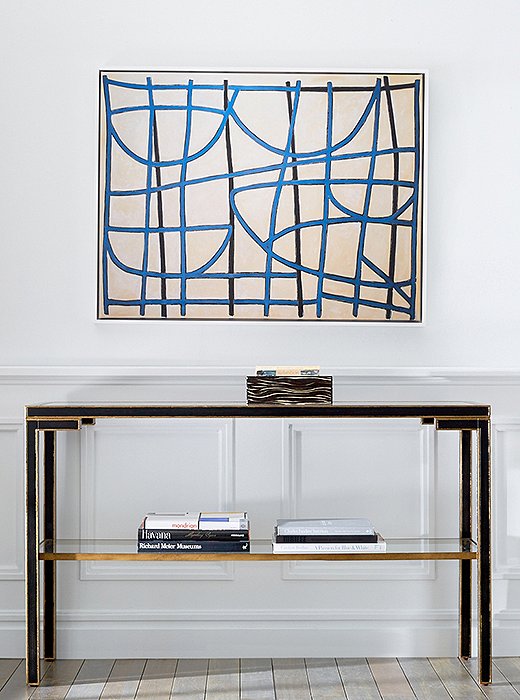 Stack Books and Boxes
On each shelf, create one or two stacks of books (oversize design tomes work well) and decorative boxes. These will act as pedestals for accents, allowing you to place items at varying heights to create an engaging visual rhythm.
The aim here is balance, not perfect symmetry, so don't stress over creating precisely even stacks—in fact, a little variation will create a more interesting finished look.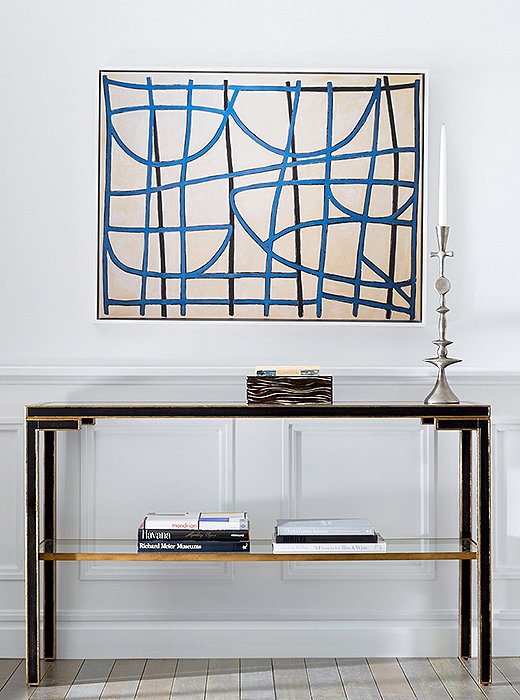 Give It Some Height
Be sure to bring in at least one piece that's taller than the lower edge of the artwork's frame; this will help to unify the art and the vignette below it.
Here, we chose a single silver candlestick with a sculptural silhouette that echoes the abstract forms of the painting. Other worthy candidates include oversize vases, colorful ginger jars, or brass sculptures.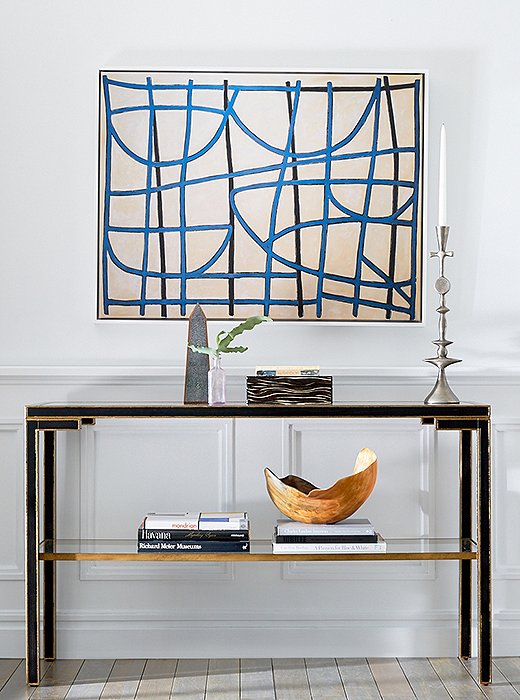 Start Layering in Accents
Next, we brought in shapely pieces to break up all those vertical and horizontal lines: a raw-edged wooden bowl for organic warmth, an obelisk for geometric punch, and a bud vase filled with greenery for a bit of softness.
Place one or two sculptural pieces on each shelf; these will help you start to see your final arrangement taking shape.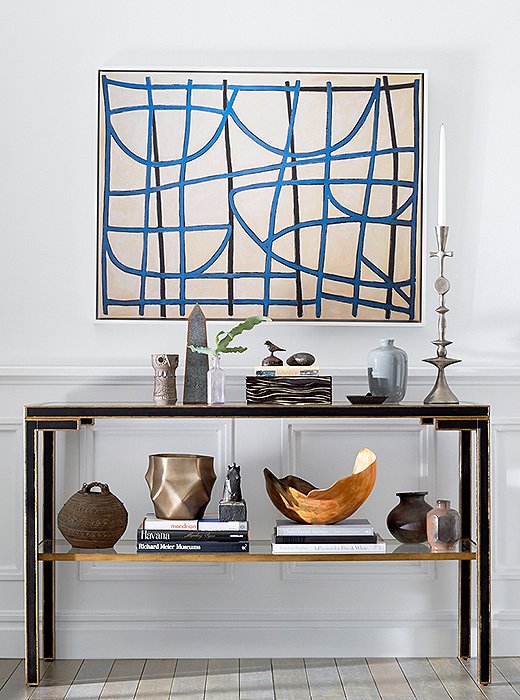 Fill Out the Shelves
Now it's time to really play. In the empty spaces between accents and on top of your books and boxes, cluster smaller objects (ceramic vessels, petite figurines, a collection of shells—anything goes) in sets of two or three.
There's no right or wrong way to approach this step, so simply consider what looks most pleasing to your eye. Whatever pieces you choose, be sure to overlap a few of them slightly so that the groupings feel easy and natural.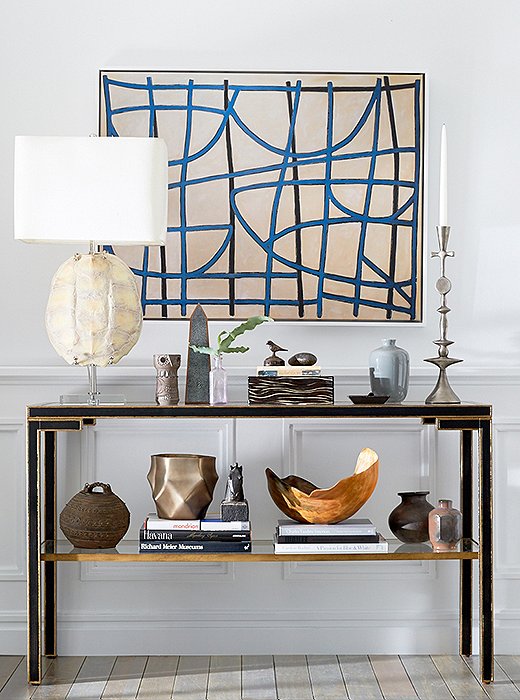 Light It Up
Whether it's a gorgeous table lamp, a swing-arm task lamp, or even a picture light, every console could use a light source—after all, you want to highlight that gorgeous vignette you just created!
Voilà!
Now stand back and admire your handiwork—and start contemplating the next place to apply your styling prowess.