Decorating doyenne Bunny Williams finds most of her moments of calm and quiet at her breathtaking house in the Dominican Republic, tucked away in the lush tropics along the shores of the Caribbean Sea. The colonial villa, situated on an idyllic hill in Punta Cana, was a labor of love built with her husband, antiques collector John Rosselli, and the help of close designer and architect friends during an 18-month period.
Since then La Colina—"The Hill" in Spanish—has come to signal rest and retreat for Bunny and John, who make it tradition to savor quiet days with friends at the home each winter. "We fell in love with a dream. The dream was to build a house from scratch—our house—that would be everything we wanted," writes Bunny in her book A House by the Sea. As well as chronicling with vivid detail the house's journey from barren land to majestic oasis, in the book Bunny invites us in for a peek at life in her paradise and shares lessons on design. Come step inside her stunning hideaway with us and pick up her best decorating advice for ushering sophistication and island comfort into your own home.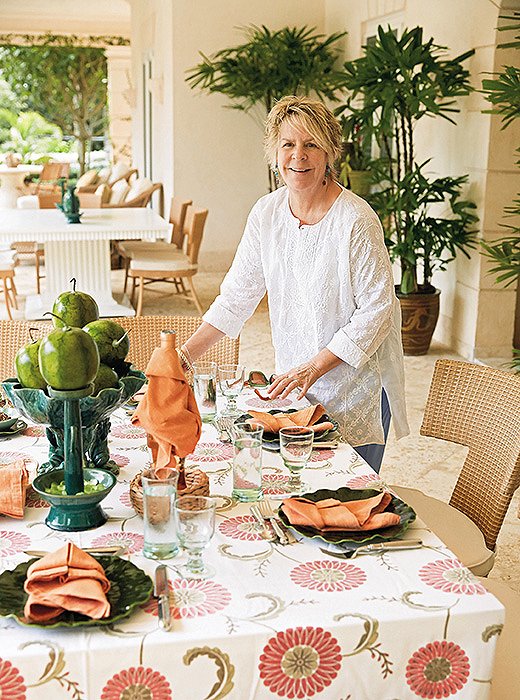 Since this house would be built on this hill, the highest point in Corales, we would call this house La Colina.
Lesson 1:
Comfort Is the Best Foundation
"We wanted a casual, easy atmosphere that would feel cool in a tropical climate," writes Bunny in her book. That became the guiding beacon for the island living room, where she filled out the expansive space with large-scale furnishings big on comfort: Sumptuous armchairs are spread across seating areas for cozy resting spots throughout; a hefty walnut trestle table found at an antiques barn by John warms the room as a centerpiece; an elaborate white rococo mirror reflects light and also lends impactful flourish to a sparse wall; lush oversize fronds from the surrounding gardens add vibrant texture and draw the eye up. The result is a space that invites lingering at every corner.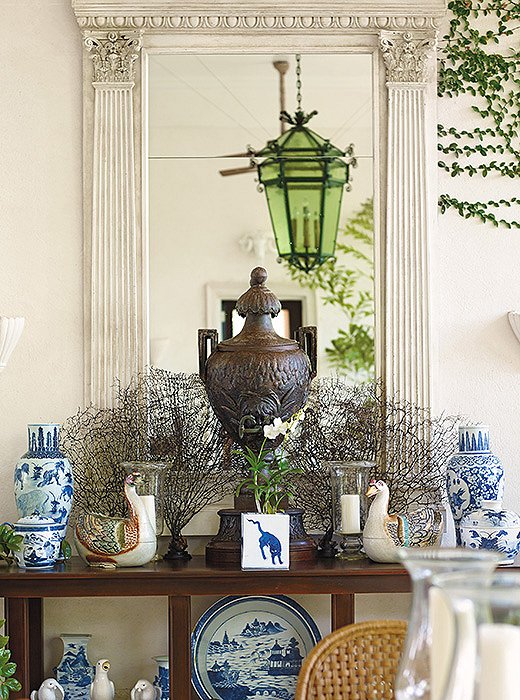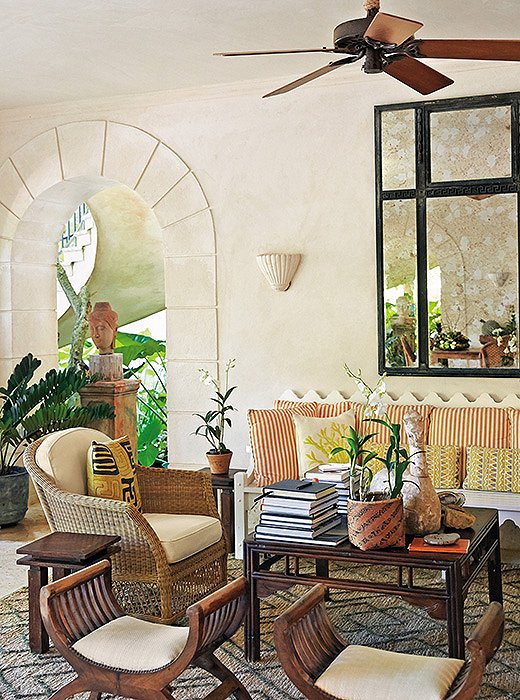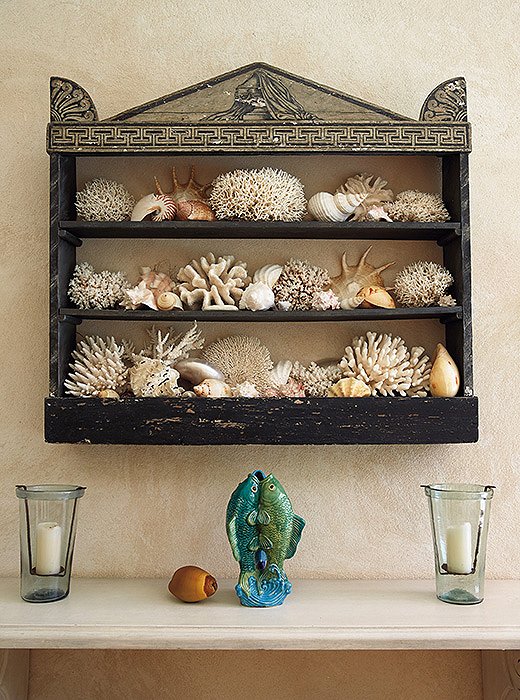 Lesson 2:
Always Make Room for Your Treasures
Personal finds and treasures from travels figure prominently in Bunny's homes. At La Colina you'll find porcelain from husband John's collection along with seashells from the shores. "Things that you collect and love will stay with you forever, and when you move, will always move with you," Bunny writes. "Throughout the house we enjoy many such memories of the places we found pieces, the people we met, and what we learned along the way."
Throughout the house we enjoy many such memories of the places where we found pieces, the people we met, and what we learned along the way.
Lesson 3:
Play Up Pairs and Sets
"I always think large-scale pictures are more exciting in a space," writes Bunny, adding that she wanted to make sure there was art in every room. "If I have a collection of small pictures, I hang them in groups, filling up a larger part of a wall," she notes. The collection of bird prints hung en masse in the TV room is a case in point. To bring balance to the room, Bunny rounded out the space with furnishings in pairs arranged with a clever symmetrical approach, from the built-in library bookcases ("Perhaps my favorite part of furnishing La Colina was choosing books for the library") and matching rattan chairs right down to pillow pairs piled on the sofa. It all adds up to a space that's elegant but designed for relaxing and lounging.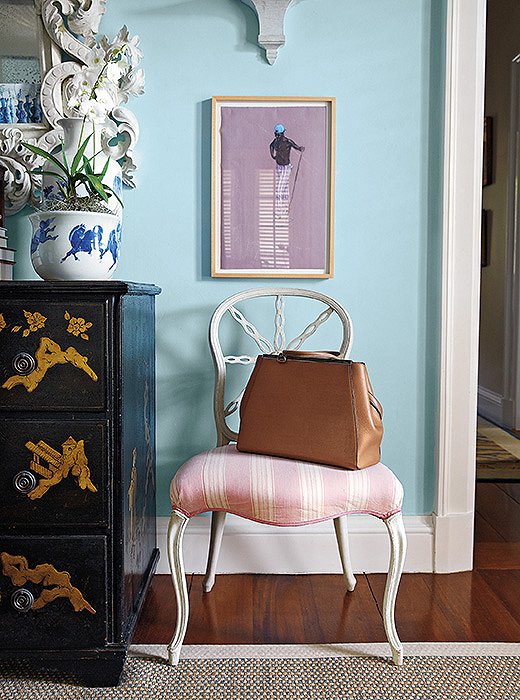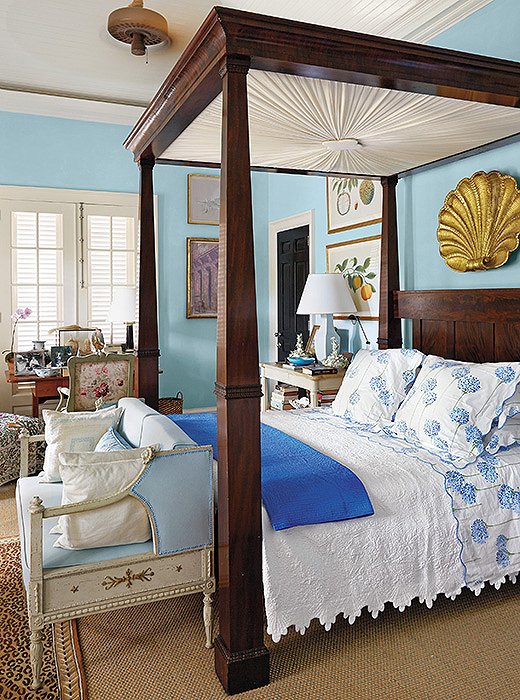 Lesson 4:
Let Your Surroundings Inspire Your Palette
When it came to the home's palette and prints, Bunny looked to her surroundings for cues. "I am always influenced by the location of the house," she writes. "I prefer light, airy colors in tropical homes by the sea and darker, rich colors in a colder climate." The result: blue-and-white porcelain and tiles, flowery textiles, and tropical motifs throughout La Colina. Consider spreading a range of blue shades, from cerulean to cobalt and sky blue, across multiple rooms in your home to ease up more-formal spaces and to further open up more-relaxed interiors.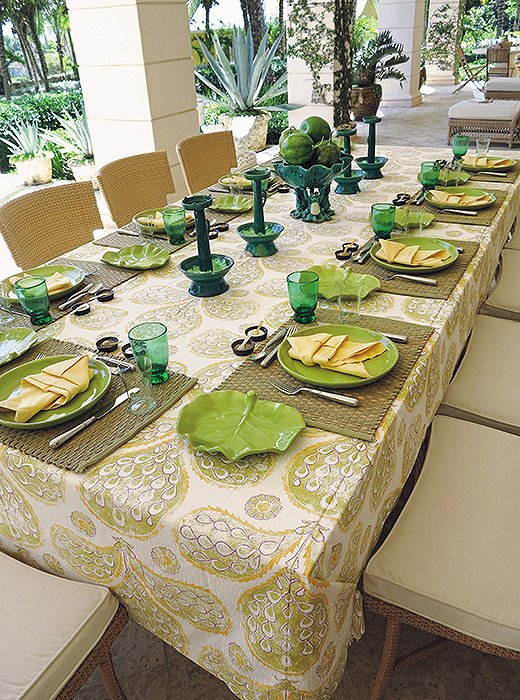 Lesson 5:
Practice the Art of a Lush Table
La Colina was built as much for entertaining as it was for escaping, Bunny points out: "We knew we wanted a place to have our friends and family come for visits." Invitations go out each fall, but beyond that formalities are stripped away from the moment guests arrive at the house. And visits inevitably revolve around meals at Bunny's lush tables, where a high-low mix of mismatched blue-and-white china, brown pottery, and wonderful lettuce ware is assembled with "inexpensive but special" linens from Vietnam and India. "Somehow for me, setting a table is like painting a picture. I love mixing the china, glasses, and tablecloths together," writes Bunny.
Setting a table is like painting a picture... Guests stayed for a week, ate three meals a day there, and never saw the same china twice.
Lesson 6:
Get Big and Sumptuous Outdoors
To mirror the majesty of the sparkling vistas that encircle La Colina, Bunny approached her exterior spaces the same way she did her living room: "The use of large-scale pieces makes the surroundings feel more intimate." A favorite spot for napping, the second-floor veranda is arranged with all-weather rattan sofas, chairs, and chaises; batik pillows; and a bar stocked for cocktail hours. Opt for hugely sumptuous pieces when furnishing an outdoor space to heighten a sense of coziness and warmth—the more substantial the better.
Cherished objects that bring warmth and life to a room are so important in any decor... When any home is filled with individual unique personal items, magic will happen.