Wallpaper can be a divisive subject. Sometimes it can skew a little too high-style and inaccessible, some people worry about introducing such a grand scale of print into a space, and some view it as just plain old-fashioned. And sure, while these things might ring true in some instances, it's certainly not the case for all (or even most!) wallpapered rooms. We'd argue, in fact, that wallpaper is one of the best and easiest ways to add personality to your home, be it through pattern, color, texture, or a combination of the three. From soft florals and subtle stripes to zany prints and metallic motifs, these spaces will show you how to do wallpaper right.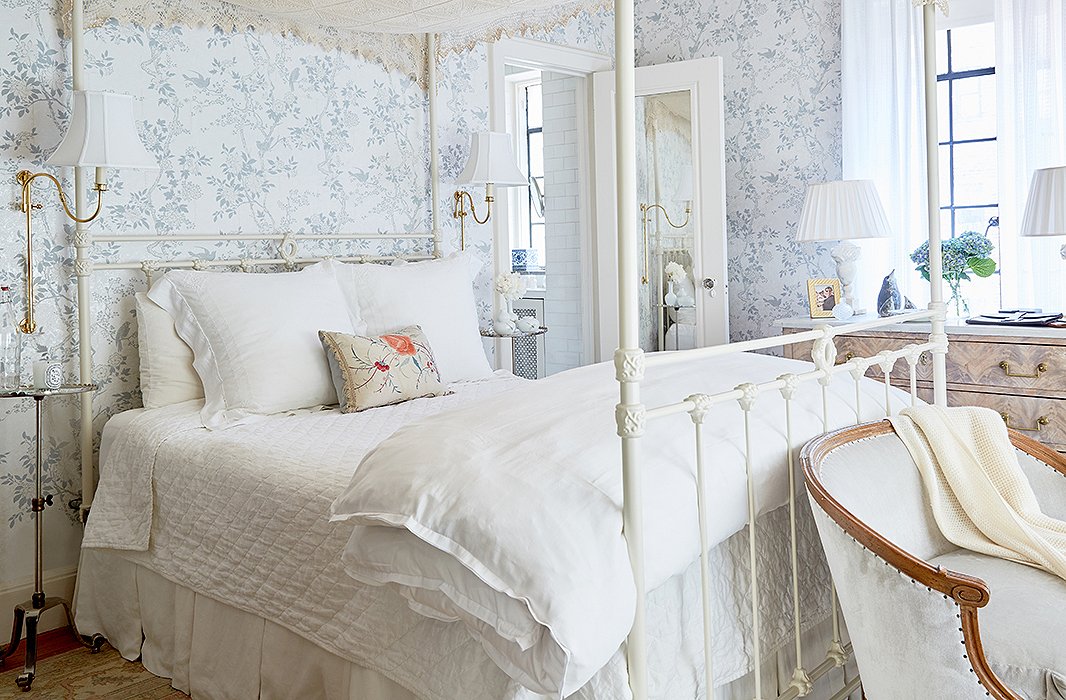 Femme Florals
These certainly aren't your grandmother's florals. Romantic and unabashedly feminine, this room's sprawling wallpaper scene delivers a subtle hint of color and pattern while remaining delightfully fresh.
Idea to steal: Choose lightened-up antiques, like the steel bed and the petite drink tables used as nightstands here, to prevent the space from feeling old-fashioned and dated.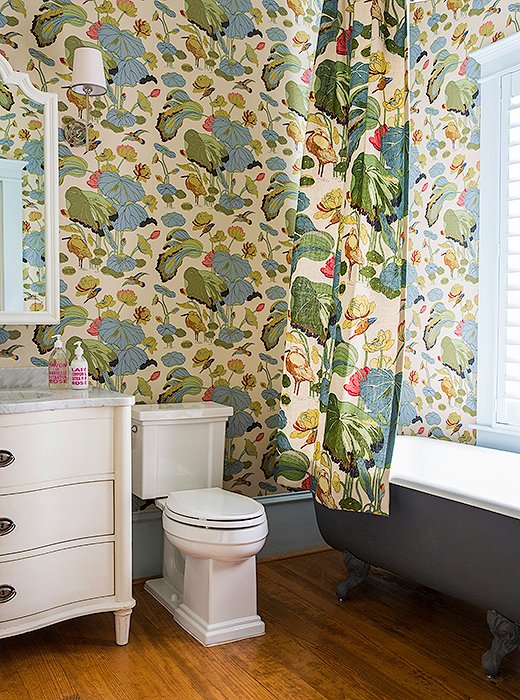 The Quirky Print
Despite its roots in classic interiors, wallpaper can have a more playful side too. Take this quirky plant print, which adds a bright splash of color to a small, utilitarian space like the bathroom. Don't forget the matching shower curtain!
Idea to steal: Classic furnishings—such as a marble-top vanity and a claw-foot tub—bring the wild pattern back to earth to prevent it from feeling too out-there.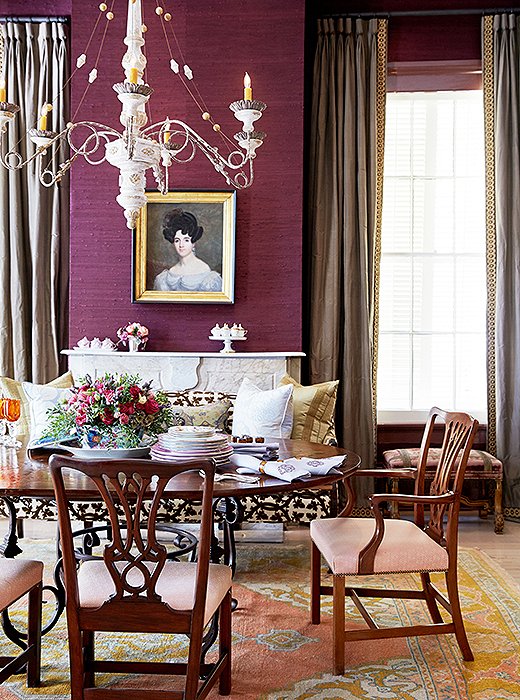 A Touch of Texture
A grand room requires wallpaper that is equally so—and this sumptuous purple grass-cloth certainly fits the bill. The regal jewel-tone hue helps set a luxe scene, while the woven texture lends a bit of relaxed ease.
Idea to steal: Complement rich hues with colors on opposite side of the spectrum, such as the deep purple with faded orange and yellows here, to create a classic and unforgettable space.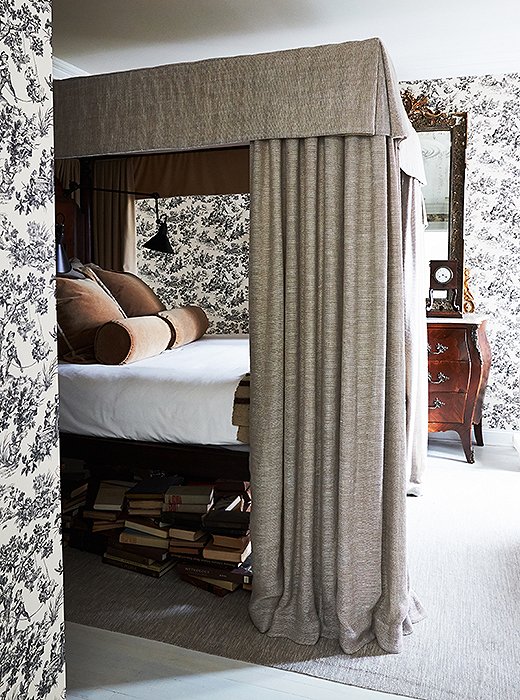 Trad Toile
Toile—which originated in France and typically depicts pastoral scenes—is seen across all types of wall coverings and textiles. It's a go-to motif in French- and English-style homes, making it the perfect way to bring bold pattern to a classic room like the one here.  
Idea to steal: Capitalize on a soft, neutral palette within the space to keep the pieces in the room from competing with the busy wallpaper.
Bold and Graphic
A small space such as the powder room is the perfect spot to go big and bold with print. This floral motif, with its oversize pattern and contrasting palette, makes it a blank canvas of sorts on which to accessorize and infuse personality.
Idea to steal: Go for gold! If you want your hardware and accents to really stand out against the busy graphic print, opt for pieces with a brilliant gold or brass finish.
A Metallic Motif
Talk about a major metallic moment. We love the silvery sheen of this wallpaper, whose warm and reflective glow turns this hallway into much more than a pass-through space.
Idea to steal: Pair the wallpaper with rustic-feeling pieces—antique silver, a vintage kilim rug, wood furnishings with a natural finish—to tone down the glamour of the metallic sheen.
Pattern on Pattern
It takes equal parts restraint and courage to pull off such a bold pattern-on-pattern look, and we think this space was well worth the risk and effort. Though the patterns of the wallpaper and drapes are wildly diverse (fluffy florals, sleek Art Deco graphics), their matching monochromatic palettes make the mix work.
Idea to steal: Don't forget to add color and warmth! A few poppy hues and natural wood pieces nicely balance out the sharp palette of the walls and curtains.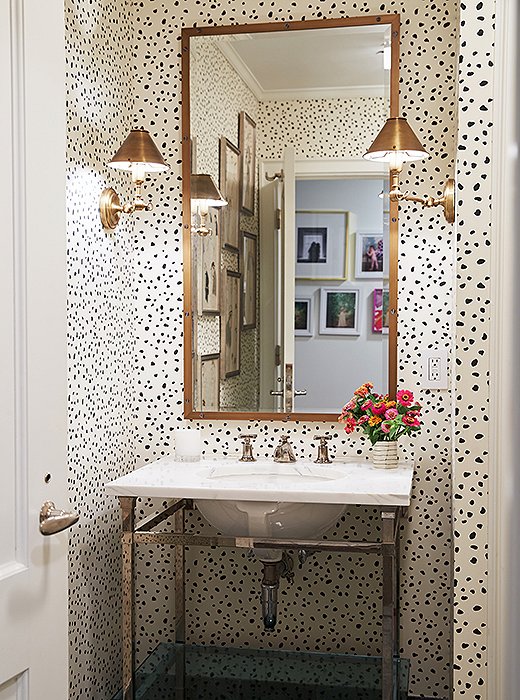 Spots and Dots
This sophisticated spotted wallpaper—a leopard-inspired print—function almost as a neutral, thanks largely to the limited palette and modest scale. It's the perfect background for accessorizing and adding character—which is key in a tiny area such as the bathroom, where you don't want to waste precious counter space.
Idea to steal: Hang a mini art gallery on the wall behind the door, which will add more (clutter-free!) personality and delight guests as soon as they walk into the room.
Bright Florals
What better way to make a strong first impression in your home than with bold and bright wallpaper in the entry? A print this poppy instantly makes the space feel bigger and (bonus!) doubles as a piece of art. 
Idea to steal: Balance out the wild print with pieces that almost blend in, such as the purple lampshades of the sconces and the deep aqua lacquer of the console table here.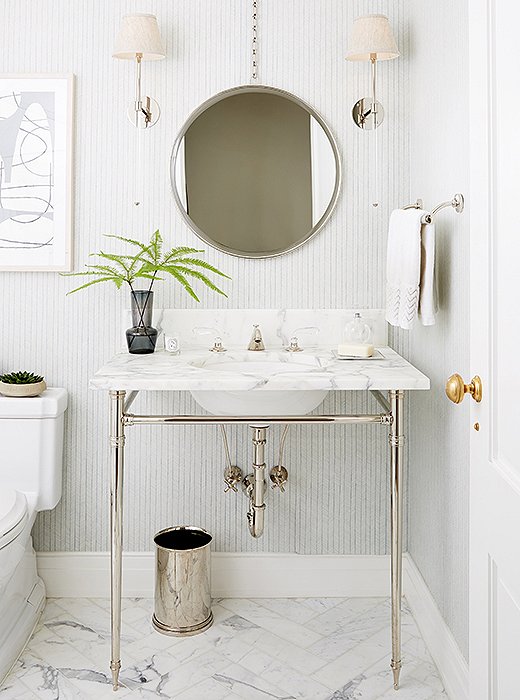 Subtle Stripes
Striped wallpaper comes in a number of iterations, from bold and colorful to sleek and simple. We love this clean take, which adds the slightest hint of texture and pattern without overwhelming the senses.
Idea to steal: Silver hardware, sleek marble, and clean modern art bring in just the right amount of personality and polish when paired with subdued wallpaper—proving you don't have to have color to add warmth to a space.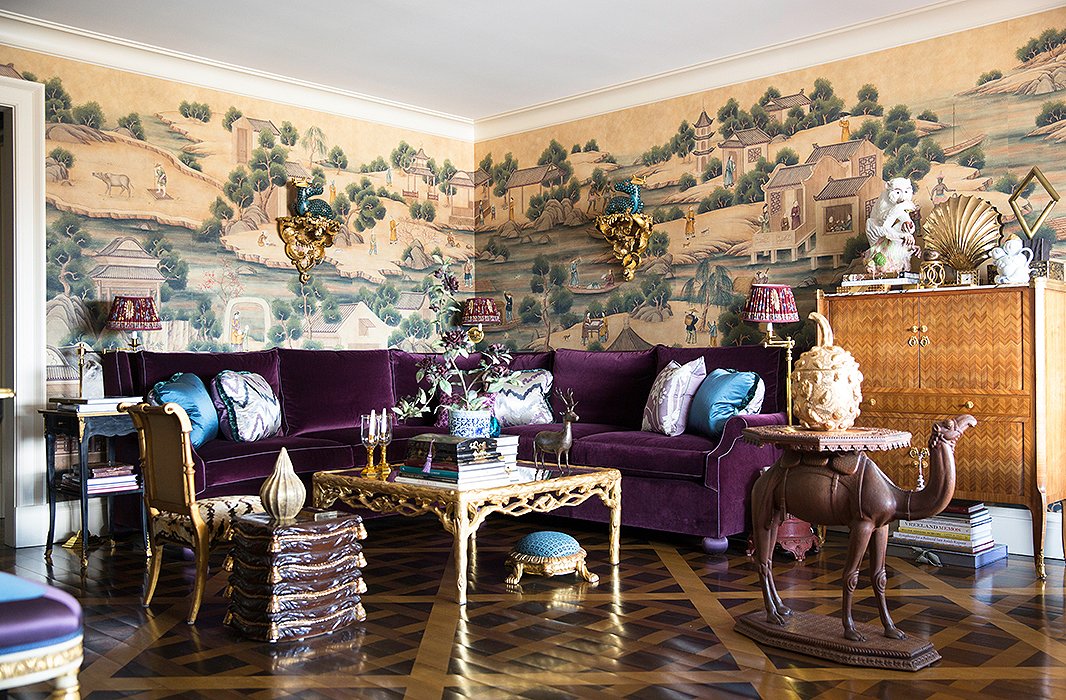 A Chinoiserie Scene
Wallpaper isn't just about repeated patterns. A murallike scene (in this case, a custom print inspired by a chinoiserie image from a book) gives a room a grandiose appeal, which is only underscored by the far-flung pieces it accompanies. After all, if you're going to go all-out, go all-out with chinoiserie wallpaper!
Idea to steal: It's essentially a piece of artwork unto itself, so there's no need to cover up a wallpaper this dramatic with anything else. Leave the walls primarily bare and the furniture and lighting low to best show it off.
Animal Instincts
Tap into your wild side with an animal print on the wall. Here, it's a playful but sophisticated addition to a kids' room, and a motif that can stick around long after they outgrow their toys.
Idea to steal: If you're covering the ceiling, allow the wallpaper to do the majority of the talking and stick to clean, classic silhouettes for the furnishings and accents.