It's no secret that jewelry designer and international It Girl Rebecca de Ravenel has an enviable sense of style. Her cult-favorite Les Bonbons earrings have been spotted everywhere from the pages of Vogue to the red carpet, and her signature style, a mix of tropical-bohemian ease and urban European chic, is well-documented in globe-trotting Instagram snaps.
Turns out, the designer is also a consummate hostess. Having worked in interiors before launching her jewelry line, Rebecca has an eye for creating comfortable, personality-rich spaces—and get-togethers. "The gist of any party I do is that everything should be easy, pretty, a little thought out, and have a little bit of whimsy," she says. And because this is L.A., those parties most often happen alfresco. We dropped by to soak up some California sunshine—and to see just how Rebecca pulls off her stylish soirees.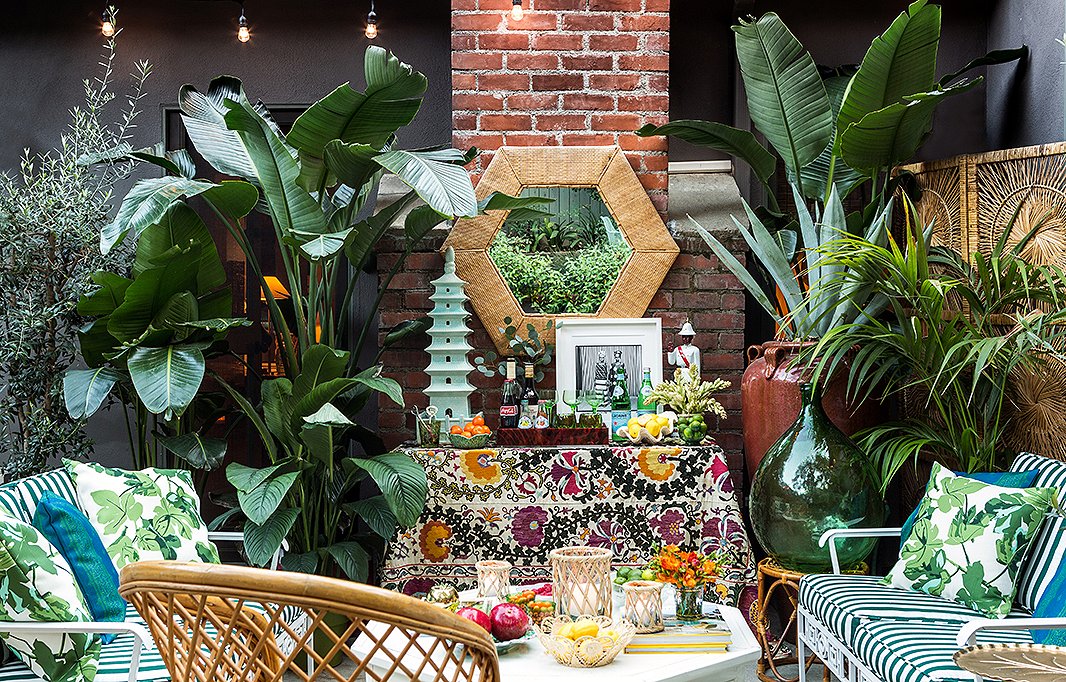 Heart of the Home
"I've never lived in a house that has such a great backyard," says Rebecca, who spent her childhood between the Bahamas and Paris and relishes California's year-round indoor/outdoor living. To make the most of the space, Rebecca brought in plenty of comfy seating and cocktail tables. Lush tropical plants give off a relaxed, island vibe, while cabana stripes and wicker furniture bring in a dash of Palm Beach prep.
The space is an irresistible draw for everyone, Rebecca says—even her business team, which works out of her home. "It's so funny because there's an adorable living room, and we never sit in it! We're always outside."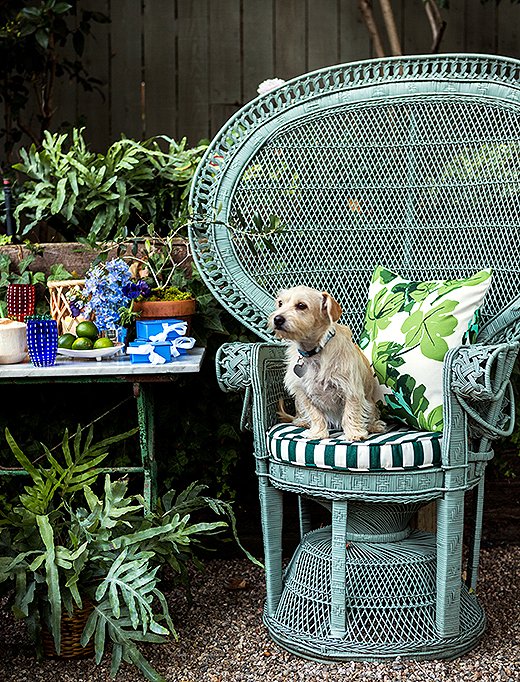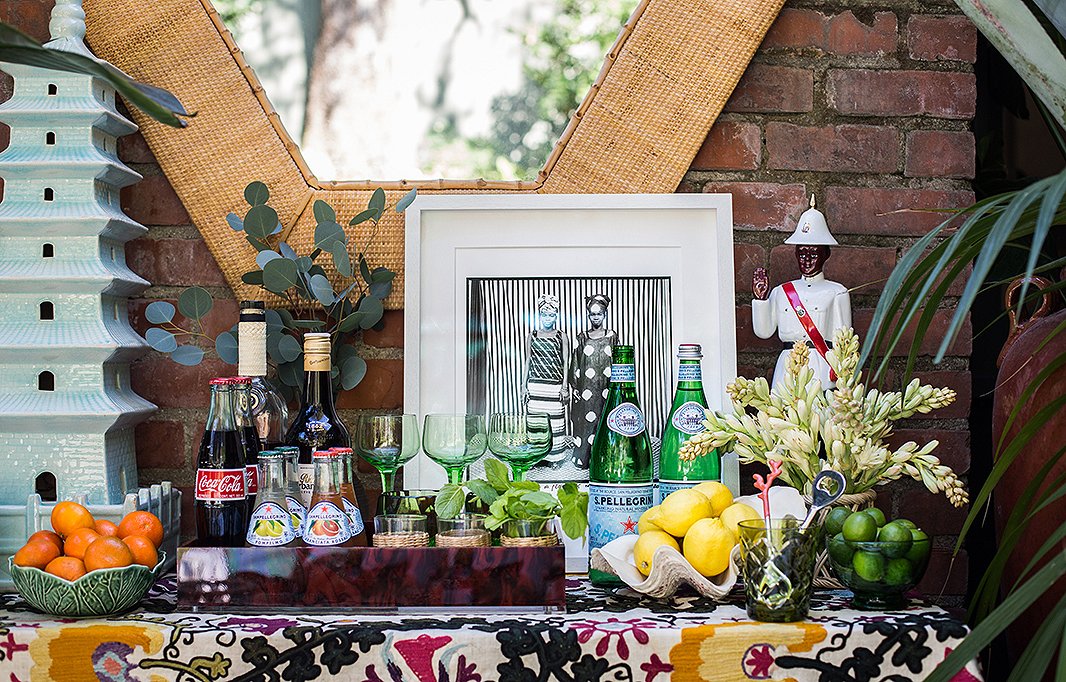 Raising the Bar
Transforming the backyard space into party central begins with the bar. "A bar is a really important place in a house only because I find people always congregate around it," Rebecca says. Draping a suzani textile over the table for an extra-festive look, she stocks the bar with a mix of glassware and a few eye-catching "conversation pieces," including framed artwork and collected objets. She piles mismatched bowls with lemons, limes, and oranges—garnishes that double as vibrant decor.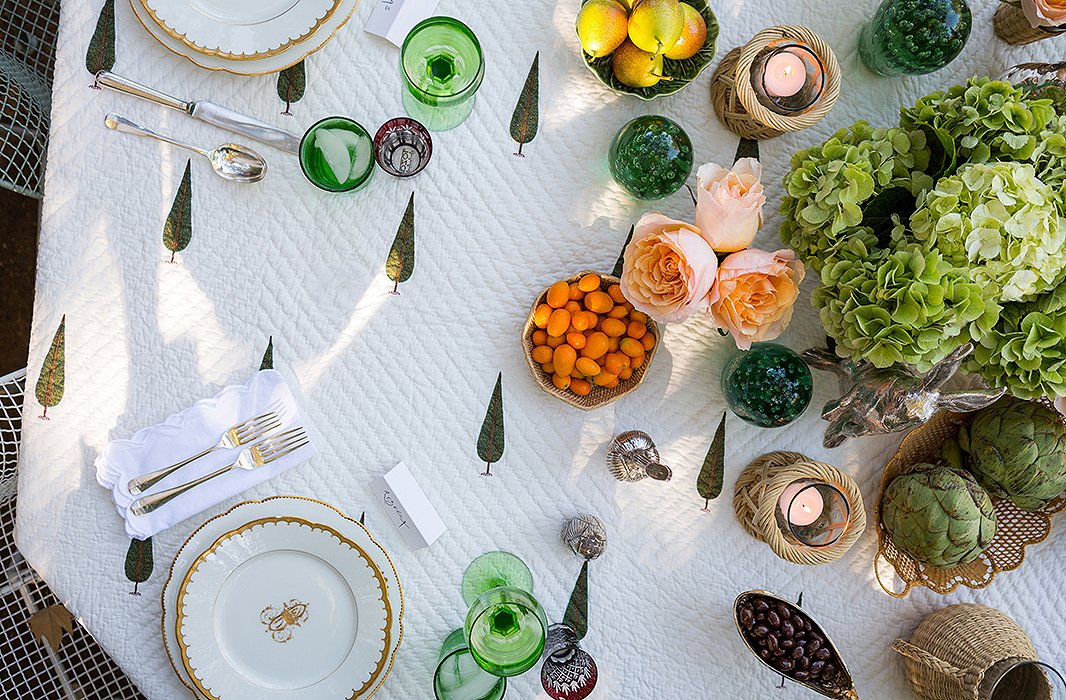 A Delightful Mix
Rebecca's table reflects a collector's spirit. "I think it's really fun to mix high and low," Rebecca says. "It's a bore when everything's always the same." Here, a tablecloth picked up in Jaipur mingles with preppy-chic lettuceware and family-heirloom silver; mismatched red and green glasses sit alongside gold-rimmed plates and glimmering objets. The result is a bohemian-chic look that is hard to pinpoint—but feels wonderfully inviting.
"I think mixing a bit of everything is just who I am," Rebecca says. "I don't set out for it to all match, but somehow I think it all has a story."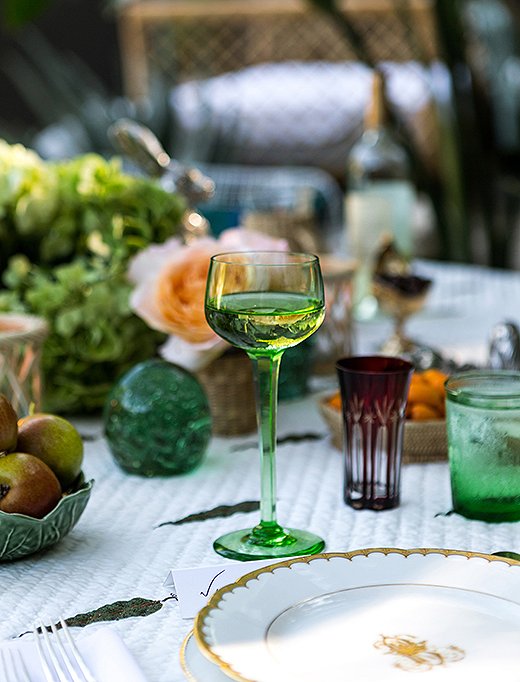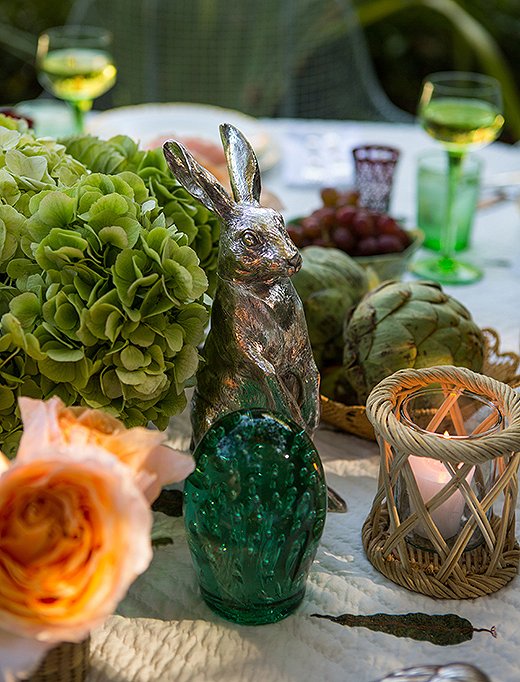 Fruity Flourishes
As on the bar, fruit makes a simple yet impactful element of the table decor. "I think fruit adds a touch of whimsy," Rebecca says. "It's always fun to have a little bit of playfulness on the table, especially if you don't always have the best plates or the best glasses." She fills small brass and ceramic bowls with a medley of grapes, kumquats, pears, and other richly colored produce.
To round out the spread, Rebecca fashions petite bouquets—each with a single type of flower. "The only thing I do not like mixing are flowers in a vase. It might be my pet peeve," she says. Luckily, this streamlined approach makes arranging blooms a breeze—and leads to an effortless, fresh-from-the-garden look.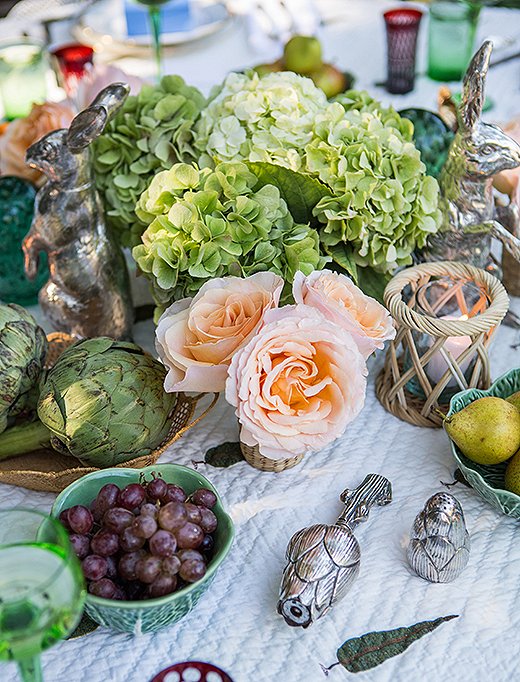 I don't set out for it to all match, but somehow I think it all has a story.
A Crowd-Pleasing Spread
"I always revert back to simple food, because I think people do like simple food—but very fresh ingredients," Rebecca says. Easy salads, prosciutto with melon, and classic risotto are among her go-tos. "I tend toward Italian food because it's simple and you can never fail." The fruit on the table makes a simple and light dessert—balanced with chocolates for a little indulgence.
Open-Door Policy
For Rebecca, hosting friends is integral to enjoying her space—and accordingly, nothing is ever too precious for company. "All my things are very imperfect but full of character," Rebecca says. "If someone spills something here it's really not the end of the world. We have people who stop here all the time for dinner, and I have a cupboard full of wine and mixers, and there's always snacks… Because that's what makes a house live."
Dinner parties are the best places to meet all types of people in life.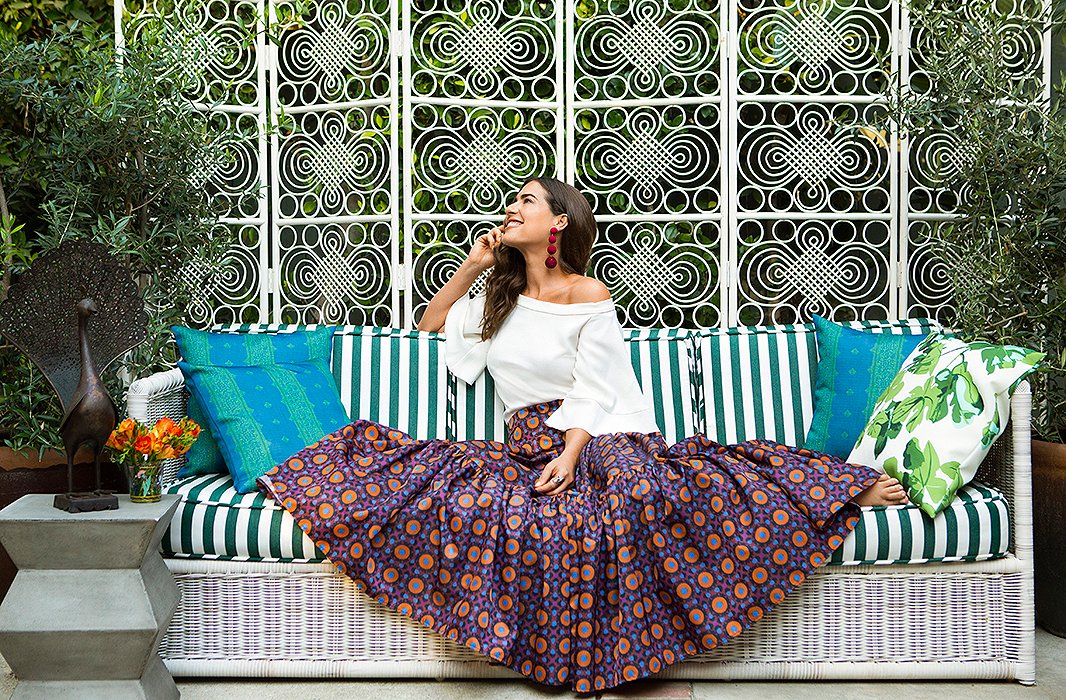 Rebecca's Tips for Stylish Entertaining
Although her growing business and globe-trotting schedule keep her busy, Rebecca loves to host—so she's honed her skills at throwing a beautiful dinner party on the fly. We asked for some of her foolproof tips for easy, elegant, and vibrant evenings.
Embrace assigned seating: For parties of six or more, Rebecca always opts for place cards. "It shows people that you've made an effort, and it's a little more forethought," she says. It also takes the pressure off guests when it's time to sit down to dinner—and helps to mix up a group. "It's how you meet great friends. Dinner parties are the best places to meet all types of people in life."
Serve simply: Rebecca's go-to serving style is a casual buffet, which gives guests a chance to get up and mingle during the meal. It's also a de Ravenel family tradition. "Because big families with siblings sitting down for too long can get a little troublesome!"
Set the mood: For Rebecca, a beautiful table begins with the right lighting—namely, plenty of warm candlelight. "I think overhead lighting is dreadful unless it's on a dimmer; it just doesn't make anyone look good. Lots of candles are key."