The elegant, perfectly tailored skirted table has been long used by the design greats. Sister Parish fashioned one in puddling silk for the White House bedroom of former first lady Jackie Kennedy. David Hicks created a skirted table in vivid pink jacquard in his own Britwell House in Oxfordshire. Dorothy Draper produced one in rich, romantic green velvet for the Greenbrier Hotel. In short, the skirted table is a timeless adornment in fabric—a design classic.
And it's no longer reserved for traditional interiors; designers everywhere on the style spectrum have begun to cheerlead for its use. What's so great about it? We spoke to a few of our favorite interior designers about their love of skirted tables—and their tips for decorating with them. Read on to learn why this is not a trend we'll be skirting.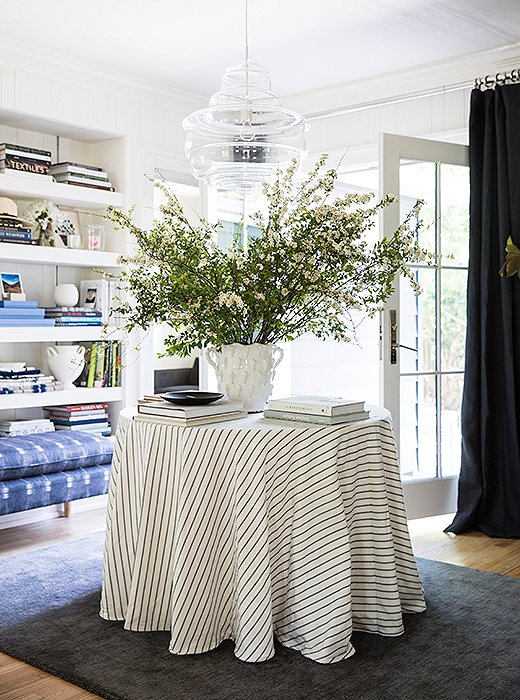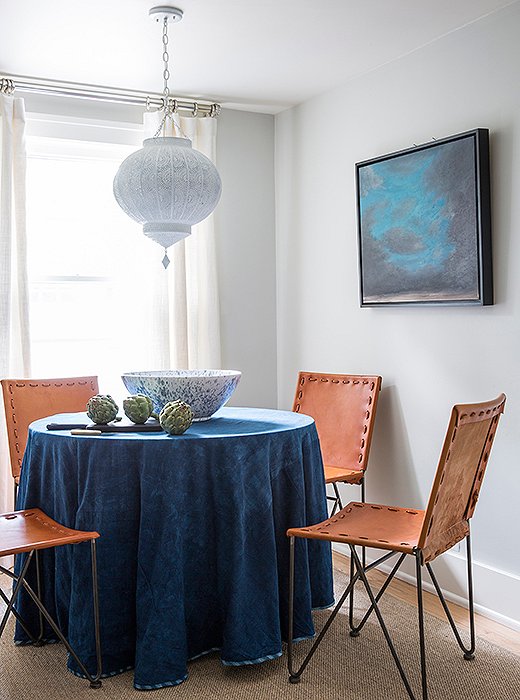 A Fabric-Lover's Friend
Layers of fabric are one of the design touches that bring a polished, professional look to a room. "As a proud member of the 'more is more' club, I love the way that one can use a skirted table as another opportunity to use an amazing textile in a space," San Francisco-based interior designer Scot Meacham Wood tells us. "You can skirt a table in anything and it will look great," advises interior designer Nancy Hooff of Atlanta–based Carter Kay Interiors. "We have used everything from velvet to burlap. In so many situations, it can be an inexpensive fabric that can be upgraded or changed somewhere down the line."
Not only are skirted tables an opportunity to add more fabric you love to a room, as New York-based interior designer Lauren McGrath of McGrath II points out, they also "have the ability to add softness to a room where there are other tables made of harder materials like wood or metal." Better yet, if you do have more wood or metal in a space than you'd like, as Toronto-based designer Anne Hepfer points out, "you can also easily upgrade vintage pieces or old furniture with a tailored and fabulous fabric."
It's a great solution for a large entryway, as it gives you a certain amount of visual mass in what can often be a slightly cavernous space.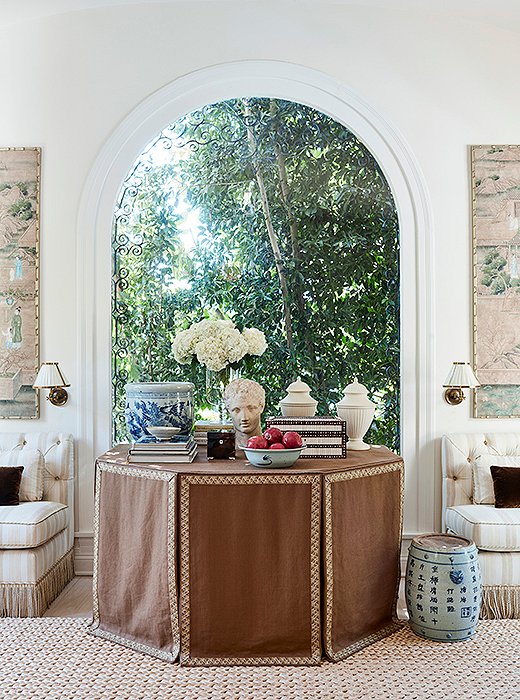 A Model of Versatility
We're hard-pressed to think of a room in the house where a skirted table wouldn't work. The bathroom? That's all we could come up with. As Los Angeles-based designer Mark D. Sikes puts it, "They're a classic because they just work everywhere, and they work with pretty much any type of decor." Sikes loves to use them in entryways and by the bedside. "I've even been known to skirt a dining room table," he adds.
Wood and McGrath are also big proponents of the skirted entryway table. "It's a great solution for a large entryway, as it gives you a certain amount of visual mass in what can often be a slightly cavernous space," Wood explains. "They're also great for a little corner game table!"
Hooff points out that any spot it the house that is "desperate for a significant piece of furniture," is a great candidate for a skirted table, which can add instant heft to an empty space. And as Hepfer notes,"the fabric helps absorb sound if a room echoes from lack of soft furnishings," so they're a wise consideration in a place where you have noise concerns.
The contrast of the color and the drama of the bullion trim is a winner every time.
A Small-Space Saver
In petite quarters where storage is at a minimum, all square footage from floor to ceiling should be optimized. McGrath, who lives in a one-bedroom apartment in New York City, knows well the challenges. "Skirted tables not only give you the opportunity to add an unexpected pattern or color into a room," she says, "but they also serve as a storage solution in small spaces." You can stack and store unsightly odds and ends under a skirted table with fabric that kisses the floor—and no one will know.
A Customizable Piece
Beyond getting crafty with paint (which is hard to execute elegantly), there's not a ton you can do to customize a standard wooden table. But skirted tables? The options are endless. Sikes recommends adding a contrasting trim. "My skirted table go-to right now is using a solid fabric in a pretty color and then adding an ivory bullion trim to the bottom," he says. "The contrast of the color and the drama of the bullion is a winner every time."
Wood is also a fan of a heavy bullion fringe, "or even stacking a jaunty flat taping above another trim." Another trick of the trade? "I also usually make the skirts about an inch too long, as I love seeing a healthy, heavy break as the skirt hits the floor."
If you're having a skirted table custom made, Hooff advises, "Always line and interline them. This will give them a wonderful body that will always look rich and refined!"
For consoles, Hepfer recommends "a tailored inverted box pleat on the corners for elegance." And in all cases, she says a piece of glass cut for the top of the table completes the look. "We recently topped a black and white skirted table with 3/4-inch black glass, and it looked amazing," she says."Any back-painted glass would look very chic on top of a skirted table."