When Chad Graci traded his New Orleans condo for a character-rich 1916 house, he embarked on a renovation that would refresh the space while carefully preserving its original details. In projects that stretch from Texas to coastal New England, the designer regularly draws upon a mix of periods and styles, and his approach to his own home was no different. The result? An airy, welcoming space fit for relaxation, work, and entertaining—and a beautiful canvas for Chad's thoughtfully curated collection of art and antiques. Read on for our Q&A with the designer and to take a peek inside the space.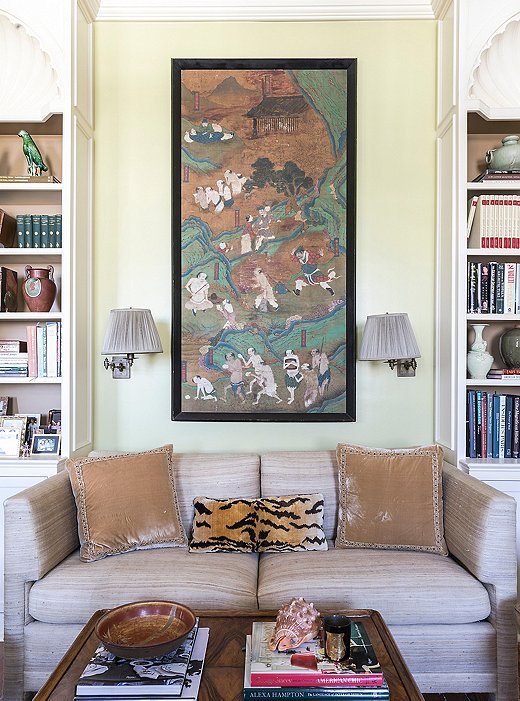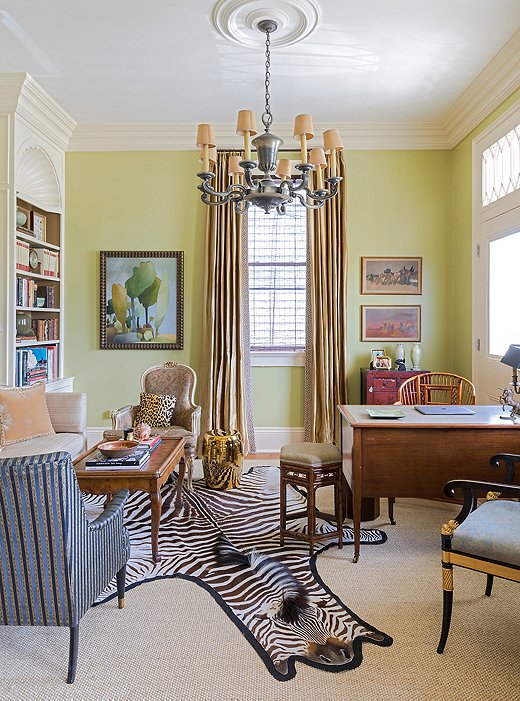 One Kings Lane: Was there a singular point of inspiration behind your home's design?
Chad Graci: For this house, I kept thinking "open, lighter, color, spare." I came from a condo that was much smaller and essentially floor-to-ceiling decor, so it started to feel heavy, and I didn't want that here in my new home.
What was the house like when you purchased it?
The house had already been converted from a double to a single, and the rooms were miraculously in the right spot. However, all of the fixtures and finishes—stone and tile too—were of a builder quality and lacked any sort of design aesthetic. Everything needed to be upgraded and thought out with a unique vision.
Did you have a vision for the design scheme from the get-go?
I knew that I needed to convert the third bedroom into a study. I wanted one more public room, and there had to be some architectural changes in order for the house to work for me. Adding a second French door in the garden room, building in bookcases, and a total master-closet redo were a few of the issues that I tackled straightaway. Those changes aside, I let my own furnishings and art sort of guide me, and then I filled in the blanks.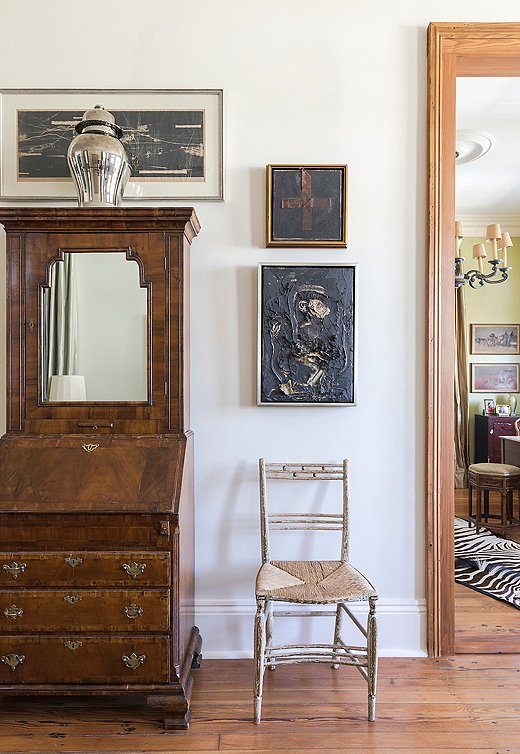 The house has beautiful original pine floors and cypress detailing. Why was it important to you to preserve these elements?
I think it's important to retain historic details whenever possible. These features contribute to the overall look and feel of a home by giving the space depth and patina. I never want a renovation to look brand-new.
Your background is in architecture—how did that come into play here?
My education in this field, aside from helping me on a daily basis, helped me envision my bookcases and master closet in particular. There was a hidden void between two rooms that was unused, so the difference was split between the master bedroom to give me additional closets and a niche and the garden/family room to give me the built-ins that I've always wanted. Almost more influential is that growing up here [in New Orleans] I was constantly exposed to an array of diverse architectural styles, so I'm hyperaware of how the architecture should look.
What was the biggest challenge of this renovation? Were there any unexpected obstacles?
The biggest challenge of the renovation was stopping myself from going overboard. As far as renovations go, this one was pretty straightforward. Well, all of the windows leaked, so that was an issue.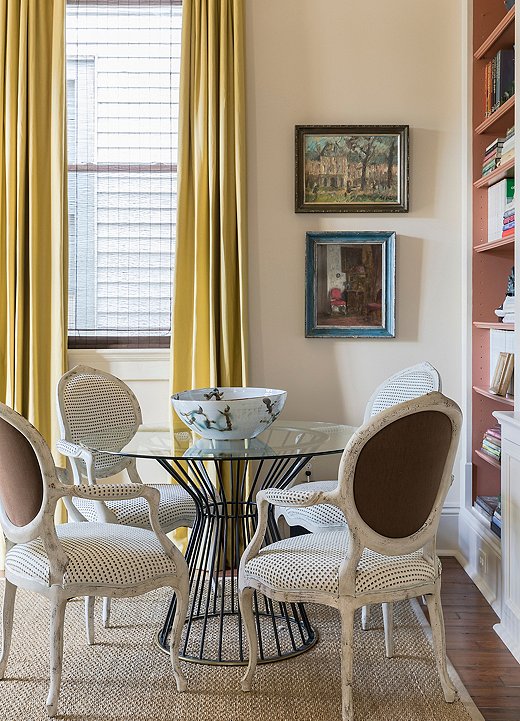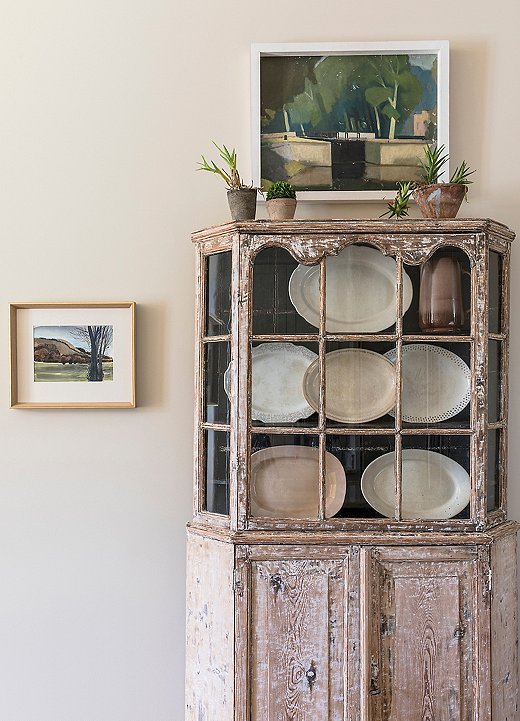 What's your entertaining style?
I truly enjoy having people over and entertaining. I couldn't do it as often in my previous home due to the smaller footprint, so I'm happy to have a space that allows for gatherings of all sizes. I recently hosted a birthday party for 60 people and used every room, including outside. I have two areas where I can dine with friends—the more formal dining room and a small round table that seats four in the garden room. It's important to have both.
What's your approach to mixing old and new?
I buy what I love, and I get excited by juxtapositions of old and new and vintage. I enjoy the hunt and have many pieces from my grandmother—it was very important for me to keep those around. I think there's a special balance between old and new. No one wants a period room. I like a space to look collected, which [this house] is. It's also a place where I can try things out on my own before suggesting them to a client.
Do you gravitate toward any specific era or style of antiques?
This is a problem for me—I appreciate them all and can find beauty in the best of any style of antique, so I end up trying to rationalize unnecessary purchases of beautiful things! But currently I feel like I'm gravitating toward French pieces from the 1930s and '40s. They feel pared down but still rich in form.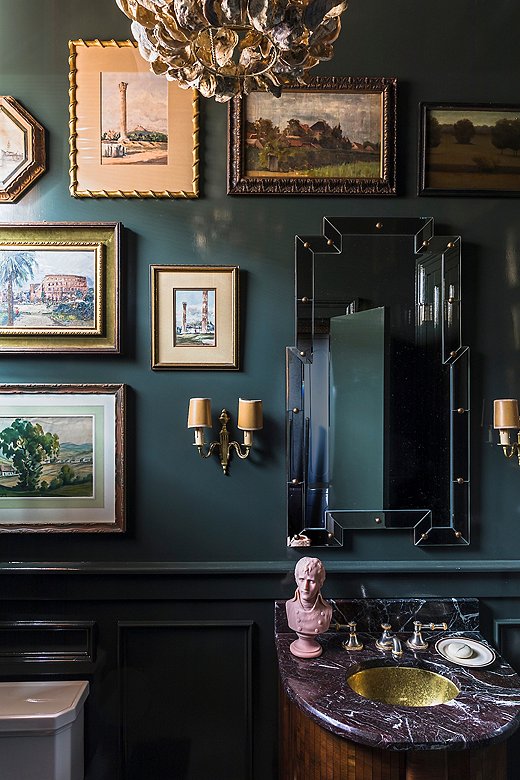 I think it's important to retain historic details whenever possible. These features contribute to the overall look and feel of a home by giving the space depth and patina. I never want a renovation to look brand-new.
What are your favorite local sources for antique furnishings?
We have such an amazing and diverse selection of shops here in New Orleans, but I do have my favorites. I love Mac Maison for European finds with a certain patinaed look and quality architecturals. Uptowner Antiques has the perfect mix of 18th– , 19th– , and 20th-century pieces that makes me covet each item in the shop. Malachite Home is a go-to for unique, glamorous accessories and one-of-a-kind, special pieces.
Artwork seems to play a big role in the decor of your home. How do you approach building a collection? Do you have any tips for those looking to start one of their own?
Yes, artwork is very important to me. My collection really has grown organically over time. I have a list of artists, mostly Louisiana-based, in my head that I want to add. I don't aggressively seek out the pieces, though—I sort of wait for them to pop up at sales or auctions. I've acquired many pieces that way. I do love getting paintings from estate sales or the like too. I find the best way to start a collection is to build upon what you love and are drawn to. You'll find that over time all of your pieces start to create a language and you will discover patterns in buying. Remember, great art does not have to break the bank.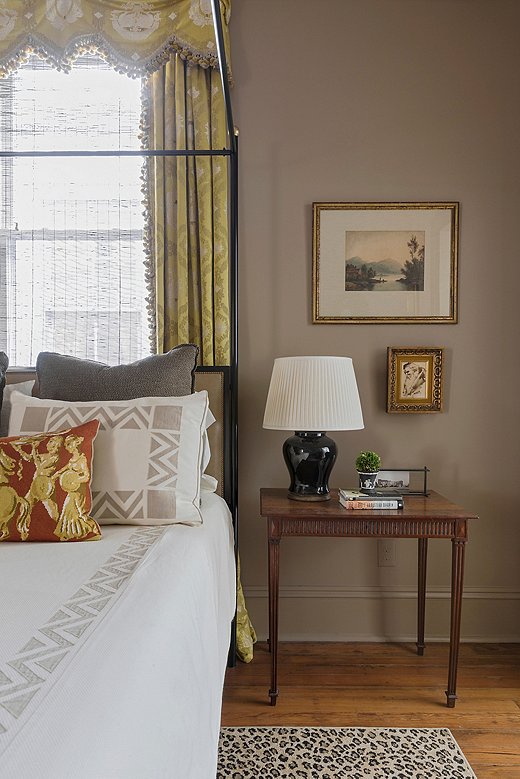 Are there any pieces with a particularly special backstory?
Not really one specific piece, but I know where everything is from… where I purchased it or from whom and how it came to be in my home. I do remember, as a child, being obsessed with that 1960s black-and-gold vinyl chair that's in my study, so my grandmother gave it to me as soon as I moved away to college. It was striking even in my dorm room!
Do you plan to stay in this home for a while or are you itching for a new project?
I don't think this home is forever, but it is perfect for me for quite a while. I am obsessed with houses, so I'm always on the lookout for the next move… I see a Georgian brick center hall in my future!