You may recognize David Netto's midcentury house in L.A.'s Silver Lake neighborhood, which he shares with his wife, Liz, and two daughters. It appeared in Nancy Meyers's charming house-swapping rom-com, The Holiday, and it was most recently the moody backdrop for Vogue's January 2015 cover story featuring actress Dakota Johnson.
But outside of Hollywood's spotlight, the 1,300-square-foot glass house, built by the famed architect Richard Neutra in 1959, is best known as one of modern design's architectural gems. "It was one of Neutra's very favorite of all his houses because of its sectional variation," says David, who is a designer as well as a seasoned design writer (he's a contributing editor at T Magazine). "The house is pavilions stepping down a hill, and it follows the terrain," adds David, who has filled the interiors with an enviable collection of vintage designs, midcentury pieces, and cool art and sculptures. And contrary to what you might expect, David and Liz have a laissez-faire attitude that makes the home feel none too precious.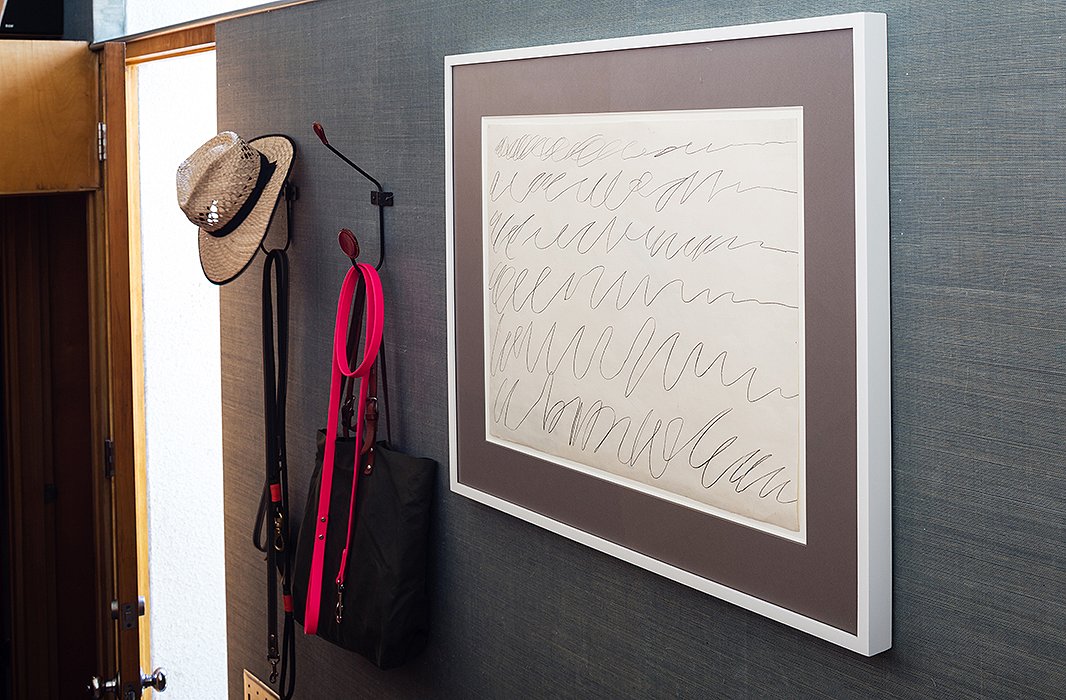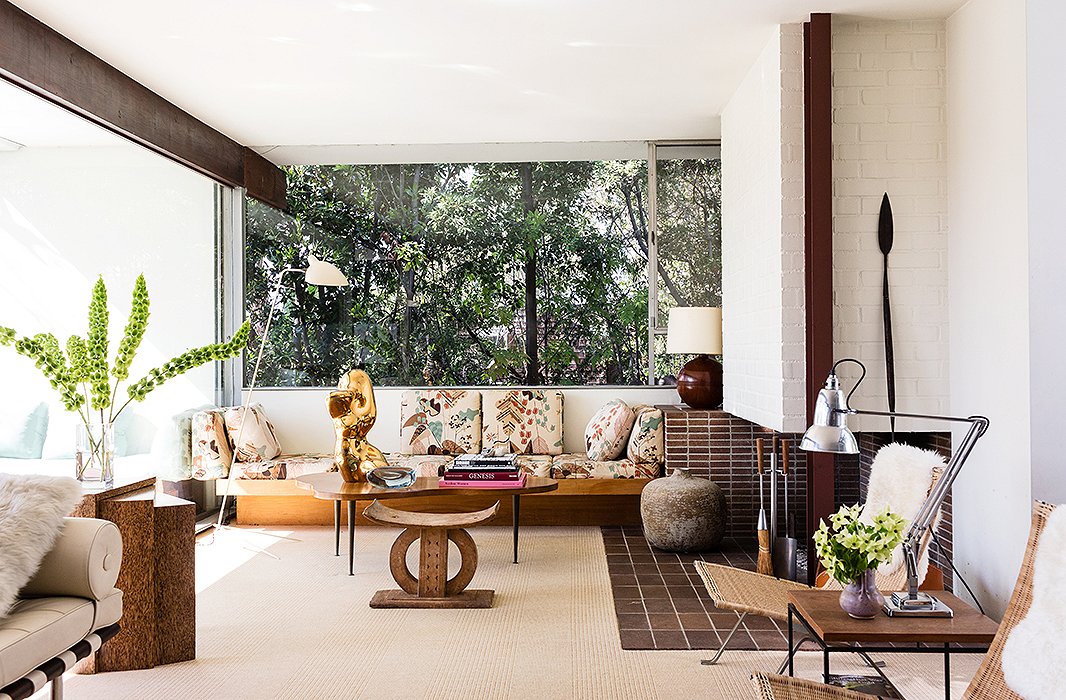 Living with Design
Behind the modernist exterior, life inside the house takes on a more casual tone. "I don't make any compromises for it being a family home," David says. "I think that's sort of a terrible way to try to be excited about design. I do think that if you buy fancy things or important things you should not be uptight about kids living with them." And given the compact layout, every space demands to be constantly used, from the living room banquette as a work space to the dining table for homework as well as meals. "I just love that we don't have a big house, but it can accommodate a lot of people and a lot of flow," says Liz, who echoes her husband's nothing-is-sacred approach.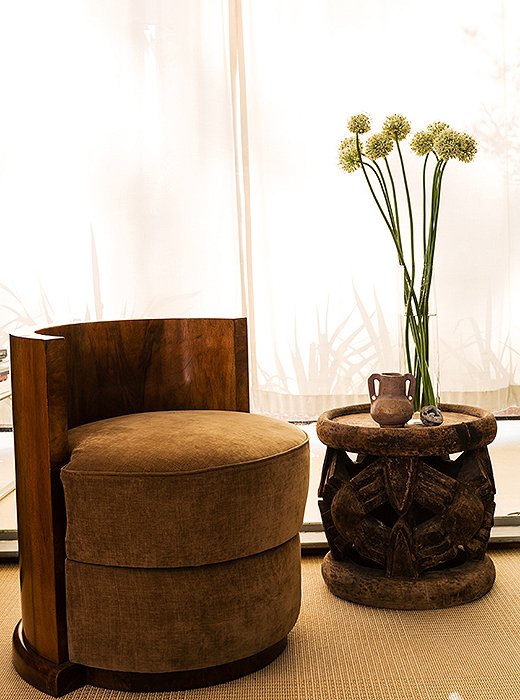 My philosophy was to take European modernism and put it in the American architectural modern shell, which I hadn't really seen done before.
An Unconventional Modernist
As an homage to the home's 1950's modernist architecture, David sought out furniture and designs that would both compliment yet also challenge the clean lines and glass construction of the building. "My philosophy was to take European modernism and put it in the American architectural modern shell, which I hadn't really seen done before," David says. Looking to furnishings from the '30s and '70s, David managed to bring together a cool and eclectic mix of unique vintage pieces, from the African stool to the unique Scandinavian chairs, that lend warmth to the home without taking away from Neutra's design. "Before midcentury hardened its doctrine, modernism had all kinds of funky, exotic contents, so those were the thoughts behind the look I went for."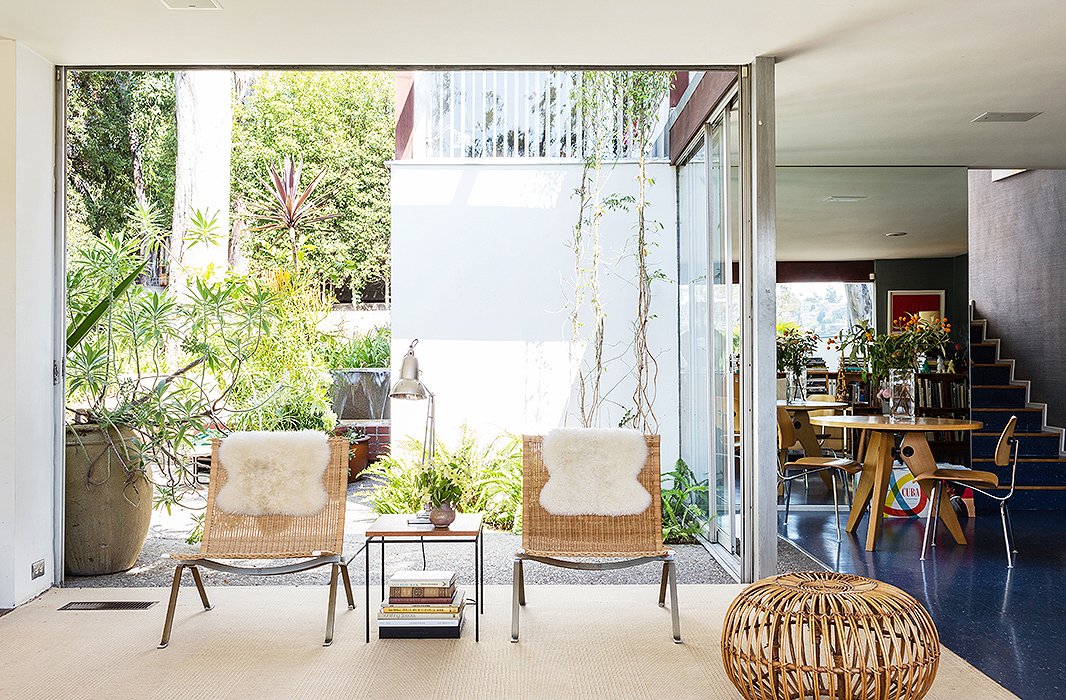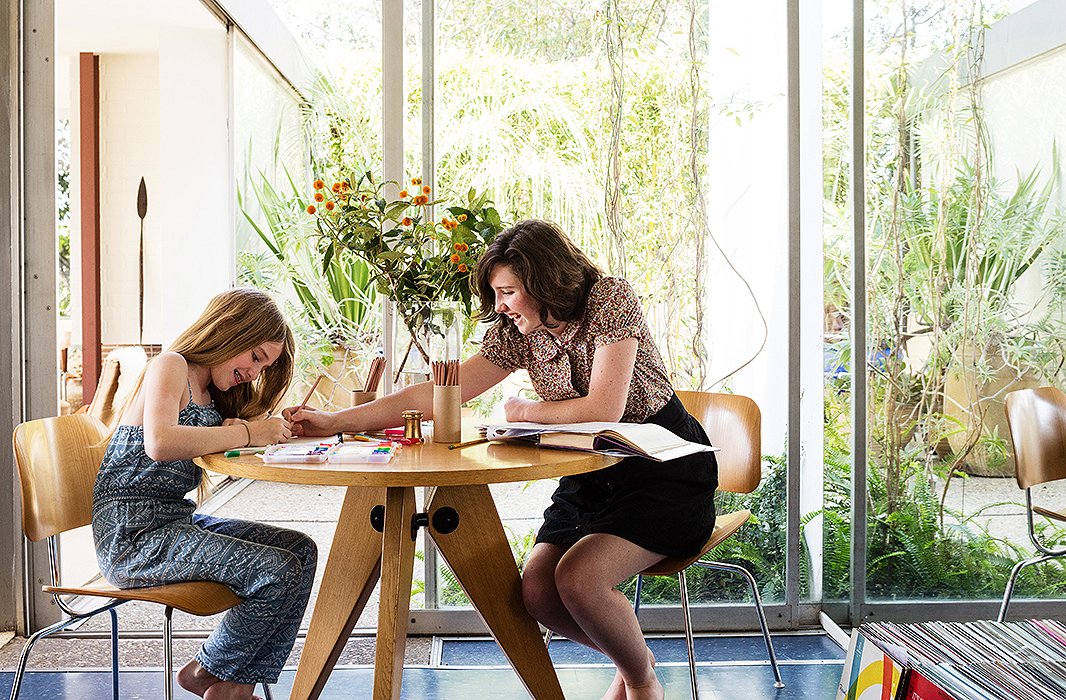 Making Time for Family Time
Despite busy schedules, David and Liz observe a few weekly family rituals—from dinners together in the courtyard and bike rides around Silver Lake to taking turns to care for Dusty, the family pup. "We like to watch half a movie on Friday night together, then they go to bed at 9 o'clock, and then we wake up, cook breakfast, and watch the other half of the movie eating the breakfast and talk about it at 10 o'clock on Saturday morning," David says of one weekend routine. The house welcomes intimate family time as well as it accommodates parties. "We had our nine-year-old's birthday party here recently, and what was so fun was how the kids moved through the house and landscape," says Liz. "Cupcake decorating at the outdoor table in the courtyard, jewelry making down by the fountain, and at the end we rented a movie screen and watched a film outdoors by the trampoline."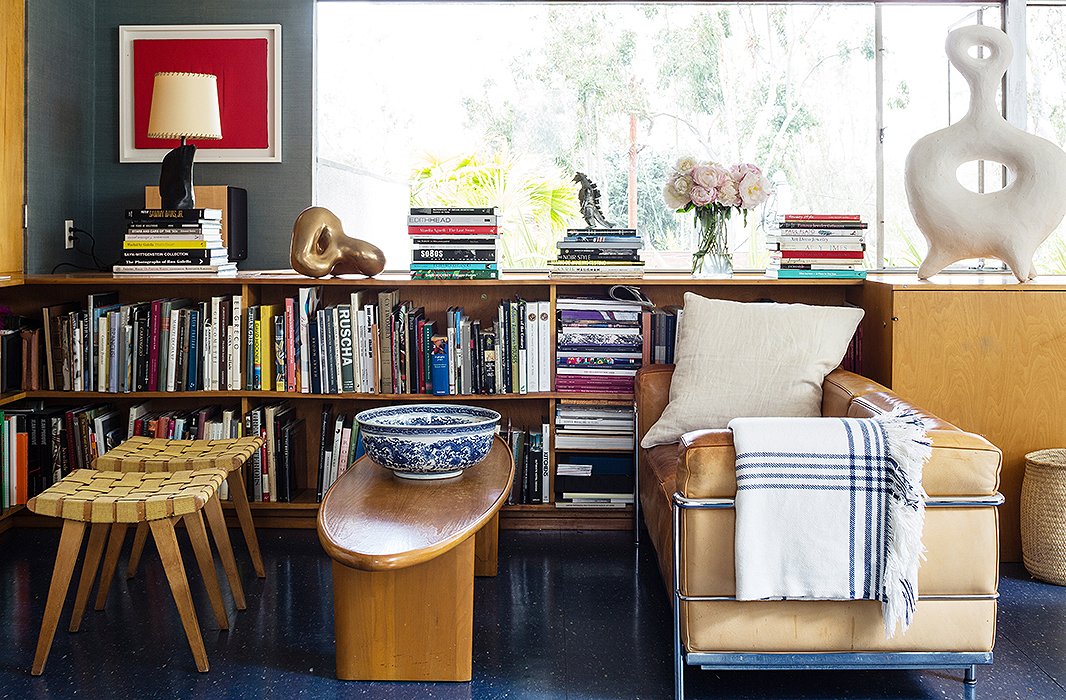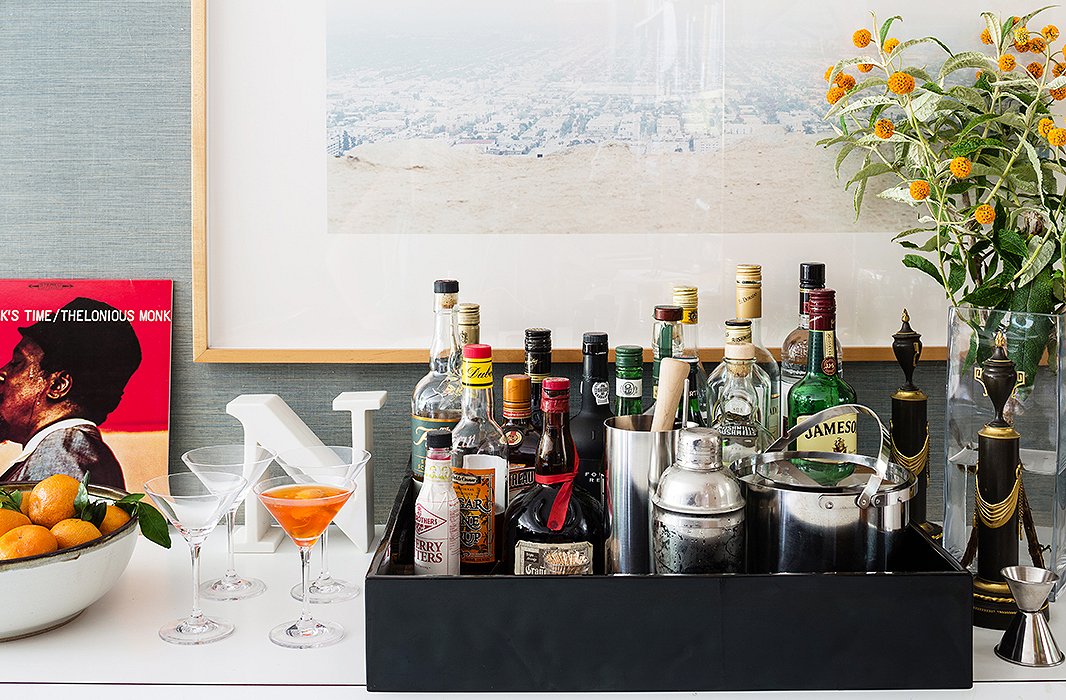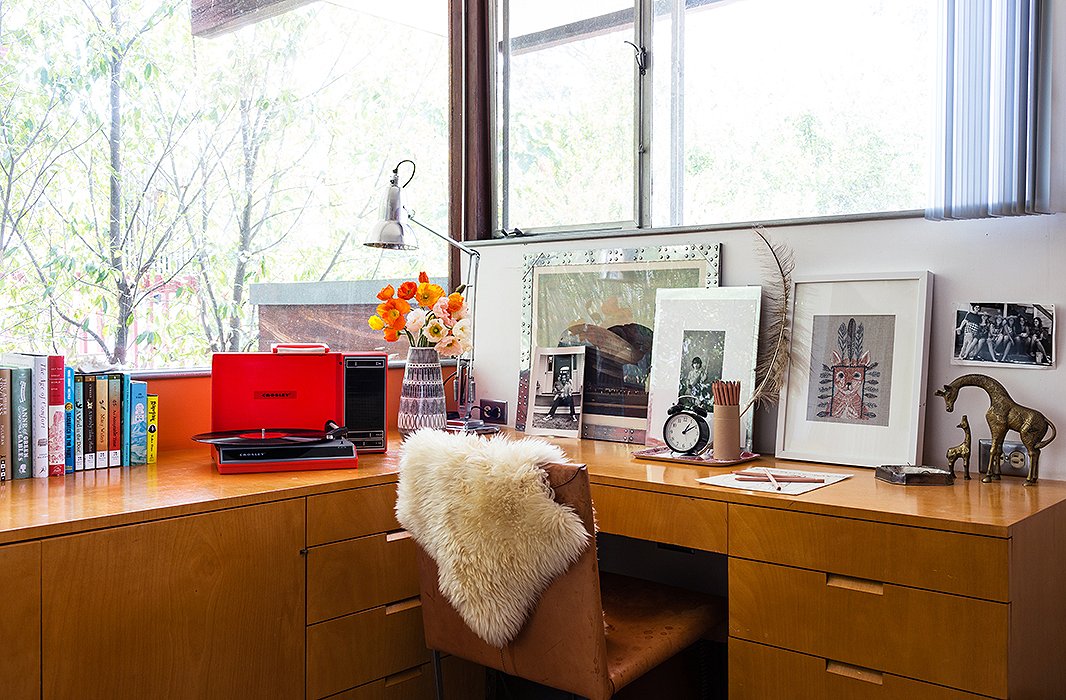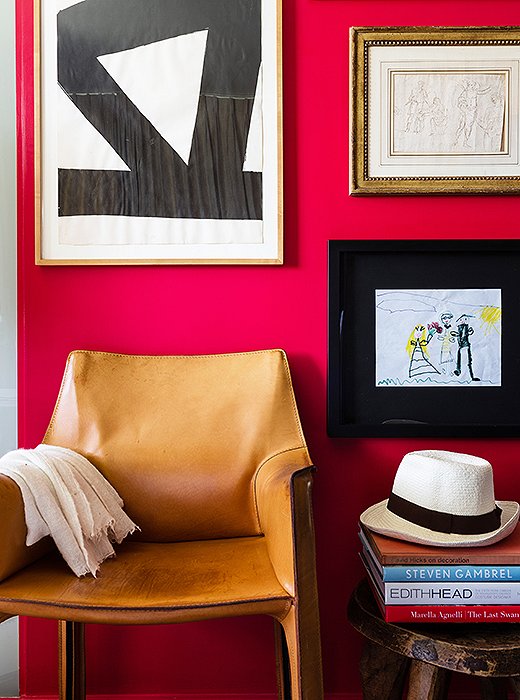 I've gotten better at being a little more experimental with color. I was an architectural designer. I went to architecture school, and I have to draw the interior in pencil before I can furnish it. And so I was very good at shapes and furniture compositions and lighting, but it was a world of objects.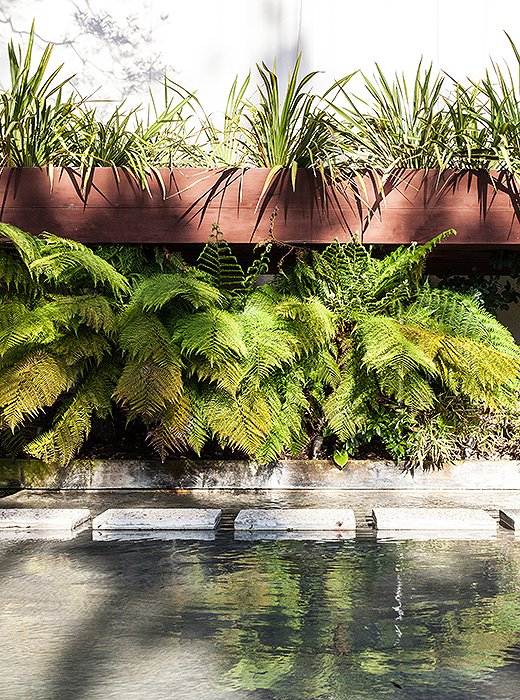 The Good Life
Built on a quiet slope that overlooks Silver Lake Reservoir, the courtyard reveals the true genius of Neutra's architecture. "You can look all the way to Silver Lake Reservoir through the two huge sliding doors of the living room, but you hear the water, so the experience of the lake is amplified. I like standing outside in the garden high up and looking down through the living room toward the lake on the other side," says David. It's all the more reason the family spends ample time in the garden space, where there is also a fire pit for s'mores and chilly evenings. "The courtyard is the living room. I can't emphasize enough how true that is," says David.