In the Crocker Highlands neighborhood of Oakland, CA, interior designer Chloe Warner shares a 1920s French-cottage-style house with husband Andrew, five-year-old son Ferris, and three-year-old daughter Lily. Over the four years the young family has made this their home, Chloe has filled it with a rich mix of passed-down family heirlooms, a reverie of floral patterns, and an abundance of fab yet functional kid-friendly touches. The resulting look—which she terms "chic traditional"— is colorful, layered, youthful, and above all, happy. So you can imagine how happy we were to take a spin around her inspiring space.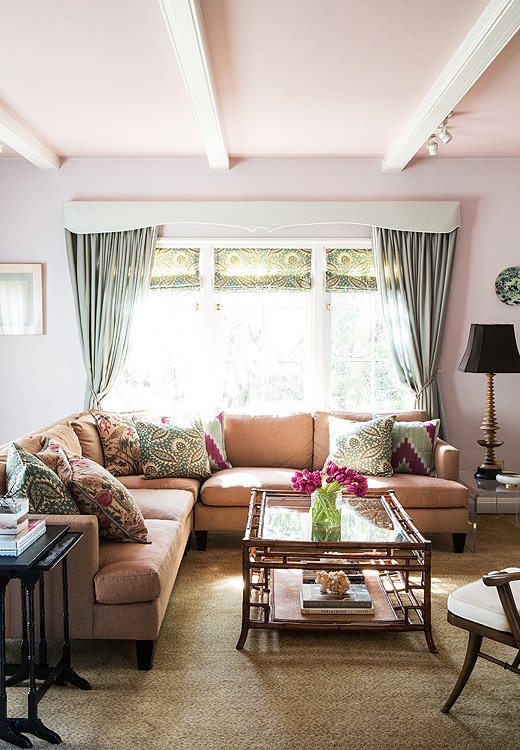 The Heart of the Home
Of all the rooms in the house, Chloe and her family hang out most in the cozy, blush-hued den. "We call the area behind the sectional 'the kids' office,'" she says. Ferris and Lily spend a ton of time back there playing with Legos or doing puzzles, while more-involved (and potentially messy) projects such as craft kits from Kiwi Crates are saved for the kid-size art table in the kitchen. "They're hardly ever in their rooms!" says Chloe, who laughingly calls her children "prolific and engaged little artists." After the kids hit the sack, Chloe and her husband curl up on the couch and catch up on their favorite TV shows.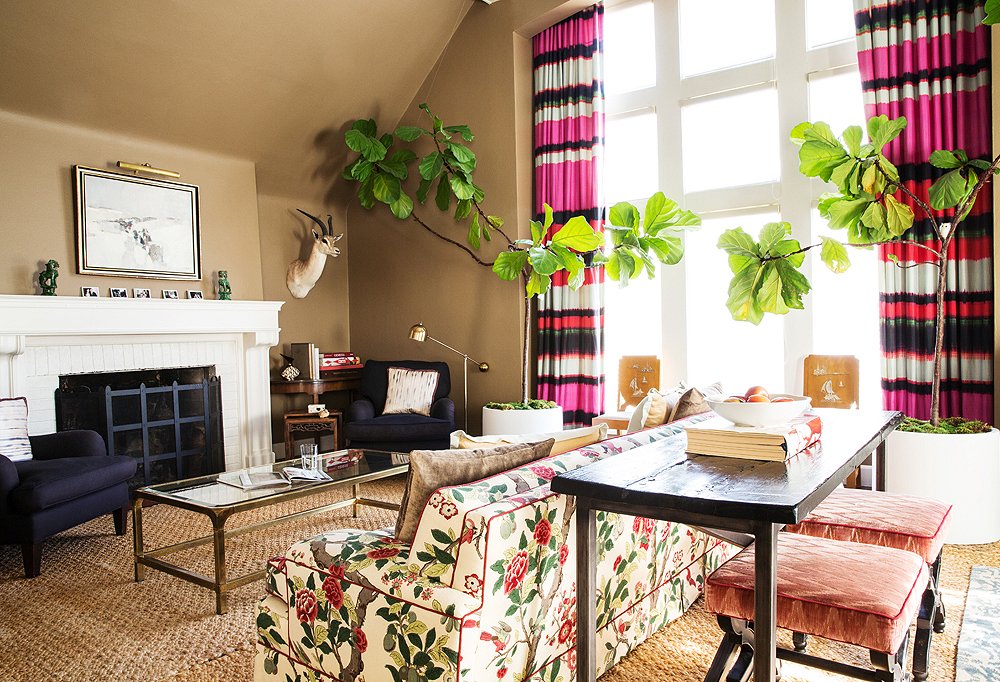 A Grown-Up Space
The den might be the heart of the house, but Chloe's favorite room is the formal living room complete with double-height ceilings and a working fireplace they crank up when it gets chilly. When her friends come over, the gals all pile on the couch and have "good, fancy cocktails by the fire," Chloe says. "It's a grown-up room. There's that fireplace, a bar, great art, and precious antique lights I'm always telling my kids not to throw a ball around. It feels so airy and generous, and, when you're in here, it's like this is how you should be a grown-up. And that feels so special since I don't get to do it that often."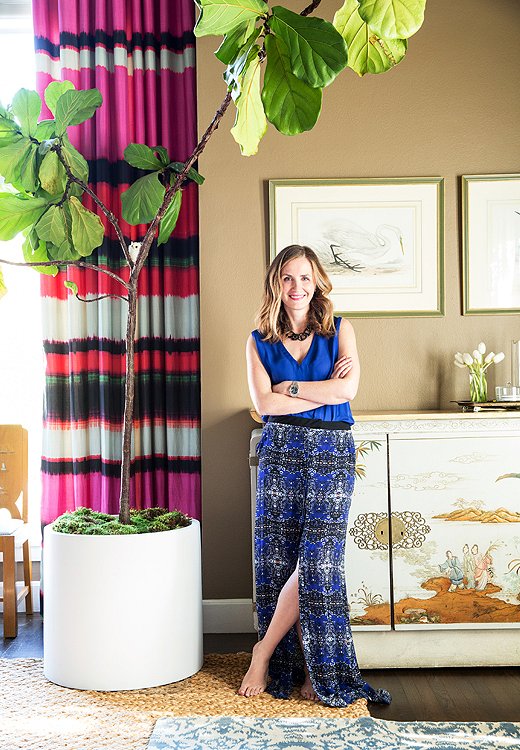 Family-Style Decorating
Throughout her home, Chloe has worked in pieces passed down through her family for generations. An antique ram's head, shot by her grandfather in the Yukon before World War II, presides over a corner of the living room. "I grew up in Montana, and my dad is a zoologist, so I'm very comfy with taxidermy," says Chloe, who also credits spending summers in Maine with her grandparents for her "zesty, Republican decorating influence." In the dining room sits another precious piece: a reflective silver screen from her grandma.
Design to me should be timeless, should be interesting, and should feel good for a long time. I keep pieces forever. I decorate intensely and completely—and then I'm done.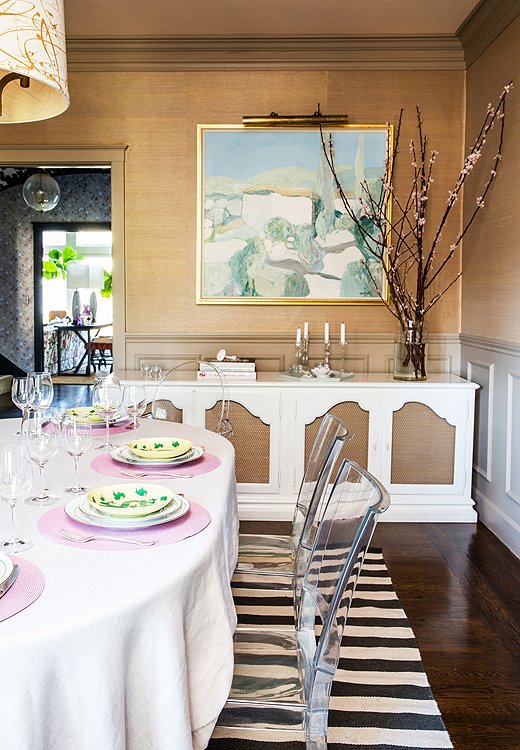 Old-School Entertaining
"I've always loved a dinner party—drinks at seven, dinner at eight," says Chloe. "No need to reinvent it." When she and her husband have people over, they like to start with drinks and appetizers in the living room before heading to the dining room for a proper sit-down meal. While Chloe always keeps a well-stocked bar, she loves to have a least one special cocktail at the ready when guests are arriving. "I find it more welcoming to say 'Here's an Aviation' rather than 'There's the bar,'" she says. So her husband, Andrew, will man the bar while she handles the food. Her go-to passed app is a caramelized onion tart from Sunday Suppers at Lucques, which she discovered at her cookbook club, where a new cookbook is selected each month, and all members make a dish and bring it potluck style to the get-together. "I've been doing it for six years," she says. "It's the gravity of my social life, the best thing I do."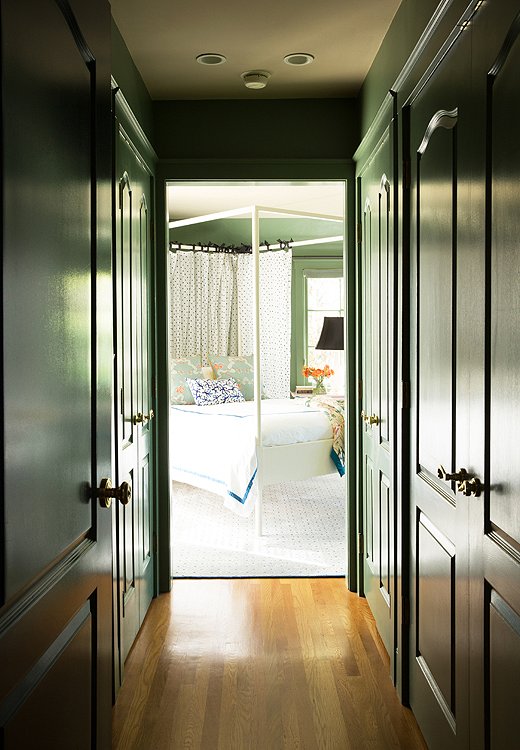 Using a lot of color and pattern makes design feel dimensional and fresh—it won't feel dated and old, and you won't tire of it quickly.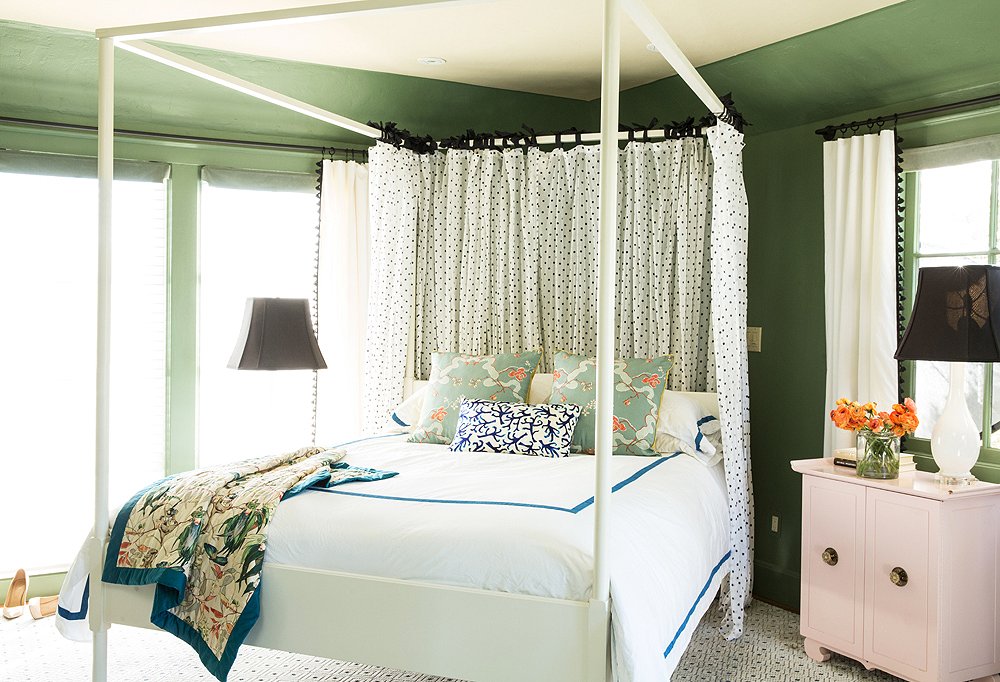 Literary and Leisure Pursuits
By her bed, Chloe always keeps a huge stack of books and a precarious pile of magazines. She just finished California by Edan Lepucki and The Luminaries by Eleanor Catton—both get two thumbs up—and flips through Porter, The World of Interiors, T, and Us ("I need to know the stars are just like us!") whenever she gets the chance. During the week, Chloe is coaxed awake around 7 a.m. by a fresh mug of coffee—Four Barrel is her favorite—brewed and delivered to her in bed by her husband. If it's a weekday, it's all systems go getting the kids settled with their nanny and zipping off to work, but weekends unfold more leisurely. The young family might take a walk to the farmers' market for fruit, flowers, and fresh green juice. Or they'll head to the Claremont to splash around in the pool club, or further afield to Indian Springs in Calistoga.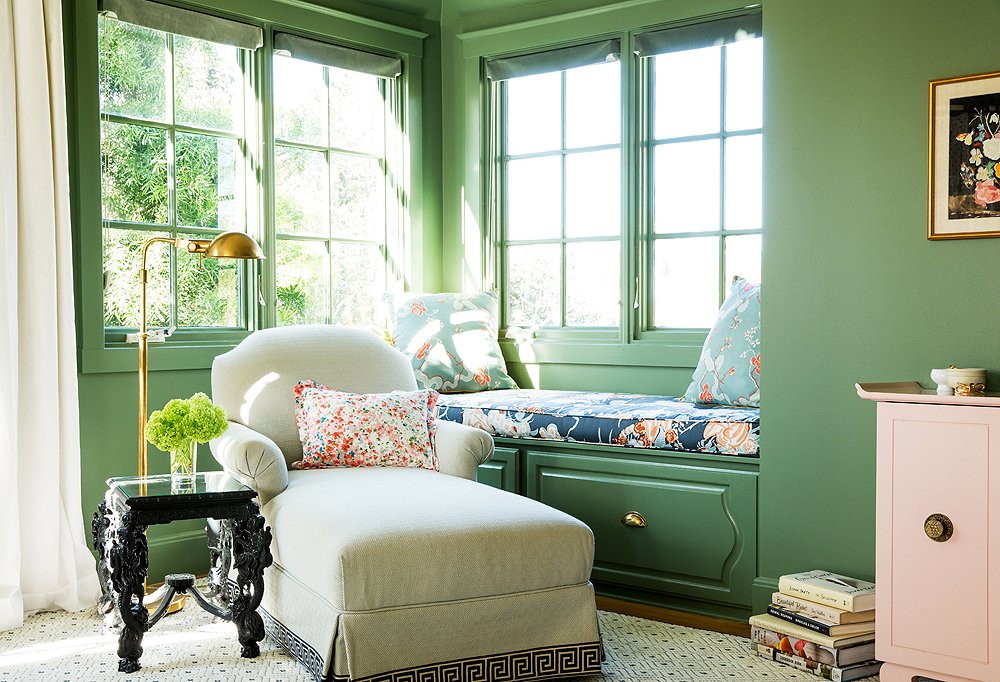 The "Home Office"
Tucked into a corner of her bedroom, which gets some of the best light in the house, is the chaise Chloe calls "command central." It's where she nestles in to knock out work with her MacBook when need be, though she tries to keep work-at-home to a minimum. "Balancing work and family life can be really hard," she says. "I love working—I have my dream job. But I also love coming home to my family. Above all else, I try to approach both with an optimistic attitude."
Inspiration Points
"I love nature, but I'm not one of those people who translates what I see in nature into design," says Chloe. Instead, she pulls design inspiration from visually arresting textiles, wall paper, architecture, and art including the abstract-expressionist paintings by Helen Frankenthaler and Landon Metz.
Florals make my home. They're somehow able to be both fun and formal-leaning at the same time.