Megan Pflug, style guru behind our "Weekend Decorator" column, is an editor and interior designer based in New York. She's back with her latest crazy-cool DIY solution—this one to instantly add drama to any window.
A while back I helped One Kings Lane editor Dickson Wong tackle some of the challenges he faced in his new apartment's bedroom—an awkward layout with little space for a headboard and side tables, not enough daylight, visible scuffing on the floors. One of my favorite features of the new space were the supersimple, totally renter-friendly window frames I created using narrow rolls of removable wallpaper. It's an easy DIY that brought a little architecture and contrast to the boxy space and tied nicely back to the glossy black-painted floors. Gorgeous silk romans from The Shade Store made for a richly textured finishing touch. Keep reading for my step-by-step guide to this faux-molding window-frame treatment.
Here's what you'll need:
– Tape measure
– Scissors
– Permanent marker
– One roll of removable Tempaper per each standard-sized window (I used this design)
– Smoothing tool (comes with Tempaper)
– Solid silk roman shades from The Shade Store (optional)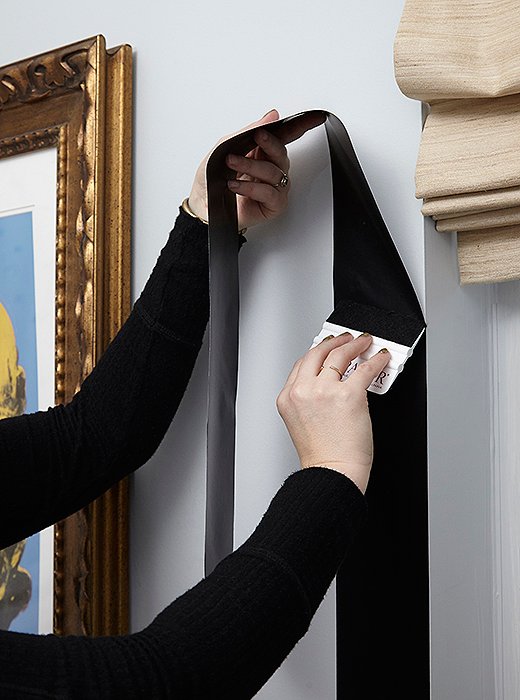 Step 1: Measure
To get started, measure your windows and cut four strips of Tempaper to your desired length. I cut my pieces a little longer than the actual length of the windows to create the decorative overlap on the corners.
Step 2: Trim
Next, trim the ends of the paper to create a point. To keep my ends consistent, I used the first cut corner as a template; the Tempaper has a white paper backing that was perfect for tracing the cut lines with my marker.
Step 3: Apply
With all the pieces cut into shape, remove the paper backing from the Tempaper and begin to apply and smooth it in place along the edge of your windows. The smoothing tool that comes with the paper is a great way to remove air bubbles and will help you achieve a flawless flat finish. And because the paper is totally removable you can easily peel it back and reposition it if you get a little off course, so don't sweat it if you need a few tries.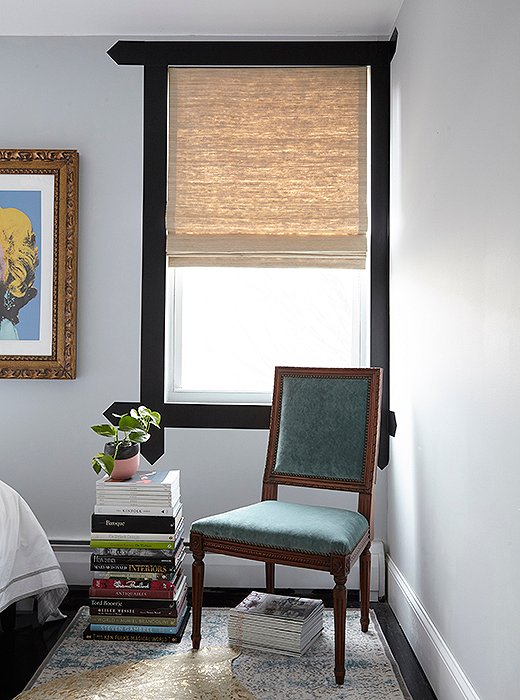 Step 4: Finish
To round out the window treatment, pick drapery or shades that contrast with the new window frame as a way to draw the eye up. I opted for solid silk romans from The Shade Store that let lots of daylight into the previously dim space. An added bonus? The soft window shades have a gorgeous texture to them that helps to ease up the look and feel of the small bedroom.
And there you have it: a no-mess, no-fuss renter-friendly window treatment that requires nothing more than a few rolls of temporary wallpaper. If you ask me, the design possibilities are endless. Plus, it's so easy to do (and removable) you might even want to sketch out a few designs and try them all to see what appeals to you most.