Whether you're sitting down to a fabulous feast with a dozen friends or a simple weeknight dinner with family, the lighting over your dining table has to be just so. It should have a strong visual presence plus the right glow for relaxed eating and lively conversation. Not to worry. Our guide to styles and shapes—plus some helpful practical tips—is all you need.
The Lantern
Often used in a foyer or an outdoor vestibule, an elegant lantern in wrought iron or brass lends a dash of carriage-house chic. And while they possess a strong sense of history, these fixtures will happily play with even the most modern of decors. We love the way they cast a warm kaleidoscope of rays through their bars and decorative flourishes. For a longer table (more than 72 inches) we'd recommend a pair.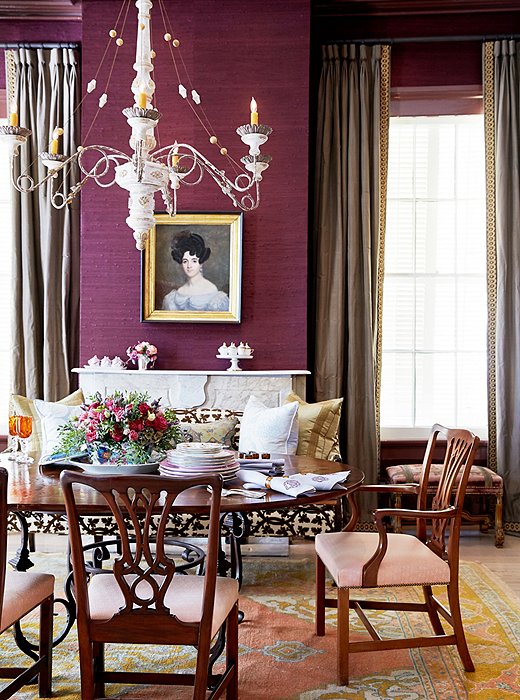 The Multiarm Classic
You can certainly opt for something more ornate—as we often do!—but there's a lot to be said for simplicity. A fixture like this doesn't scream for attention, but it still has beauty and charm to spare. Bare candles give off a brighter, more direct illumination, while shaded bulbs provide a more romantic, diffused glow.
The Starburst
Like a celestial body for your dining room, starburst or Sputnik fixtures are the perfect choice over a round table. These send beams in all directions, creating a flattering ambient radiance. Choose a large, single burst over a smaller table or a constellation of smaller stars for a larger—or rectangular—one. We're partial to hanging them in a space with semigloss or high-gloss walls for maximum effect.
The Modernist
These days there's a free-form trend in lighting that breaks the old rules of what constitutes a chandelier. Shapes are skewed and irregular, defying easy categorization. And that's just fine by us. It's really a matter of picking what speaks to you. Just make sure the overall size and light output make sense. You still have to be able to cut your food!
The Crystal Confection
Dripping with faceted pieces, these sultry sparklers capture and disperse light in dramatic ways. Instead of a single color, light is refracted into a prism of hues that not only bathe diners and table in their twinkle but shine onto the walls and ceiling as well.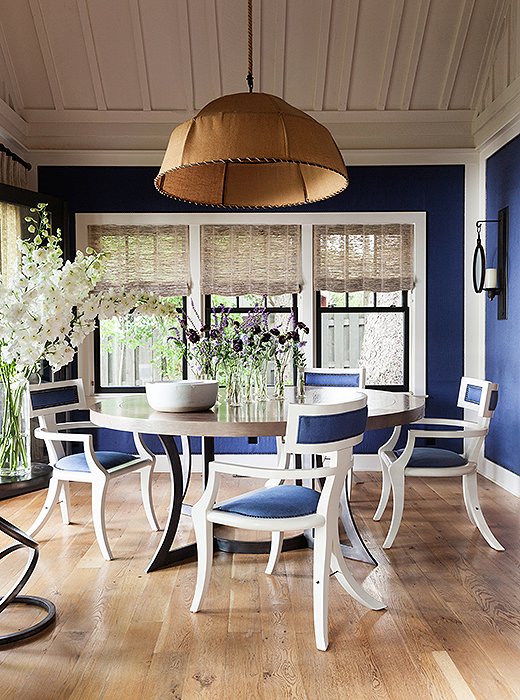 The Rustic Touch
Contrast is the spice of life, so we love to throw something rough-hewn into a room that otherwise skews buttoned-up. The irregular edges, unfinished or natural materials, and homespun feel can soften the sometimes exacting lines of elevated tastes.
The Drum
These enclosed rounds are more tailored than some other styles, bringing a little formality to the table while retaining a sleek and modern profile. Some have see-through shades, but we really like something a bit more oblique. They direct most of their light downward and upward, providing a beautiful column of illumination. You'll want to augment with sconces or spots, as these emit less ambient light.
The Playful Piece
Just because you're a grown-up doesn't mean you can't still color outside the lines. Let loose your inner child and choose a fixture purely for its ability to delight the eye and bring a smile to the faces of you and your guests. As long as it casts enough light (and if it doesn't, you can boost illumination with sconces or recessed fixtures), the sky's the limit.
Size, Height, and Wattage
Size
To avoid bumping your head, leave about 12 inches of clearance between the width of the table and the circumference or width of the fixture.
Style tip: In the dining room, it's better to err toward a fixture that's a little too big rather than one that's too small. (The latter can look puny and timid in relation to a grand table.)
Distance Above Table
Roughly 32 inches from the tabletop to the base of the chandelier is optimum. In rooms with high ceilings (above 8 feet), raise it up an additional 3 inches per foot of ceiling height.
Overall Wattage
Multiply the square footage of your room times 1.5 for the recommended total ambient wattage. So for a 15' x 18' room, 15 x 18 x 1.5 = 405 watts. That's the equivalent of ten 40-watt bulbs, rather bright to dine by, which is why most designers swear by dimmers. A dimmer is also great if you're going to use the room for multiple purposes (and many people do these days—the dining room table doubles as a work and/or craft area).
Style tip: Keep the chandelier relatively dim and supplement with recessed spot lights on either side or sconces for additional light when needed.
In a dining room, chandeliers are the jewelry of the space. They should make a statement and are a wonderful way to create an interesting juxtaposition.