Nothing feels cozier than slipping under a puffy duvet or comforter on a cold day or a chilly night (or if you like to keep your bedroom nicely air-conditioned). Finding the right one is pretty straightforward, but you have to know what to look for. And that's where we come in!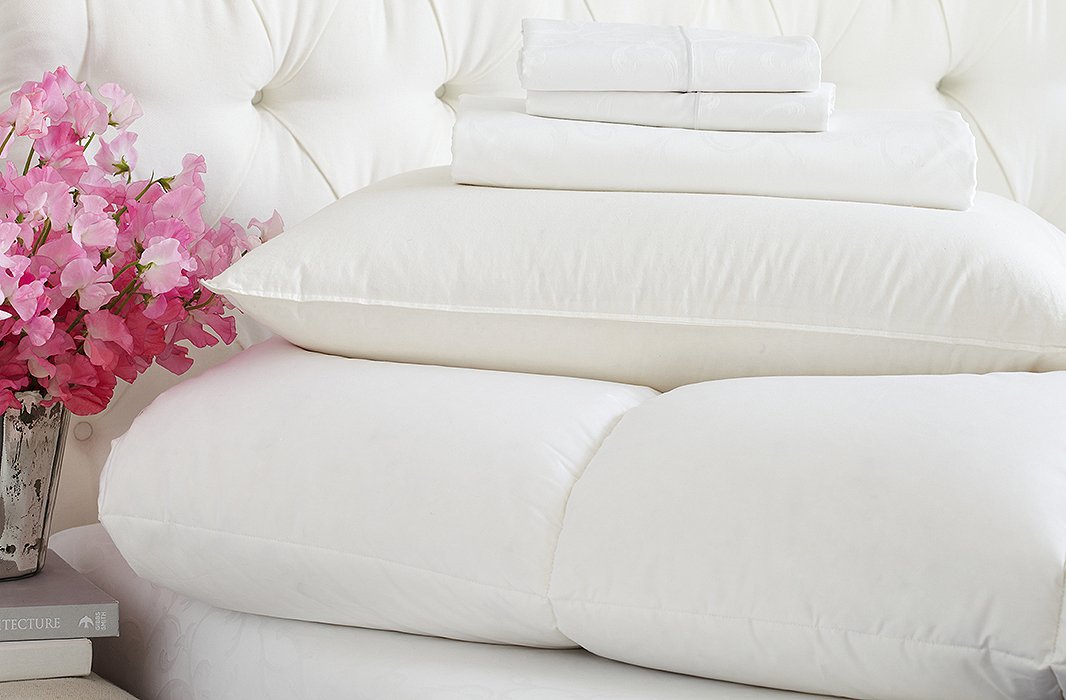 Quilt or Comforter: What's in a Name?
The terms quilt and comforter can be vague and are sometimes used interchangeably. Here's the nuanced break down:
A quilt… is typically a thick, quilted blanket with layers of synthetic batting or fill inside. It is meant to be used as a layer over a top (flat) sheet and sometimes even under another blanket.
A duvet or comforter… is, generally speaking, a casing filled with down or a synthetic material; it's sometimes quilted or stitched to keep the filling evenly distributed. It is meant to be used inside a duvet cover (basically a giant pillowcase) as the entire bed covering.
A duvet cover… protects your expensive duvet from dirt and body soil and is easily removed for laundering. (Your duvet is generally much more difficult to clean, so a duvet cover means you have to do it far less often.) And because the covers are less expensive and easy to change, you can swap them out seasonally with different colors or patterns.
And when it comes to size… duvets and comforters come in the same options as sheets and mattresses: twin, full, queen, king, California king. There are also extra-long ones for folks with extra-long mattresses.
Getting Your Fill
Down… is our first choice for duvets and comforters. Lightweight and luxurious, down is made from the innermost plumes found underneath the breast feathers of ducks and geese. Its magic is in its ability to maintain loft by trapping air in the fine intertwined filaments. It's breathable, warm, and resilient. Goose down is generally considered superior to duck down.
Down alternative… has improved a lot over the years. What used to be a lumpy proposition can now impressively mimic the properties of quality down. Very fine, long synthetic fibers can trap air and spring back almost as well as down. (Almost.) It's perfect for allergy sufferers and vegans.
Fill power… is the volume, measured in cubic inches of down per ounce using a piston compressing the down. Larger down clusters produce greater fill power. A high fill power will produce a more fluffy and resilient pillow comforter or duvet (or pillow, for that matter). Ranges are typically from 300 to 800. At about 500 you're getting nice and fluffy.
Finding Your Perfect Weight
Depending on how cold the environment you sleep in, whether you sleep hotter or sleep cooler, and just how toasty (or not) you want to be, you have lots of options.
Comforters and duvets are available in a range of weights. Terminology varies from manufacturer to manufacturer, but it's typically pretty straightforward:
Lightweight options are the equivalent of a very thin blanket, suitable for people who don't need a lot in the way of warmth.
Medium weight is a good balance, optimal for year-round comfort in many climates.
Heavyweight comforters are for very cold rooms or people who tend to feel cold at night.