Breakfast nooks aren't just for breakfast, nor are they necessarily nooks. You can transform just about any petite area into a spot for savoring a solo coffee break, serving the kids a midday snack, or hosting a cocktail hour. And while in larger homes they serve as ancillary spots to a dining room or a kitchen table, in small apartments they often are the sole dining area. Below we've rounded up some of our favorite dining nooks for inspiration.
By the Bay
Few things are more idyllic than lingering over brunch on a well-cushioned banquette nestled by a bay window. Here the bay, and the light fixture hanging directly over the table, allow this nook to be part of the kitchen but also separate from it. This is the spot to hang out while waiting for the oven to warm up or the pot of water to boil. The café curtains provide privacy while letting in plenty of sunshine.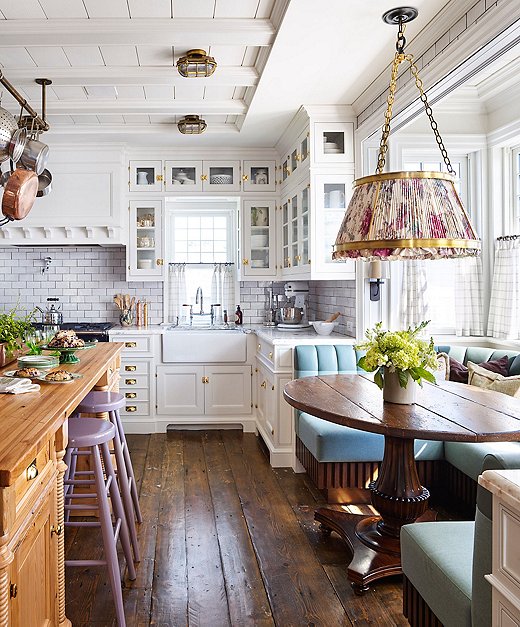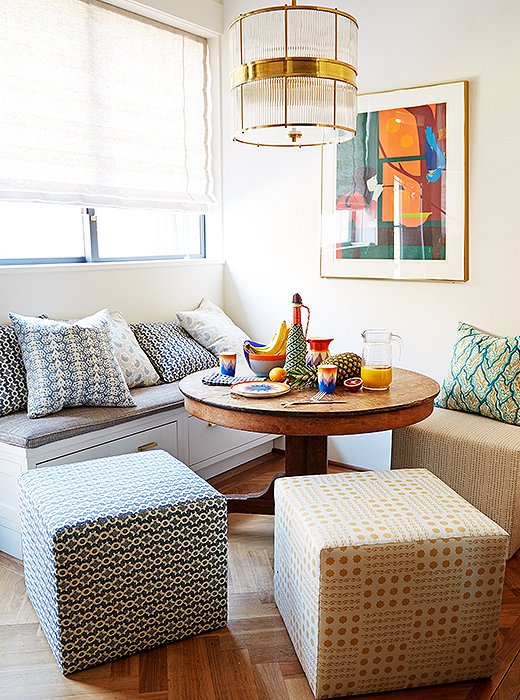 Tucked Away
Just about everyone can use extra storage. A breakfast nook can provide that either with a built-in banquette that includes drawers, like this one, or by using a storage bench for seating. Another idea to steal from this space is its use of easy-to-move poufs. You can tuck these away or stack them in a corner when they're not in use.
In the Round
It's much easier to squeeze in an extra guest or two at a round table than at a square or rectangular one; you don't have to worry about someone being jabbed by a pointy corner. What's more, a table with a pedestal instead of legs offers those gathered around it more room for their own legs. Another reason we love this dining area, which is located in a den rather than a kitchen: The table and the chairs pair lines and curves perfectly.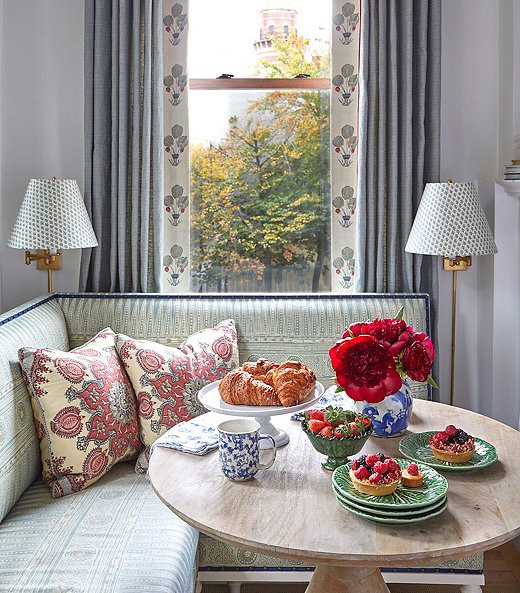 Let There Be Light
Nooks are by definition small, so you might not have space for floor lamps. Nor does every nook lend itself to a ceiling fixture, especially if it's part of a larger room. Sconces are an ideal solution in this corner of a living room. These swing-arm versions (almost identical to this) are placed low enough that someone can adjust them while remaining seated. As for the table, you can find a similar one here.
A Nook of One's Own
When there are no architectural features to set a dining area apart from the rest of a room, a rug can serve that purpose. What's also handy here is that, because this is a gate-leg table, the sides can be folded down and the table pushed against the wall as a console when it's not needed for meals or entertaining.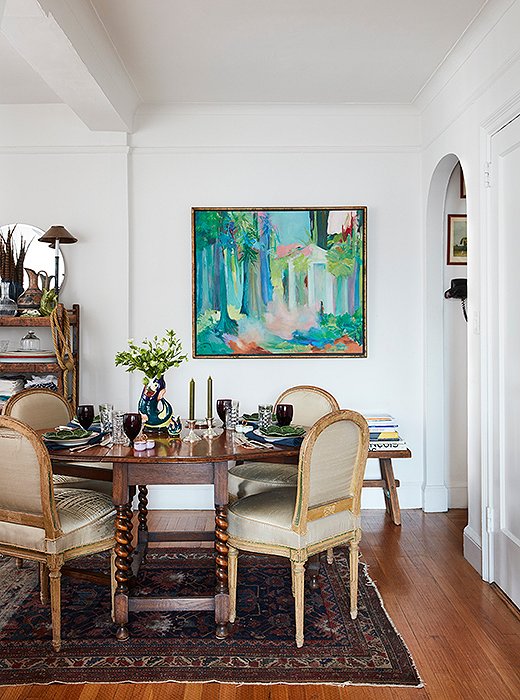 Ready, Settee, Go
You can see here how just about any underused space in a room can be transformed into an eating area. We like pairing a settee or a banquette with chairs that you can move by the sofa or elsewhere when needed. For added convenience, place a garden stool nearby; you can park condiments and beverage bottles on top of it to leave more room for plates and glasses on the table.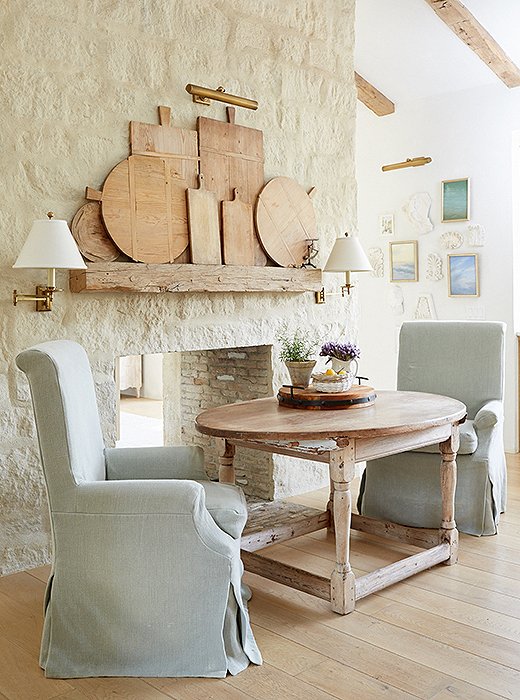 No Nook Required
Technically a nook is a corner or a recessed area, but you can create a dining nook just about anywhere, including against a wall in the middle of an otherwise open space. On a practical note, consider seating with washable slipcovers or spill-resistant, stain-resistant performance upholstery in this or any other area where food and drink will be enjoyed.
Take It Outside
If you're lucky enough to have a balcony or a porch—especially a screened-in or covered one—make the most of it by furnishing it with a bistro table and chairs. This way you can sip and sup alfresco whenever the weather allows.