Short of a full renovation, it can be a challenge to make any major changes to your kitchen's design. But we're here to show you that by updating just three key elements, you can enjoy a more beautiful, more functional space—one that better reflects your style and that of the rest of your home. Read on, shop our picks, and get inspired.
Brighten Up with Pendant Lights
The kitchen is one of the few rooms where strong overhead lighting is a good thing, as too-dim or uneven light can make the space feel lackluster—and make it tough to see what you're working on. The solve? Supplement basic can lights with a row of pendants. They'll not only flood the entire space with bright, welcoming light, but they'll also give the room a gorgeous new focal point.
When it comes to choosing pendants, consider your goal: Do you want to dial up the glamour of the space? Choose a pendant in gleaming gold. Crave a light and airy look? Pick a pair of clear globes. Whatever your style, don't fret about matching the fixtures to your cabinet hardware or faucet. Going allover brass or chrome can make for a beautifully cohesive look, but there's nothing wrong with mixing metals, as the space below makes clear.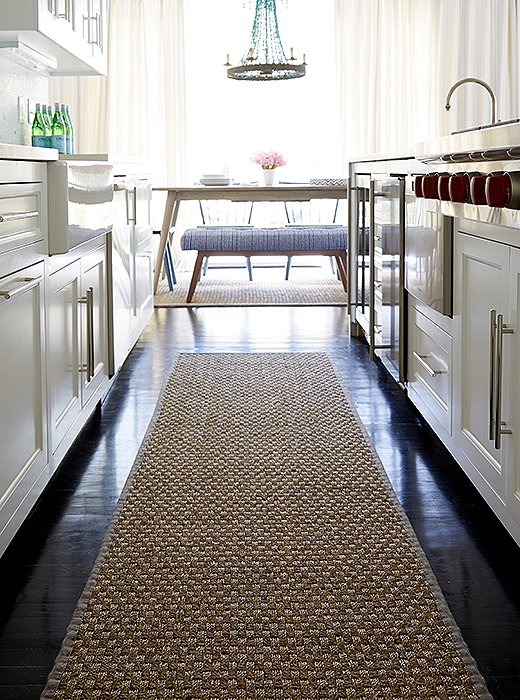 Add Texture with a Runner
Most kitchens are all clean lines and sleek surfaces, so a runner adds much-needed warmth to the equation. It can also be a great way to bring a touch of color and pattern to an otherwise-neutral kitchen. If you have a center island or a narrow galley kitchen, choose a runner that extends the full length of the space to make it feel larger. For open kitchens, you can place a runner just in front of the sink.
Not sure what type to choose? Natural-fiber rugs and styles designed for the outdoors can stand up to lots of daily foot traffic, making them ideal for the kitchen. Cotton dhurries, kilims, and other easy-clean flat-weaves also work well. For a more unconventional—yet equally functional—option, try a vintage runner. Their timeworn look lends tons of inviting warmth, and since they've already withstood years of wear, there's no need to sweat a few spills.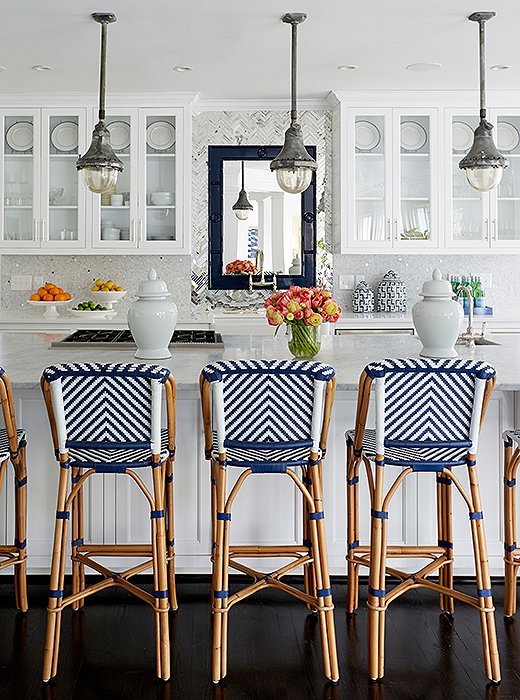 Maximize Seating with Barstools
Everyone naturally gathers in the kitchen, so extra seating is always a plus. A set of barstools can turn previously unused counter space into a cozy conversation spot—and the perfect place for guests to perch during cocktail hour. Because you can tie them in with the rest of your home's decor, barstools can also help to visually link your kitchen to the surrounding rooms.
Upholstered stools feel a little more formal, while industrial-style metal stools project a laid-back cool. For a style that bridges both, we love classic bistro stools—with woven seats and rattan frames, these pieces add effortless chic to just about any space.