In this installment of #DearOKL we tackle the powder room. Oft overlooked, it's one of the easiest places to make a major statement in your home—and without having to dig too deep into your pockets. From paint ideas to lighting techniques, we rounded up five of your most pressing questions to give you the inspiration you need to finally get started on this small-space refresh.
Q: I'm stuck on best window treatments for our powder room… we want to make it look great and let in as much light as possible while still maintaining privacy. #stumped
–@shehult (via Instagram)
A: If you're looking for privacy that won't leave you in the dark, bamboo shades could be the perfect solution. Constructed of slats woven together with string, they have small gaps that allow just the right amount of sunlight through during the day but leave no room for wandering eyes. Above, we see how they complement a light and bright scheme that includes a Chippendale-inspired chair, a garden stool, and just a touch of blue and white.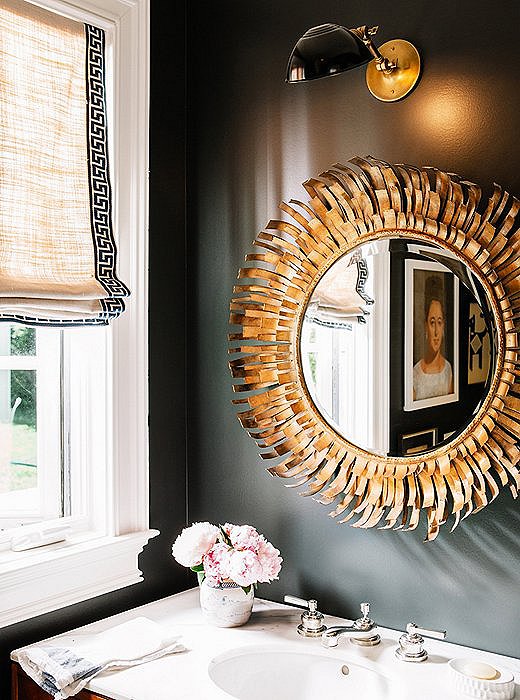 Q: Any tips for adding some glamour/style on a budget?
–@jessieannmac (via Instagram) 
A: Think beyond the traditional vanity mirror and hang something more dramatic. Sculptural sunbursts, bold rococo frames, or mirrors brassy and vintage are all out there for the taking at a variety of price points. Any of the above would be a major upgrade from yesteryear's medicine cabinet and sure to leave the sort of stylistic impression your guests won't soon forget. 
Q: We are redoing our downstairs half-bath. We are looking for some decorating tips on how to make it fun but also classic because we don't want to redo this again for a long time.
–@katiec9187 (via Instagram)

A: Wallpaper is a classic solution, and the right style can pack quite the whimsical punch. Look for new takes on traditional patterns: Vegetal motifs in electric hues, repeated Victorian silhouettes, and rolls of '70s-style graphics printed with today's color trends in mind are all fair play. Once it's up, you'll wonder how you ever lived without it.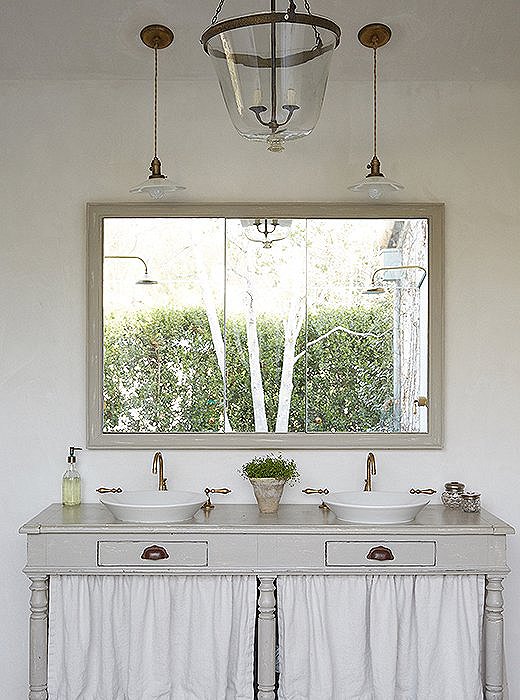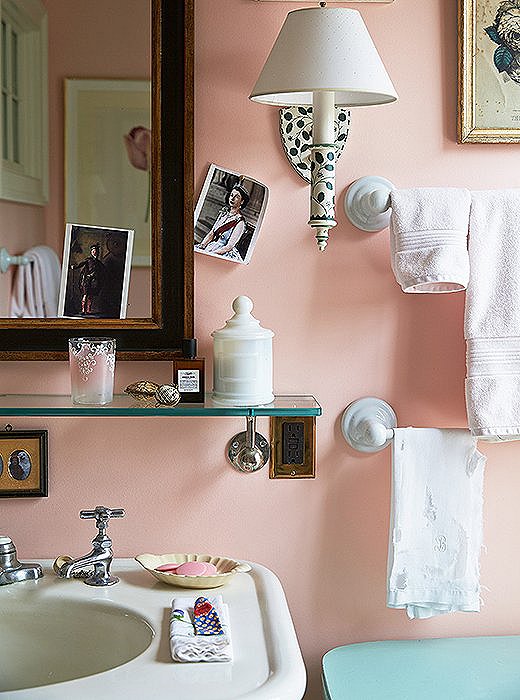 Q: Paint color?
–@traci.bruckner (via Instagram) 
A: A pastel palette creates an inviting ambience and flatters all complexions. With nods to the bygone days of Deco, pale shades such as Benjamin Moore's Pink Cadillac and Ralph Lauren's Viceroy Blue deliver a nostalgic sense of calm in just three coats or less.
Q: Lighting ideas for a bathroom that gets no natural light?
–@alva126 (via Instagram)
A: Windows or no windows, you'll want to avoid scary shadows (and look 10 years younger) with a lighting scheme consisting of wall mounts and a ceiling fixture. Sconces flanking the mirror at eye level provide the sort of illumination needed for applying makeup, tweezing, and shaving, while an overhead fixture works to provide visual interest. It's this simple Rule of Three that'll give you just the right mix of utility and decoration.